Myth 1: If you have symptoms but the rapid test is still negative, F1 is definitely not sick
In fact, cases of F1 with suspicious symptoms but repeated negative rapid tests are not uncommon. Faced with this situation, expert Dr.BS. Tran Van Thien – Deputy Director of Hanoi National University Hospital explained that this could be due to a number of common reasons such as:
– That F1 did not have Covid-19 infection, the common symptoms include: fever, cough, sore throat, headache … could be caused by another upper respiratory disease.
– There are many types of rapid test kits on the market, the sensitivity and specificity of each type will be different, so it may create errors in terms of results.
– F1 sampling at wrong time and wrong technique:
If you have just been exposed to an infectious source or are incubating the disease, your viral load is still low, so a quick test will give a false negative result. As recommended, the time to perform the rapid test should be on the 5th or 7th day after you have been exposed to F0.
People need to collect samples according to the instructions on each test kit and should only read test results within the specified time frame, usually around 15-30 minutes depending on the company. Otherwise, the results may be erroneous, causing false negatives or false positives.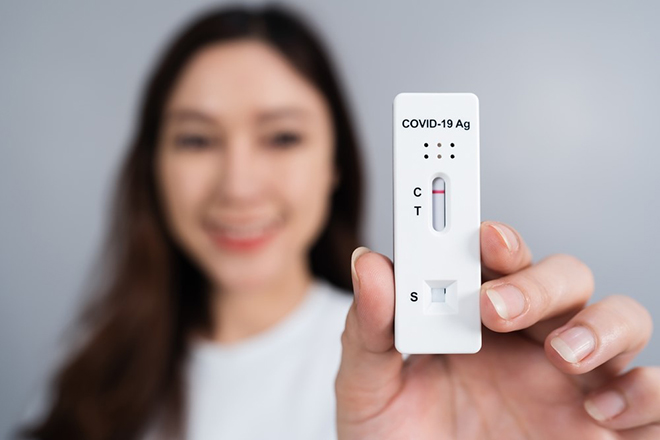 A negative rapid test result only shows how high or low your risk of transmission is, not whether you are infected or not.
From the above analysis, it can be seen that a negative rapid test result sometimes does not prove that we are not infected. Not to mention that this is also easy to create a subjective mentality that you are still safe and begin to ignore 5K disease prevention measures, leading to unknowingly infecting loved ones and the community. Therefore, please proactively go to qualified medical facilities for advice and perform RT-PCR test as soon as detecting symptoms of Covid-19 infection but the rapid test is still negative.
Myth 2: F1 needs a quick test every day to promptly detect the disease
At this time of living with Covid-19, when anyone can be F0, accidentally becoming F1 is inevitable. Accordingly, many F1s because of anxiety about not knowing if they have the disease, they test fast continuously, every day. Indeed, rapid testing is a simple and quick way to help us know if we are capable of infecting others. However, according to expert TS.BS. Tran Van Thien – Deputy Director of Hanoi National University Hospital, this is not necessary. People only need to take a quick test when they have symptoms suspected of having Covid-19 such as fever, cough, sore throat, chest pain, etc. to avoid waste and expense. And as mentioned, whether the quick test results are accurate or not depends on the time and method of sampling.
Myth 3: For families with F0, F1s only need to wear masks to be safe because Covid-19 is spread through virus-containing droplets
The above interpretation is correct, but incomplete. According to information from the CDC, Covid-19 spreads in three main ways:
Inhalation of air containing virus droplets
Exposure to virus-containing droplets when F0 coughs or sneezes
Touching eyes, nose, mouth after touching surfaces/objects with virus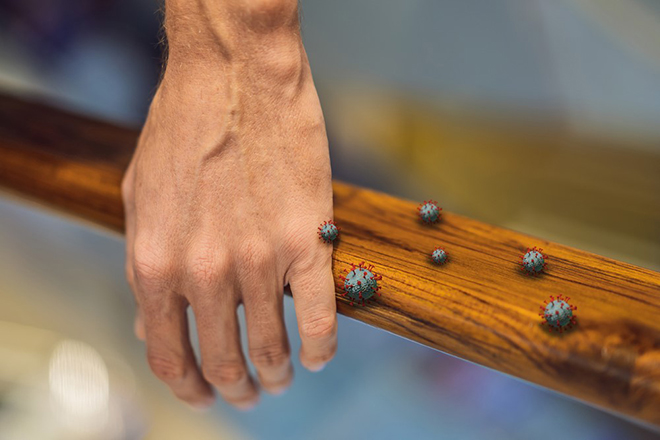 : Viruses can stick to surfaces and facilitate contact with the body if we touch these surfaces and then touch our nose, mouth or eyes without washing our hands.
For that reason, F1s not only need to wear masks whenever they come into contact with other family members, but also have to limit gatherings, eating together, especially must always strictly adhere to disinfection. Sanitize hands and body with quality and safe antibacterial products for the skin.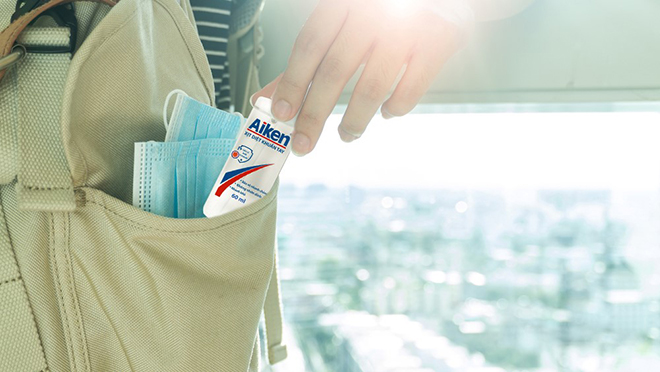 Aiken hand sanitizer spray with the ability to kill 99.9% of bacteria, contains cosmetic alcohol to ensure safety for users and does not cause dry skin, will help you feel secure to prevent disease and not worry about your hands.
At the same time, expert TS.BS. Tran Van Thien – Deputy Director of Hanoi National University Hospital also instructed F1 some notes in the process of taking care of F0 to prevent infection such as:
– F0 fabrics such as clothes, blankets, bed sheets, towels… should be washed with water with a temperature of 60ºC or higher, for at least 30 minutes. In addition, tablecloths, cups… used by F0 also need to be cleaned with dishwashing liquid and then dried/dry.
– Avoid shaking sponges, cotton cloths, etc. to disperse dust; Do not use a vacuum cleaner.
– Regularly disinfect the house with specialized detergents and wipe it with water.
– Open the window several times a day, at least 10 minutes each time.
– The garbage of the F0 needs to be put in a separate trash bag / trash can, not shared with the family. When dumping garbage, it is necessary to seal the bag, then put it in a plastic bag, make sure F0 does not touch this garbage bag within 24 hours, then take it away.
Please constantly update information from official media channels to avoid problems Mistakes in F1's hospital room above. Don't forget to share this article with your friends so that the community can access scientific and reliable information, supporting effective disease prevention!
You are reading the article
No longer need to be isolated, should F1 prevent disease properly?

at
Blogtuan.info
– Source:
Eva.vn
– Read the original article
here