Toyota Motor became the largest car manufacturer in the world thanks to the Kaizen (continuous improvement) method. Now, as electric vehicles are expected to become the future of the automotive industry, Kaizen may no longer be effective.
Kaizen is characterized by improvement and evolution. It helped Toyota break into the US market with the Crown in the late 1950s, capture a 5% market share in the 1980s with the Corolla, and eventually become the best-selling automaker in North America. Along the way, it became a reference for rival firms to learn from, especially Ford Motor and General Motors.
But the Kaizen approach doesn't emphasize the disruptive, revolutionary element that the auto industry is experiencing at this stage. Electric cars are the future. Governments are promoting this technology as the only way forward.
"Don't put all your eggs in one basket"
Toyota isn't ignoring the EV revolution – it wants to sell 3.5 million EVs a year by 2030 but still hedges by focusing on hybrid models – which combine electric and internal combustion engines.
That choice leaves Tesla behind by startups and rivals — the same way it did its rivals when it boomed in the US market in the 1970s.
"The losers are the ones that have been slow to move away from today's highly profitable internal combustion-engine cars, to newer ones," said Gary Black, co-founder of the Future Fund Active exchange-traded fund. EVs are not profitable but are growing strongly in sales. Legendary manufacturers like Toyota are among the losers."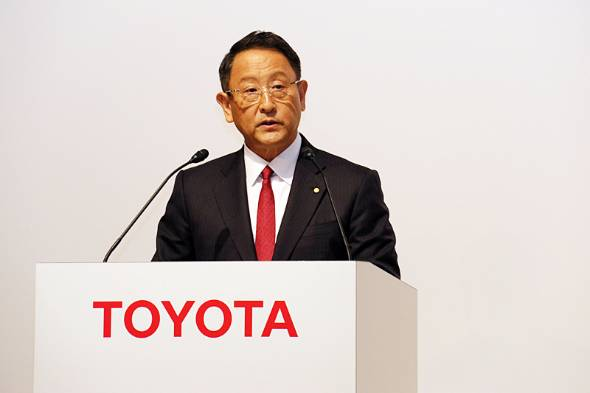 Toyota President Akio Toyoda.
Toyota management does not see that. With sport utility vehicles like the RAV4, popular sedans like the Camry or even minivans like the Sienna, Toyota is king. Many of its models are available in both petrol and hybrid versions, and Toyota is also starting to offer an electric bZ4X crossover. They also sell the hydrogen-powered Mirai.
"Choosing to pour all your capital into one thing is a reckless business decision" – Toyota President Akio Toyoda.
It is a continuation of the strategy of "putting your eggs in many baskets" – a strategy that has helped Toyota capture 15% of the market share in the US by 2021 and nearly 12% of total global light vehicle sales.
Toyota's hybrid models have been particularly successful. It has a huge Prius, which has sold nearly 584,000 hybrids and SUVs by 2021 – giving the Japanese automaker about 65% of the (hybrid) market share in the US. They are also only 0.87% behind Tesla in terms of market share when considering both battery electric and hybrid vehicles.
"I've always said that we want to provide diverse solutions to a diverse world," said Toyota President Akio Toyota in December 2021 – when the company announced its electric vehicle strategy. "When the future is difficult to predict, pouring all your capital into one thing is a reckless business decision."
What does Toyota have in hand for the electric car revolution?
The cost of betting on many technologies is not cheap.
Toyota spends about $10 billion a year on R&D, second only to Volkswagen, although as a percentage of sales, they are only in the middle. That's money they're spending on more than 1,000 scientists working on battery technology, including lithium-ion batteries and hydrogen fuel cells. But if one technology turns out to be superior to another, the rest of the R&D money is essentially wasted.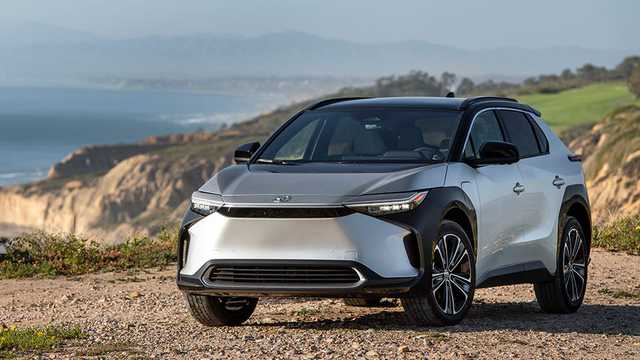 Toyota bZ4X will join the electric crossover segment, competing with Tesla Model Y.
Hybrid engines are particularly complex, requiring both traditional internal combustion engines, which require the air, fuel and exhaust systems of conventional cars, and battery-powered engines that use high voltage and a heavy mass of batteries. .
This shouldn't be a problem in the early stages, when batteries are expensive and designing a hybrid vehicle with a fuel consumption rating of 40-50 miles per gallon is enough to help automakers meet the demand. fuel economy standards, while appealing to environmentally conscious drivers.
But as battery costs drop, an all-electric vehicle can deliver the range and performance consumers expect in a conventional vehicle, said Cory Steuben, president of Munro & Associates, a cost estimating firm. car manufacturing costs said. "Hybrid cars, then, would be the worst thing, in a number of ways," added Steuben.
While Toyota has remained steadfast in its choice, other companies have not. Ford aims to produce about 2 million electric vehicles a year by 2026. It is electrifying its most iconic models like the F-150, Mustang and Transit. General Motors' goal is 1 million EVs a year in North America by 2025. GM has begun creating new vehicles such as the Cadillac Lyriq, Hummer, electric Chevy Silverado pickup, Chevy Equinox crossover, and other EVs. will launch in 2023. Volkswagen plans to produce more than 5 million battery-powered cars a year by 2030. Toyota has only raised its target of selling electric vehicles from 2 million to 3.5 million by 2030. They seem are very satisfied with the current "warmth".
The Mirai hydrogen-powered car was praised by MotorTrend for its "style" but has a standard $50,000 price tag, very sketchy refueling infrastructure, and even falls far short of electric vehicle charging stations. In the US, it is also only sold in Hawaii and California.
Toyota's estimated market share until 2030.
The oddly named bZ4X, which sells for a starting price of around $40,000, competes with the Tesla Model Y and many other electric models. Car and Driver notes that the bZ4X has less range on a single charge than its competitors. This model can go about 400 km on a single charge.
2 opponents, 2 strategies
The slow-moving strategy could pose a big risk to Toyota in the years to come. If other automakers are right, electric cars will account for about half of sales by 2030.
If the penetration of battery electric vehicles increases to 50% by 2050 while the current level is only about 6% – this would mean about 50 million battery-powered cars produced globally. If Toyota achieves its sales target, its electric vehicle market share will be around 7%. This is significantly lower than the existing 10-12% market share of the Japanese giant.
Even Toyota's impressive hybrid market share hasn't stopped the market from shifting to electric vehicles.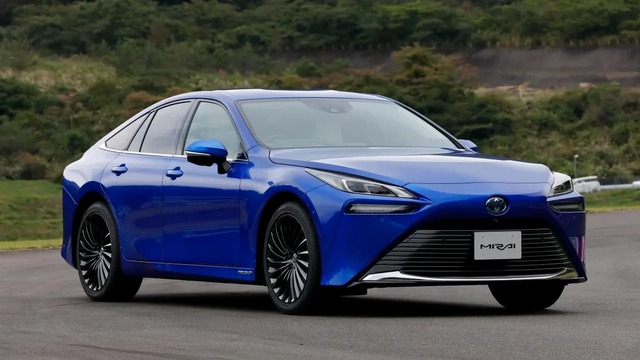 Toyota Mirai runs on hydrogen fuel, which means the infrastructure for refueling is extremely limited.
In China, which has the world's highest sales of battery electric vehicles, about 2.9 million electric vehicles were purchased in 2021, up from about 1.1 million in 2020. Plug-and-car sales in hybrid is not bad, growing to 603,000 units – about 17% of all new energy vehicles. If a similar pattern occurs in the US, Toyota will see its dominant market share erode.
Genera Motors is an example for Toyota. In 1976, the company sold about 8.6 million vehicles – leading the market while Toyota sold only 1.7 million vehicles globally. After that, the price of oil increased and the demand for fuel economy increased.
That's all it takes for Toyota and the Japanese automakers to break GM's dominance. By 1996, Toyota was selling 4.8 million vehicles a year compared with GM's 8.3 million, but the margins were much higher — about $3,700 in gross profit per vehicle, compared with $2,700 for Toyota. GM. By 2000, the Camry was the best-selling car in the US, and by 2021, Toyota was the biggest automaker in the US.
It was a great marathon, demonstrating the power of Kaizen. Shares of Toyota have grown about 10.9% annually for the past 40 years, slightly higher than Ford's 10.7%.
Toyota's success makes it the most valuable of any automaker – with the exception of Tesla. Shares of Toyota are valued at 9.7 times revenue, higher than Ford (7.1 times), GM (5.7 times) and Volkswagen (4.6 times). "Toyota offers a stable balance sheet at a time of macroeconomic uncertainty and supply chain disruptions," said Pedro Palandrani, research director at Global X ETF.
However, Toyota's lack of action on electric vehicles could put the company's future at risk, especially at a time when profit margins are under pressure. The company's gross profit was $6,700 per vehicle in the third fiscal quarter of 2022, up about $1,000 per vehicle — or 17% from 2019.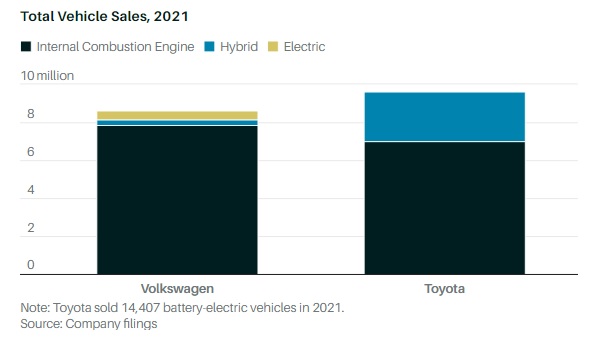 Sales of Toyota and Volkswagen models in 2021.
This increase is mainly due to chip shortages that push car prices higher. But as the supply chain returns to normal and if the prices of steel and other raw materials continue to rise, Toyota's profit margins could shrink, said JP Morgan analyst Akira Kishimoto.
Of course, great manufacturing capabilities still have the ability to "save" Toyota or it can adjust more quickly to global trends. Also, just because they look passive doesn't mean Toyota is denying the EV market, says Panandrani of Global X. "The risk is still out there, no matter how hard the companies are trying," Palandrani said. speak.
But at least, rivals like Ford, GM or VW are trying very hard. As for Toyota, when did they show similar efforts?
You are reading the article
'Playing catch' in the electric car revolution, is it too late for Toyota?

at
Blogtuan.info
– Source:
Soha.vn
– Read the original article
here