THỜI SỰ
Prof. David Dapice: Prime Minister Pham Minh Chinh made a clear view of Vietnam's cooperation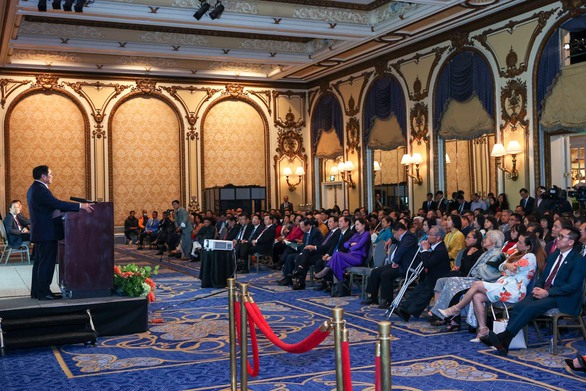 The Prime Minister had a friendly meeting with typical overseas Vietnamese in San Francisco, California (USA) on the afternoon of May 17 (local time) – Photo: Nhat Bac
The first trip to the US as the leader of Vietnam is an opportunity for the Prime Minister to share Vietnam's official views on international cooperation.
Tuoi Tre interviewed Professor David Dapice, a senior economist at the Ash Center for Democratic Governance and Innovation (John F Kennedy School of Government, Harvard University) about this trip.
Mr. Dapice is an in-depth research on Vietnam's economy and Vietnam-US economic relations. Last week, he attended and spoke at the Prime Minister's visit to Harvard University.
* Hello GS Dapice. He listened to the Prime Minister talk about his views on economic development. How do scholars at Harvard evaluate this commitment and stance of Vietnam?
– Obviously, Vietnam knows how to deal with economic separation from China better than any other country (GS Dapice mentioned the COVID-19 pandemic that disrupted the supply chain – PV).
Vietnam's commitment to the carbon roadmap is smart and less expensive than many people think. Indeed, in 2030, this will be seen as a very smart move.
* Vietnam wants to develop an independent and self-reliant economy but at the same time is committed to integration. The Prime Minister himself also noted that these are two things that at first seem contradictory. So did you and other Harvard scholars find the Prime Minister's explanation then convincing?
– His explanation is very good. To be independent, you have to be strong. For example, commercial independence is Korea's choice.
In addition to a better standard of living, there is much support for a policy that makes progress not only in income but also in the ability to know how the world is going.
However, for these two goals to be consistent, good governance and wise policy are required. That is the challenge for any system.
* With delivery delays and supply chain disruptions in Asia, how can Vietnam and the US cooperate to resolve and promote bilateral economic relations, sir?
– Vietnam can expand and manage the port system to reduce delays. The US side can do the same, although the complexity of supply issues related to imports, shortages of truck fuel, shortage of drivers and bottlenecks in the system will make this situation only abate. during slowing growth or recession. The Ukraine conflict also complicates the situation.
I think the main problem Vietnam is concerned about right now is the level of surplus. Accessing and maintaining dialogue with the US, resolving and importing more from the US when needed will help reduce potential trade tensions.
In fact, the trade surplus appeared throughout Asia, not just Vietnam. Vietnam's value added is quite low in many electronic exports, and Vietnam does not manipulate its currency unfairly, as reflected in its overall trade surplus.
* In general, after the ASEAN-US Special Summit, how do you evaluate the Vietnam-US cooperation? How does the Prime Minister's trip contribute to the cooperation between the two countries?
– Vietnam – US cooperation can be "comprehensive" or "strategic". The main problem is how the two sides communicate and harmonize with each other.
The US is ready to move forward as a strategic partner, but Vietnam is still undecided. The US understands that Vietnam in particular and ASEAN in general do not want to choose sides between the US and China. The US is not trying to add ASEAN countries to the military alliance.
The biggest weakness of the US is not participating in the TPP trade agreement (now CPTPP – PV). A trade commitment outlived an American administration, and the absence of such a commitment would isolate the United States.
Security is a well-thought-out aspect, but you can't walk on one foot. Vietnam will best benefit from good relations with both the US and China, and I expect Vietnam to continue on that path.
Prime Minister wraps up his working visit in America
On the evening of May 17 (local time), Prime Minister Pham Minh Chinh and a high-ranking Vietnamese delegation left San Francisco city to return to Hanoi, successfully ending their business trip to attend the ASEAN-US Special Summit. , visit and work in the US and the United Nations from May 11 to 17.
Earlier on the same day, the Prime Minister met leaders of major US technology corporations such as Intel, Microsoft, Apple, Google; attend the seminar on innovation and start-up; friendly meeting with typical expatriates who have contributed to the country in San Francisco.
NGUYEN KHANH
"Honesty messages are important"
In the US, Prime Minister Pham Minh Chinh spoke at the Center for Strategic and International Studies (CSIS). Sharing with Tuoi Tre, Mr. Greg Poling, director of the Maritime Transparency Initiative (AMTI) under CSIS, said that Vietnam is among the most active ASEAN countries in promoting this ASEAN-US summit. .
"Prime Minister Pham Minh Chinh is the only one of the ASEAN leaders who has spoken publicly in Washington, DC. This is really his introduction to the US government and people," Mr. Poling said.
Mr. Poling said that before the event, some people were curious about the Prime Minister, especially about how he spoke in public, because he had never spoken to an American or Western audience on such an occasion.
"However, he is friendly, charismatic in public, and, so to speak, very honest and forthright in private. He certainly disagrees with the American host on many issues, as well as on many other issues. such as several topics such as the Indo-Pacific Economic Framework (IPEF) and climate change.
He stated that Vietnam's cooperation depends on the readiness of the US to meet Vietnam's needs. But it's important to deliver such a straightforward message between partners," said Mr. Poling.
"Clearly, frankly"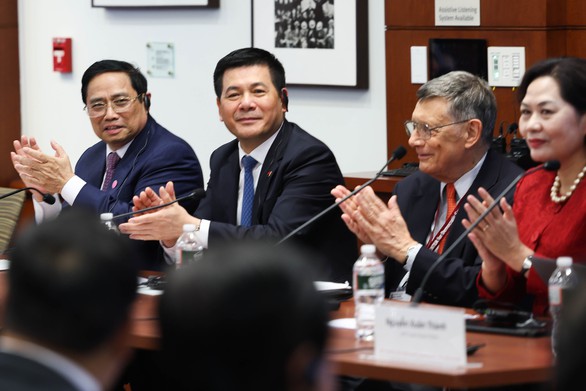 Professor David Dapice (second from right) at a policy seminar attended by Prime Minister Pham Minh Chinh and a high-ranking Vietnamese delegation at Harvard University on the afternoon of May 14 (local time) – Photo : NGUYEN KHANH
At Harvard, Prime Minister Pham Minh Chinh recounted an exchange between him and Mr. John Kerry – the US President's special envoy on climate issues.
"I had a very frank discussion with Mr. John Kerry about the planning related to energy transition. I also said very clearly who helps what, but must help Vietnam be strong, prosperous and independent, but cannot help Vietnam. depend.
According to Prof. Dapice, Mr. Kerry has had a long relationship and worked with many Vietnamese leaders, so "I think Mr. Kerry expects frankness in his private conversations.
Mr. Kerry wants to promote green energy, and that's the goal the Government of Vietnam has stated towards, so there is a basic consensus on the interests. Having concessional loans to invest in green energy does not make Vietnam more dependent than on coal and liquefied gas prices, which are volatile and expensive."
You are reading the article
Prof. David Dapice: Prime Minister Pham Minh Chinh made a clear view of Vietnam's cooperation

at
Blogtuan.info
– Source:
tuoitre.vn
– Read the original article
here