Tech
Tesla empire shaken because of Elon Musk's conservatism?
CNBC reports that electric vehicle maker Tesla has just been dropped from the S&P500 ESG index. Meanwhile, Apple, Microsoft, Amazon and even oil and gas multinational Exxon Mobil are still on the list.
The S&P500 ESG index uses environmental, social and governance data to rank and evaluate companies for investors. The criteria includes hundreds of data points related to how a business impacts the environment and treats its shareholders, customers, employees, suppliers, and partners.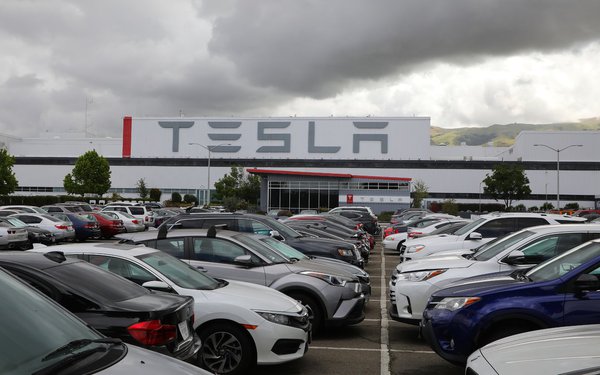 A representative for the ESG index said Tesla had "lack of a policy to keep carbon low" as well as a "code of business conduct". In addition, the scandals surrounding racial discrimination, poor working conditions at the Fremont, California factory, as well as investigations by the National Highway Traffic Safety Administration also negatively affected the economy. Tesla data points.
"It is possible that Tesla is helping the United States gradually limit fuel-powered vehicles, but in terms of the ESG index, the company is lagging behind its competitors," an ESG representative said.
Tesla shares continue to fall 6% today due to being excluded from the S&P500 ESG index
Instead of accelerating the transition to sustainable energy as promised, in February this year, Tesla was investigated by the Environmental Protection Agency after years of violating the Clean Air Act and ignoring tracking. emissions. Last year, Tesla ranked 22nd in the top 100 polluting companies, while Exxon Mobil ranked 26th, according to the U-Mass Amherst Institute for Political Economy.
In Tesla's first-quarter filings, the company also revealed that it was being investigated for its waste disposal process in California, and had to pay a fine to German authorities for failing to meet its responsibility in collecting waste. used battery recovery.
At the same time, the California Department of Employment and Housing (DFEH) also sued Tesla for harassment and discrimination against people of color at the Fremont car factory. The agency said it has found evidence that Tesla regularly downplays the role of black workers, assigning them dangerous tasks, exhausting labor and even "retaliating." if these employees react.
DFEH quotes workers of color as saying they hear slurs and racial slurs as often as 50 to 100 times a day. In which, factory supervisors and managers are the most "active" participants.
These workers also angrily spoke out about a series of seriously offensive drawings on the walls of restrooms, lockers, benches, work areas, lunch tables and separate staff areas.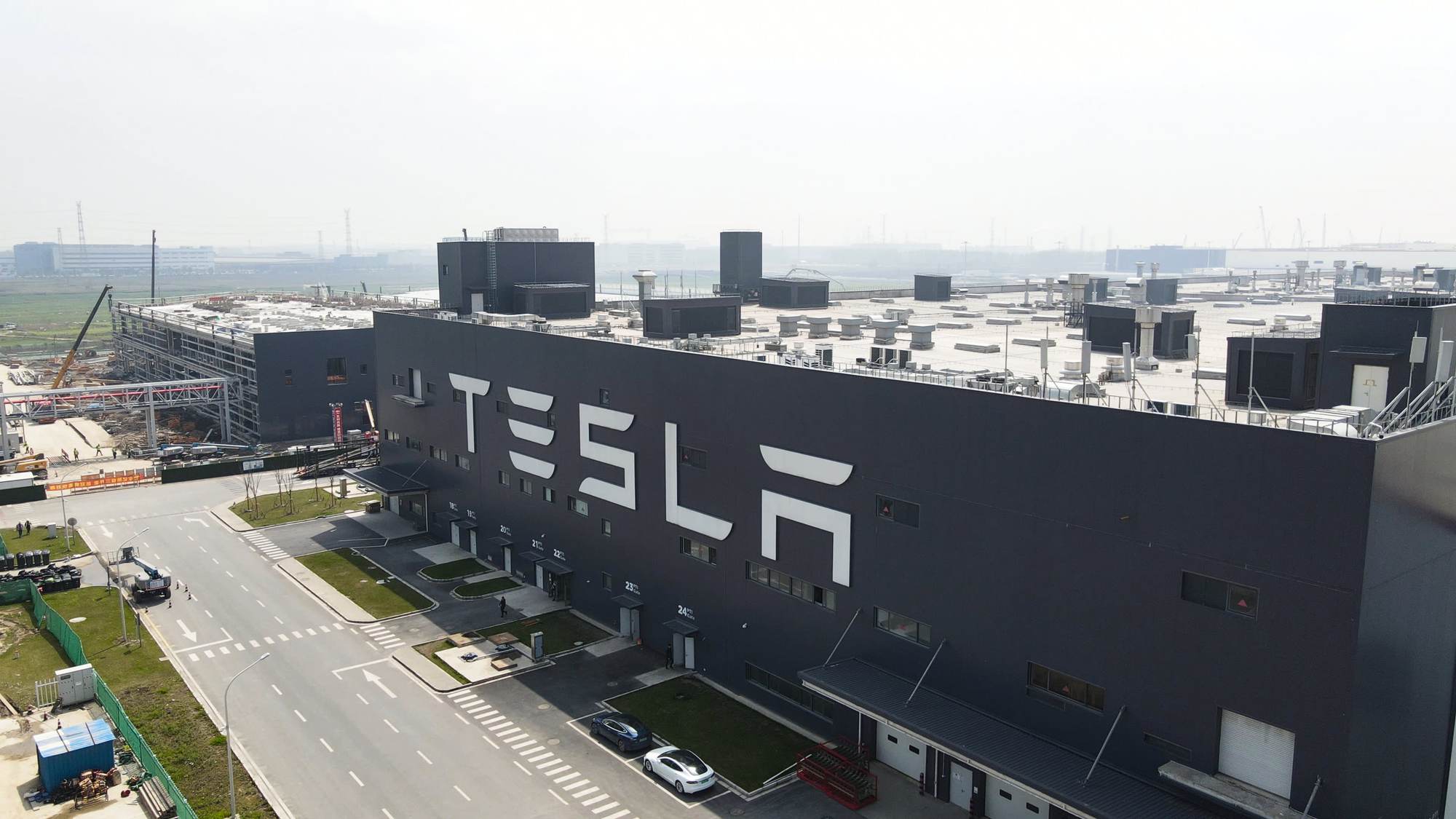 "For many workers of color and African-Americans, the pressures of racial discrimination are increasing, with a high risk of conflict. This distinction is really blatant, blatant, and it is useless for workers to complain. Gradually, they couldn't stand it anymore and were forced to quit their jobs," DFEH said.
In response, Tesla CEO Elon Musk said that this list of the S&P 500 has "lost its integrity". He even publicly reacted harshly on his personal Twitter page: "I increasingly suspect that ESG is the embodiment of the Devil."
"The ESG Environmental, Social and Governance Report does not measure the scope of positive impacts, but only focuses on the values ​​of risk. Perhaps individual investors, who trust ESG funds, do not know that their money may be used to buy shares of companies that pollute the environment, "said a Tesla representative.
Along with that, Tesla also confirmed that automakers can still achieve high ESG ratings even without reducing greenhouse gas emissions and continue to produce cars with internal combustion engines.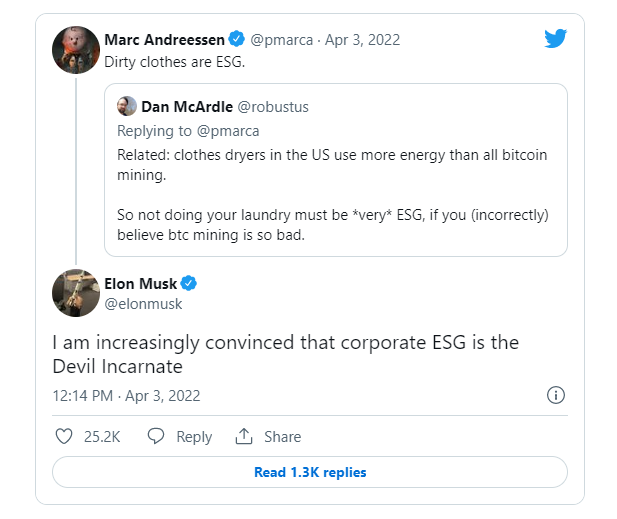 Elon Musk publicly reacted harshly on his personal Twitter page after Tesla was excluded from the S&P500 ESG index
According to CNBC, Tesla shares fell more than 6% today amid a massive market sell-off. Since the beginning of this year, Tesla shares have dropped more than 30%, in which, Elon Musk's decision on the social networking site Twitter is believed to be a prerequisite for Tesla to sell off so much.
According to the Telegraph, there are many reasons for Elon Musk to buy Twitter, but along with that are the downsides that Tesla has to suffer. Gaining control of the new social network will drain Musk's time, effort and money, at a time when the global electric vehicle industry is in need of a breakthrough.
"The Twitter acquisition has become a negative factor for Tesla stock," said Wedbush analyst Dan Ives.

In trading on April 26, Tesla's market capitalization evaporated a record of about $ 126 billion as the electric car company's shares fell 12%. Bloomberg said that Elon Musk's preparation to complete the acquisition of Twitter, and the intention to mortgage Tesla shares, is the cause of investor panic. Previously, this world's richest man also sold off $ 4 billion of Tesla shares after reaching an agreement to buy Twitter for $ 44 billion.
The deal has raised concerns about risks to Tesla, the company of which Musk has been CEO since 2008 and is currently the largest shareholder. Investors worry that once he has Twitter in hand, Musk will distract from work at Tesla.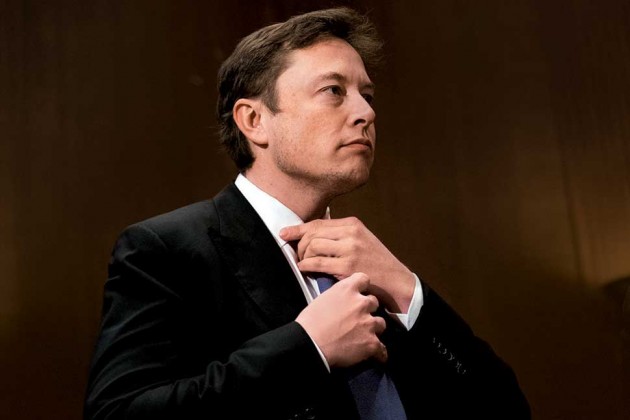 Elon Musk is taking a risk by using Tesla stock as collateral
"Musk is taking a risk by using Tesla stock as collateral. The sudden drop in the shares of this electric car maker will cause a lot of discomfort to the market," said Russ Mold, AJ Bell expert.
In addition, Tesla's share price declined partly due to inflation in the US, the COVID-19 pandemic in China (where Tesla's factory is located) as well as the policy of raising interest rates by the US Federal Reserve.
https://cafebiz.vn/de-che-tesla-lung-lay-vi-su-bao-thu-cua-elon-musk-202020519102603028.chn
You are reading the article
Tesla empire shaken because of Elon Musk's conservatism?

at
Blogtuan.info
– Source:
genk.vn
– Read the original article
here