Business
The 25-year-old boy dropped out of college and returned to his hometown, earning billions thanks to his passion for leaves
Born in 1997, starting his business since he was a student at the National Economics University, Duong Ngoc Truong from Thach Thanh, Thanh Hoa is currently the owner of a business with 2 factories and hundreds of agents. nationwide.
During a long call with us, Duong Ngoc Truong could not hide his fatigue after a long day when he had to run the company and take over the construction of the first factory in his hometown.
"I want to go back to my hometown, sister, seeing that my hometown is still poor, still having difficulties, people are still suffering, so I want to go back to my hometown." School of love.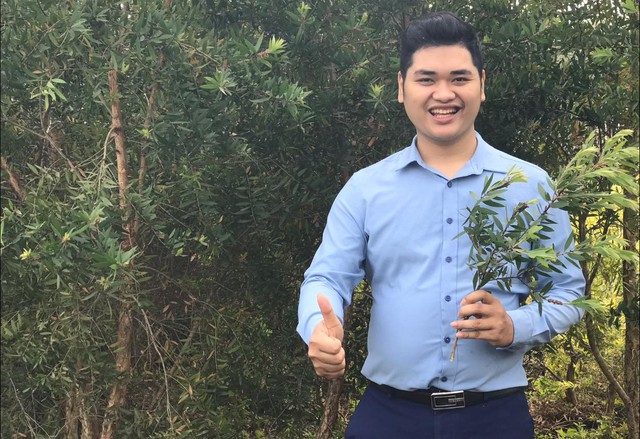 Duong Ngoc Truong started a business with clean agriculture
From passion for leaves to the owner of an essential oil factory with 20 branches from North to South
At the age of 17, Duong Ngoc Truong started implementing his projects, but instead of choosing to invest in low-risk areas, this guy chose "clean agriculture".
"Choosing clean agriculture, I faced many difficulties such as pests, unpopular designs, high prices, etc. If I failed the first thing, I would switch to making vermicelli without chemicals, then the next product. areca nut wine production"Duong Ngoc Truong said.
With no experience, no market, no customers, no family support because of unfinished studies, all the original plans of the School failed. It wasn't until 2017 when he turned 20 years old that this guy fell in love with the job that brings him his current income.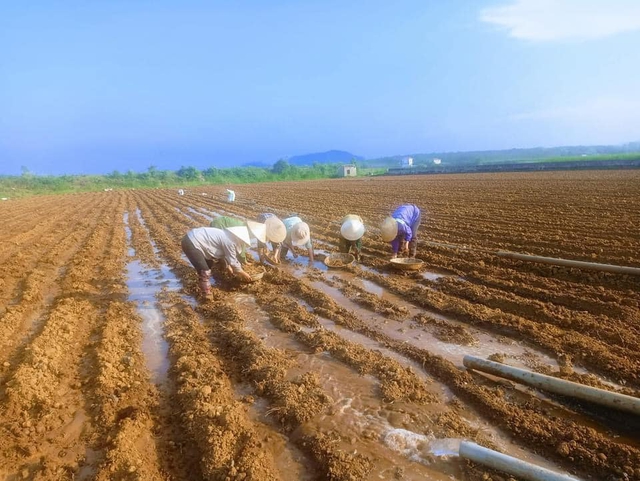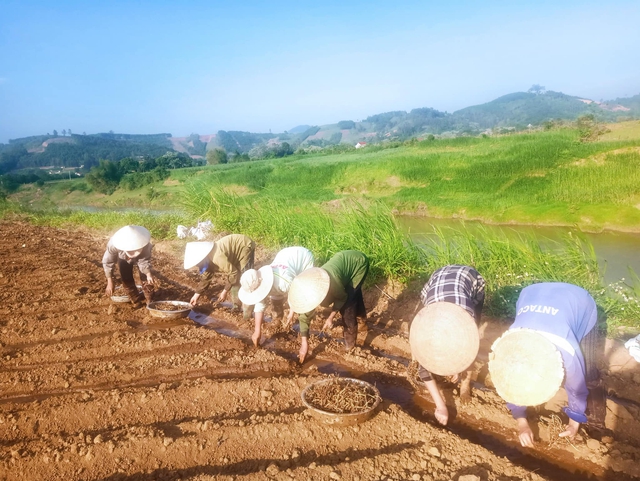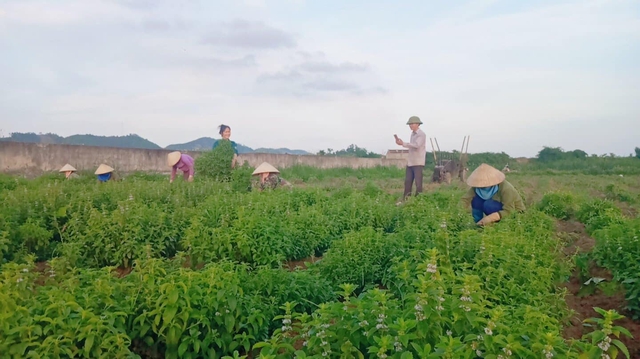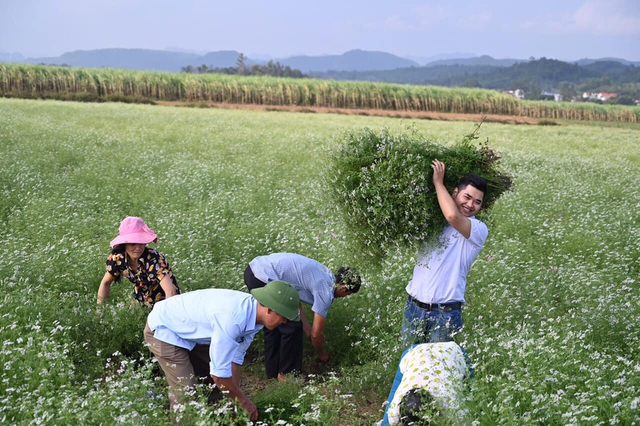 Medicinal field of Duong Ngoc Truong
During a visit to the lemongrass field in his hometown, when he saw the farmers who only harvested the leaves, because it was expensive, Truong had an idea for the production of essential oils. First, the guy recklessly reserved university when he just finished his third year, borrowed 300 million from friends and relatives around with some capital in hand and… decided to buy production machinery.
After a period of testing, pouring continuously because the product is not of good quality, making and adjusting step by step, the first batch of finished essential oils of Duong Ngoc Truong is finally officially on the market. A purely Vietnamese product from ingredients, raw materials to production. Just like the saying "when there is flood, the silt will return".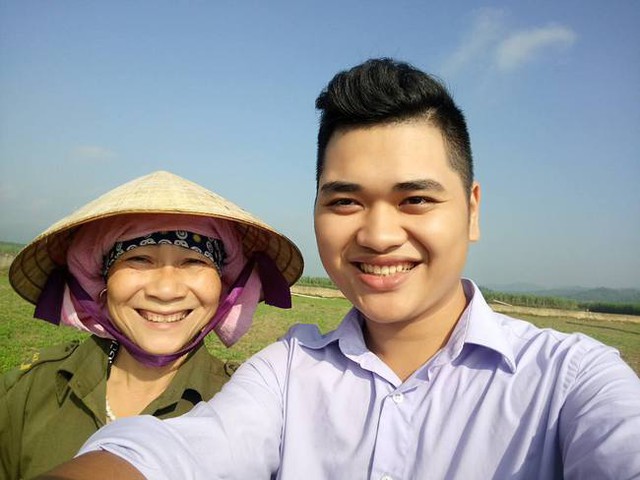 He also helps people get jobs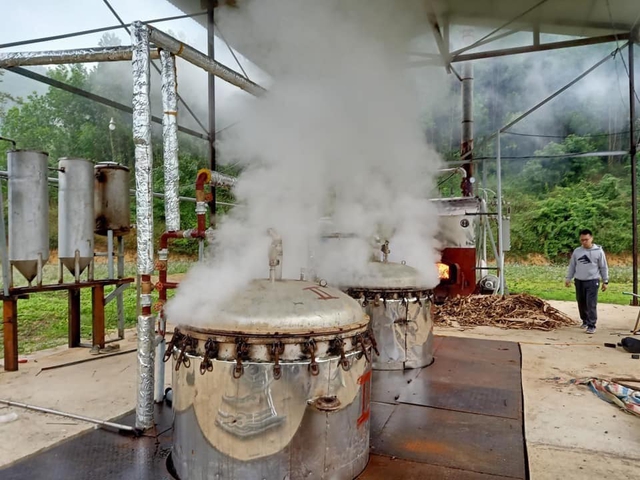 According to Truong, 1 ton of lemongrass produces 1 liter of essential oil
In 2018, after building a second facility, concurrently registered a business license and registered trademark ownership. The boy came up with the idea of ​​​​producing and developing more skin care toners. By cooperating with beauty establishments, Truong's products go further and further, he also inaugurated a third factory to meet the orders of partners.
The deal "rescued" hundreds of tons of lemongrass of people in the Central region in the rainy season in 2018
Up to the present time, the company led by Truong as CEO has launched dozens of essential oils, including lemongrass, cinnamon, melaleuca, grapefruit peel, tangerine peel, .. and a series of care toner products. facial care from perilla, rose.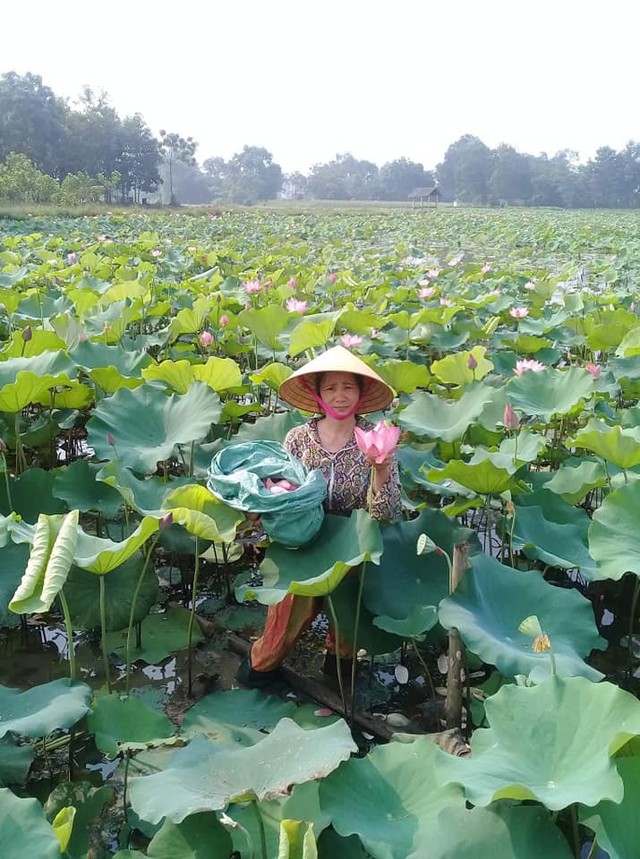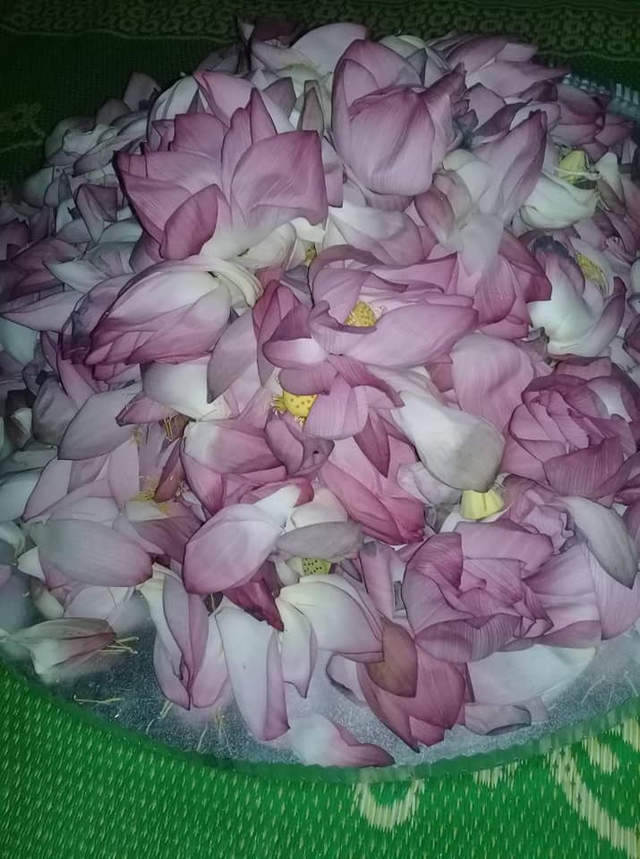 Every year, the school's businesses consume about 500 tons of raw materials, process thousands of liters of essential oils and hundreds of thousands of products are put on the market to create jobs for many people. Truong's essential oil products appear in beauty care facilities, drugstores or cosmetic chains that also rely on clean products from his company to produce.
During the conversation with us, Truong recalled a story 4 years ago when he decided to collect hundreds of tons of lemongrass from people in the Central region because of the impact of floods, it could not be sold or had to be removed.
"People don't know who to sell to, they bring me a lot of trucks, hundreds of tons of lemongrass are not old enough, not yet productive, can't cook essential oils, they will suffer a heavy loss when they think about it again and again. If I don't buy it, I love the people in my hometown, I work hard and suffer a loss, so I decided to make a deal with my relatives and do it together." School said.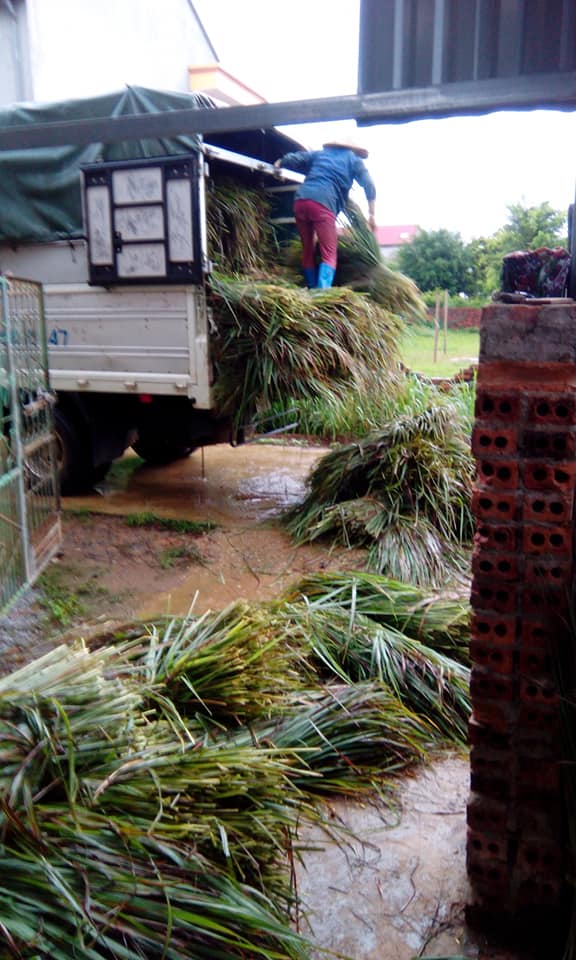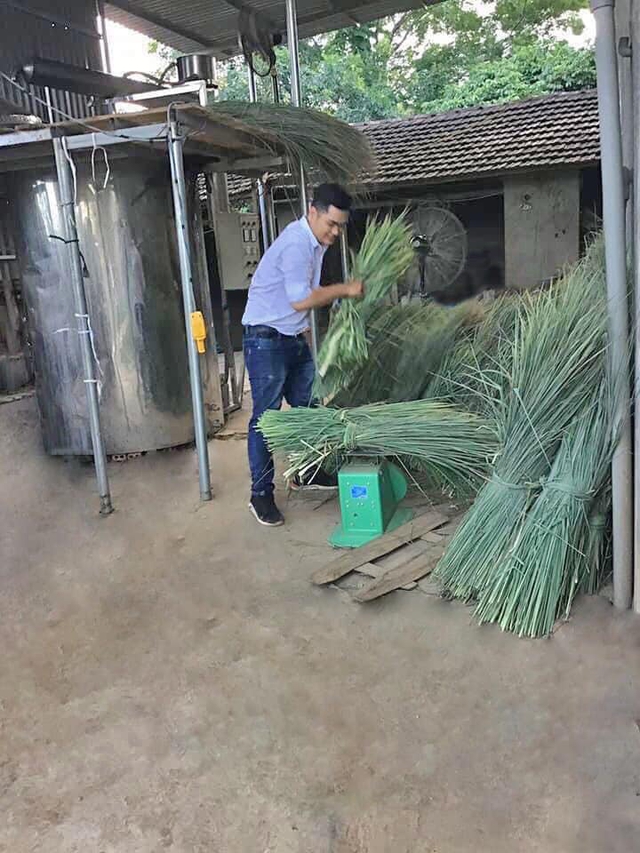 The guy used to have a "deal" to rescue lemongrass for people in the Central region in the 2018 flood season
According to Truong, normally 1 ton of lemongrass will make 1 liter of essential oil, while lemongrass has not yet produced about 500ml. In addition, quality control of lemongrass flooded due to floods is also extremely difficult. But instead of choosing to ignore it, this guy chose to nod to the farmer in his hometown.
"Seeing them smiling makes me very happy, working is very hard, that's why I want to go back to my hometown to work, there are benefits to working in the countryside." School said.
Learn from people you don't get to meet
Talking about unfinished studies, Truong said: "There are people who succeed through education and there are people who succeed from life", This guy said that he himself does not completely support anything and oppose anything, depending on the compatibility of each person with the living environment, they will make decisions that are suitable for themselves.
"When I go out to work, I still keep in touch with the teachers at the National Economics University. If I have any questions or need to improve, I still call them. I learn from people in the same field as well. is to learn, to learn from people you don't get to meet like this book, a lot"Truong said.
After the successful project of producing essential oils from leaves, the guy appeared all over the newspapers. Favorable business comes with being known as an example, but Truong refuses the word "success" because according to this guy, at the school side still needs a lot of effort.
Instead of having to run three factories over and over again as before, Truong decided to bring all the processes back to a single point, Thach Thanh, Thanh Hoa – where he was born and raised. Although, this is considered a risky approach, but according to Truong, it is a long-term plan.
"In the past, I worked in Hanoi, electricity and water were very adequate, now here I have many difficulties, the infrastructure is poor, there is continuous power failure, but I still want to go back to my hometown, there is no electricity to use a generator, no water. use a new water zipper", Ngoc Truong said.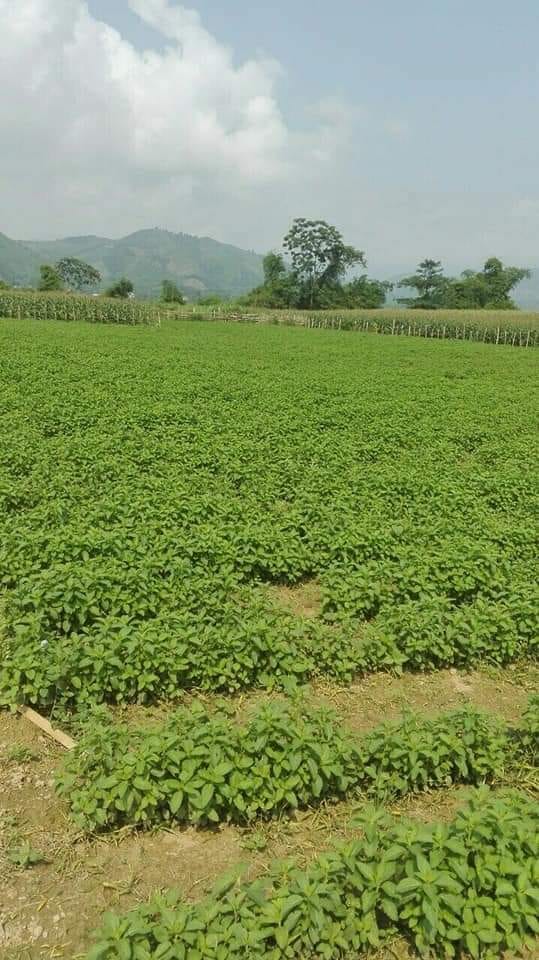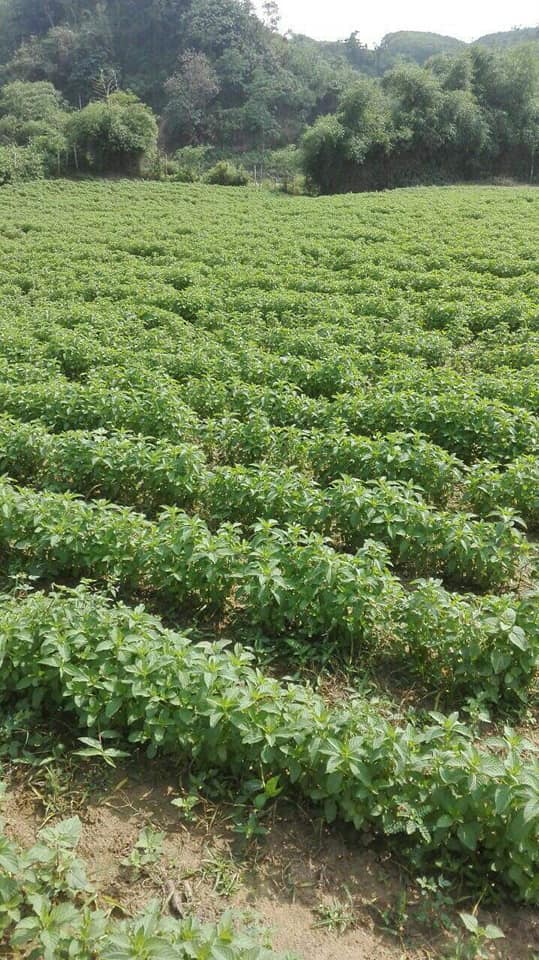 The school searches for ingredients to create scents everywhere, weak and difficult plants to grow, he chooses to grow in fields such as mint, rose, perilla, coriander, …
In his hometown, Truong classifies trees into two groups. The first group is a group of healthy plants, with high resistance, free from pests and diseases such as lemongrass, lemon, cinnamon, etc. With this group of plants, Truong chooses to buy from farmers' gardeners.
The second group, he said, are vegetables, flowers, and weak plants with poor resistance, easy damage, and disease, especially perilla and roses for the production of toners – products for facial skin. Thanh Hoa boys control quality by growing organically themselves, without using chemical fertilizers and monitoring from planting, tending, harvesting to production and finished products.
https://afamily.vn/chang-trai-25-tuoi-bo-ngang-dai-hoc-ve-que-kiem-tien-ty-nho-dam-me-voi-la-cay-20220514170939296.chn
You are reading the article
The 25-year-old boy dropped out of college and returned to his hometown, earning billions thanks to his passion for leaves

at
Blogtuan.info
– Source:
cafebiz.vn
– Read the original article
here