Ký sự pháp đình
Unhappy father asks for exemption from death sentence for son-in-law's murder of his daughter
Today (May 18), the Hanoi People's Court sentenced defendant Vu Thanh Hung (SN 1984, in Son Tay town) to the death penalty for murder.
According to the indictment, in 2015, Hung had a romantic relationship with Ms. Nguyen Thi Thu Trang (SN 1988, in Son Tay town) and had a common child named after her mother's niece Nguyen Kieu Khanh Huyen (SN 2015).
In 2018, Hung and Ms. Trang registered to get married, live together at Hung's house and have 2 more children together, grandson Vu Khanh Ngan (SN 2018) and nephew Vu Thanh Ngoc (SN 2020).
After giving birth to the third child, Hung and his wife began to have conflicts. Trang often asks for a divorce, but Hung does not agree.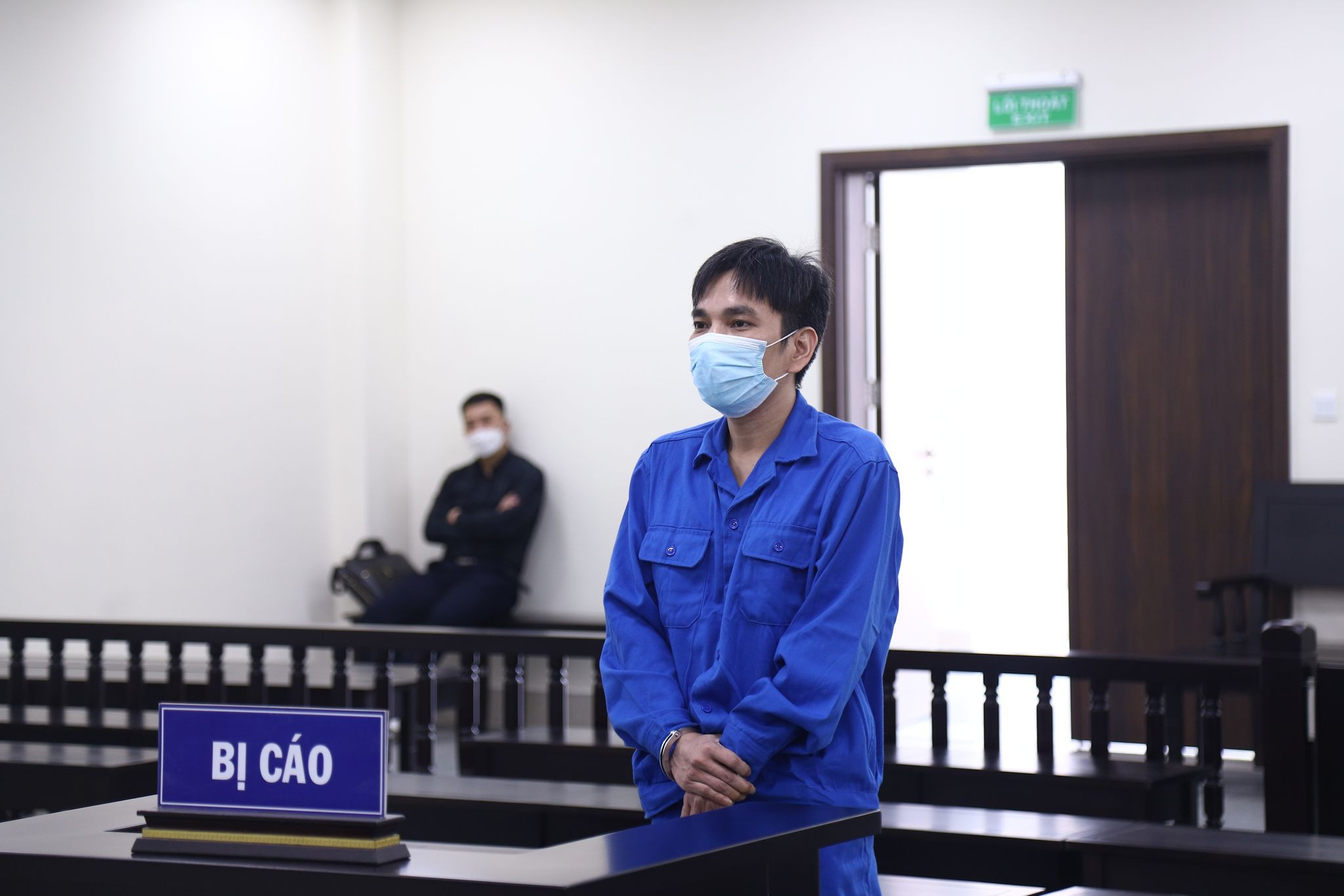 Around 10 am on February 16, 2021, Hung was cooking rice in the kitchen when he heard Ngan crying in the living room. The defendant ran up to see, seeing that his son's cheeks were red, he told Huyen: "Don't bully me anymore".
At this time, Ms. Trang said: "Because Ngan's son is always cold." Because of this, Hung and his wife had an argument.
Ms. Trang demanded a divorce and brought Huyen and Ngoc back to her biological parents' house, while Ngan let Hung raise her on the grounds that her husband defended her and didn't love Huyen.
Due to anger at Ms. Trang's attitude, Hung arose the intention to use violence against his wife.
At around 11:45 a.m. on the same day, after eating, the defendant put the tray into the kitchen, then went to the bedroom to get a knife and went to where Ms. Trang was holding Ngoc in the living room.
Seeing her husband walking towards her with a knife, Trang put the child down on the chair. Hung walked up to his wife, raised his knife, pointed at Trang and said: "Do you know your crime yet?" Finally, he swung the knife and slashed twice in a row, hitting Trang on the head.
Seeing this, Huyen rushed to hug her mother so that her father would not cut again. But Hung used his left hand to grab his son's hand to pull it out, his right hand held a knife and slashed one more time towards Ms. Trang.
After cutting, Hung put the knife down on the chair and pulled Huyen away from Trang's body. The victim got up and ran away when the defendant took a knife and slashed once more to the head, 1 time to the left hand.
When Ms. Trang ran out of the alley, she stumbled and fell in front of Mr. Le Xuan Hung's house (in front of the house). Hung came over, grabbed Trang's hand, covering his face, kicked his wife's stomach with his foot, swung the knife and slashed repeatedly at the victim's head, face, neck, and hands.
When his wife lay motionless, bleeding profusely, he took a knife and entered the house.
After a while, hearing a loud voice in the alley, Hung took a knife and went out. Seeing a neighbor standing near his wife, Hung went over, pointed a knife at the neighbor's face and said: "Get out, it's not your business", then took the knife and slashed repeatedly in the neck and chest area. of Ms. Trang, causing the victim to die at the scene.
Unhappy father
Killing his wife, Hung had to go to prison, 3 small children became helpless. The two oldest children live with relatives, the youngest child, when his mother died, was only 11 months old, living on the love of his grandparents.
Presenting in court, Trang's father said that when he heard that his daughter was murdered by her husband, he just wanted to rush into the car to end his miserable life.
After uttering the painful words: "My son died in agony, no one saved him when he cried for help", but the unfortunate father still asked for his son-in-law. "I ask the jury to absolve Hung from death," he said.
According to the victim's father, his family was in extremely difficult circumstances when his wife had a stroke that could not be helped, his disabled son was confined to a wheelchair, he himself was old and weak and still had to make a living. adding the burden of a less than 1 year old grandchild to take care of.
After the death of his daughter, he did not want to continue living, but looking at his motherless grandchild, he tried again. "I take care of him when he's healthy, when he's sick, he's stuck, I can't do anything… Now what can I do, I'm sure my wife and children will also die," said the unhappy father.
It is known that in terms of civil liability, the accused's family has compensated Trang's family more than 1.5 billion VND (including child support and mental loss).
During the investigation, the defendant's family provided the police with a psychiatric medical record of Hung being treated at the Central Psychiatric Hospital 1.
The medical records confirm that Hung was admitted to the hospital on June 6, 2015, discharged on September 29, 2015 with the diagnosis: "Mental and behavioral disorders due to the use of hallucinogens".
In May 2021, the CQD issued a decision to solicit a psychiatric assessment of Hung. The conclusion of the psychiatric assessment showed that: "Historically in 2015, Hung had a treatment for psychosis caused by the use of hallucinogens and was cured.
Before, while committing the crime, Hung had no mental illness. The accused is capable of perceiving and controlling the behavior. At the time of examination, Hung had a mixed reaction of anxiety and depression.
The defendant is capable of perceiving and controlling his/her behavior and is not subject to compulsory medical treatment."
T.Velvet
You are reading the article
Unhappy father asks for exemption from death sentence for son-in-law's murder of his daughter

at
Blogtuan.info
– Source:
vietnamnet.vn
– Read the original article
here