Kinh doanh
World
Working as a banker, making banana bread at night, 9X earns money, but a side job earns more than 100 million per month.
Born and raised in Ho Chi Minh City, young girl Le Thi Ngoc (born in 1993) studied two majors in banking and accounting at the University of Economics in Ho Chi Minh City. Perhaps, because she was too "greedy" while studying, when she graduated from school, although she worked in the banking sector, Ngoc was always in pain and wanted to do some business for herself.
Sharing with PV Infonet, Ngoc said that once she happened to enjoy the dish banana cake Toasting avocado, she researched the recipe herself, immediately started making it and invited her family and colleagues to taste it.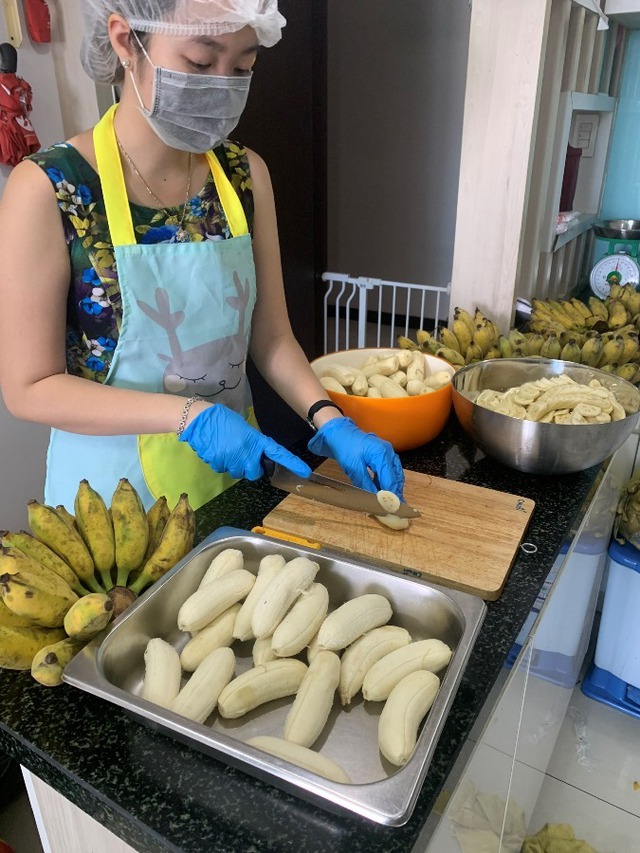 9X girl Le Thi Ngoc started a business with her left hand and made money with avocado baked banana cake.
After eating, her husband and colleagues encouraged to try selling, Ngoc posted for sale on apartment groups and received a number of orders. So, every day, she goes to work at the bank, and when she comes home at night, she bakes cakes from 19 pm to 1 am to pay for the orders placed.
Just like that, the banana cakes attracted her passion, Ngoc realized that if she sold only a small number of cakes, the imported raw materials would not be well priced, so she sought to increase the number of orders by how to open 'shops' on e-commerce sites like shopee, grab…
After about 6 months, everything started to stabilize, Ngoc felt that her product was accepted by the market and thought of recruiting employees instead of directly making each cake.
After about 2 years of operation, Ngoc now has two branches in Ho Chi Minh City with 4 bakers and sales staff. Monthly revenue is about 100-150 million VND from his side work; while still working in a bank during the day.
Bake 200 cakes to get the standard cake recipe
Ngoc shared, the first banana cake was born at the time when Ho Chi Minh City appeared the Covid-19 epidemic in 2020.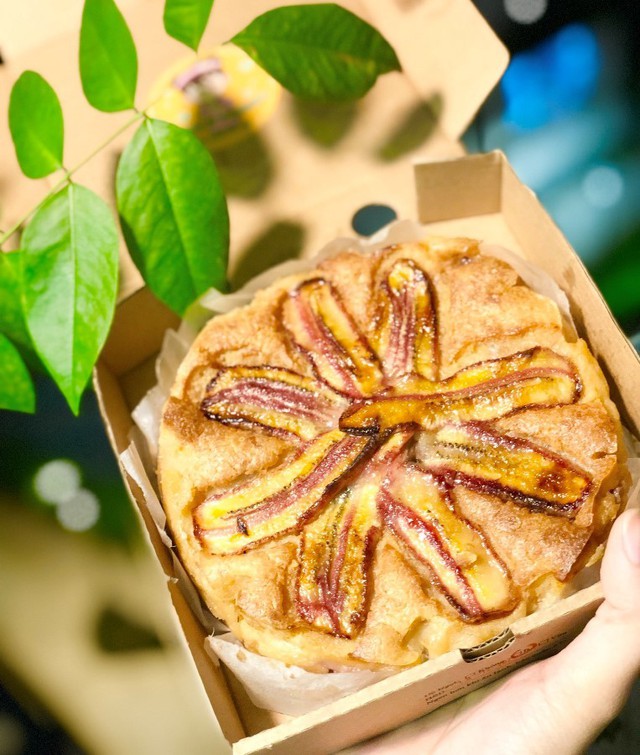 The baked banana cake is packaged in a beautiful paper box, everyone wants to try it.
To come up with a standard recipe for the cake is also very arduous. Having never made a cake in her life, Ngoc consulted all the recipes on Youtube, combined with the recipe when Ngoc made a banana cake to try for the first time and then came up with her own recipe.
The first batch of cakes Ngoc baked was burnt, but it was still delicious to eat. To extract the recipe for business development, Ngoc took 3-4 months to make 200 banana cakes and then invited friends and colleagues to taste and give suggestions. Ngoc bought all the banana cakes available in Ho Chi Minh City and tried them out so that she could make a different cake of her own.
After that, the first cakes were sold to the market, but Ngoc did not forget to listen and improve the product to meet the needs of the market. When a customer commented that the banana cake was a bit sweet, Ngoc improved to add a line of less sweet and sugar-free cakes to meet more diverse needs.
Accordingly, the avocado-baked banana cake made by Ngoc is both soft and smooth, with the aroma of butter mixed with the aroma of bananas and alcohol when using all ingredients from famous brands. In particular, when cooked and refrigerated overnight, the cake will be firmer and much loved by many customers.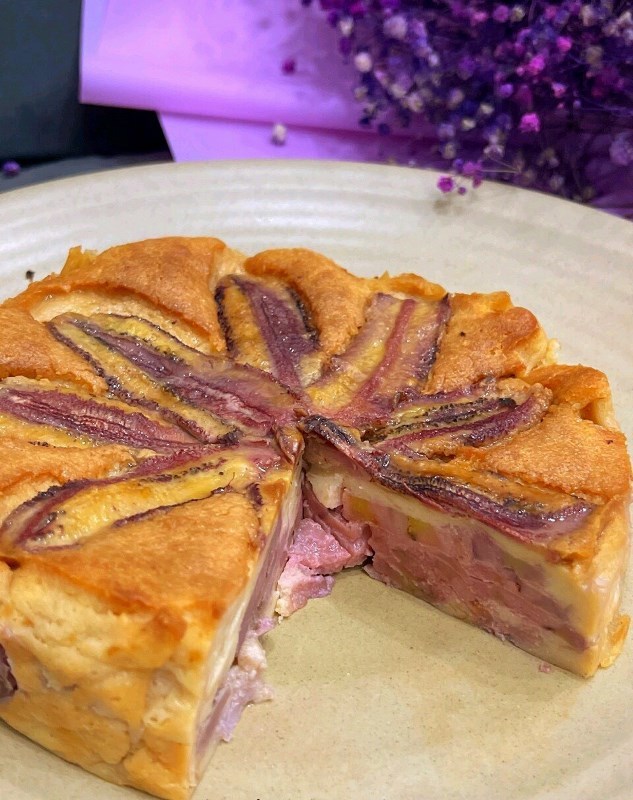 The avocado-baked banana cake made by Ngoc was introduced to be both soft and smooth, with the aroma of butter mixed with the aroma of bananas, wine, etc. to create its own unique features.
With the motto 'just be wrong fast to improve' because I have no experience. In the first 6 months, Ngoc retails mainly, gradually referring to her predecessors, she develops agents, builds discount policies for them to increase sales.
As a result, up to now, Ngoc sells about 1,500-2,000 banana cakes every month in Ho Chi Minh City and southern provinces. Monthly revenue is about 100-150 million VND.
Daily cakes are produced according to the orders of dealers and retail customers, baked to where they are consumed, and not left unsold.
Ambition to expand scale, double revenue
The secret to making delicious cakes is shared by Ngoc, all ingredients are selected, especially the main ingredient is bananas, which will be imported from green bananas and let the bananas ripen naturally, ensuring clean bananas. no chemicals.
According to Ngoc, although when ripe bananas will lose a lot, increase costs, but still accept to ensure the ingredients, the 'soul' of the cake is always the most guaranteed.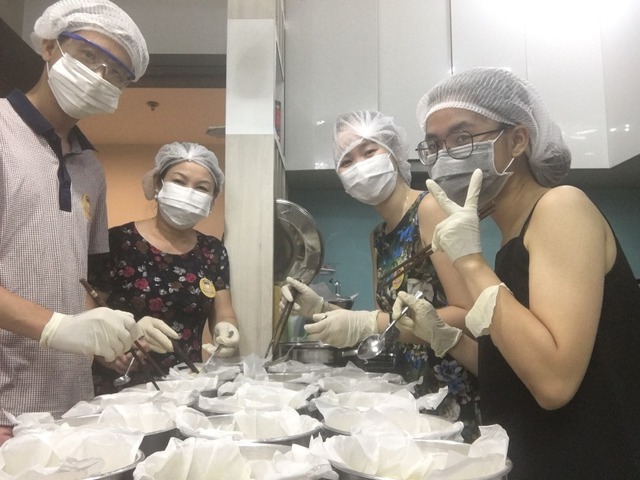 Before hiring employees, because of too many orders for cakes, Ngoc had to ask her whole family to help make cakes to pay customers' orders in time.
Since starting her business in August 2020, Ngoc has sold over 50,000 avocado-baked banana cakes to the market, but always listens and reads the feedback of each customer. Thanks to that, there are loyal customers who buy cakes up to 2-3 times per week, which is something Ngoc is extremely precious.
The young woman also shared that when she first started her business with banana cake, she was not supported by anyone, only her husband was the one who always stood by her determination and perseverance. Quietly, diligently working every day… until now like ant tha ances, small-scale achievements and parents on both sides are now very proud of Ngoc's achievements.
According to the plan, Ngoc wants to expand and develop Sonia's Bakery avocado banana cake brand in the northern market, first in Hanoi. Currently, Ngoc has a contact to receive orders and transport vacuum-packed cakes from the South to Hanoi by train.
When the consumption volume in Hanoi is stable, Ngoc will design a model like in Saigon with a bakery, direct baking and sales staff.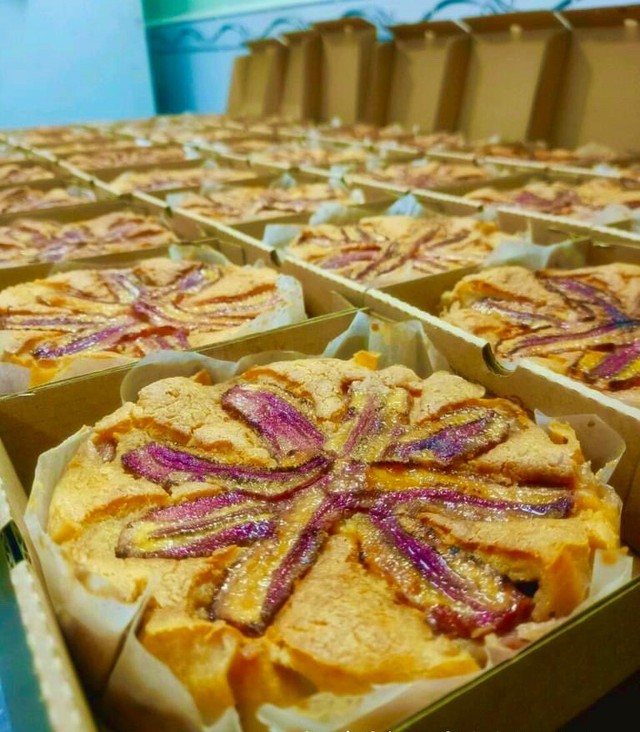 Not only stopping at avocado-baked banana cake, Ngoc plans to continue to develop desserts such as yogurt, flan, and new drinks and cakes.
As an ambitious person, who does not want to stop at the revenue of 100-150 million VND/month, Ngoc said that he will develop more agents to double the revenue and increase the number of employees at each branch.
Sharing experiences with young people, Ngoc said that when starting a business, young people need to have dreams and aspirations, plan not too far away, plan must be feasible and do it right away, without hesitation. In particular, it takes perseverance and perseverance to overcome difficulties and challenges to reach the finish line.
Currently, Ngoc's bakery every month deducts a portion of its profit to join hands with the Lotus Fund, which has 2,000 VND social eateries to help disadvantaged people have enough meals for the day.
In the future, Ngoc wants her bakery to operate better, have a stable income, more to be able to fulfill her desire to do more volunteer work such as helping orphans and lonely elderly people. …
You are reading the article
Working as a banker, making banana bread at night, 9X earns money, but a side job earns more than 100 million per month.

at
Blogtuan.info
– Source:
Soha.vn
– Read the original article
here