Life Style
Yêu
20 times on the operating table and priceless happiness
The darkest moment of my life
Perhaps in this lifetime, Hoang Tang Thi Thu Huong (SN 1995, living in Ho Chi Minh City) will never forget the fateful day of March 30, 2016, the day that brought Huong's life to a new page with more pain.
That day, while driving her roommate named D. from school to the boarding house in Go Vap district, Huong was hit in the face by two young men who weren't used to acid. Hospitalized with a burning face, the girl's life seemed to collapse when she heard the doctor informed her that she burned 75% of her face, burned the cornea of ​​her left eye, leading to blindness.
During the investigation, the police arrested the group of perpetrators of the crime. The mastermind of the incident is Quyen – a friend of D. (who rents a motel with Huong).
According to the indictment of the case published by the Vietnamese Women's Newspaper, Quyen and D. had a romantic relationship since high school, then went to Ho Chi Minh City to study at a college, then rented a boarding house.
Then 2 people happened conflict so D. moved in with Huong. Quyen many times went to the inn to make up with D but was refused. Seeing that D. was happily staying at the inn with Huong, Quyen was angry, so she sought out Tam (Quyen's unrequited love) to ask for help with Huong's acid.
The subjects drew up the script, when Huong was splashed with acid, Quyen would appear with D. take Huong to the hospital for treatment and then slowly reconnect with D. However, after throwing acid on innocent people, As Huong, Quyen also had no chance to heal with D, she was immediately arrested.
On September 26, 2018, the People's Court of Ho Chi Minh City sentenced Luong Thuy Kieu Quyen to 9 years and 6 months in prison, Nguyen Dinh Thanh Tam to 8 years in prison, and Pham Hoang Long to 7 years in prison for the same crime of "Intentionally causing injury". and each must compensate the victim 300 million dong, the total amount is 900 million dong, but the defendants have not completed this compensation. As for Quyen, she neither paid nor apologized to Huong.
After the accident, Huong had to leave school to treat her injuries and travel constantly between Thailand and Vietnam to do surgery to restore the burned side of her face. After nearly 20 times on the operating table, although her left eye is permanently blind, Huong's face has recovered to 80%. In addition to the care of her parents and brother, the girl always has the companionship of her boyfriend, now her husband.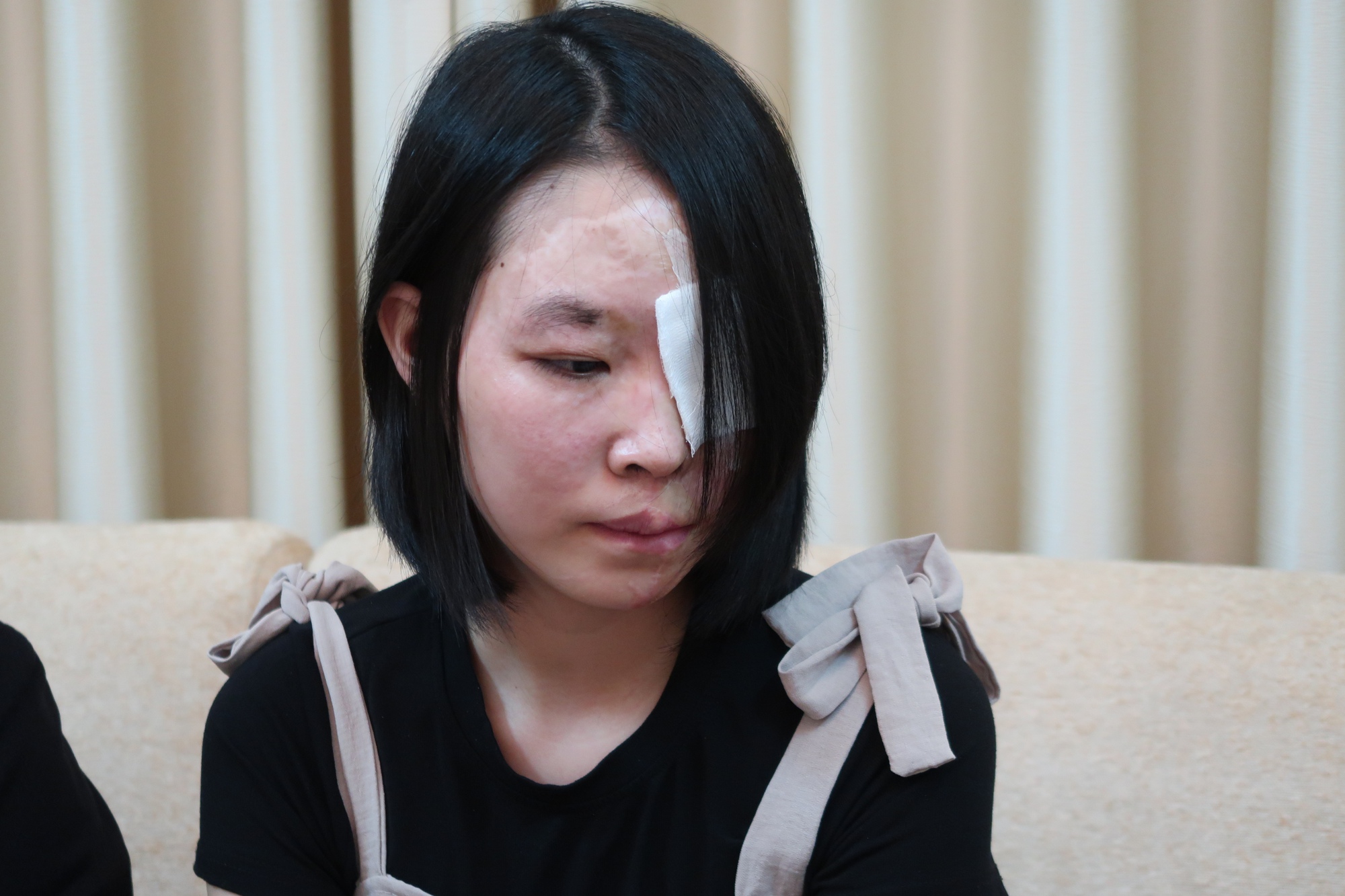 Huong after receiving treatment a few years ago. Photo: Labor Newspaper
During the treatment of sequelae due to acid burns, there were times when Huong thought she could not overcome because of 2 severe infections.
She still remembers that feeling of fear when sharing with Zing News: "At that time, I had a very serious infection. My face began to fester, blood and other fluids kept flowing to the point that I had to collect my hands while eating. I was really down. Once it hurt, I could try, but the second time it was really difficult. Before, people used to say that I was a lady, weak, I didn't know how I could be strong. so strong".
Light at the end of the tunnel
Up to now, after 6 years of the incident, Huong has a new happy and idyllic life with Phuoc Thinh – a guy from the same college class in the past.
Before being splashed with acid, Huong and Thinh, who were classmates, also had feelings of affection and affection for each other. On the day Huong was hospitalized, Thinh was the person next to her. Thinh worked part-time every day and then took advantage of the hospital to take care of Huong. During the tribulation, Thinh's sincere heart made Huong accept love.
But after learning that her injury was very severe, requiring lengthy and expensive treatment, the female student began to shy away from her boyfriend for fear of making Thinh miserable.
"After being in the hospital for half a month, I had facial surgery. At this time, I began to think further, have low self-esteem and stop communicating with Thinh. My friend passed, but I didn't talk. Thinh's family also came to visit. , your mother told me not to think or worry too much," Huong shared with Zing News.
After all, Thinh's heart also made Huong open her heart, and stood up with Thinh to overcome life's events.
Two years after the accident, Thinh graduated from school and worked as a nurse at Ho Chi Minh City Children's Hospital, Huong studied spa, skin care and opened her own business in Ho Chi Minh City.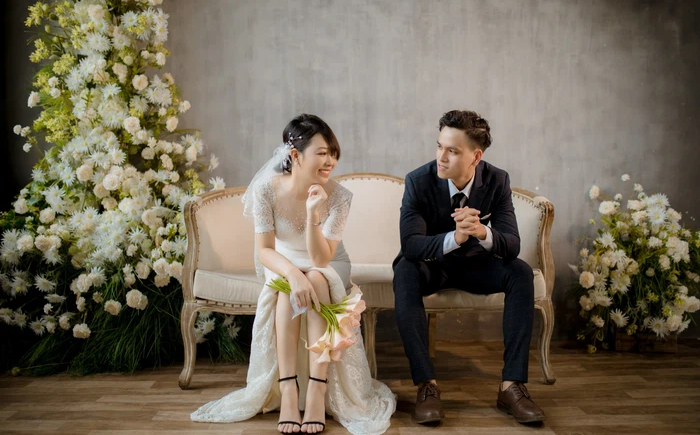 Wedding photo of Huong and Thinh. Source: Vietnamese women
On January 16, 2021, Huong and Thinh held a wedding, the joy was doubled when both suddenly learned that they were parents.
Huong shared with Dan Viet: "When we heard the news of our pregnancy, we were both a bit worried because we had just started working and building our careers. But during the prenatal check-up, looking at the ultrasound, we were really happy and happy when we saw the baby grow up. Thinh and I have been in love for a few years, but our feelings are still the same as the first day. We are happy to see each other, live together and share hobbies. health to take care of children".
In Family lifeHuong is happy because she has a husband to accompany and take care of her. Thanks to a nursing degree, Thinh took care of Huong throughout her pregnancy very thoughtfully, Huong later became a mother of a square child.
"Fortunately, the mother and daughter were not affected by the sequelae of the acid attack. Huong only had a lot of morning sickness, so she had to ask her grandmother to take care of her so that she could focus on work and have the money to take care of them." Thinh happily told the source above.
From an innocent girl, experiencing many events, receiving a lot of love and care from relatives and friends, Huong became more and more loving. She especially let go of the painful past, forgave those who caused her unhappiness to receive priceless happiness: being a wife and mother.
When asked by PV Thanh Nien: "Is there any hatred existing in you?", Huong said: "I don't hate Quyen, I don't hate her. I only blame. Because, since everything happened, Quyen has never told her to apologize, her family also denied responsibility, making her parents very angry. After all, there is one thing I always ask myself: Did I do something wrong to have to endure this pain?
Huong burst into tears while confiding to the above newspaper: "Family and loved ones are the driving force of my life. If before, I cared little about my appearance and made many connections, now, I spend a lot of time thinking about the future and job opportunities after graduation. I "make friends" with books, with stories that give me the motivation to live…".
Synthetic
You are reading the article
20 times on the operating table and priceless happiness

at
Blogtuan.info
– Source:
Afamily.vn
– Read the original article
here