In March 2022, Truong Dinh Minh (1997, Hanoi) made a trip across Vietnam by motorbike in 26 days. More than a month later, his photos were shared widely on many fanpages/tourist groups. Dinh Minh said: "I have cherished a trip across Vietnam since my first year of university and set a goal to go before the age of 22. But due to busy work and desire to be equipped with enough tools (camera, car ..) should be postponed. At the beginning of this year, when the Tet holiday ended, work was delayed due to the epidemic, so I decided to go immediately. At that time, I realized that as long as I have the determination to do it, the time and economic barriers will automatically be solved."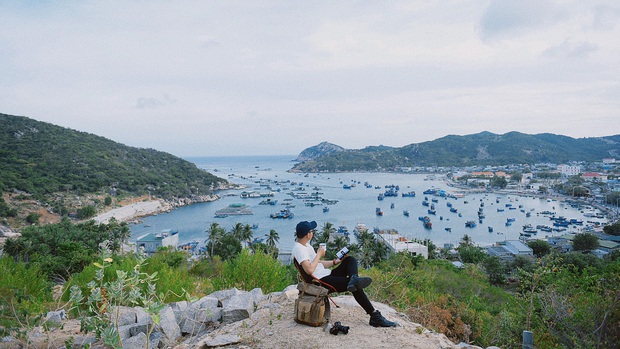 Dinh Minh, who works in the industry and also loves travel, has a lot of experience in moving before. So the trip went quite smoothly. Thanks to the careful calculation of the travel route, budget, means, accommodation, etc., Dinh Minh's journey was not too difficult. Perhaps thanks to such high feasibility, his shares are well received, suitable for reference with those with similar intentions.
Departing in March from Hanoi, the trip of Dinh Minh and 2 companions encountered quite favorable weather, the places were not too crowded with tourists. Here are the details of his journey through Vietnam:
About the vehicle: "I don't have a manual / clutch car, so I talked to a close friend in Hai Phong, using an Exciter 150 to travel across Vietnam. When I received the car, I took it for maintenance, installed a phone holder to view Google Maps and three stations to tie things in the back to help stop refueling without removing things, saving time.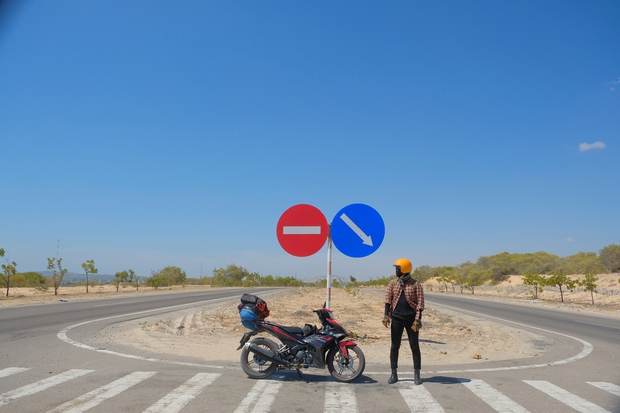 About baggage: "My experience: For traveling clothes, you only need to prepare 1-2 jeans, 1-2 sunscreens with airy and fashionable materials (both sun protection and beautiful check-in so that each time you stop shooting, take the time to change clothes). When going out at the destination, boys only need 3-4 T-shirts, shorts to wear and wash at the hotel. My belongings are packed in a 40kg backpack (clothes, shoes, toiletries)".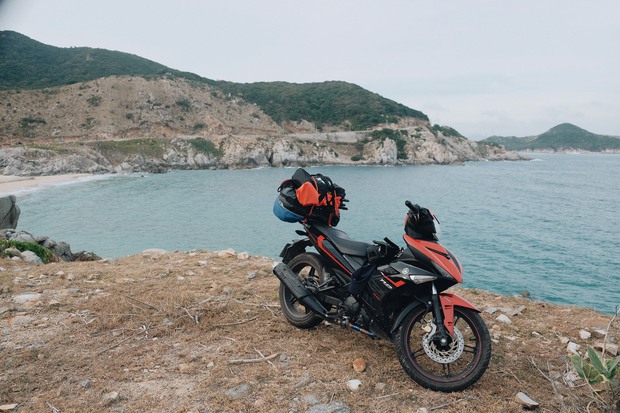 About stay: "I use all the booking support apps to find the best place with the lowest price like: Traveloka, Agoda, Airbnb… In addition, I also searched through Google Maps by searching the keyword "homestay or motel" + name Point to. Then, we will choose a place with good reviews, convenient to move, and then contact the reception directly and negotiate the price of the room."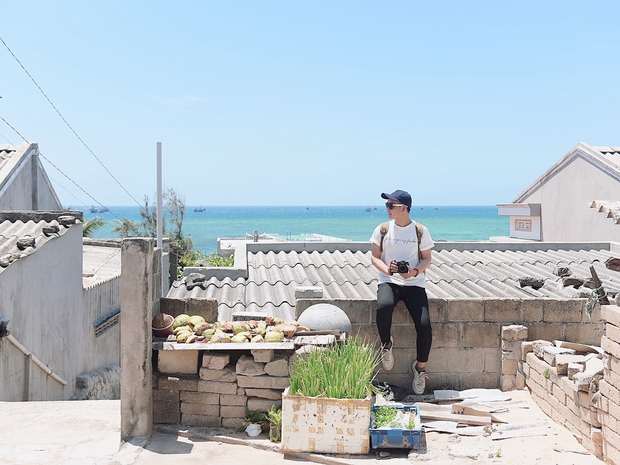 About food: "Our group of 3 is easy to eat, so almost every province we go to, we find restaurants and typical dishes of that locality to eat. The dish I eat the most is… broken rice. I feel lucky when I always find a good and cheap restaurant, no hacks, no digestive problems. But in the backpack, there are always a few bottles of medicine for minor diseases that can be used immediately when there are strange symptoms. I have experience in backpacking and research carefully before going, so everything is quite convenient."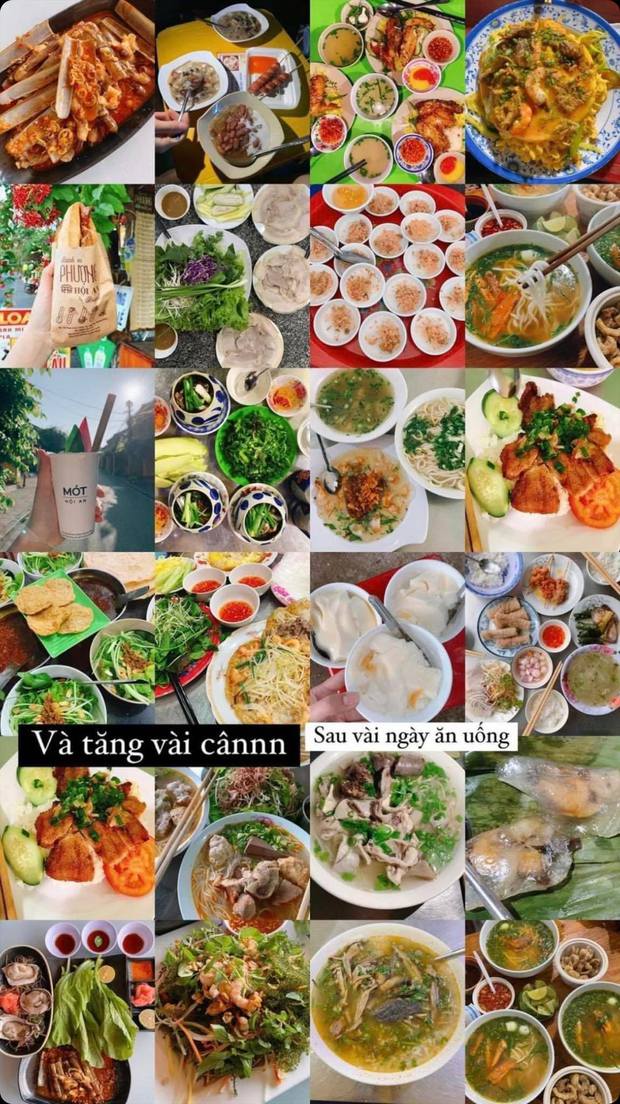 "Companion is extremely important on a long trip. I originally intended to go alone, both for freedom to explore and for fear of not finding a suitable companion. Fortunately, I have 2 female companions who are quite good from beginning to end. Because I have a female companion, I ride slower, eat and sleep on time. When traveling for a long time, even if you are alone in a car, knowing that there are 2 friends behind you also makes you feel less lonely, and every meal has someone to share." – Dinh Minh said.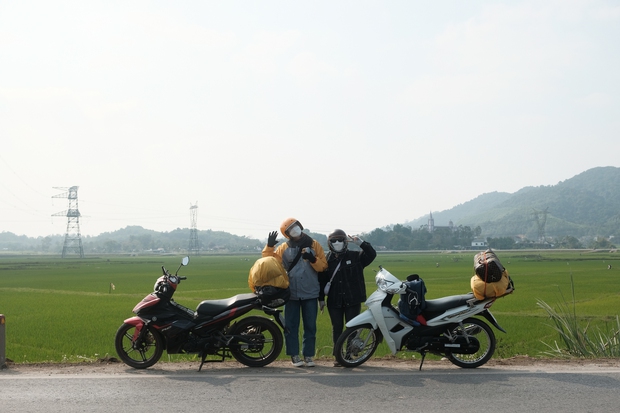 Two female friends accompanied Dinh Minh on his trip across Vietnam, all three knew each other through social media, and had the same passion for travel and photography.
In the first half of the 4,700km journey, the main axis you choose to move along National Highway 1A. With the opinion that this is a road with many cars and few beautiful scenes, Dinh Minh said: "In my opinion, because of each person's feelings and purposes, if you have a lot of time for the journey, you can take the branch roads to visit and admire more, and to save travel time, 1A is the fastest way. In the following stages, I choose Ho Chi Minh road and coastal road to admire the scenery and enjoy nature. The guy also shared that he had 2 motorbike rides from Hoi An to Hanoi and Quy Nhon – Nha Trang, so these places only stopped by, but didn't stay for long.
During the trip, the average time the group spent on motorbikes was about 4-5 hours a day, equivalent to 200km moving slowly, especially on the first day, they went 300km from Hanoi to Nghe An. Phan Thiet – Ho Chi Minh City – Da Lat are the 3 provinces where Dinh Minh stops the longest (3 nights each). Soc Trang is the shortest stay (1 night). Some impressive destinations and routes shared by Dinh Minh include: Don Ca arch bridge (Hai Van Pass), Phu Quy island, Vinh Hy coastal road, Khanh Le pass from Da Lat to Nha Trang, Nam Can road going to Nha Trang. Ca Mau cape…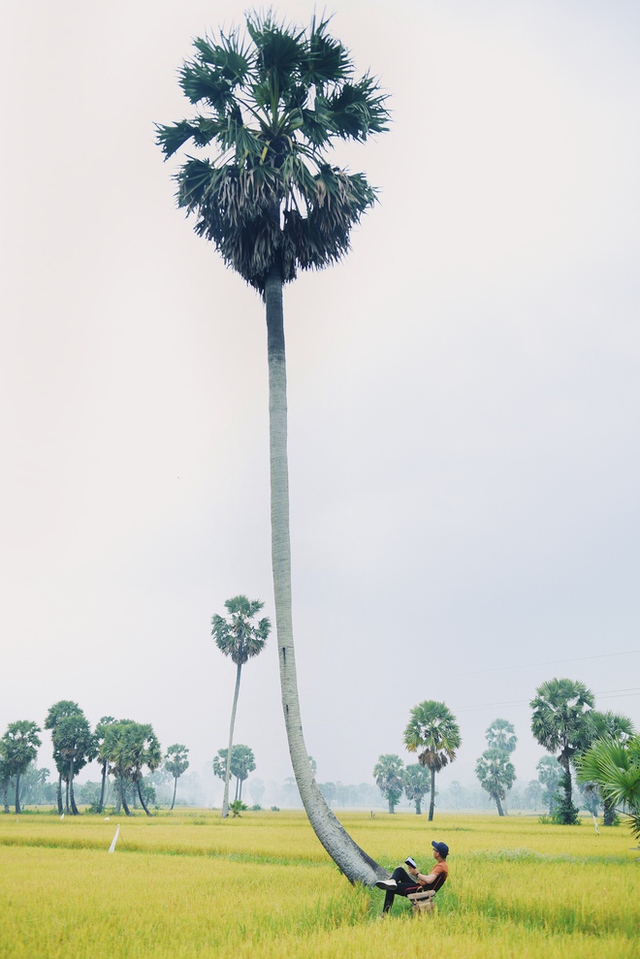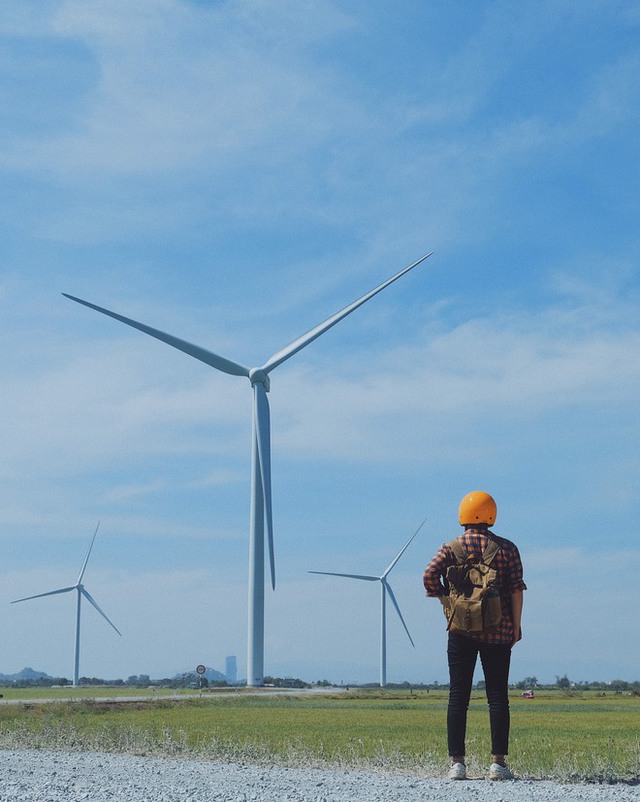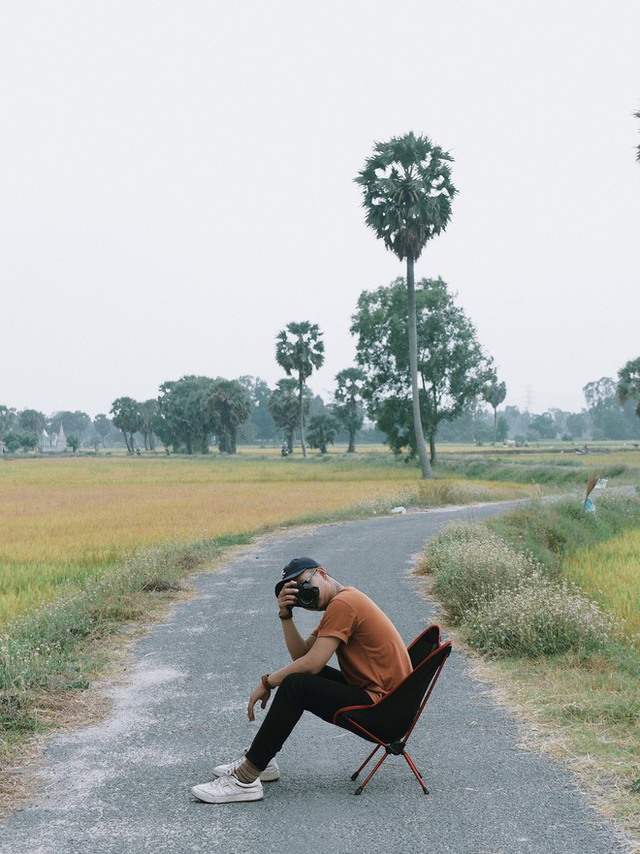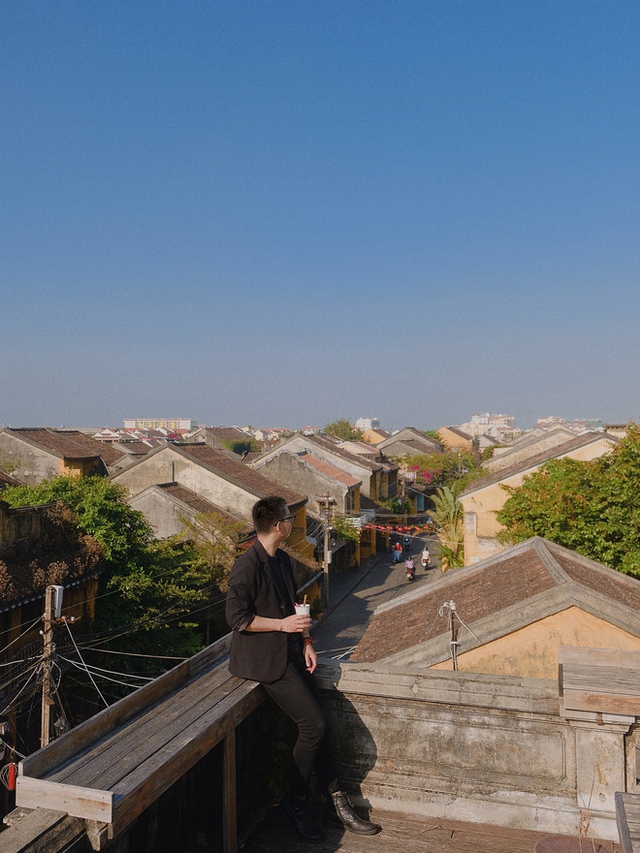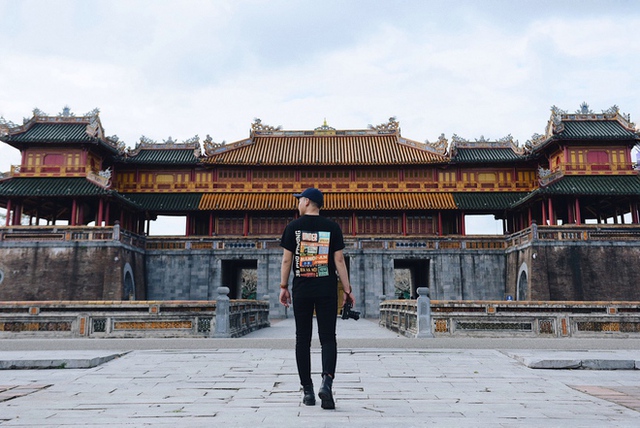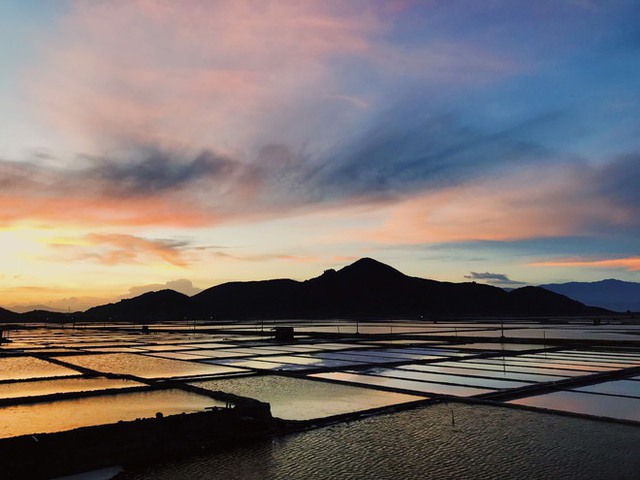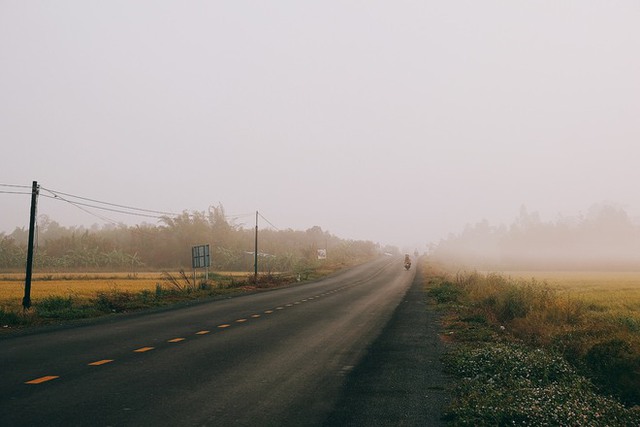 Some spectacular scenes during Dinh Minh's trip through Vietnam
Summary of Dinh Minh's trip
– Time: March 2022
– Number of days: 26
– Cost: 18 million VND (excluding preparation costs before the trip)
– Places passed: 29 provinces and Phu Quy island
– Distance: 4,700 km
– Incident: 0 times fell off the car, got nailed twice but fortunately didn't have to patch
Reference schedule
Day 1: Hanoi – Ho Chi Minh road – Vinh (Nghe An)
Day 2: Vinh – Dong Loc junction – Dong Hoi (Quang Binh)
Day 3: Dong Hoi – Hue
Day 4: Hue – Hoi An
Day 5: Hoi An – Quy Nhon
Day 6: Quy Nhon – Tuy Hoa
Day 7: Tuy Hoa – Phan Rang Thap Cham
Day 8: Phan Rang – Vinh Hy (coastal road) – Ca Na
Day 9: Ca Na – Bau Trang – Mui Ne – Phan Thiet
Day 10: Phan Thiet – Phu Quy
Day 11: Phu Quy
Day 12: Phu Quy – Phan Thiet – Lagi
Day 13: Lagi – Vung Tau
Day 14: Vung Tau – Ho Chi Minh City
Day 15: Ho Chi Minh City – Soc Trang
Day 16: Soc Trang – Ca Mau
Day 17: Ca Mau – fall 5 (Soc Trang)
Day 18: Crossroads 5 – Sa Dec – Long Xuyen
Day 19: Long Xuyen – Tri Ton – Tinh Bien
Day 20: Tinh Bien – Ho Chi Minh City
Day 21: Ho Chi Minh City
Day 22: Ho Chi Minh City – Da Lat
Day 23-24: Da Lat
Day 25: Da Lat – Nha Trang – Cam Ranh
Day 26: Cam Ranh – Hanoi
https://kenh14.vn/anh-chang-co-bo-anh-xuyen-viet-bang-xe-may-dang-viral-26-ngay-rong-ruoi-chang-duong-4700km-20220518103759117.chn
You are reading the article
26 days of traveling 4,700km!

at
Blogtuan.info
– Source:
autopro.com.vn
– Read the original article
here