Đời sống
A special gift from the hero Timor Leste for female volunteers
Special moment volunteers handing flags to athlete Timor Leste at SEA Games 31
Nearly 2 days after winning the silver medal in the men's 10,000m final, Felisberto De Deus (23 years old, athlete from Timor Leste) went to Daewoo Hotel to meet female volunteer Ha Thi Thanh Thuy (19 years old, a first-year student of the Spanish language department, Hanoi University) when she was assigned a task at Daewoo Hotel to send her thanks and most sincere feelings for her.
The story of a female volunteer running down the field, giving the flag to the hero Timor Leste to celebrate around My Dinh yard. Clip: Gia Khiem
Although he only won a silver medal in the 10,000m race at SEA Games 31 on May 17, but athlete Felisberto continued to make a mark for Timor Leste athletics when winning the second silver medal in the history of the Southeast Asian Games. Previously, this male athlete also won a silver medal in the men's 5,000m event.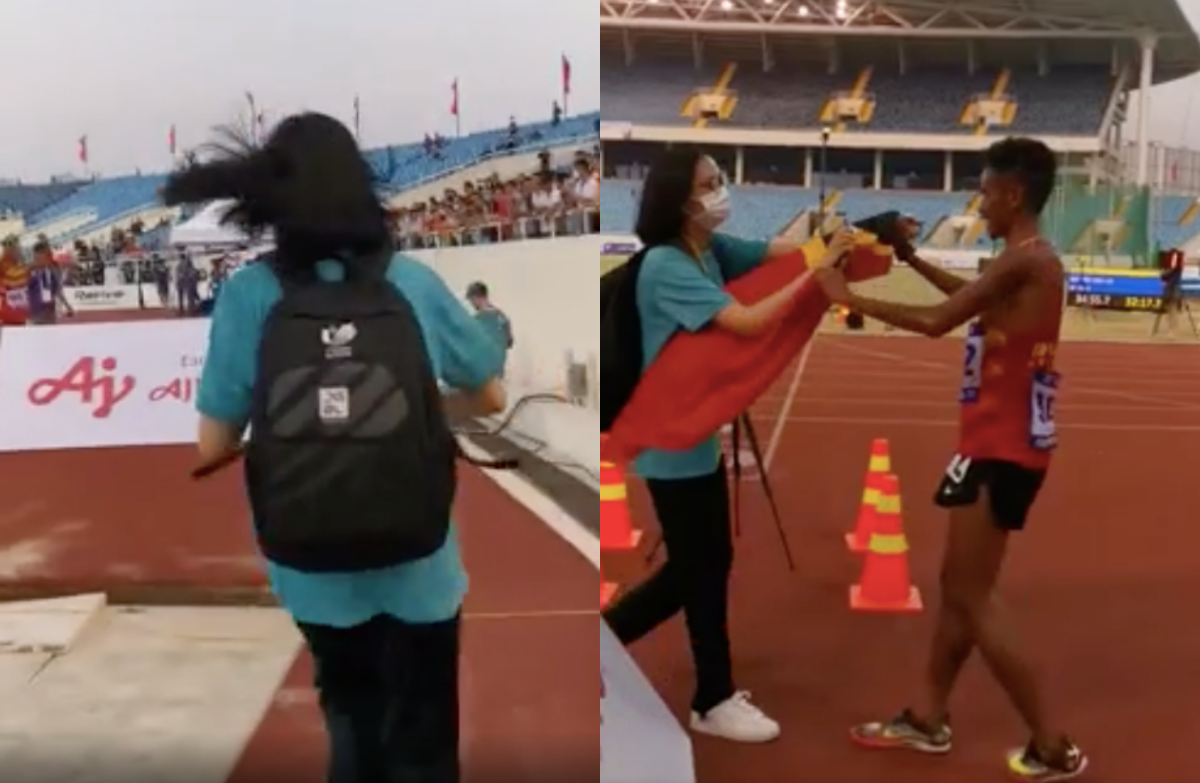 Standing at the finish line waiting for nearly 10 minutes, he was disappointed when he could not hold the national flag in his hand. At this time, a Vietnamese female volunteer ran out from stand A, handed the flag of Timor Leste to Felisberto so that he could confidently put his arm around the My Dinh stadium in the cheers and cheers of Vietnamese fans. Male.
Exchange with Reporter Dan VietThuy hesitated to say, she never thought that the moment she ran from the stands to give the flag to athlete Felisberto, she would receive so many shares on social networks and in the press.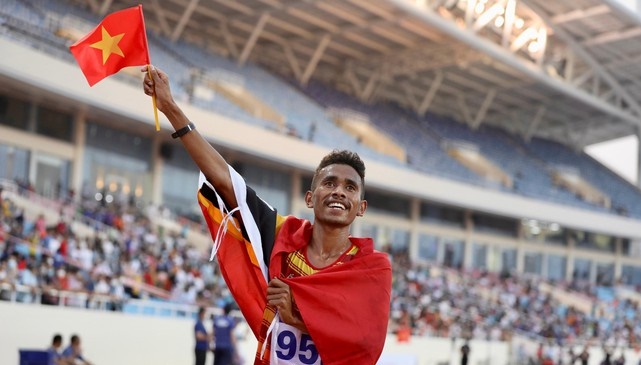 Thuy said, while standing near door 4 of My Dinh Stadium, her friend was asked by Timor Leste's coaching staff to come out and give Felisberto the flag because they were in the stands and couldn't get down right away. All the fans around cheered and cheered for Thuy, shouting "Come on, hurry up. He's waiting". At that time, Thuy just wanted to run as fast as possible to show the flag.
The moment the flag was handed over and Felisberto celebrated the victory, the female volunteer was very proud. Later, Thuy happily showed everyone that she had run to give the flag to athlete Timor Leste.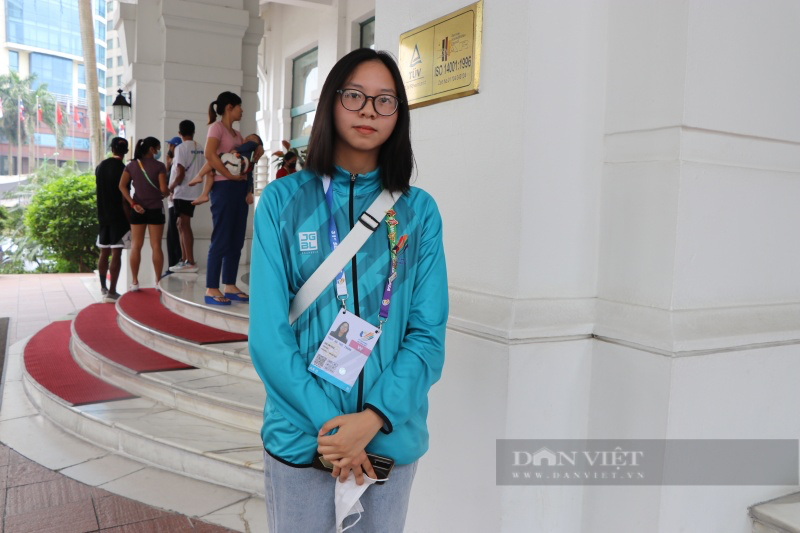 "All the fans shouted, congrats Felisberto. I have a lot of respect for him, for both Timor Leste's first two silver medals in the arena. SEA Games 31, were all won by the excellent Felisberto. He worked hard and tried a lot," Thuy said.
After those moments that day, Thuy received messages from many friends "Thuy is famous." At this time, she just laughed. With Thuy feeling very happy and proud to be the lucky one to be a witness and character in that moment, she said she will remember this very much.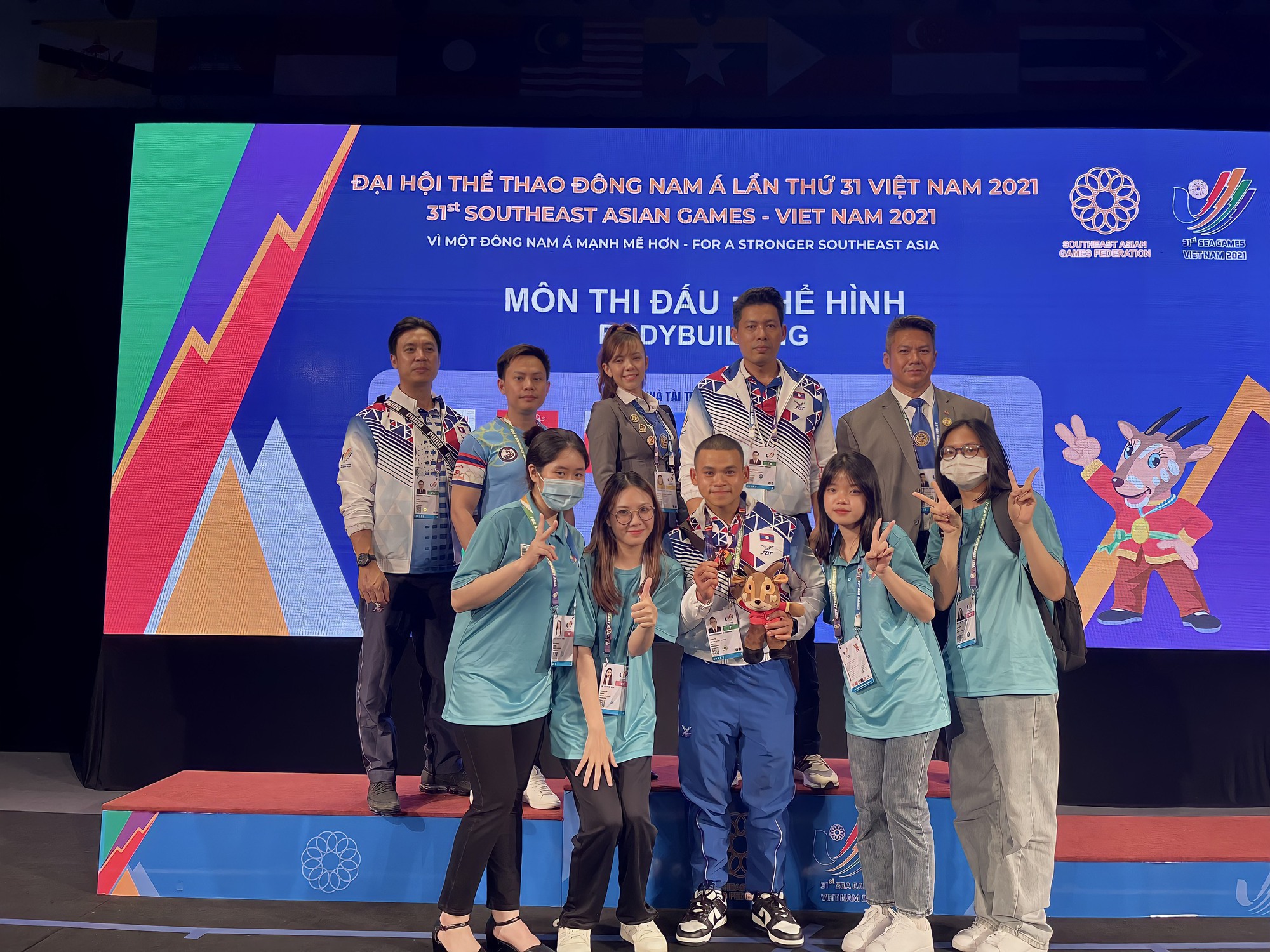 The female volunteer said that she expected to be able to make a small contribution to the community SEA Games 31 this time. She is also fortunate to be one of 1,350 typical students of Hanoi University selected since February to serve the SEA Games.
A special gift from the hero Timor Leste at SEA Games 31
Female volunteers from the traffic subcommittee, have been trained since April on activities such as staying at hotels, dispatching cars for teams, and keeping track of athletes' time. Her work usually starts at 7 a.m. and ends at 20 a.m. every day. One day, Thuy only worked in shifts to have time to rest.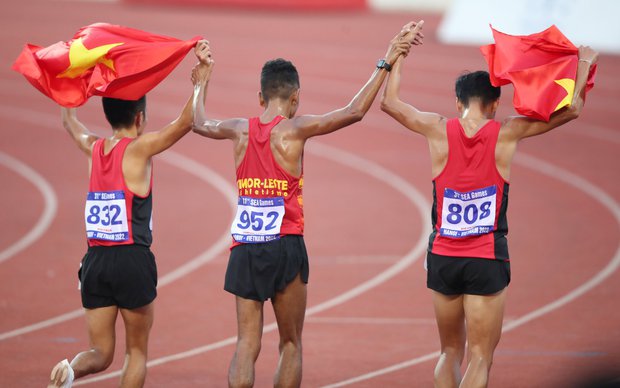 Here, Thuy noticed that athletes and foreigners living normally are very happy and full of energy. However, when competing, they are very serious, thorough, careful in arranging cars, moving, eating, taking care of that ….
"I'm very happy to work here, the volunteers always receive compliments from foreign friends. I remember a team sister accompanying the VIP guest of the Wushu team saying 'The impressive thing that SEA Games brings is that. is the spirit of hospitality of the volunteers, because they are the earliest to arrive and can leave at the latest, can answer the phone at midnight to answer questions from guests or foreign guests'. We are very happy with that encouragement and always try our best to contribute to the success of the Southeast Asian Games held in Vietnam this time," Thuy expressed.
On the afternoon of May 17, the work at the hotel was completed, Thuy was transferred to My Dinh National Stadium to cheer up morale and assist in traffic lanes. This is also a memorable moment in her life.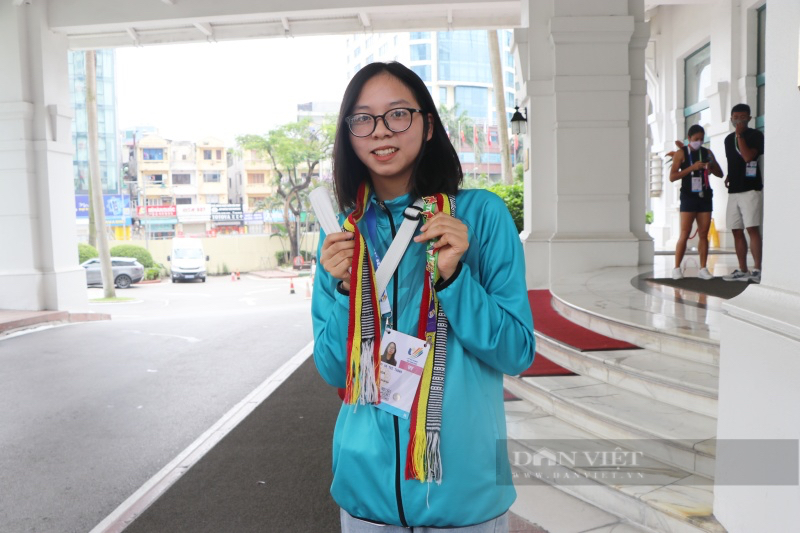 "Before, people told me that Felisberto was looking for me, because I didn't have a schedule, so I couldn't go to the hotel. When he met me, I was working to support groups here, he thanked me and apologized a lot for not being able to. Thank you for that day.
His family told him that he had to find a certificate to thank him. I'm happy because I think I should have had this moment and the person I should be thanking here is me. He gave me a very special, close and dear gift, a hand-made handkerchief by the Timor Leste people," Thuy said.
Through these sports festivals, Thuy wants to make a small contribution to international tourists, Vietnamese people are hospitable, friendly, sociable, and have positive energy.
"I wish the SEA Games had a half a year, the thing I'm most happy about this volunteering time is meeting a lot of people. This is also a good stepping stone for me to continue working hard to study and continue in participating in the events. next extracurricular activities", Thuy added.
To date, Felisberto De Deus has won 2 silver medals in the 5,000m and the men's 10,000 at SEA Games 31. His happiness was even more meaningful when he held hands with two Vietnamese athletes, Nguyen Van Lai (gold medal) and Nguyen Van Thao (bronze medal) to celebrate.
Wearing the flag of Timor Leste, Felisberto did not forget to hold the Vietnamese flag in his hand, cherishing every moment at My Dinh National Stadium. Behind his small stature, is a great feat unprecedented in the history of athletics in the country of just over 1.3 million people.
The fans also noticed that, after completing the medal ceremony, seeing Felisberto take souvenir photos at the lower podium, athlete Nguyen Van Lai and his wife stepped down, giving Felisberto the highest podium.
After that, all three medal winners held hands to celebrate the victory, in the cheers of the fans. Witnessing these moments, the fans on the field called them the best moments at SEA Games 31.
According to research, before the threshold SEA Games 31, Felisberto practices from early morning or late afternoon, to avoid the scorching sun or tropical showers. The place to practice can be a beach full of trash and gravel, or it can be in a severely degraded stadium, with a bumpy track and even a water pipe. At the time of the Covid-19 pandemic, plus rain and floods, Timor Leste athletes practiced even harder.
Together they went through a long and tiring journey to Vietnam. The flight was delayed in Malaysia, causing everyone to sleep curled up on the floor of the terminal. In return, the 23-year-old runner's eagerness to compete in the SEA Games has dislodged all fatigue.
Felisberto De Deus said that it was the enthusiastic cheers and "fair-play" of the Vietnamese audience that gave him more motivation to overcome fatigue on the 10,000m run. Although he has not been able to step up to the highest podium, this movement is still very impressed with what he has experienced.
"I attended the SEA Games in the Philippines in 2019, but that time did not win a medal. Therefore, I am very happy and happy to bring an achievement for Timor Leste in Hanoi this time. It is a pleasure to compete in this tournament. The stadium is vibrant because of the enthusiastic cheers of the audience like this," Felisberto told the media.
You are reading the article
A special gift from the hero Timor Leste for female volunteers

at
Blogtuan.info
– Source:
danviet.vn
– Read the original article
here