Business
Blocked familiar financial sources, real estate prices can rise abnormally high?
This is information provided by the Research and Analysis Department of the Vietnam Association of Realtors (VARS) in the thematic report on real estate market movements in early May 2022.
In the above report, Vars said, real estate has always been one of the two industry groups with the highest value of corporate bonds issued.
Generally, in 4 months, real estate is still the leading industry group in terms of bond issuance value, reaching nearly VND 29,000 billion, accounting for 37.35% of the market, according to statistics of the Vietnam Bond Market Association.
Currently, bank credit and corporate bonds are the two main capital mobilization channels for real estate projects in all segments. According to statistics, by the end of the first quarter of 2022, real estate credit balance reached VND 2.23 million billion, an increase of 2.24% compared to the beginning of the year, much lower than the increase of over 5% of the general credit balance. of the economy.
In addition, bank credit to finance real estate business currently accounts for only about 35% – equivalent to VND 0.78 million billion, most of which are loans to buy and repair houses.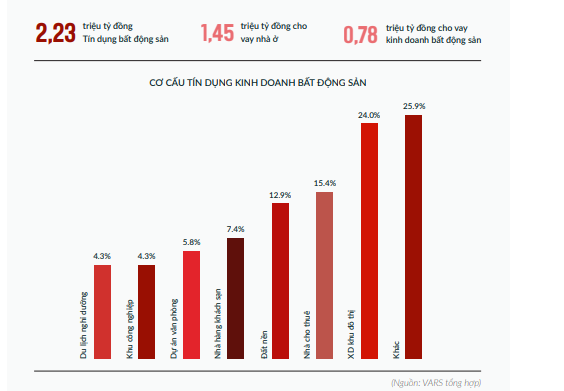 Thus, the source of bank credit for real estate business (investment in real estate projects) not only decelerated but also decreased in proportion. Real estate businesses that want to maintain a normal growth rate are forced to find other sources of capital.
However, the tightening of capital into real estate, especially bank credit channels and corporate bonds, is a relatively clear signal from the authorities.
Currently, corporate bonds are one of the top choices, after bank credit. However, after the cancellation of more than VND 10,000 billion of bonds of Tan Hoang Minh group of businesses, in April 2022, no real estate companies issued bonds. This is a single phenomenon occurring in a month that is not enough to confirm a long-term trend.
After the tightening moves of the state management agencies, the corporate bond market will operate healthier and more effectively, better protecting the interests of individual investors, especially in the real estate sector. produce. However, the capital source for real estate needs to be cleared, to ensure the transparent and healthy development of the real estate market, to be the foundation for the economy.
Supply will be negatively affected if businesses lack capital?
According to Vars, the demand for real estate, especially residential real estate, is constantly increasing, with the main driving force coming from the young population structure and the strong urbanization rate. On the other hand, the supply of real estate has so far failed to meet the growth in demand, due to bottlenecks in project licensing procedures…
In the situation that raw material prices tend to increase sharply due to geopolitical instability, the capital needs of real estate businesses are becoming more and more urgent. Supply growth may be negatively affected by the policy of "squeezing the valve" of credit and corporate bonds.
Blocking familiar sources of finance (bank credits and corporate bonds), while attracting funds from other financial products (real estate investment funds – REITs, housing savings funds, securities securitization of real estate…), or another channel (foreign direct and indirect investment) takes a long time to operate properly, causing the supply of real estate to be tight, pushing prices up by one unreasonable way.
"The unusual rise in real estate prices drives up production costs in related industries (retail, industrial production, etc.) – which can hurt the macro economy, especially during a sensitive period. now," Vars said.
According to this unit, the authorities, besides protecting individual investors in the high-risk financial market, should have policies to protect genuine real estate businesses. Capital needs to be unlocked for all industries in the economy, including real estate.
Issuing corporate bonds in general and real estate bonds in particular, in addition to strictly controlling issuers, needs a mechanism to minimize the participation of individual investors. vulnerable people but lack knowledge and experience.
The game with corporate bonds should be played between businesses and financial institutions, such as banks and professional investment funds, and operate according to the market mechanism.
"In addition, it is time for the authorities to propose more open regulations for businesses to attract foreign capital, as well as effective investment products such as real estate investment funds (REITs), real estate securitization, housing savings fund," Vars suggested.
You are reading the article
Blocked familiar financial sources, real estate prices can rise abnormally high?

at
Blogtuan.info
– Source:
cafebiz.vn
– Read the original article
here