Khỏe - Đẹp
Bringing rice to eat, is it really safe to choose a stainless steel lunch box?
The type of stainless steel used to produce food-related items such as thermos flasks, chopsticks, spoons, bowls, etc. must be made of quality stainless steel, which does not cause rust, does not cause chemical reactions with other materials. substance it contains.
Instead of going out to eat, more and more working women bring lunch boxes from home. Bringing rice is laborious, but it saves a lot of money, ensuring delicious, clean and healthy food.
To meet this demand, currently on the market there are various types of lunch boxes with diverse shapes, functions and materials: plastic, glass, stainless steel. In particular, the lunch box with a stainless steel core is preferred by many women because they think it is clean and safe. However, is this thinking always true?
Ms. Nguyen Van Anh (Cau Giay) said that she was afraid to put in unsafe plastic, so her rice and food were kept in glass boxes. Preferably boiled food, meats, beans, roasted shrimp to eat cold with freshly cooked rice from the morning will not affect anything.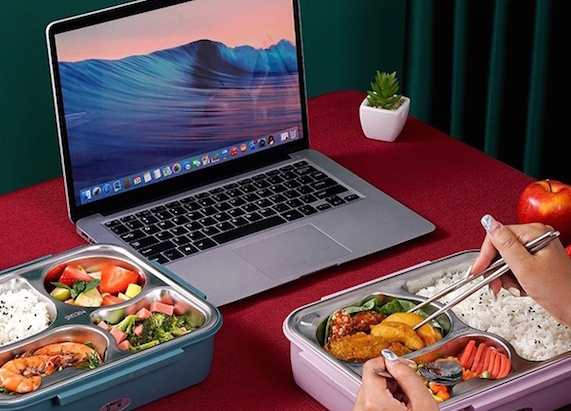 Illustrations
"My own soup needs to be hot, and the office doesn't have a microwave. So I bought a stainless steel core incubator for storage. Each meal only needs a little sour soup, or a bowl of sour meat soup, so you have a delicious and healthy lunch," said Ms. Van Anh.
Also bringing rice to the company to eat, Diep Minh chose a plug-in lunch box. Food she often uses food and rice from the night before. In the morning she just cooks more vegetables.
"She chose the type of electric lunch box with stainless steel intestine to clean. So is the pot of soup. But the other day someone said it was not safe to put sour food in a stainless steel pot. I don't know if it's true?", Diep Minh wondered.
Sharing this concern, Assoc. Nguyen Duy Thinh, Institute of Food and Biotechnology, Hanoi University of Science and Technology, said that stainless steel has many types. Currently, stainless steel is being used very widely in life from stairs, door handles, there are types used as eating-related items such as bowls, chopsticks, spoons…
Accordingly, office workers also often store water morning glory, sour soup in thermos, pairs of stainless steel cages, plastic boxes to bring to the office. Not only that, the market also sells lunch boxes with trays made of stainless steel.
In terms of composition, stainless steel has very good insulation properties, so it is used in the production of thermos flasks. However, Prof. Dr. Nguyen Duy Thinh noted, stainless steel is a compound consisting of many components. The quality of each product depends on which type of stainless steel the manufacturer chooses to produce.
In fact, according to Assoc. Dr. Nguyen Duy Thinh for profit many manufacturers can use stainless steel in industry to make food containers. If any stainless steel product contains many metals such as chromium, manganese and nickel in the composition, it will have a negative effect on the health of the user.
"Stainless steel for the production of food-related items such as thermos flasks, chopsticks, spoons, bowls, etc. must be made of quality stainless steel, which does not cause rust, does not cause chemical reactions with substances it contains" – Prof. Thinh said.
Therefore, Assoc. Nguyen Duy Thinh recommends: Consumers should choose and buy thermos that have passed legal quality censorship to ensure safety.
In addition, for a lunch box with a stainless steel core, it has the advantage of keeping heat well, easy to clean, but cannot be used in the microwave. Therefore, in addition to choosing to buy boxes of reputable brands, appraised products, users should give preference to models of automatic thermos or reheated lunch boxes to ensure the quality of meals. the best.
In addition to choosing a safe lunch box, nutritionists also recommend that women who bring lunch should choose simple dishes such as vegetables, eggs, meat, fish … not fussy with many flavors. Because that's very easy to get stale, time consuming. Do not cook soup, leave it overnight to heat it up and then take it away because that will make the vegetables degraded and cause discomfort to the digestive system.
After cooking the food, it is necessary to let the dishes cool down before placing them in an airtight container. Should not be put in the box immediately, it will cause the food to be steamed, quickly smelly, leading to staleness.
You can take foil (paper boxed type, used for cooking), tear it into slightly larger squares, store food, so you can put 2 or 3 foods together without fear of confusion. .
Absolutely do not bring leftovers from the previous day to work, because overnight food has partially or completely degraded, not good for health. With meat dishes should choose less fat, lean more. Because when eating food for the whole morning, if there is a lot of fat, it will be boring and when heated, it will secrete a lot of fat, increasing the feeling of boredom when eating rice.
For vegetables, you should choose tubers such as mushrooms, radishes, tomatoes.. should not give too many green vegetables. If you add too many green vegetables, while heating will reduce nutrients.
N. Huyen
You are reading the article
Bringing rice to eat, is it really safe to choose a stainless steel lunch box?

at
Blogtuan.info
– Source:
infonet.vietnamnet.vn
– Read the original article
here