Business
Exploding the trick to impersonate an employee of an e-commerce floor to recruit for fraud, how not to "fall into a trap"?
Recently, many e-commerce platforms such as Amazon, Tiki, Lazada… have spoken out about being impersonated by bad guys to scam recruitment. With increasingly sophisticated and difficult to control fraud methods, the number of victims as well as the amount of money appropriated increases sharply.
Many warnings are still "trapped"
After more than 2 years of being affected by the Covid-19 epidemic with many difficulties, the demand for jobs of workers is increasing with the aim of improving income. Understanding this, many individuals and units have impersonated employees of large enterprises and e-commerce platforms to offer attractive recruitment invitations to scam through messages:
As recorded on the system, people received many messages via mobile phone with the content: "Amazon needs to hire employees to work from home!!! Quantity: 100 people. Job description: Processing applications. order from Amazon's e-commerce platform. Working age requirement: 23 ~ 60 years old. Monthly salary from 10 million to 50 million VND At least 500k ~ 3000K per day simple operation and instructions to go In addition, you can receive money after 15 ~ 20 minutes. If you want to apply for a job, please contact zalo…"
However, despite being warned, due to the need to find a job along with the spam level of such messages appearing frequently and continuously, they are easily lured to participate. With the promise of simple, work-from-home jobs, high salaries, many people have been entangled in these multi-level jobs and scammed tens of millions.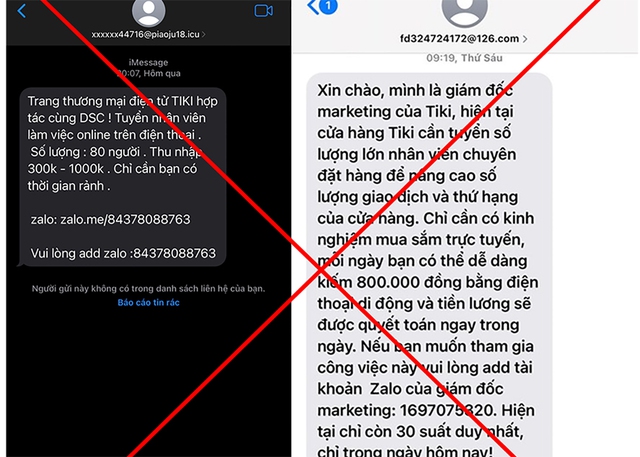 As Ms. KC in Dang Xa urban area (Gia Lam, Hanoi) shared, recently she has continuously received messages offering to work for Tiki's e-commerce floor. To get the job, Ms. C. was asked to transfer money 3 times by an individual named Lich – claiming to be a customer care employee of an e-commerce floor.
"The first two times, the money I transferred was refunded. For the third time, I was assigned 3 tasks, before each task I had to transfer 3.76 million VND, a total of more than 11 million VND, but after that it was not refunded. I contacted the employee named Calendar, the phone number, Zalo, Facebook were all locked. I called the customer care switchboard of Tiki e-commerce floor and was told that Tiki does not have this job content, nor does an employee have such a name and phone number. – Ms. C. said.
With a similar solicitation, Ms. PC, from Xa La (Ha Dong), pledged her property to have 55 million dong to join a job on the e-commerce floor. After transferring money to the subjects a few times but still did not receive the refund and "commission", she contacted again with the phone number she already had and was told that she had to transfer more money to receive it back, otherwise will lose the full amount deposited.
"By then, I thought I had been tricked. I called the exchange's customer service center and was told that they have no such program." – Ms. C said.
In addition, scammers often target middle-aged users of the exchanges, the ability to access warning information is not as fast as that of young users, along with the content of making money quickly. The above information is very interesting.
How to avoid "trap"?
In fact, scams like the one above are not new. The police agency, the Department of Competition and Consumer Protection, the Department of E-commerce and Digital Economy (Ministry of Industry and Trade) have repeatedly warned consumers to avoid "losing money" but this situation still persists. again.
Recently, e-commerce floors have continuously broadcast warning information about the phenomenon of impersonation and recruitment fraud. Amazon, Tiki, Lazada… have spoken out about being impersonated to scam recruitment, many victims have been scammed with amounts of up to hundreds of millions of dong.
According to warnings from e-commerce platforms, this action is fraudulent and has no connection with these units. Representatives of these e-commerce platforms said that their employers who contact candidates – whether via text, call or email – will never ask to pay a registration fee or ask to buy. or provide candidate bank details.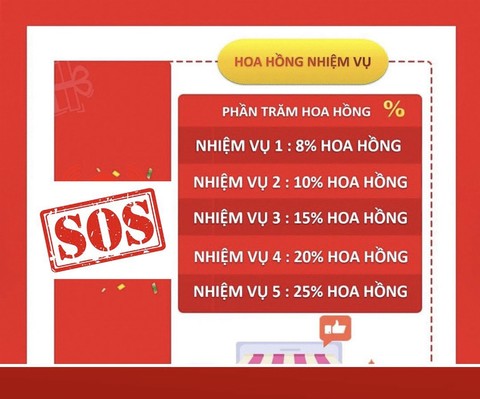 In fact, this is a form of multi-level fraud.
Before the above information, the Vietnam Cyber ​​Emergency Response Center (VNCERT/CC Center) said that for those who are inherently vigilant, the above message only makes them feel uncomfortable. But for those who are easy to believe, these spam messages make them easy to be lured into joining a large-scale multi-level line. With the promise of simple, work-from-home, high-paying jobs, many people have become entangled in these multi-level jobs.
Therefore, VNCERT/CC Center recommends people:
Be careful with all content, job postings that require leaving personal information, paying fees, depositing bonuses, etc., without going through the official accounts and information channels of the trading floors. e-commerce.
To prevent and prevent fraudulent tricks, VNCERT/CC Center notes people:
Regularly update the latest information on forms of fraud and impersonation on the portal: chongthurac.vn.
When receiving advertising information from offers with attractive income, people should carefully study information of businesses.
Do not provide pictures of personal information such as: CCCD, bank account information … Do not access links, download strange applications when the information is unknown.
When receiving messages, spam calls, and emails showing signs of fraud, people should immediately report them to the Information Security Department (VNCERT/CC Center) via text message number 5656 so that the Department of Information Security can VNCERT/CC Center) promptly coordinated and coordinated with relevant units to handle.
https://afamily.vn/canh-bao-no-ro-chieu-mao-danh-nhan-vien-san-thuong-mai-dien-tu-di-tuyen-dung-de-lua-dao-lam- why-de-khong-sap-bay-20220519163630907.chn
You are reading the article
Exploding the trick to impersonate an employee of an e-commerce floor to recruit for fraud, how not to "fall into a trap"?

at
Blogtuan.info
– Source:
cafebiz.vn
– Read the original article
here