Ms. Nguyen Thi Hai Van (SN 1979, Phu Tho) had a broken marriage in 2009. After the divorce from her ex-husband, she raised her eldest son, now 18 years old, and she raised her second son, now 14 years old.
Like Ms. Hai Van, Mr. Singh Chandra Darshan (SN 1966, India) also failed his first marriage with his Korean wife in 2012. After the divorce, he left all his assets to his ex-wife and his wife. 2 children: son now 28 years old, daughter 24 years old.
Two people with two broken puzzle pieces accidentally bumped into each other and became two perfect pieces of each other, to build together the current happy little home in their second marriage.
Hai Van and her Indian husband.
Indian husband has difficulties in Vietnam, Vietnamese mother works as a laborer to support the whole family
Ms. Van and Mr. Singh got to know each other through a dating app in 2019. At the first swipe, she was impressed by his introduction with Korean nationality, a master who knows 6 foreign languages. It is known that when he was in Korea before, he was the CEO of a construction company here and toured Asian countries.
Because both of them had a broken marriage once, they deeply respect and empathize with each other despite their differences in culture and language. After talking for a while, they felt that they could not live without each other, so they got married after 6 months of knowing each other. So Mr. Singh went to Vietnam to visit her family and asked her parents' permission. Next month, she also went to India to visit his family, hometown, meet his mother, brothers and sisters and relatives here.
"Farewell at Noi Bai airport for him to return home, I cried and said goodbye to me in India and returned to Vietnam, he cried, turned his face away. We feel we can't live without each other. Moreover, we see that our children have also grown up, have to live for us, do not want to live alone forever, very sad.
My husband has been to Vietnam many times for tours, so he likes the climate, the country, the people of Vietnam, he knows some people in Vietnam, but it is not suitable. When he was about to give up looking for a Vietnamese wife, he met me."shared Van.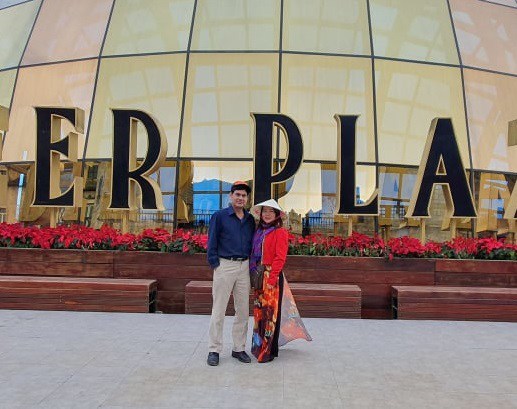 The two met through a dating app.
It is known that Ms. Van and Mr. Singh made the application for marriage registration in Korea in November 2019, but the results were not available until December. Brothers and sisters note their marriage in her hometown – Viet Tri, Phu Tho. And then they chose to live in Da Nang. Due to the COVID-19 epidemic, they were unable to hold a grand wedding as planned, but only held a small party to report their ancestors and family.
Speaking of this, Ms. Van confided, after getting married, she sold her house to invest in hotels and tourism, but the epidemic came and ruined everything. She and her husband were affected a lot, lost everything. During the time when her husband was stuck in Vietnam without a job, she had to apply for a job as a worker for a year to support herself.
"During the time of the epidemic, my husband was stuck in Vietnam, he did not have a degree, so he could not teach English. Then he bought a ticket to Korea but it was also canceled so he had to stay in Vietnam to raise him. She rowed alone to raise her husband and stepchildren in Vietnam and run an online business. I worked as a worker for 2 months, then he returned to Korea and when we were apart for 7 months, he went back to India to work and sponsor me.Ms. Van said.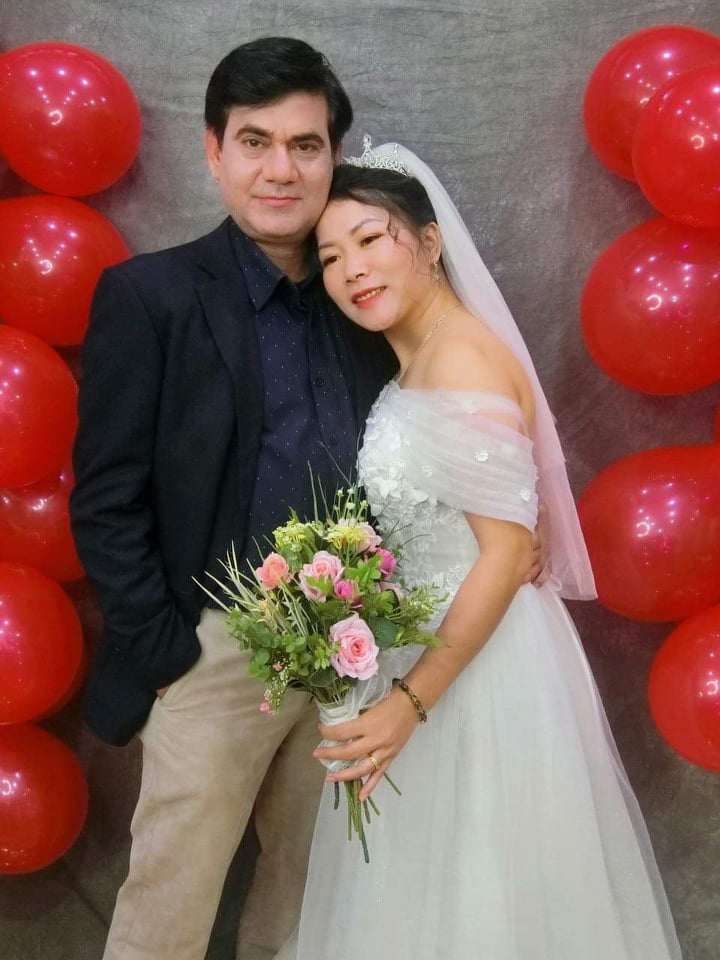 After getting married, they faced difficulties due to the COVID epidemic, and she had to take care of everything alone.
It is known that Ms. Van worked as an office worker in the army for 20 years. However, she asked to leave the industry to marry a foreigner and travel around. Even though life is so difficult, she and her husband still encourage each other every day. Despite hearing a lot of whispers because getting married to an Indian husband is still a hard worker, and pressure from family, friends, relatives and a lot of gossip, but thanks to the beautiful memories, the couple held hands. overcome difficulties together. She learned patience and her husband learned a lesson in business to overcome difficulties together. Therefore, her husband respects and respects his wife very much.
Indian husband has it all, just enjoy life
It is known that in early 2021, her husband returned to Korea, but his job was not stable, so he returned to India. Since then, he has worked as a deputy director for projects of Nikitha, Bangalore, Karnataka, India construction companies and CEO of a company in Korea. At the end of November 2021, he sponsored her to live with her in India. After many difficulties, he is now the boss of an Indian company with a house, car, private driver, extremely generous salary. And Ms. Van does not have to work hard anymore, but only stays at home, taking care of her husband's health. Because there are 2 maids who come to clean the house every day, eat at Korean restaurants, the company takes care of everything, so she just has to enjoy life.
"In Bangalore, I like to cook Vietnamese food, I cook. Husband likes to cook Indian food, so he goes to the kitchen to cook according to his hobby. When my husband comes home from work, I massage and acupressure to help him relax and sleep well. Now he is addicted, without his wife, he says he can't, just afraid that he will go back to Vietnam to stay, so he goes wherever he goes. Both are like husband and wife." Van confided.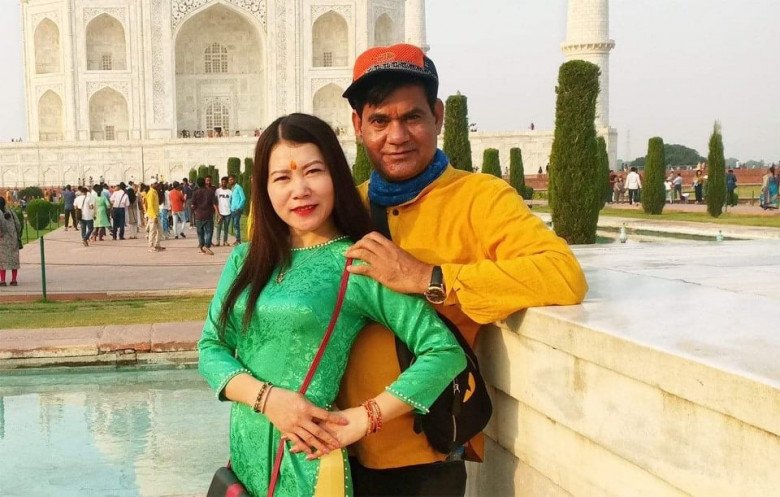 Her life is now like a husband and wife.
Ms. Van confided that now everyone understands that they should admire her and her husband, holding hands to overcome everything, going from zero to strive for a better future. She also feels lucky to have a romantic and affectionate husband.
"My husband and I love each other very much and give each other loving words every day such as hugging and kissing my wife and saying: Honey, I love you very much. Before going to bed, we both often hug and kiss each other saying, "I love you very much. a lot of". He loves to express his love to his wife, I too, always give each other words of love. When my husband goes to work, I still text him to ask about work and say I miss him, so do you. When he came to pick me up for dinner, the couple often held hands and asked. My husband always consults his wife for everything, respects his wife, so I also love him very much." Van shared her married life.
Currently, in the family, her husband is the key holder. However, her husband is very comfortable and always gives her money to buy anything, just tell him one sentence. Not only that, he also sends about 200 USD to her son every month.
"I went to India to depend on my husband, so I persuaded him to send money back to my children. I told him to love his wife so that she can rest assured in India, otherwise I return to Vietnam. Then he understood and loved himself and his stepchildren more. Now he wants to adopt his own child to sponsor him to study in India or Korea. Van said.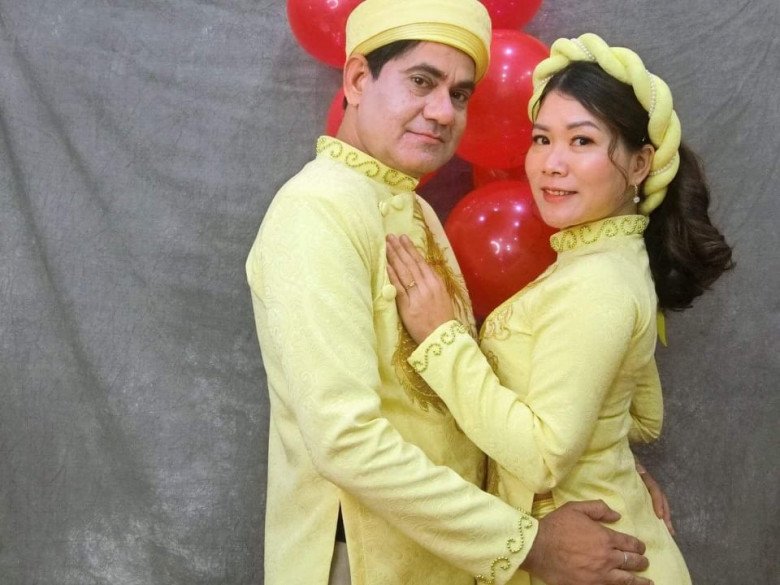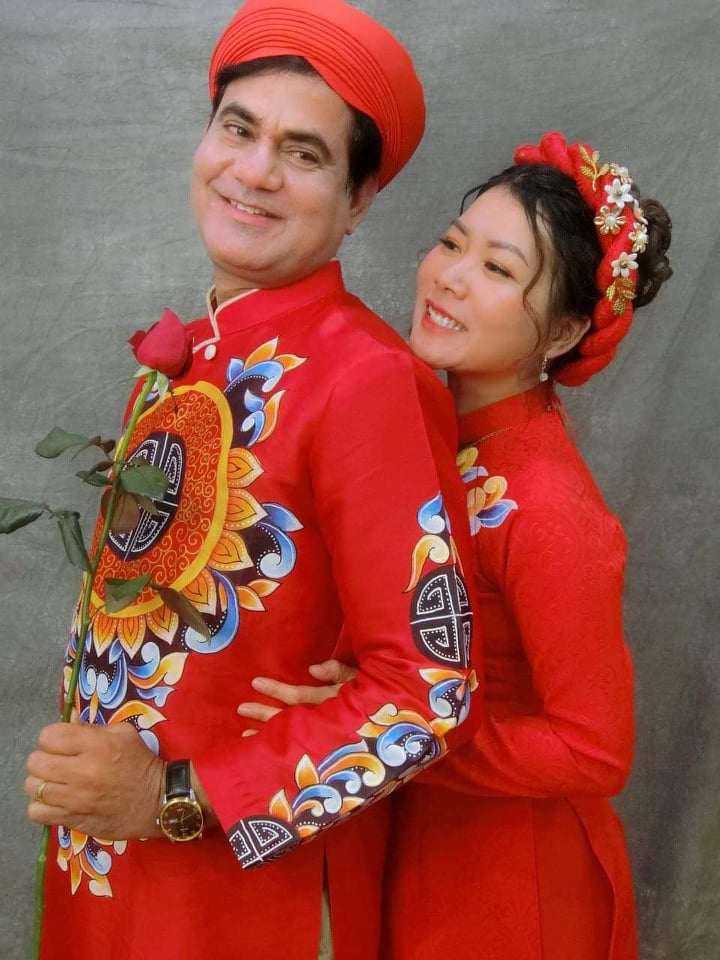 Her life as husband and wife is like a married couple, but it is still inevitable to quarrel because each person's ego is too big. When she did not understand each other well, she also felt lonely, stressed, and homesick, but when she loved her husband more, she did not get angry and accepted his words, but always thought that her husband might be joking. That's why she's making fun of him now. For her, life is short, so we always cherish every moment we have together while we can.
You are reading the article
Phu Tho's mother remarried to an Indian director, still working as a worker to support the whole family in difficult times

at
Blogtuan.info
– Source:
Eva.vn
– Read the original article
here