Business
Super cheap "ginseng" in Vietnam imported to China, saving hundreds of millions of people
Vietnamese sweet potatoes imported to China
It is said that, in the years of Wanli of the Ming Dynasty (China), there was a doctor named Lam Hoai Lan, who often went to collect precious medicines in the world.
Once, this doctor went to the land of Giao Chi (in present-day Vietnam) and discovered a plant with extremely high drought tolerance, enduring vitality, and tubers growing in the soil. This immediately attracted the attention of Chinese physicians. He found that at that time in China, there were frequent droughts and locust epidemics that seriously affected crop harvests and made people's lives difficult while certain plant species in Giao Chi could be affected. hunger relief.
Therefore, this person brought the precious tree from Giao Chi back to China and successfully planted it. This plant is the sweet potato.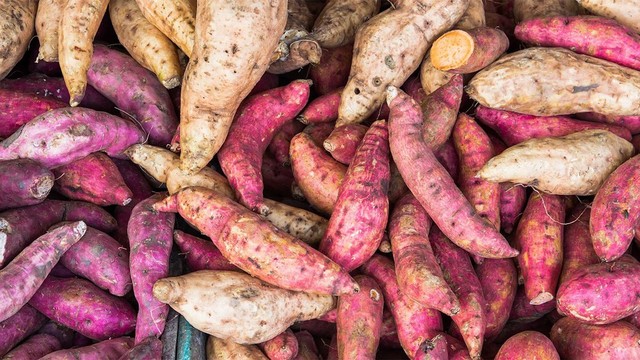 Sweet potatoes are very popular in Vietnam and China.
In the last years of the Ming Dynasty, natural disasters often occurred, causing widespread famine, and countless people starved to death. After the sweet potato was introduced to China, it gradually worked its magic, in addition to being able to eat the root, even the top of it can solve hunger. Due to these properties of the sweet potato, it was quickly grown in many parts of China and at least hundreds of millions of people were able to avoid starvation thanks to it. This number is not exaggerated. Book Little house (China) writes: "Around the years Giap Than (1584) – At Dau (1585), all grains were precious (rare), only sweet potatoes were in season, 7.8 people in 10 people lived on sweet potatoes.".
Etymology – the famous Chinese reference books also confirm this story. "Sweet potatoes were originally grown in Giao Chi (present-day Vietnam), Lam Hoai Lan from Wuzhou (Cantonese) brought this variety back to China and planted it all over Guangdong and Guangxi, so there was no need to worry about drought. serious".
There are also other theories that the sweet potato variety in China was imported from the Americas or the Philippines, but the theory that the Chinese sweet potato was imported from Vietnam is the best known as well as reliable Chinese documents. National record.
According to Zhanjiang Daily Newspaper (Cantonese), nowadays, sweet potatoes are a common thing, but in the Ming Dynasty, sweet potatoes were the top item in the state banquet in the Giao Chi region, they were also considered a luxury item.
This newspaper said that sweet potatoes have made a special contribution to the survival of the Chinese people, and the introduction of sweet potatoes into China can be said to have made an important contribution to solving the problem of people's food and clothing. China at the time; Sweet potatoes became useful additions to early "grains" and rewrote the history of China's agricultural development.
Today, sweet potatoes are grown all over China, becoming the country's most important food.
Vietnam's sweet potato exports are still difficult
In Vietnam, sweet potato is a familiar food, often appearing on the table of Vietnamese people, is considered as valuable as ginseng thanks to its available nutritional content.
If talking about industrial farming, Binh Tan district, Vinh Long province is likened to the sweet potato bowl of the country. The district invested more than 10,000 ha of sweet potato growing area with an average yield of 300,000 tons; Currently, 220ha has achieved VietGAP certification.
However, due to the impact of the Covid-19 epidemic, in the past time, Vietnamese sweet potatoes have dropped dramatically because there is no place to consume.
According to Dan Viet newspaper, around June 2021, Japanese sweet potato growers in Vinh Long had to "cry out" because the price dropped 20 times, down to 500-600 VND/kg, but there were still no traders to buy. Faced with that situation, the Ministry of Agriculture and Rural Development said that the ministry had negotiated with China to open the market for some products such as sweet potatoes.
In addition to objective reasons such as the epidemic, the path of Vietnam's sweet potato export is still very risky because it is mainly through the small-traffic route.
Sharing with Vietnam Agriculture Newspaper, Mr. Le Thanh Hoa, Director of SPS Vietnam Office, said that recently, China has had a lot of changes in policies as well as food safety management and control systems. import and export, so their regulations are becoming more and more strict. However, China has a lot of incentives for Vietnamese food and vegetable products. In the coming time, sweet potatoes will be on the list of official exports to China.
In addition to a large market like China, Vietnamese sweet potatoes are also exported to fastidious markets such as Japan and the EU. According to Dan Viet newspaper, Vietnamese sweet potatoes are also very popular in Japan, at one time, the price of Vietnamese sweet potatoes exported to Japan reached $2,047/ton.
https://soha.vn/nhan-sam-sieu-re-o-viet-nam-du-nhap-trung-quoc-cuu-doi-hang-tram-trieu-nguoi-20220520003841471.htm
You are reading the article
Super cheap "ginseng" in Vietnam imported to China, saving hundreds of millions of people

at
Blogtuan.info
– Source:
cafebiz.vn
– Read the original article
here