Suggested dinner this afternoon will have the following dishes:
– Roasted bacon with lemongrass and chili: 35,000 VND
– Minced vegetable broth: 13,000 VND
– Stir-fried chicken thighs: 20,000 VND
– Sweet and sour bitter melon: 12,000 VND
Total: 80,000 VND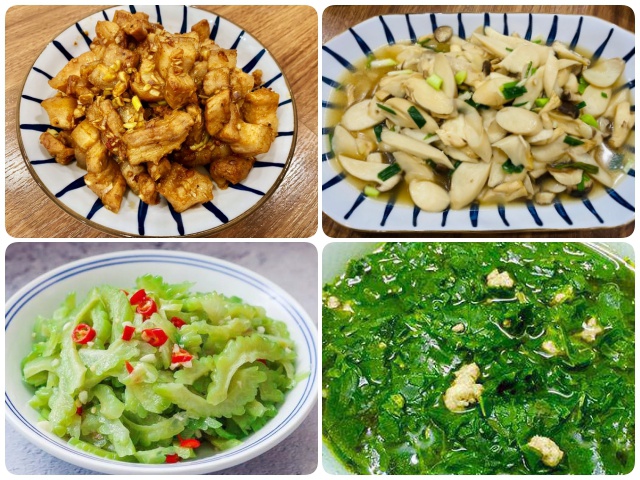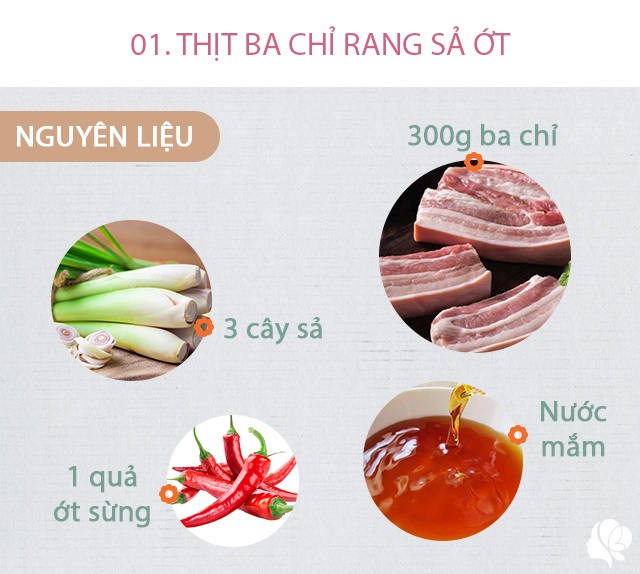 Ingredients: 300g delicious bacon, 3 lemongrass plants, 1 horny chili, 1 dried onion, fish sauce, oyster sauce, just enough sugar
Ba just washed and cut into bite-sized pieces. Lemongrass peeled off old leaves, washed, chopped; thinly sliced ​​chili. Put the bait in the pot and stir to spread out less fat, almost yellow. Then add lemongrass and dried onions to the island to increase the aroma. At this point add a little sugar, fish sauce just eaten, stir well, add horn chili. Stir until the meat is absorbed again.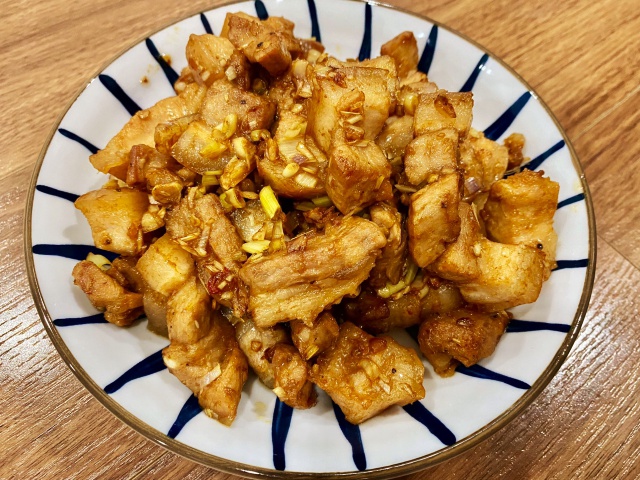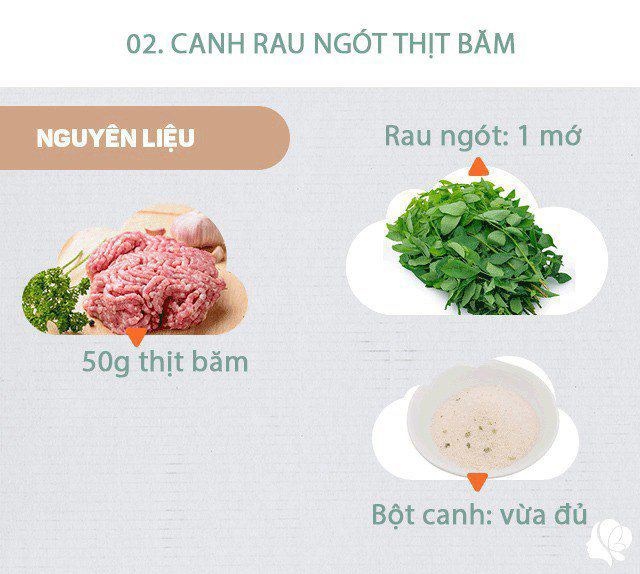 Preparation: 50g minced meat, 1 bunch of water spinach, soup powder
Spinach leaves, washed, then crumpled. Bring a pot of water to a boil, add minced meat, stir well to dissolve meat without lumps. Season the soup to medium pieces. When the meat is almost cooked, drop the spinach in, cook until the vegetables are cooked, then scoop out into a bowl.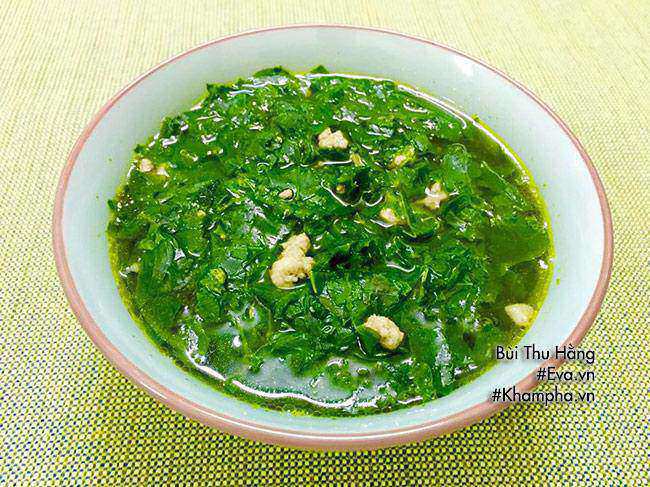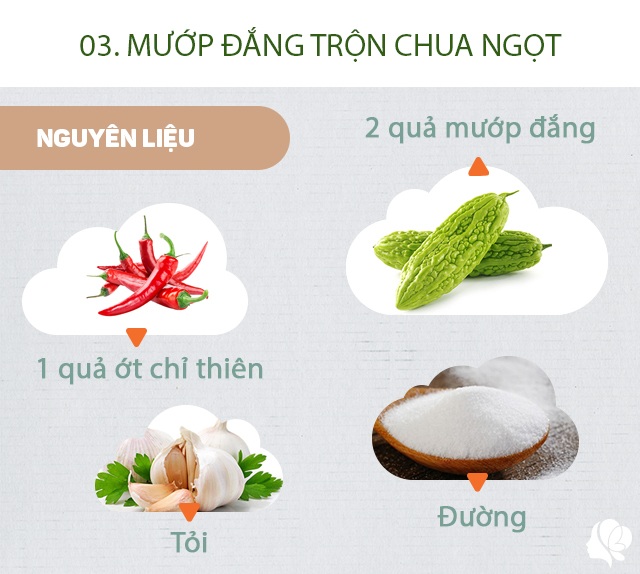 Ingredients: 2 bitter melons, chili, minced garlic, fish sauce, sugar, salt, cooking oil
Bitter melon is washed, cut in half, scraped with a spoon to remove the seeds in the middle and then cut into thin slices. Wash the peppers and cut them into circles for later use. Put half a pot of water in a pot, bring to a boil. Add 2-3 drops of cooking oil, pour in bitter melon and blanch for 30 seconds. Prepare a bowl of cold water in advance, pick up the blanched bitter melon and put it in a bowl of cold water to soak for a while to make the bitter gourd more crispy. Then take out the bitter melon, drain the water, put it in a large bowl.
Put chili, 1 tablespoon minced garlic, 1 teaspoon salt, 1 tablespoon sugar and 2 teaspoons fish sauce in a bowl of bitter melon. Heat a little oil, pour over the bitter gourd, and stir well until ready to eat. If you like sour taste, you can add lemon or vinegar.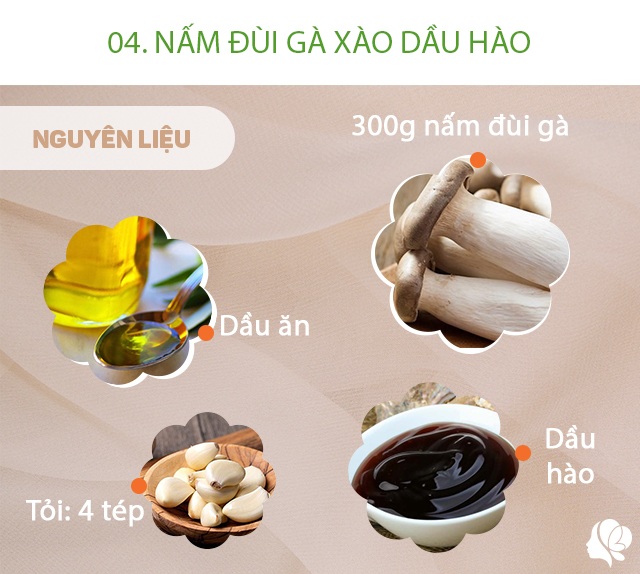 Ingredients: 300g chicken thighs, cooking oil, 4 cloves of garlic, oyster sauce, just enough salt, chopped scallions, cooking oil
Wash chicken thighs and cut into slices. Minced garlic. Chopped green onions. Fry the garlic with a little cooking oil and then put the mushrooms in the island for a while, then the mushrooms will come out of the water. At this time, add salt or broth/seasoning powder, then stir again, when the mushrooms change to a slightly clear color, add oyster sauce, stir for a while and then turn off the heat. Sprinkle with scallions and you're done.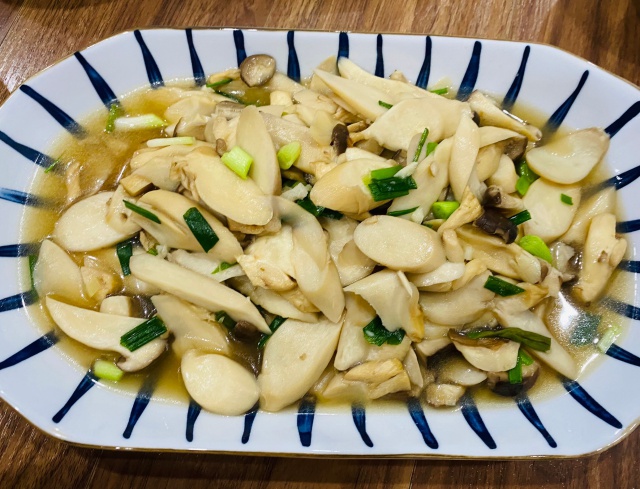 Good luck!
You are reading the article
Take 80,000 to go to the market and get a delicious and nutritious meal

at
Blogtuan.info
– Source:
Eva.vn
– Read the original article
here