Thị trường
The Tay guy owns a 50-hectare farm, selling dozens of tons of bamboo shoots to Hanoi customers every year
With 50ha of existing farm, 9X Tay people Hoang Van Dung spend 40ha growing bamboo to harvest fresh bamboo shoots; The remaining 10 hectares are intercropped with crops such as pomelo, orange, longan, jackfruit, guava, pineapple, banana, corn, cassava and raising chickens and pigs.
In the remote mountainous area of ​​Chiem Hoa district, Tuyen Quang province, there are many households owning tens of hectares of forest garden land, but not everyone realizes the value of forest gardens, so the value of agricultural production not high.
Realizing the reason why family and relatives are still facing difficulties despite owning a large land, young Hoang Van Dung, a Tay ethnic, was born in 1997, in Dong Tam village, Binh Nhan commune, district. Chiem Hoa decided to go "to study the Way" and then return to get rich in his native land.
Unlike his peers who tend to go to school or find a job in big cities, after finishing high school, Hoang Van Dung decided not to go to university. Instead, he embraced the big ambition to set up a business on 50 hectares of his family's garden and forest land by establishing a farm called Bamboo Farm.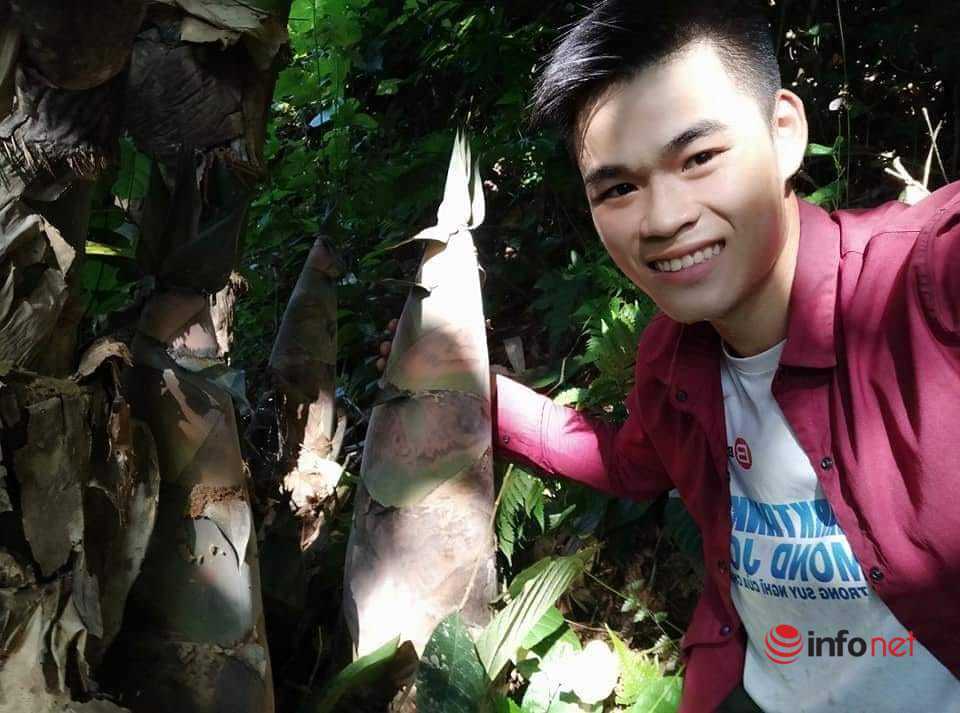 Hoang Van Dung next to the "super giant" bamboo shoots of Bamboo Farm.
"My hometown is a remote area, so the population is sparse and the land is vast. The number of households with more than 10 hectares of land is a lot, but most people, like my family, have not been able to improve the value of agricultural products, have not been able to generate a high income from the products they have made. living with many difficulties", Hoang Van Dung shared about the situation that made him determined to establish a career in his own homeland.
Born in a purely agricultural family, Dung did not mind difficulties. Having a passion for large-scale agriculture, the 25-year-old accepts the hard work despite many trade-offs.
Feeling himself at a disadvantage in terms of the learning environment, after graduating from high school, Dung left the village to return to Hanoi to gain experience in farming by spending 2 years making vermicompost. It was a valuable time to help him both accumulate knowledge, exchange and learn experiences from those who went before him.
"I consider myself to have a pretty good self-study spirit. Until now, I still self-study by reading books; join groups and clubs; searching for information through the internet;…", Hoang Van Dung said.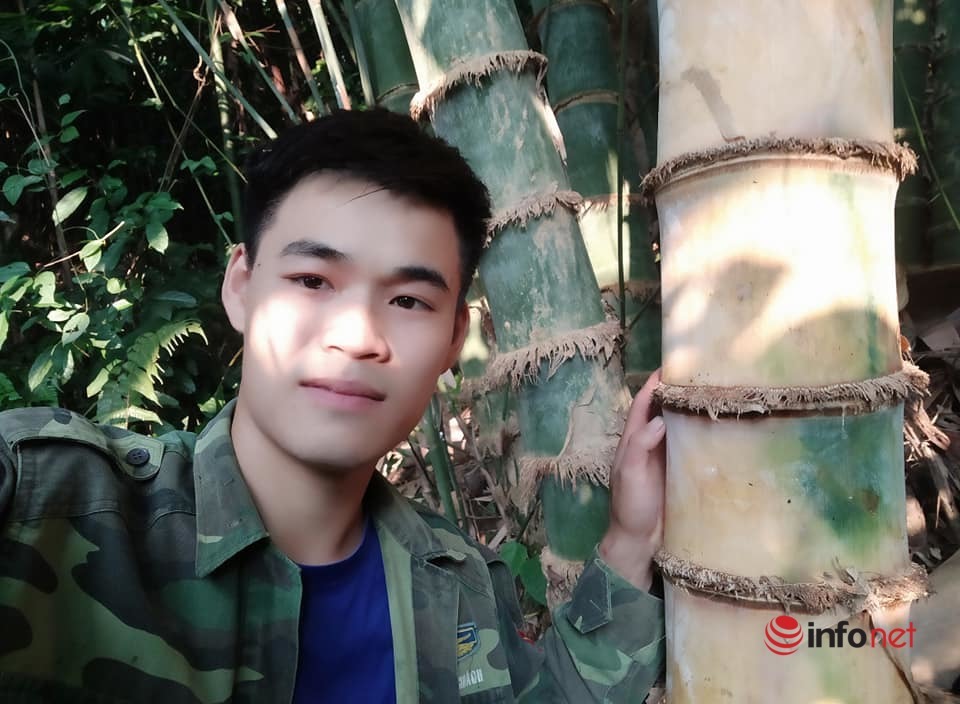 Fresh bamboo shoots are still the main source of income for the farm, although only about 20% of the area has been exploited.
With 50ha of existing farm, Dung spends 40ha growing bamboo to harvest fresh bamboo shoots. That is also the reason why his farm is named Bamboo Farm. Because bamboo is planted with the main purpose of harvesting bamboo shoots, it does not affect the forest ecosystem, keeping the forest always green.
The remaining 10 hectares are intercropped with trees such as: pomelo, orange, longan, jackfruit, guava, pineapple, banana, corn, cassava, …, the rest is reserved for forestry trees such as acacia, fat tree.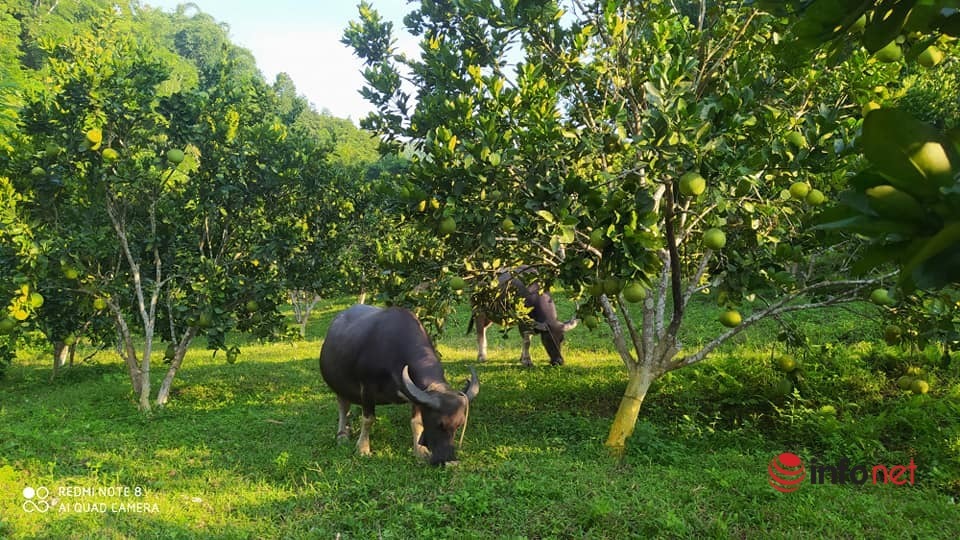 The farm's orange and grapefruit gardens have been harvested.
In addition, his family farm also raises a number of livestock such as buffalo, pig, chicken, fish, duck. Dung said that each species he "raises a little", but his herd of wild boar is always around 50 heads, and the flock of chickens and ducks is up to thousands.
The planting and taking care of the trees is done by Dung alone, and the husbandry is in charge of his parents. When in the main season, the family will have to hire more workers to ensure the workload. Seeing that their son suffered and worked hard, the products produced were sold well, so Dung's parents also supported their son in every decision.
"The farm has a lot of banana plants and residue available, so all pigs and chickens on the farm can eat bran, corn, banana and ready-made residue. The bran is cooked with firewood from the old bamboo trees, "said Hoang Van Dung.
This farm model was only really formed 5 years ago, so the income is not really abundant. Because I work and study at the same time, sometimes the results are not as expected. Up to now, 40ha of bamboo has only been exploited for about 20%, but it also produces about 10 tons of bamboo shoots per year. In addition to fresh bamboo shoots, last year the farm harvested oranges and pomelos with an output of 1.5 tons of oranges and more than 5,000 pomelos.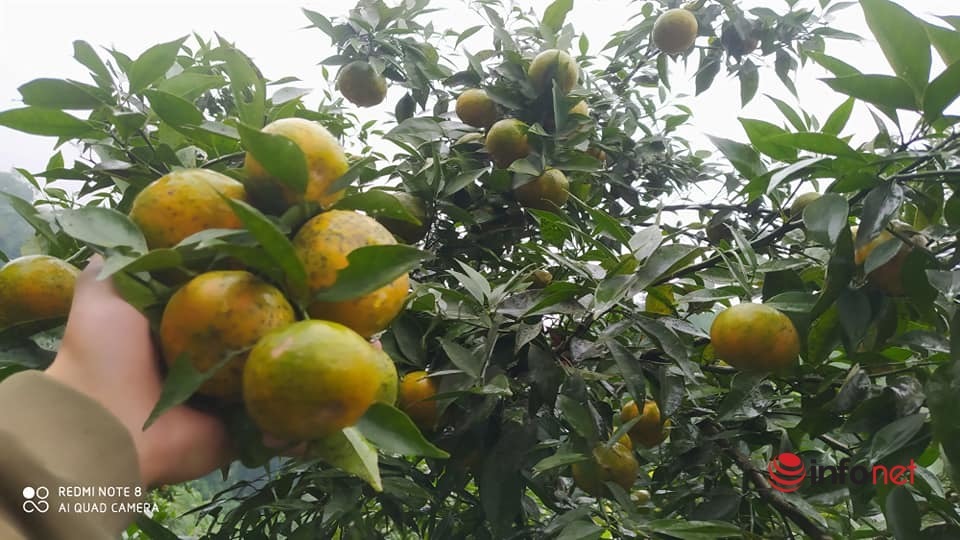 The orange trees yield 1.5 tons/crop.
Almost all agricultural products from the farm are sold in Hanoi market through online sales points. Fresh bamboo shoots, chicken, duck, pork, etc. were sent by bus to Hanoi by Dung. The high demand of the Hanoi market helps the agricultural products produced by his family always be sold out. These products are often sold at 30%-50% higher than the price at the garden. However, Dung said the selling price could be even higher when he perfects the product packaging process.
On his personal Facebook page, the Tay young man sometimes announces the "pig slaughter schedule", each time posting the news that a few dozen kilograms of pigs are ordered by customers in a blink of an eye.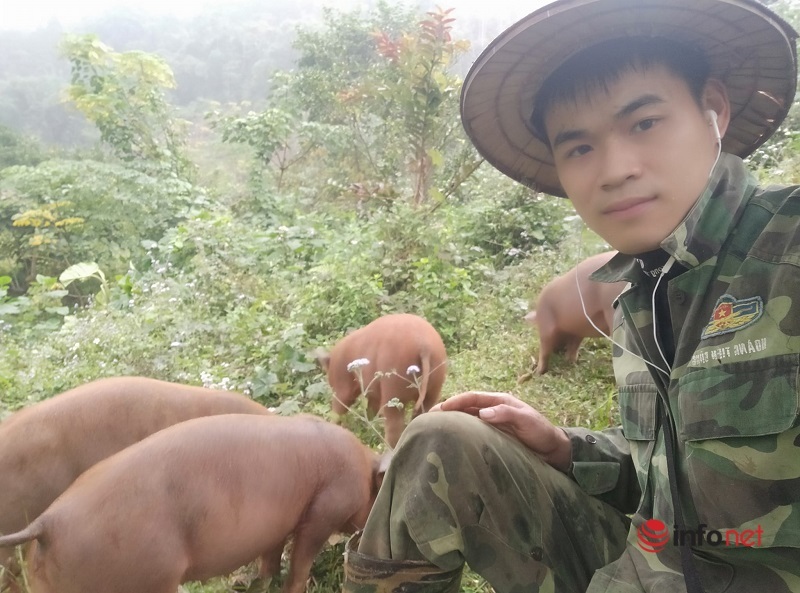 Hoang Van Dung with his family's herd of free-range pigs.
"I have no difficulty in selling products, but I have many difficulties in packing and transporting from Tuyen Quang to Hanoi. On the weak electric plate, it is impossible to run the vacuum cleaner, while transporting hundreds of kilometers away, "said Hoang Van Dung.
The 25-year-old said that next time when the bamboo is old at the same time, the farm will have more income from selling bamboo. But in the immediate future, he is starting to grow medicinal plants in the direction of microbiology. The cultivation of medicinal plants is considered the perfect piece for Hoang Van Dung to deploy as a homestay for tourists to experience on the family farm in the near future.
Tuan Nguyen
You are reading the article
The Tay guy owns a 50-hectare farm, selling dozens of tons of bamboo shoots to Hanoi customers every year

at
Blogtuan.info
– Source:
infonet.vietnamnet.vn
– Read the original article
here