Business
Wok Thi Yen- The "shepherd" girl in the Dao village decided to go "the opposite way" to win the Erasmus scholarship
Chao Thi Yen (born in 1990, Ngam Xa village, Nam Chac commune, Bat Xat district, Lao Cai) is a Dao Tuyen ethnic. She was born and raised in an environment where the majority of people rejected the fact that girls studied too much. However, with the desire to use knowledge to change lives, and the desire to use words to escape poverty, Chao Thi Yen tried to overcome prejudice and won a full scholarship to study abroad for a master's degree at the University of Göttingen. Virtue). The 9X girl became an ideal role model that many young ethnic minorities look up to and learn from.
Currently, Chao Thi Yen is the owner of a homestay in Sapa and a member of a development organization in the Netherlands. Besides, Yen is also building and developing content on the TikTok platform, bringing interesting stories about the Dao Tuyen community.
From the little buffalo herder who learns out of the classroom…
Since she was just 4 years old, Chao Thi Yen has started to attend grade 1 and completed her junior high school program at the age of 14. This has shown her aptitude for learning and her superior way of thinking compared to her peers.
However, by the time Yen graduated from secondary school, the area where she lived had a serious crop failure, and white rice for farming families was almost a luxury.
Poverty and hunger keep haunting people's minds, so going to school is something of an illusion. Not to mention, the tradition where she was born has always been prejudiced: "Girls who study a lot are unfilial, have to work hard at home and earn a living," so her parents decided not to let her study further and stay at home to help raise animals and plow hoes. As a result, Yen's education was interrupted for a period of 3 years.
"Initially, when the study that I always loved was forbidden by my parents, I cried for days and often made excuses to get close to the school area. The days when my parents gave me the task of raising buffaloes, I often deliberately let the buffalo go to the school gate. At this time, I will stand by the classroom window to peek at the teacher's lecture."Yen recalls.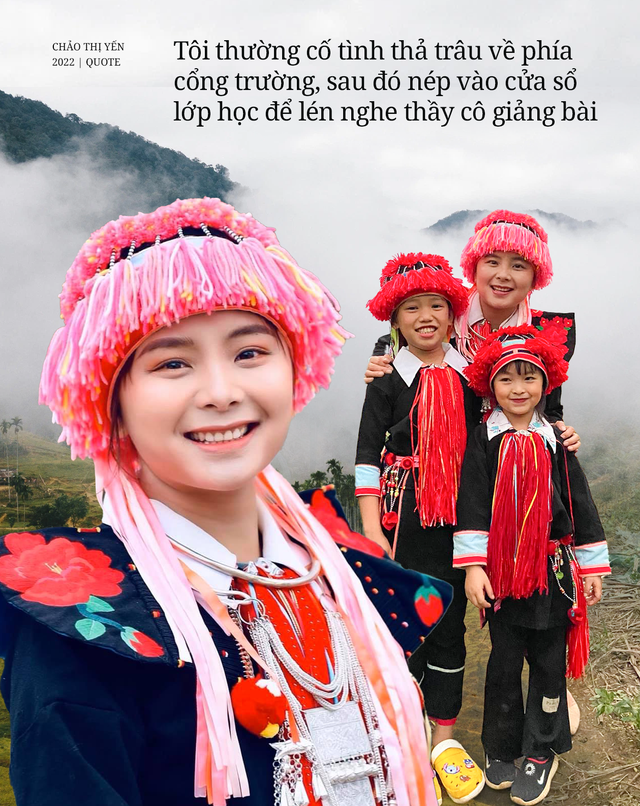 During the past 3 years, the love of knowledge has grown day by day and the hope of going to class has never rested in the mind of the "shepherd" girl. However, because of difficult family conditions, Yen never dared to speak out what was in her heart to her parents.
The fate that brought her back to the journey of knowledge was in a reunion with teacher Bui Chi Thanh (Principal of Nam Chac Secondary School). As soon as they met again, the first question Yen received from her old teacher was "Does Yen still want to go to school?".
Without thinking, the little girl immediately replied "Yes". Understanding the determination of the student, the teacher went to Chao Thi Yen's house every few days to convince her parents to let her go back to school.
Finally, through the enthusiastic help of her former homeroom teacher, Chao Thi Yen was officially returned to school.
…Go to a master's degree to receive a full scholarship to a university in Germany
At first, Chao Thi Yen was merely a person who loved learning, loved writing and numbers, but since meeting her old homeroom teacher, Yen has gradually become aware that she has to learn to change. life.
She recalls: "During the time when I was absent from school, the teacher also often came home to see me and encouraged me that, if I don't go to school, I can't escape poverty forever, my life in the future will only revolve around jobs. In the end, it doesn't help family life at all.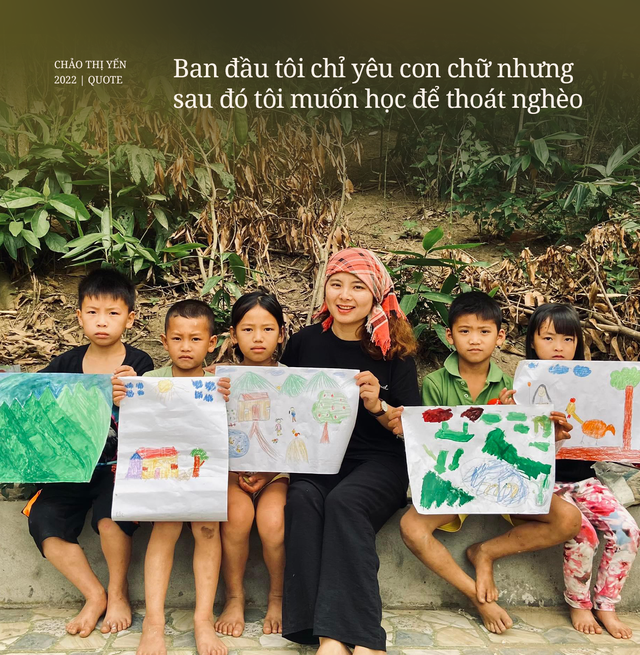 Thanks to these words, my thinking about studying has changed. I knew that my real dream was to get out of poverty by studying. But it cannot be denied that the prejudices of society at that time also influenced my orientation a lot.
During 2007-2008, at this time I was 17 years old and started high school. At that time, the number of families sending their children to finish high school was very rare, so I also considered finishing school. 12th grade is going to work".
But thanks to a saying from friends her age, she was determined to become the first person in sociology to go to university.
Wok Thi Yen confided: "The day I returned to school, I was promoted to be the class president. Every time my friends were noisy, I used to shout to keep order. But I still remember once, when I raised my voice, they were friends. shouted back at me, the class president should not be proud of being poor but studying well, ask yourself why you study well but still be poor.
That statement made me cry for days. Since then I decided to go to university. I even declared directly to my friends, I will become the first person in the commune to do that."
Finally, luck smiled on Chao Thi Yen, the girl Dao Tuyen passed into Vietnam Forestry University.
In particular, throughout the journey to conquer knowledge of Wo Thi Yen, there are always factors that arise that make her feel surprised about how her life works.
In the last year of university, seeing Yen's outstanding ability, the lecturer introduced her to a study abroad program in the US, but she missed the opportunity because of faulty documents.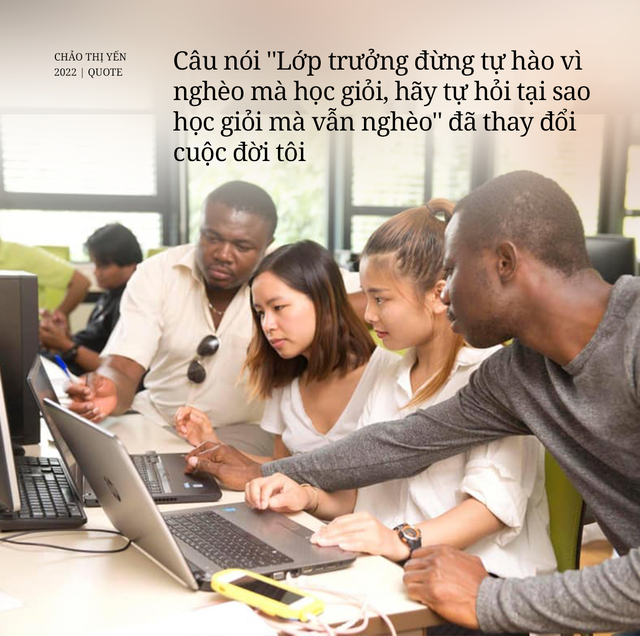 Not long after the first opportunity, Wok Thi Yen was once again introduced to a Japanese government scholarship program. However, at the medical examination, Yen was listed as ineligible, so her dream of studying abroad had to be temporarily shelved.
It wasn't until after graduation that Yen found the opportunity that really belonged to her when she received a full master's scholarship in sustainable forest resource management from the University of Göttingen (Germany) within two years worth 47,000. euros (nearly 1.2 billion dong).
You can't choose where you were born, but you can choose your attitude!
Sharing with PV, Yen said that studying well has really brought her a lot of benefits. The first benefit that can be seen is to change the way people think about learning.
"I remember the day I went to school, everyone in the family went to work, so no one drove me to the bus station. So I asked the neighbors around to take me, but they gave me enough support. reason and decided not to help me because at first when my family decided to send our daughter to school, the people around them didn't like it.However, ever since I received a scholarship to study abroad , my family made rice to invite everyone to eat. Their attitude changed completely, they were happy and praised me a lot."Yen confided.
Not only that, the successful study of Chao Thi Yen has had a positive impact on the parenting style of the households living next to her house. At present, those families have sent their children to full school education.
At different times, Chao Thi Yen's life mindset also began to change differently.
"In the past, I was very shy to let people know that I was an ethnic minority, but after going through many ups and downs in life as well as studying abroad to broaden my limited vision, I feel proud again. It's true that we don't have the right to choose where we are born, but we absolutely have the right to choose our attitude to face problems that happen in life." Wok Thi Yen confided.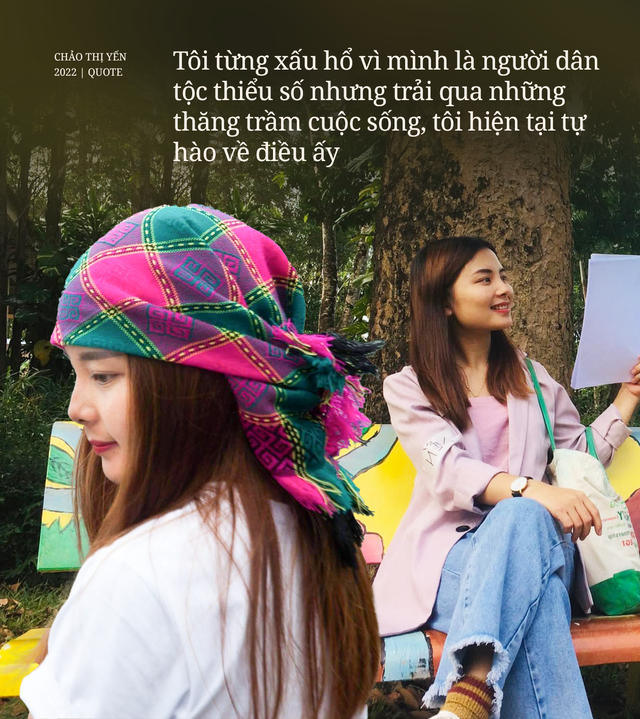 In particular, right from her days in Germany, Wo Thi Yen has always had the intention of establishing a scholarship fund to help studious students in mountainous areas go to school fully. But when returning home, understanding the process of establishing a fund is not easy, so this plan is still open. Instead, she only supports the children with school supplies, directly teaching in their free time as a way to help the children find their own path.
In 2020, Chao Thi Yen published a book about the journey of overcoming prejudices to conquer the academic path and change her own destiny called Reverse Road – From Dao village to Erasmus scholarship. She is known by many young people through her debut work and is called by many as an "inspirational character".
Before that name, Yen said, pressure is inevitable, but if she had to choose again, she would still share her own story to create life motivation for young people from ethnic minority communities in Vietnam. High land.
In the coming time, Chao Thi Yen will accompany the people where she lives to find out the direction of economic development with everyone.
"Most of the people here self-advocate to see what can be sold, they will compete to plant and harvest. Then when supply exceeds demand, their lives fall into difficulties. I always set myself a goal. the question of what to do to make our lives better. And I'm determined to find the answer."Yen shared.
https://cafebiz.vn/co-be-chan-trau-o-ban-nguoi-dao-gianh-hoc-bong-toan-phan-o-duc-tro-thanh-chu-homestay-co-tieng- o-sapa-va-mo-kenh-tiktok-gioi-thieu-van-hoa-viet-20220519191454552.chn
You are reading the article
Wok Thi Yen- The "shepherd" girl in the Dao village decided to go "the opposite way" to win the Erasmus scholarship

at
Blogtuan.info
– Source:
cafebiz.vn
– Read the original article
here