Many people advised Thanh Phuong's family to buy a house instead of an apartment. But there are also readers exclaiming: "Land in Vietnam is the most expensive in the world"…
Buying real estate… easier liquidity
That is the advice of reader Tran Minh for Ms. Thanh Phuong's family. According to Minh, you should buy a house because "Liquidity is easier. Many houses with that kind of money can still be bought, but it takes more effort to find and consider."
Agree with this idea, according to Hanh Dung, "Around 5 billion can only buy a house in the alley, about 30m, but you also have to find out and choose wisely to buy it. Apartment prices have also increased a lot now, I'm sure to find a satisfactory house with that amount of money still have to borrow from the bank." Meanwhile, Quoc Viet gave slightly contradictory advice: "Buy land, build it a few years later, sell it, and buy an apartment later, it's a whole road."
Buy a convenient apartment with enough roads
Not excited about buy real estateBui Thi Chiem Nhu is more inclined to buy an apartment: "Your parents say it's very true, at this stage, you should buy an apartment house to conveniently take care of and monitor your children". However, Chiem also advises Thanh Phuong readers not to focus only around the Doi Can – Giang Vo area: "You can go to the South – North Tu Liem, Ha Dong… If you have a car, it's convenient to travel."
Reader Vuong Thuy Dung analyzed very carefully: "The price of apartment buildings is sometimes much higher than real estate. But they have many amenities that real estate does not have. It's true that everything has its ups and downs, you just need to calculate it. Hope you find a peaceful place to live soon!".
Choose a house in the center of what to do?
This question was asked by many readers before the seemingly difficult problem of Ms. Thanh Phuong's family. Flies asked the question: "Why buy a crowded, polluted, congested center? Oh wait, shut the door. No one bought it. Trading in waterpipe tobacco, iced tea, bean vermicelli… a few tens of thousands".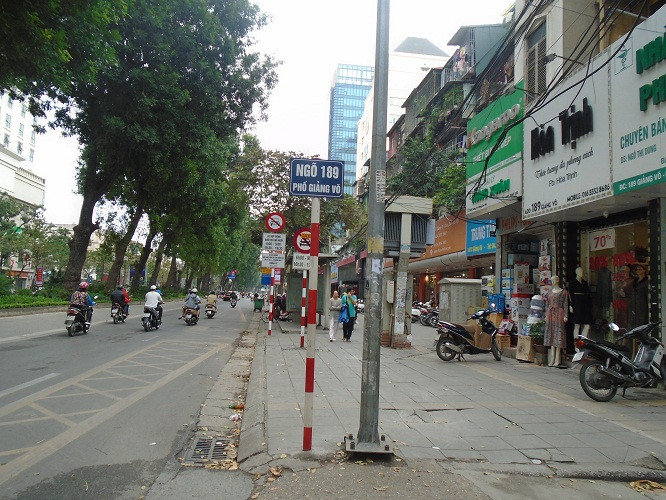 Also raising the same issue, reader Thuy Quynh analyzed: "If you buy a house for yourself, you need to go to the center, go to a far away area, and still live comfortably and open. Children also have a place to play and relax, but in the center, it's a car, only a street!". Agreeing with this idea, Nguyen Thanh Phuong said: "Just go back and forth for a bit, there is no shortage of delicious and financially suitable places. Concentrating in the central area is not necessarily good when space is limited, the price is also more expensive. Moreover, being near the parents-in-law / parents-in-law, far away from the smell is near rotten, what happiness is there?".
Vietnam's real estate is the most expensive in the world
Reader Nam Nguyen advises Thanh Phuong: "The thought of your grandparents is quite progressive. With the above money, you will find a suitable and suitable house sooner or later. The problem is that you have to calm down and look carefully, sometimes buying and selling is a predestined thing." Meanwhile, Elder Brother shared: "I've heard the saying: Real estate in Vietnam is the most expensive in the world" nearly 10 years ago. Now it is still the most expensive in the world. Hanoi is more expensive…". Chi Fat readers rate: "According to financial experts, the higher the land value, the more developed the society. That is the truth. And I believe that is a manifestation of a rich society (and myself, not rich at all…)".
Reader Doan Manh offers advice: Real estate prices are "blown" up by brokers, making it difficult for those with real needs to meet each other, but in fact, there are many people who want to sell the house that meets your needs at the right price you have (or slightly better). ). Buying a house is not easy, but it requires calm, unsatisfactory speed… you should be cautious."
Besides, many readers of Thanh Phuong and your family should be cautious. For example, your friend Tran Quoc Cuong said: "The people are crowded, the land is tight, the price will naturally increase, if you want it to be cheap, then go to the desert to live, brothers and sisters! In the middle of the capital, an inch of land is an inch of gold, but there are enough requirements for area, rooms, parking… but it is rare to ask for a good and cheap price."
Reader Phuc shared: "You simply have to accept the trade-off. Near my parents, the price is high, I have to live in a small alley, the house is tight, the house has a car. Going down to Ha Dong, South or North Tu Liem … will solve all the above problems but will not be close to parents. As for the third solution, it's time to rent a place, about 10 million / month, she rents an apartment, or rent a whole house is also comfortable. If you have excess money, you can buy land, wait for the price to increase, and in that time accumulate more properties; But this way, you have to wait to own the house."
Phuong Hoai Thuong also agrees that buying a mid-range house is not easy: "House prices have also skyrocketed in recent years. But again, the core problem is that everything is concentrated in a few big cities, people are massively flocking to Saigon & Hanoi to work and live… Since then, Supply and demand are out of balance, so the high price is according to the law of the market. Now it's not easy to find a satisfactory house at a mid-range price."
Le Cuc (Synthetic)
You are reading the article
Buy a house or an apartment?

at
Blogtuan.info
– Source:
vietnamnet.vn
– Read the original article
here