Thị trường
Female office worker talks about her passion for making kombucha tea
With an endless passion for kombucha, Nguyen Thi Khanh Tam (born 1989), an office worker in Ho Chi Minh City, researches and makes dozens of different types of kombucha by herself.
As a foreign language, Nguyen Thi Khanh Tam has the opportunity to read studies on kombucha tea from foreign documents. This girl spent 3 years learning and experimenting. After testing to confidently produce the most perfect cups of kombucha tea, in 2020, Khanh Tam decided to build a brand for her product.
Kombucha is a fermented tea, believed to have originated in China or Japan. This tea is made by adding special strains of bacteria, yeast and sugar to black or green tea, and then brewed, these microorganisms will ferment the tea for a week or so. .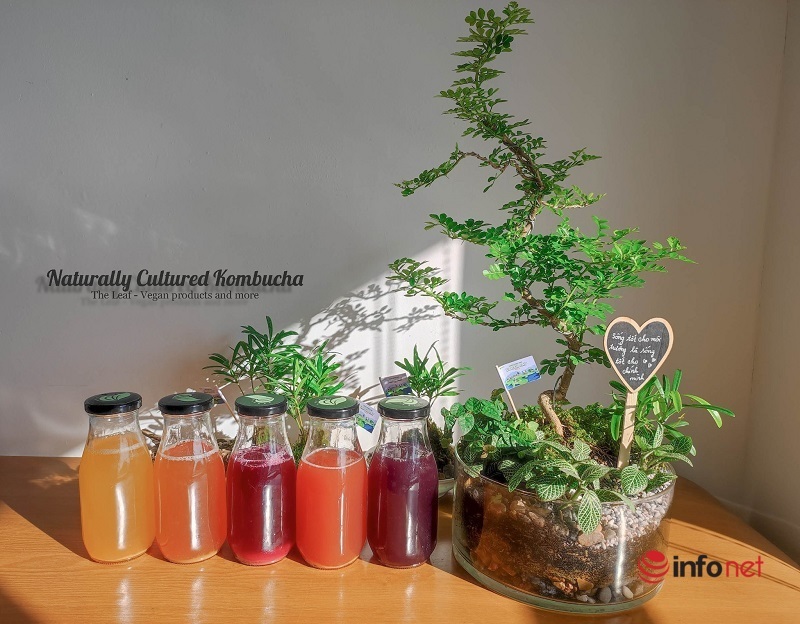 Some kombucha products with the name "The Leaf" received positive feedback from the market
During this process, bacteria and yeast form a fungus-like coating on the surface of the tea. This is why kombucha is also known as "mushroom tea". Both of these microorganisms (bacteria and yeast) are symbionts, and can be used to ferment kombucha tea. Fermentation produces acetic acid (also found in vinegar) and several other acidic compounds, very small amounts of alcohol, and gas.
Studies show that kombucha tea is a good source of probiotics. Kombucha contains antioxidants and may help the body kill bacteria, reduce the risk of heart disease, help better control type 2 diabetes, and may even help protect against cancer. letters.
Brewing and preserving kombucha tea requires meticulousness and many rigorous stages to produce the best product. Therefore, besides a few brands of kombucha already in the market, not many people choose to start a business with kombucha tea.
However, with an endless passion for kombucha, Nguyen Thi Khanh Tam (born in 1989), an office worker in Ho Chi Minh City, has researched and made dozens of types of kombucha herself. difference.
However, due to the small scale, Khanh Tam has only identified this as a "left-hand job", products are made mainly according to orders, and her main job is still an office worker. However, her "side job" also keeps her busy all year round and becomes her main source of income.
So far, Khanh Tam has created dozens of kombucha flavors that are well-received by customers, including: strawberry mixed with passion fruit, strawberry apple, Bach Lien Bach Nhat (organic lotus and cypress flower), Bach Lien Thanh ( organic lotus and butterfly pea flower), macrobiotic pickled apricot, Moc Chau plum, beetroot ginger, ginger, apple, star anise, cinnamon, red artichoke, organic rose, lavender, mango…
"I am still creating new emotional and seasonal flavors of fruit, all organic kombucha. The suppliers of fruit materials for themselves are all clean fruit traders from the garden, so they are all clean products, without spraying and without preservatives. The partners supplying the fruit are also connoisseurs of kombucha," shared Nguyen Thi Khanh Tam.
Khanh Tam shares her passion for kombucha tea: "I cherish and cherish every bottle of kombucha, whether it's my product or someone else's. The ingredients so far are using organic sugar and fresh sweet fruit from the garden without the use of herbicides, no chemicals, no preservatives or better yet, natural grown fruit. Currently, I do it for passion, it's really passion, I put in too much effort, I don't dare to say much so that the product can reach more people."
Also because of the strictness of standards created by themselves, kombucha products have a higher price than the common ground. The current selling price ranges from 150,000 to 180,000 VND/500ml bottle. In which, 180,000 VND is the selling price for products with high complexity and production costs such as lavender, rose, and plum. For example, this is the season of ripe plums in Moc Chau (Son La), to make a batch of plum kombucha tea, she has to order plums from a supplier in the North, and then transport them to Ho Chi Minh City. HCM. This makes the price of the product higher than other flavors.
Besides, Khanh Tam aims to not only make organic products but also environmentally friendly products, so 100% of the products are packaged in glass bottles, which can be reused for many different purposes. . Therefore, her customers are also in the middle and high-end segments.
"Glass bottles are durable, safe for users, can be reused for many different purposes, in addition, we also have a policy to return bottles for customers. Kombucha is packaged in glass bottles, but it is a drink that requires a strict preservation process, so even if there are customers outside of Hanoi or the northern provinces, we have to refuse. If Kombucha is shipped far away without good heat preservation, it will affect the quality of the product", Khanh Tam said.
According to her share, if you only look at the price to compare, it will be "not good" because her product has a higher concentration than famous products on the market.
"Customers who buy my kombucha often have to shake it with ice or add water to drink because my product is quite bold. Therefore, if you compare it, spend 150,000 to 180,000 VND to buy a bottle of your kombucha, customers are still more profitable. However, I always recommend that customers try the kombucha from different vendors to see which one they like best."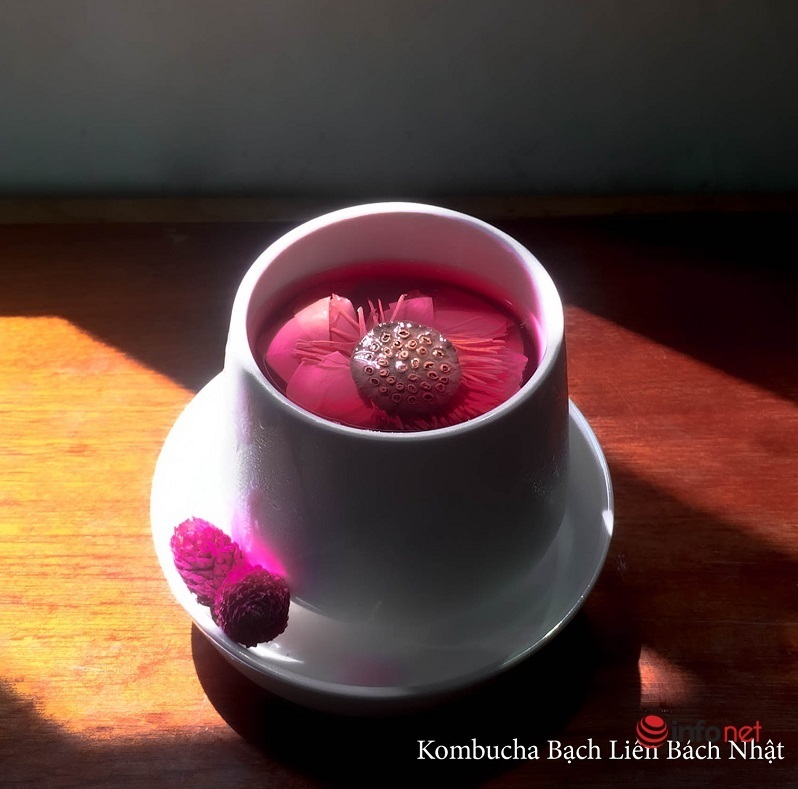 According to Khanh Tam, Kombucha is essentially tea fermented from vinegar with fruit/sugar. The final taste of the finished product will be sour and sweet. In the process of brewing kombucha, I have to watch the finished product so that the sour and sweet flavors balance each other, not being too sour or too sweet. I limit the amount of sugar and brew it for a full day, not too early, not too late to affect the taste of the product. If the customer prefers to drink less or reduce the sour taste of kombucha (for babies, or people who are light eaters, have little tolerance for sour, or have problems with stomach and digestion), the kombucha can be mixed with water. fruit, according to preference.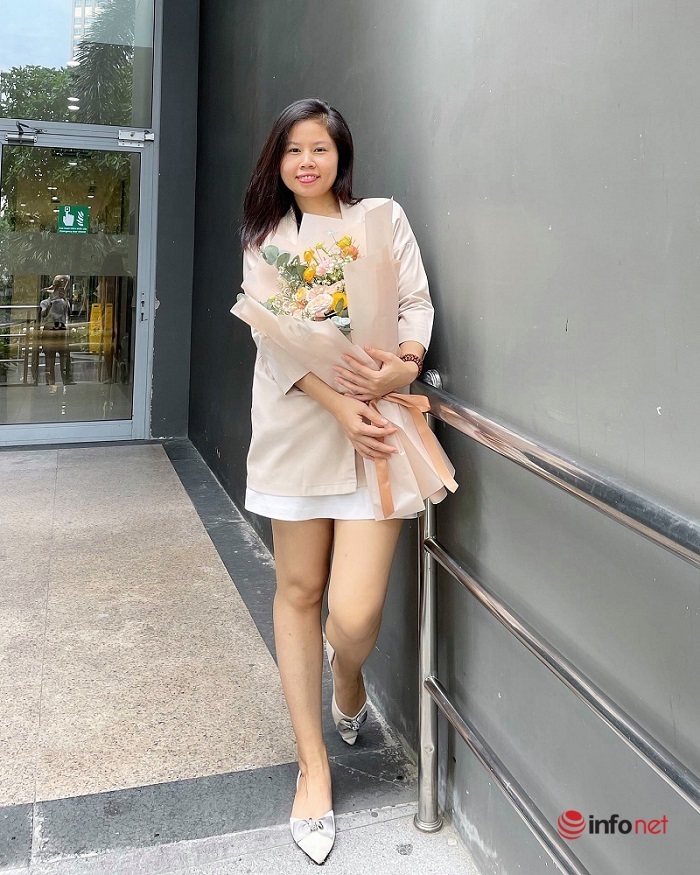 Nguyen Thi Khanh Tam.
The need to find and use kombucha tea has become increasingly popular in the Vietnamese market. The kombucha market is currently dominated by 5-6 major brands, including brands from abroad. However, most of these brands are packaged in cans with popular prices ranging from 30,000 to 50,000 VND/240ml can. Some brands use glass bottles with prices ranging from 54,000 to 270,000 VND/bottle depending on the brand and taste of kombucha.
Tuan Nguyen
You are reading the article
Female office worker talks about her passion for making kombucha tea

at
Blogtuan.info
– Source:
infonet.vietnamnet.vn
– Read the original article
here