Thể thao
Gold mine dives into battle, female team fights Thailand
In addition to the focus on the women's soccer final between Vietnam and Thailand, diving is expected to bring home the "rain" of gold for the TTVN team on today's competition day.
The highlight of today's competition is the final of Vietnam women's football against Thailand. A day before the match, hundreds of fans had booked seats to wait for tickets to enter the field. Even last night, many fans brought blankets and mats to the front of Cam Pha Stadium to sleep overnight until morning.
With the enthusiastic cheers of the home audience, coach Mai Duc Chung's teachers and students have more strength to defeat Thailand, thereby winning the SEA Games gold medal for 3 consecutive times.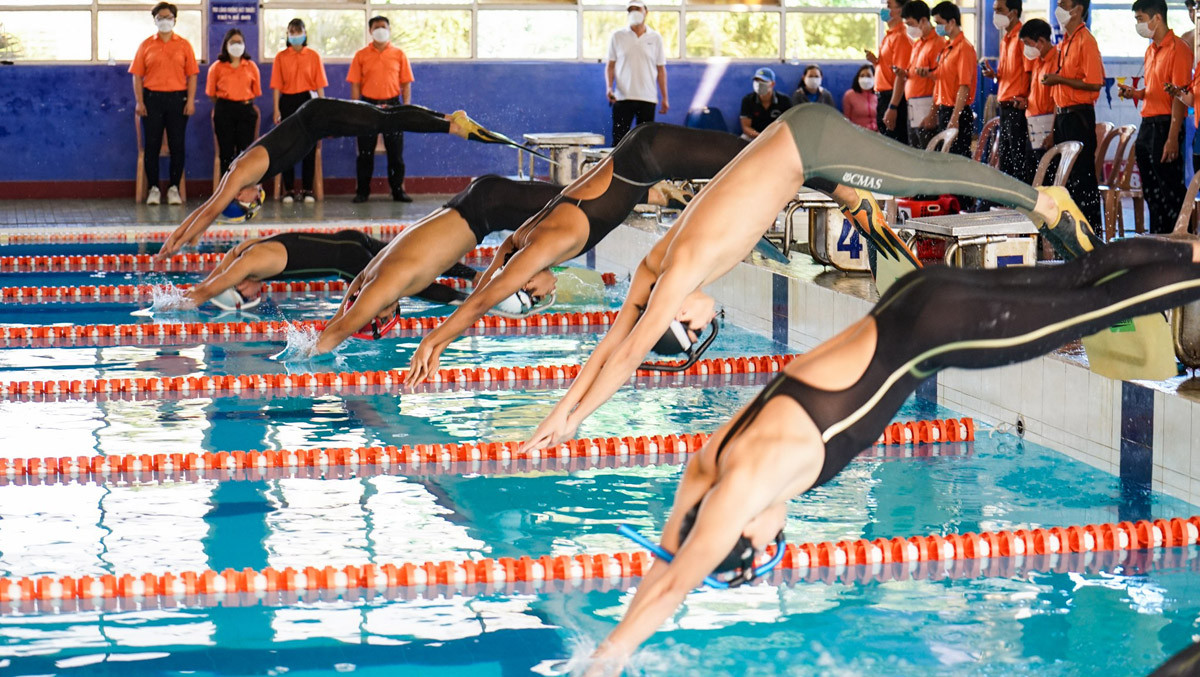 On the medal chart, host Vietnam is far ahead of Thailand and rivals in Southeast Asia. This gap will continue to widen today when the gold mine dives in. If there are no surprises, Vietnamese diving athletes can hold all 7 gold medals in 7 events.
The subjects that continue to be expected to win more gold medals for the Vietnamese delegation are canoeing, shooting, judo, weightlifting, vovinam, bicycle, rattan bridge, chess…
Match schedule of the Vietnamese sports delegation on May 21
Subject

Place

Day

Time

Content

Ring

Athletes

Result

Note

Badminton

Bac Giang

5/21

From 14:00

Couple of guys

Semifinal

Tuan Duc/Hong Nam-Carnado/Martin (INA)

Men's singles

Semifinal

Nguyen Tien Minh/LK Yew (SIN)

Shoots

NATIONAL SPORTS TRAINING CENTER HANOI

5/21

9:00 – 11:45

50m Rifles 3×40 Men

Type

ROOM VIETNAMESE USE

NGUYEN VAN QUAN

NGUYEN THANH NAM

1:00 pm

50m 3×40 Men's Rifle

Final

9:00 – 9:30

10m Mixed Pistol

Round 1

TRAN QUOC CUONG

BUI THUY THU THU

PHAM QUANG HUY

TRINH THU VINH

9:50-10:10

10m Mixed Pistol

Round 2

9:00 – 12:00

10m Mobile Rifle Women

NGUYEN THI THU HANG

DONG HONG HA

NGUYEN THI LE QUEENN

MUAY

Vinh Phuc Provincial Gymnasium

5/21

14:00

Countervailing
Women's 48KG weight class
(S Female Elite – 48kg)

Semifinal

Huynh Ha Huu Hieu (VIE)
With
Cheryl Gwa WEI YING(SIN)

Men's 57KG weight class fight
(S Male Elite – 57kg)

Semifinal

Nguyen Doan Long (VIET)
With
Chainarong Yawanophat (THA)

Women's 60KG weight class fight
(S Female Elite – 60kg)

Semifinal

Bang Thi Mai (VIE)
With
April Joy La Madrid (PHI)

Men's 63.5KG weight class fight
(S Male Elite – 63.5kg)

Semifinal

Truong Cao Minh Phat(VIE)
With
Noy Huksamueng (LAO)

Canoeing

Hai Phong Boat Racing Training Area

5/21

09:30

500m C4 Women

Final

1. Truong Thi Phuong

2. Diep Thi Huong

3. Nguyen Thi Huong

4. Nguyen Thi Ngan

09:37

500m K4 South

Final

1. Son Van Cuong

2. Nguyen Minh Tuan

3. Song Hoang Nam

4. Ly Van Phat

09:45

500m K4 Women

Final

1. Do Thi Thanh Thao

2. Luong Thi Dung

3. Ngo Phuong Thao

4. Ngo Thi Thu Hien

10:00

Awarding medals

11:55

200m C1 Women

Final

Nguyen thi huong

12:10

Awarding medals

12:25

200m C4 Women

Final

1. Truong Thi Phuong

2. Hoang Thi Hue

3. Nguyen Thi Ly

4. Nguyen Thi Ngan

12:35

MEDAL AWARDING

Judo

Hoai Duc District Gymnasium

5/21

13:00-15:00

-45 female , -48 male , -55 male

Vietnam – Philippines

(-45 kg)

Quarterfinals

Do Thu Ha-vie

Lopez – Phi

Vietnam- Myanmar

(-48 kg)

Quarterfinals

Hoang Thi Tinh -viet

Sublime-Myanmar

Vietnam-Thailand (-55 kg)

Quarterfinals

Nguyen Hoang Thanh-vie

Suksai-Thai

Soccer

Cam Pha

5/21

7:00 pm

Women's soccer

Final

Vietnam vs Thailand

Reward

Basketball

Thanh Tri

Hanoi

5/21

17:00 – 19:00

Female

Vietnam – Malaysia

19:00 – 21:00

male

Vietnam – Indonesia

Sepak Takraw

Hoang Mai

5/21

10:00

Content 4 male

Board

Vietnam – Myanmar

11:00

Content 4 female

Board

Vietnam – Cambodia

1:00 pm

Content 4 male

Semi Final

1:00 pm

Content 4 male

Semi Final

14:00

Content 4 female

Semi Final

14:00

Content 4 female

Semi Final

15:00

Content 4 male

Final

4:00 pm

Content 4 female

Final

Beer

ha Dong

Hanoi

5/21

14:00

Carom 3 Cushions

Semi Final

Nguyen Duc Anh Chien

Tennis

From Son

Bac Ninh

5/21

Before 13:30

Men's Singles 01

1/4

1.JIANG TRINH LINH (VIE)-Laos

Men's Singles 02

1/4

2.Ly Hoang Nam (VIE)- THAT

Electronic Sports

National Convention Center

Weightlifting

Cultural House, Training and Sports Center, Hanoi

5/21

10:00 a.m

Male 73 kg

NGUYEN QUAN TRUONG

Awarding medals

12h00

Female 64kg

PHAM THI HONG THANH

Awarding medals

14:00

Male 81kg

NGUYEN QUOC TOAN

Awarding medals

16h00

Female 71kg

LAM THIS MY LE

Awarding medals

Vovinam

New Year's Eve

Soc Son

Bicycle

Peace

5/21

Departure male personal companion

Final

Nguyen Hoang Sang

Nguyen Hoang Giang

Quang Van Cuong

Huynh Thanh Tung

Chess

Quang Ninh Exhibition Planning Palace

5/21

09:00

Flash flags

Teammate

Morning of May 21 Lottery
Subject

Place

Day

Time

Content

Ring

Athletes

Result

Note

DIVE

Aquatic sports facilities

Hanoi

5/21

100m air hose Single propeller male

Nguyen Thanh Loc

Do Dinh Toan

100m single female propeller hose

Pham Thi Thu

Nguyen Thi Hang

100m Propeller

Couple of guys

Nguyen Ngoc Huynh

Vu Van Bac

100m Propeller

women's doubles

Nguyen Thi Thao

Cao Thi Duyen

1,500m single male propeller steam hose

Kim Anh Kiet

Nguyen Tien Dat

4x200m male propeller steam hose

Register 30 minutes in advance

4x200m male propeller steam hose

Register 30 minutes in advance

Aerobic

Sports Palace Horse pants

5/21

10:40

IM

Phan The Gia Hien

11:05

CHILDREN

Le Hoang Phong

Nguyen Che Thanh

Tran Ngoc Thuy Vi

Handball

Bac Ninh University of Sports and Sports

5/21

15:00

Female

Thailand – Vietnam

17:00

male

Thailand – Vietnam
SN
You are reading the article
Gold mine dives into battle, female team fights Thailand

at
Blogtuan.info
– Source:
vietnamnet.vn
– Read the original article
here