Đời sống
Suddenly the life of the "billionaire" won the lottery in Long An
More than 10 years have passed, but the strange story of Mr. Do Tuan (52 years old, living in Ben Luc town, Ben Luc, Long An) who bought 20 lottery tickets and became a billionaire is still often mentioned by people in the area. .
Many people believe that the fact that Mr. Tuan won the lottery is a "strange" story that is serial and unique.
Buy 20 lottery tickets on credit, suddenly become a billionaire
According to the instructions of the people in the area, we went to Mr. Tuan's house, a house of level 4, with a low corrugated iron roof nestled among the neighbors' houses, far from everyone's imagination of the house of a billion rich.
In the house, Mr. Tuan and his wife are processing backpack straps, the house is messy with all old furniture.
Referring to winning the lottery, Mr. Tuan said with a smile: "My wish is to build a house for my mother in the countryside above and below, winning the lottery. After building it, I feel secure. The rest of the money I think is a blessing from heaven. I give a little bit to each of my relatives and friends. I also spend a part of entertaining friends and neighbors and doing charity work."
Mr. Tuan said, he started going to Ben Luc market to ride a tricycle more than 20 years ago. At that time, when he earned money, he spent hundreds of thousands of dollars every day buying lottery tickets, but he did not win any prizes for more than ten years. There were days when Mr. Tuan bought several hundred lottery tickets but did not win.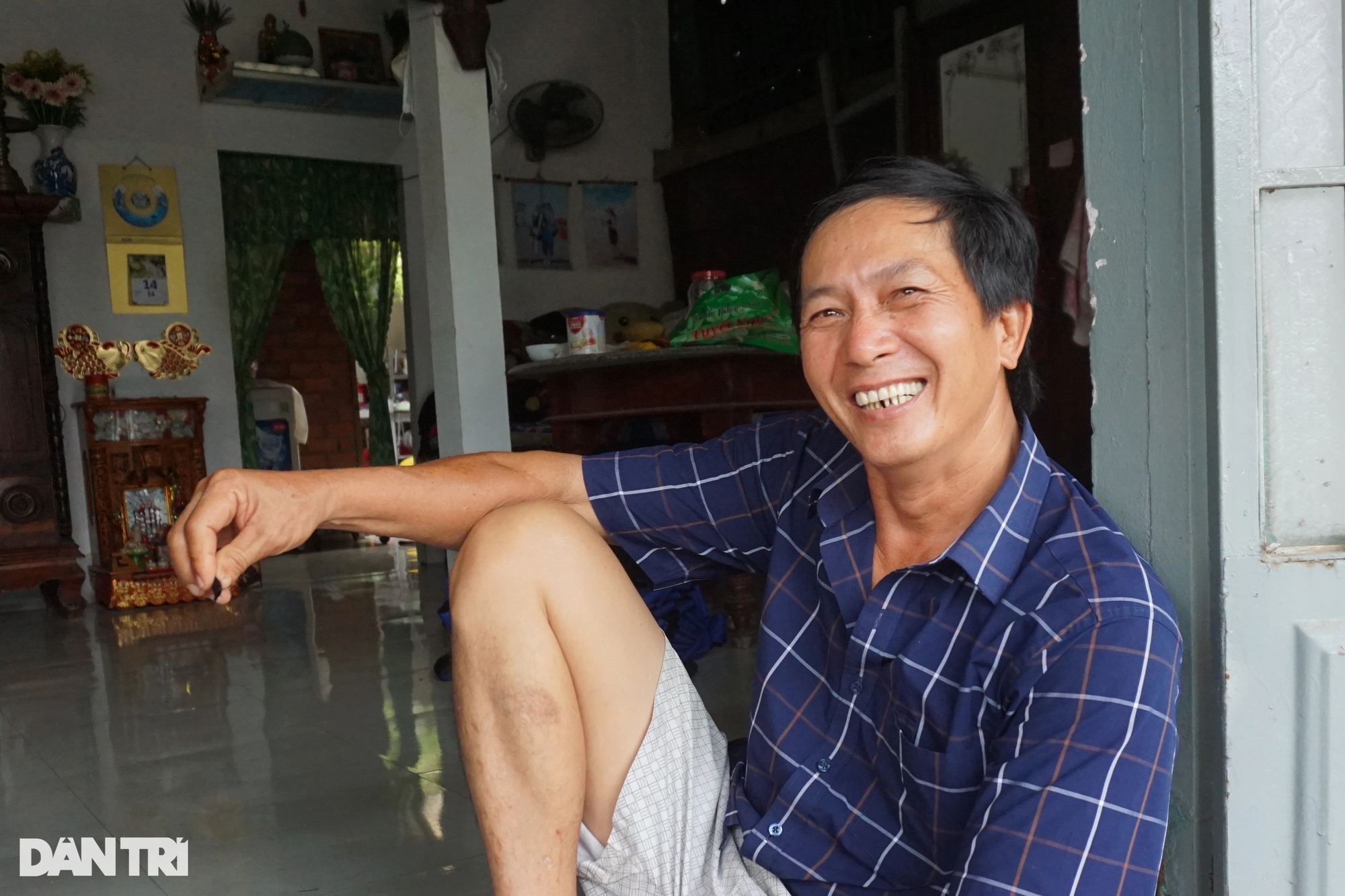 One day at the end of 2011, when there were no customers, Mr. Tuan was resting in the trunk of his car when a lottery ticket seller called. I know that the caller begged to buy some empty tickets, but because he himself did not earn any money all day, he did not have money, so Mr. Tuan did not answer the phone.
"That day, I was empty all day, so I didn't have any money, but it (the lottery ticket seller) kept calling and was annoyed, so I answered the phone and said to give me 20 bills to pay when I have money. let me know how many tails and then I don't care," Mr. Tuan said.
Not finishing a ride to earn money to pay, the seller called again, Mr. Tuan reluctantly answered the phone with an annoyed attitude. Unexpectedly, the seller did not ask for money, but announced that he won 3 jackpot tickets each worth 1.5 billion VND and more than 10 consolation tickets worth 100 million VND each, the total winning amount was nearly 6 billion VND.
"I heard that but I didn't believe it, I just said that after I get the money, I will pay the debt and then turn off the phone. When I went to the cafe to pay the lottery ticket seller, dozens of people poured out their congratulations, Some people even shook hands, stroked my shirt to get my wallet, making me sell trust and doubt.
Holding a bunch of lottery tickets and the results table, I still don't believe it's real, so I have to call the operator to make sure. When I found out that I won the real prize, I told everyone present that I would invite everyone to An Giang to travel. I also paid 200,000 dong of debt and gave the lottery ticket seller an extra jackpot ticket that surprised everyone", Mr. Tuan is still hungover when he remembers the moment he suddenly became a billionaire.
Split the prize money, just hope to live a normal life
Mr. Tuan continued, after receiving the prize, he immediately threw a party to invite neighbors and friends. He also spent tens of millions of dong inviting people to go to An Giang as promised.
During a week since the god of fortune knocked on the door, met any elderly or disabled people selling lottery tickets, how many copies of the lottery ticket Mr. Tuan had left, he also bought "as a charity". For more than a year from the day he won the lottery, every time he had the opportunity, Mr. Tuan spent money to invite friends and neighbors to eat and go out.
Looking at people in the area because they suddenly got rich thanks to winning the lottery, they began to spend money to buy cars, build houses, leading to a change in their mentality, damage, play, then sell their houses, pay debts, Mr. Tuan was also worried about himself. .
Mr. Tuan said that although money is really precious, it is also a disaster, a person who has never had a lot of money like him does not know how to use money properly, easy to "be manipulated by money". That's why Mr. Tuan decided to share all the money with his relatives to everyone's shock.
"After the party was over, I went back to my hometown to build for my elderly mother the house as promised, a fourth-grade house that was just enough to use but not huge. With the remaining money, I met with relatives and relatives about 30 people, If the house is in debt, I will help, and if the house is poor, I will give the business capital.
I have 2 wives, each wife has five or six brothers and sisters, and then my siblings, I give it to everyone, not big or small. There are difficult people who owe me hundreds of millions of dong. After all, there was only about 600 million dong left as capital, after winning the lottery, I still drove the tricycle as usual, nothing changed," Mr. Tuan said.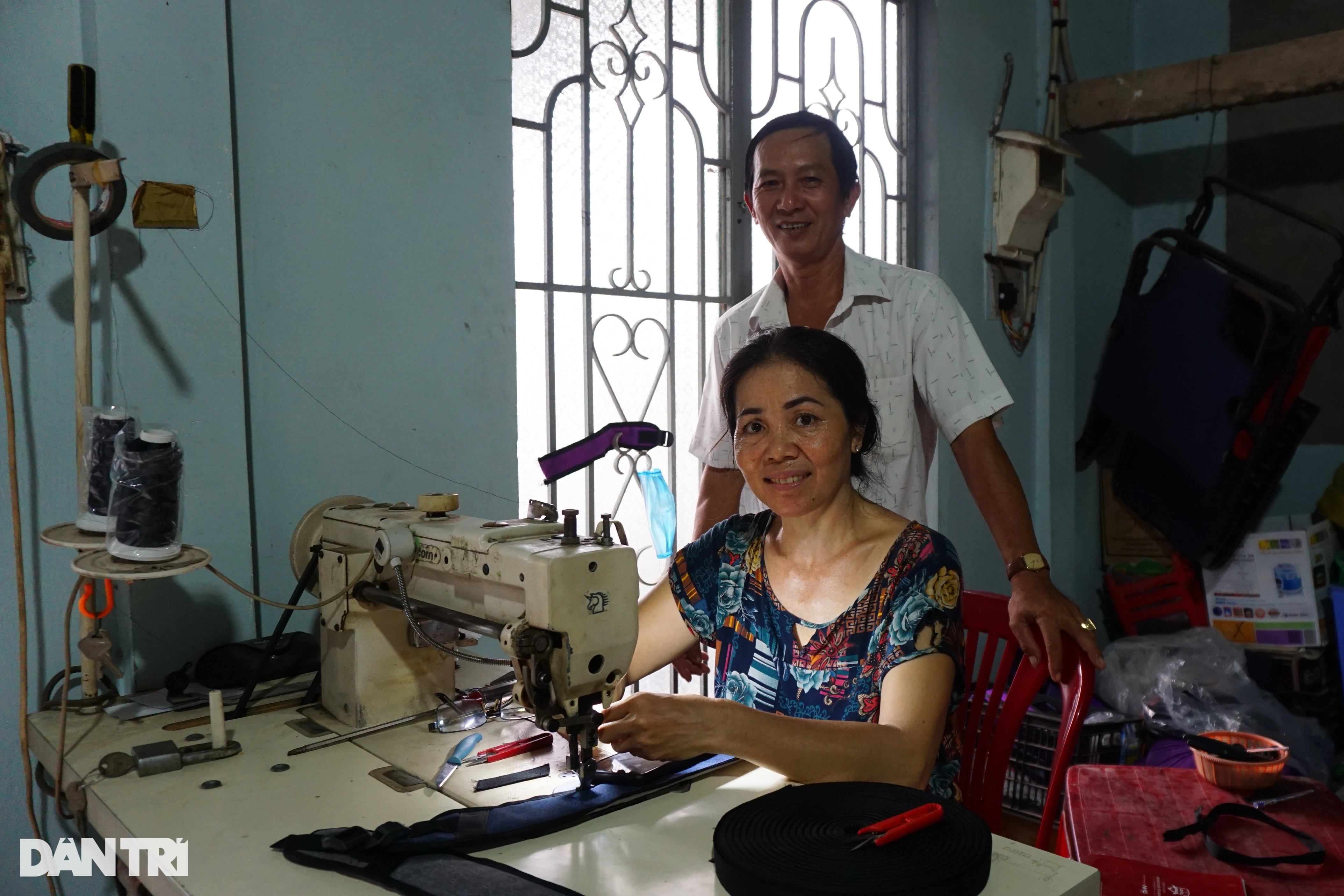 Mr. Tuan said that now, when he only has enough to eat at home, he only earns a few hundred thousand dong every day when he sews and sews, remembering that when he was a billionaire, he had some regrets.
However, every time someone asks about the "former billionaire", Mr. Tuan laughs happily. He considers himself a very lucky person when he wins the lottery and still enjoys a normal life.
"I have two wives, the house is close to each other but in harmony. I once won the jackpot to experience the feeling of being a billionaire. Now that I'm old, I also live comfortably, my children are obedient, looking back on my life, I feel lucky. good luck", Mr. Tuan confided.
Ms. Huynh Thi Det (52 years old) of Mr. Tuan's second wife said that when Mr. Tuan won the jackpot, her family including his eldest wife, small wife and children were not too excited. The two women are still working as normal workers, and their children are all doing their own thing. When Mr. Tuan distributed bonuses to relatives and relatives, the family did not prohibit or object.
"As long as the family is in harmony, I don't care about his money. I'm greedy, keep my time, I'm at a nice home, not at home like this," Ms. Det said.
Mr. Huynh Thanh Phong (53 years old), a colleague who rode a tricycle with Mr. Tuan at Ben Luc market as well as many people in the area, are still confused about Mr. Tuan winning the lottery.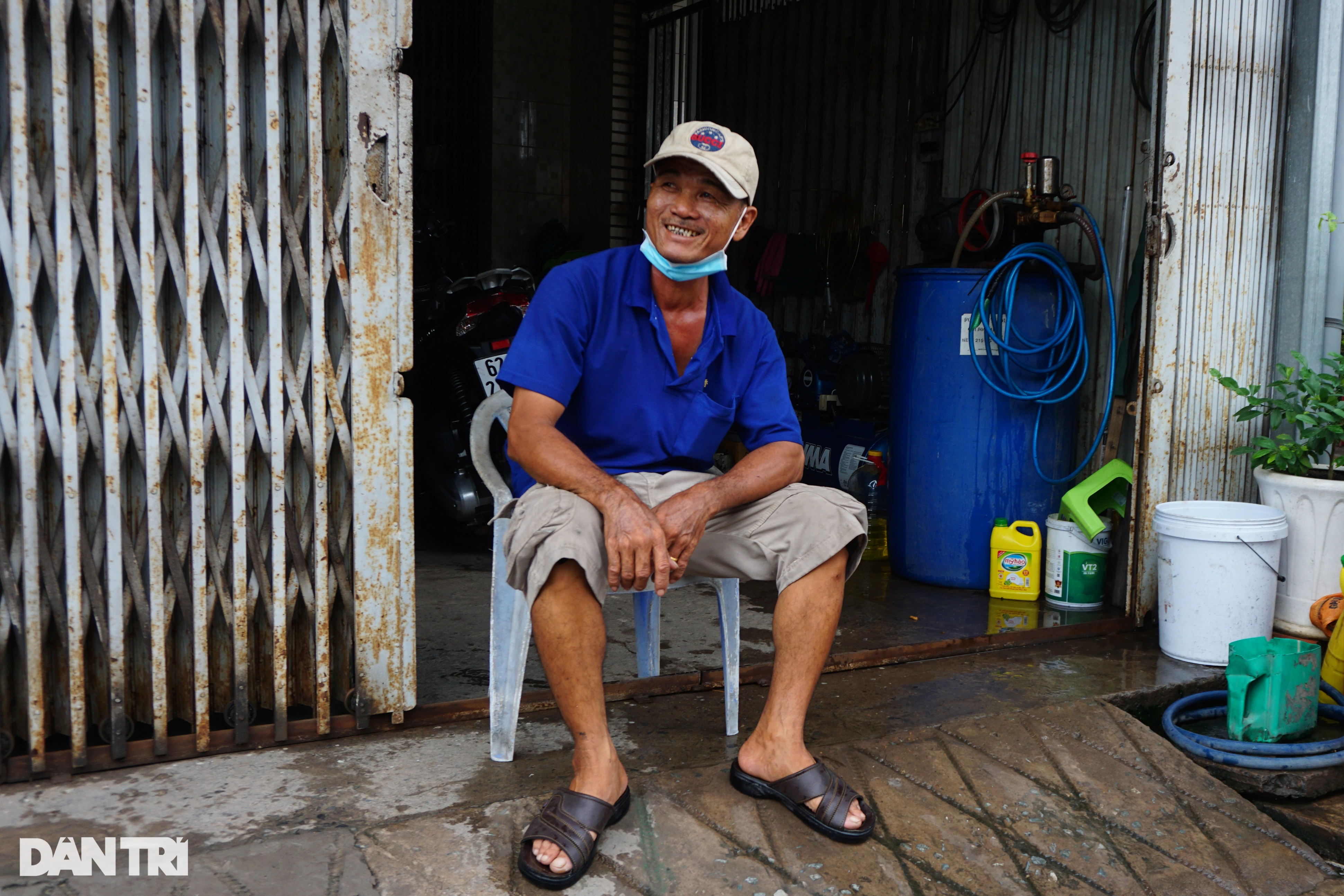 "If the seller of a lottery ticket is missing, if he hides and goes to receive money, no one will know, so he still goes to find the winner to pay for it. And the winner does not take the money to build a house or buy a car, but distribute it all for Still driving a tricycle, thanking the lottery ticket seller for up to one and a half billion, it's really strange and unique."
Mr. Phong remembers when Mr. Tuan first won the lottery, Mr. Tuan was very organized, inviting people to come eat. Those who were afraid to send money were rejected by Mr. Tuan.
A local official confirmed that Mr. Tuan won the lottery and gave the lottery ticket seller 1.5 billion VND to be true because the ticket seller was staying in the area at that time. The official also confirmed that Mr. Tuan quickly distributed all the money and returned to normal life.
"At that time, Mr. Tuan's story took a long time to settle down. He invited people to go to An Giang, but those who went there were mainly relatives. The lottery ticket seller was given money by Mr. Tuan and then had a friend. very close time with Mr. Tuan.
Mr. Tuan has two wives, living next to each other, but the family is warm, so the locality does not interfere," said the official.
You are reading the article
Suddenly the life of the "billionaire" won the lottery in Long An

at
Blogtuan.info
– Source:
danviet.vn
– Read the original article
here