Doanh nhân
The assets of 7 Vietnamese billionaires plummeted
In early April, Forbes magazine (USA) announced the list of world billionaires in 2022. Among 2,668 names, Vietnam first featured 7 representatives, including: Vingroup Chairman Pham Nhat Vuong, CEO. VietJet Air Nguyen Thi Phuong Thao, Hoa Phat President Tran Dinh Long, Techcombank President Ho Hung Anh, Nova Group Chairman Bui Thanh Nhon, Thaco Chairman Tran Ba ​​Duong, Masan Chairman Nguyen Dang Quang.
Mr. Bui Thanh Nhon is the latest character representing the Vietnamese business class to appear on this list. The leader of Nova Group owns 2.9 billion USDranked 1,053rd on the list.
On March 11, the time Forbes closed the wealth data based on stock prices and exchange rates, the total assets of this group reached 21.2 billion USD. However, by the last trading session on the stock market, ie May 19, the asset size of 7 billionaires shrank to a $19.3 billiondown nearly 9%.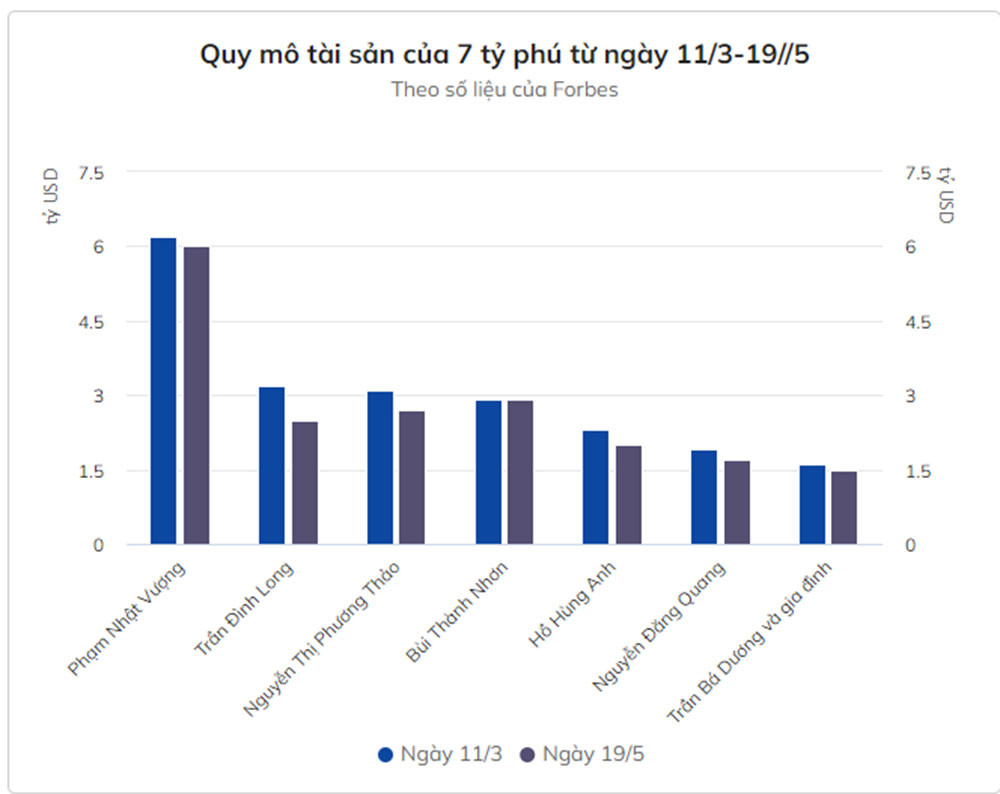 Hoa Phat owner Tran Dinh Long is the billionaire with the heaviest decline. In just over 2 months, the businessman's assets decreased 0.7 billion USDfrom 3.2 billion USD down 2.5 billion USDequivalent to 22%.
On the stock market, Hoa Phat's stock (code: HPG) was one of the blue-chips that dropped the most. On March 11, HPG closed the order at 45,800 dong/share, however, HPG was only traded at 37,900 dong/share in the most recent session.
Thus, HPG's stock price decreased by a total of 7,900 dong/unit, equivalent to 17.4%. Compared to the peak of 51,000 VND/share set in early March, HPG has decreased by about 26%. Market capitalization now reaches 169,524 billion VND.
According to the financial statements, Hoa Phat's net revenue in the first quarter of 2022 reached 44,058 billion VND, down slightly from the previous quarter and dragged net revenue growth to 41%. Profit after tax of the parent company reached 8,217 billion VNDhigher 790 billion VND quarter-on-quarter but growth slowed to 18%.
In addition, the group of assets that decreased by more than 10% included Ms. Nguyen Thi Phuong Thao (decreased by 0.4 billion USD – 12.9%), Mr. Ho Hung Anh (decreased by 0.3 billion USD – 13%), Mr. Nguyen Dang Quang (decreased by 0.2 billion USD – 10.5%).
On the stock exchange, the shares of the three billionaires' representative businesses were: VietJet Air (code: VJC) down 138,500 dong/share to 125,500 dong/share (-9.3%); Techcombank (code: TCB) dropped 48,900 dong/share to 35,800 dong/share (-26.7%); Masan (code: MSN) decreased by 142,500 VND/share to 110,400 VND/share (-22.5%).
The size of assets of Mr. Pham Nhat Vuong and Mr. Tran Ba ​​Duong had the smallest decrease, 0.3% and 0.6% respectively. Meanwhile, Mr. Bui Thanh Nhon's assets remain the same 2.9 billion USD.
Billionaire Pham Nhat Vuong is the only Vietnamese businessman in the top 500 of Forbes. On Bloomberg's billionaire index, he is ranked 346th in the world with a net worth of about 6.65 billion USD.
Although it only decreased by 0.3% in the period mentioned above, from the beginning of the year, the size of Vingroup's owner's assets has decreased 1.86 billion USD, equivalent to 21.9%. Last April, Mr. Vuong's assets exceeded 11.6 billion USDa record high.
(According to Zing)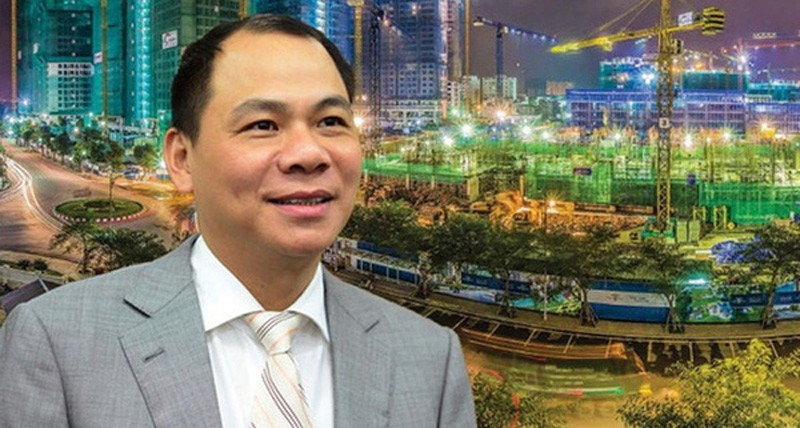 You are reading the article
The assets of 7 Vietnamese billionaires plummeted

at
Blogtuan.info
– Source:
vietnamnet.vn
– Read the original article
here