Business
Too big investment and high product cost is an interesting challenge for us, because 'mother-in-law is difficult, only daughter-in-law should'
To those who have heard him Ly Ngoc Minh – Chairman of Minh Long Ceramics I When we talked, we all realized that he was not a very good speaker in Vietnamese. However, despite that, he is still a much-loved speaker, because his work and experiences are so special and worth learning.
Although he is the most powerful person in the second largest ceramics enterprise in Vietnam, he has not lost his heart as well as the virtues he forged since childhood: humility and inquisitiveness.
In the recent Talkshow The Next Power co-organized by S-World and VNE, he repeatedly affirmed that he is not a "ceramic king" or a "general engineer" as bestowed by domestic and foreign media, but he is just a 'ceramic enthusiast'. The title 'king of ceramics' gives the impression that he is hegemonic, able to 'call rain, call wind'.
In addition to passion, one of his other qualities and that of Minh Long has helped them get to where they are today: perseverance – patience. No matter how difficult it is, Mr. Ly Ngoc Minh never gives up.
Therefore, for him or Minh Long, the large investment that makes the product cost high is an interesting challenge, because 'the difficulty shows the wisdom'.
And the reason why they have to be patient or always take more time than others to create a new product is because they always want to follow the philosophy of 'simple – effective' plus 'safety many times' before selling. on the market.
3 MEMORABLE MONEYS IN THE LIFE OF 'Ceramics Enthusiast' LY MINH NGOC
Born in a family of 4 generations of ceramics, the love for ceramics appeared inside Mr. Ly Ngoc Minh as a matter of course. According to his story, when he was a child, he once followed his father to a ceramics exhibition, after seeing beautiful ceramic products from all over the world, he dreamed of the day he could also making such world-class quality materials.
So, when he had to take over the family business when he was 16 to 17 years old, due to the early death of his father, he opened a laboratory to unleash his creativity. However, as it is often said: 'youth has not experienced life', his laboratory had to be closed after 3 years.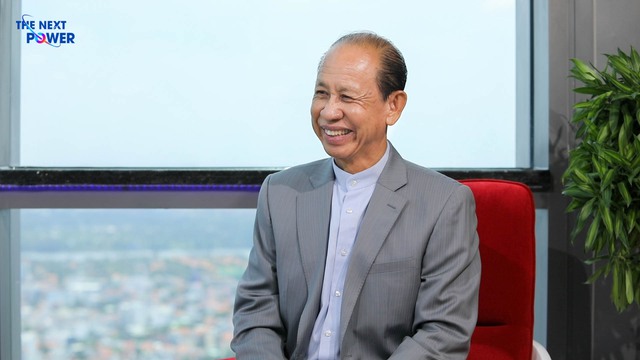 Mr. Ly Ngoc Minh – Chairman of Minh Long Ceramics I
"Although I have tinkered – successfully researched many different beautiful enamels, I do not have enough resources to invest in machinery – technology and techniques to produce large quantities. However, it's not that I didn't get any results, because of that I was determined to switch Minh Long from handmade pottery to fine art.", Mr. Ly Ngoc Minh recalled.
The second milestone came during the meeting with State leader Do Muoi. During a visit to Binh Duong and meeting with leading enterprises in the industry, when he saw Binh Duong bring a set of imported porcelain teapots to treat him, Mr. Do Muoi asked: "Why does a province have a long tradition of producing products? If you are a ceramic exporter like Binh Duong province, you cannot produce good quality products that you can bring to customers, but you have to import them?!".
The question from the senior leader of the State awakened his childhood dream. So, he gathered money and went out into the world to buy the most modern ceramic production machines in the world and bring them back to Binh Duong.
The final milestone is the process of improving machinery – technology to be able to automate all production processes and successfully create a one-time fired ceramic product – a nourishing porcelain pot.
20 YEARS PROCESS TO CREATE THE 'MAGIC' CERTIFICATE KITCHEN
According to Chairman Minh Long, there are two products that the company produces that makes him feel most proud: the first is the nourishing porcelain pot and the nourishing porcelain cup.
"All of Minh Long's products are my children and have to work hard to raise. However, in which I like the most are the nourishing porcelain pot and the nourishing porcelain cup.
Minh Long's nourishing porcelain pot has many 'miracle' uses: because it can withstand thermal shock up to 850 degrees Celsius, it can be cooked with gas stoves, ordinary stoves, electric stoves and induction cookers; Can be used for stewing, stocking, frying at low temperatures and boiling without water. Currently, my luggage is always big because everywhere I go, I bring a homemade electric cooker that uses nourishing porcelain to cook brown rice, because I am very concerned about my health.
With paper cups, the negative ion index is zero, the glass cup has about ten negative ions, the ceramic cup has an index of about 20 to 30, and Minh Long's health porcelain cup has a negative ion index of 70-80. So , when storing coffee in plastic or stainless steel cups, about 2 hours or so, the coffee has been degraded, while in Minh Long porcelain cups, it's okay from morning to afternoon.", he asserted.
To create the above-mentioned 'miracle' of the nourishing porcelain pot, Mr. Ly Ngoc Minh – Minh Long exchanged 20 years of time and the health of this Chairman.
According to Mr. Ly Ngoc Minh's share, the idea of ​​​​making a nourishing porcelain pot was born from him 20 years ago. If you consider creating a new product like directing a play, then a good script – idea is not enough, but you must find actors with suitable qualities. Or more simply, he has to find the right techniques – technology – materials so that when mixed, they can have multiple uses and are good for health.
"In order to save energy and labor, a few decades ago, the world ceramic industry tried to make it from being fired twice and fired once. In fact, when Minh Long imported a one-time firing line from Germany, there were also 4 other businesses in Germany that also bought this line.
However, the other 4 companies could not come to the end, after about 7 to 8 years they gave up, only Minh Long still persisted and succeeded in making porcelain fired once at a temperature of 1,380 degrees – highest in the world, after 15 years. In addition, in other businesses around the world, the one-time firing process takes up to 72 hours, but Minh Long only needs 24 hours.", said Mr. Ly Ngoc Minh.
Ordinary ceramics will have a firing temperature of about 1,000 to 1,200, if the firing temperature is above 1,250 degrees is called semi-porcelain, porcelain will have a firing temperature of 1,280 degrees to 1,320 degrees. There are also a few businesses in the world that can bake to 1,340 degrees, but only Minh Long can bake to 1,380 degrees. As a result, their nourishing porcelain pot can withstand 800 to 850 degrees of thermal shock.
It can be said that most of the machines that Minh Long buys have to be improved to match the requirements and desired technology. After buying the demagnetizer, they had to 'take it off' and redo it all. The same goes for the filter rail system, after buying it because it could not be integrated with the old machinery system of the factory, they also had to re-invent it. It took Minh Long 10 years to build a 5-in-1 air purifier – including a filter that treats all by water dynamics and can be washed – self-cleaning.
Inside Minh Long I's factory. Photo: vietnam.vnanet.vn
Or when he found the materials – relatively suitable soil, he also had to find a way to 'train' them with the missing qualities to be able to perform the best drama. It's still difficult to train an actor, let alone mindless land!
"Many times when I sit back and think about it, I sometimes ask myself: is it worth it for me to have to trade and pay such a high price? During those 15 years, I regularly had many sleepless nights, working days from 16 to 18 hours. I was thinking about gray hair and declining health. I made too big sacrifices!
However, the final answer remains: I have no other choice. If we want to continuously innovate – create to make a breakthrough in the industry and surprise the market, we have to 'lose sleep and eat'. So now, even I myself can remember how many patents Minh Long has", Chairman Minh Long I expressed.
After finding a 'good actor', he did not immediately act, but forced to act – practice – learn – fill in the shortcomings; and it will take another 5 years to introduce to the market the nourishing ceramic pot.
MINH LONG's "FIRE" IS A TOO BIG INVESTMENT
According to him, the reason Minh Long always takes a lot of time to come up with a new product is because he wants them to meet all three standards: simplicity – efficiency – safety many times.
Minh Long will usually have 2 types of products: the first is to meet the immediate needs of the market, the second is to meet the future needs – or jokingly, the 'dream' of consumers – like a nourishing porcelain pot. 20 years is a really long time to use only to develop a product. But no matter how long, we still have to wait, because they can't be born sooner!
However, not everything is so great with Minh Long. As admitted by Mr. Minh, because standing on the top of science – technology plus huge investment; Therefore, the production cost of their products is quite high and difficult to access to the mass market.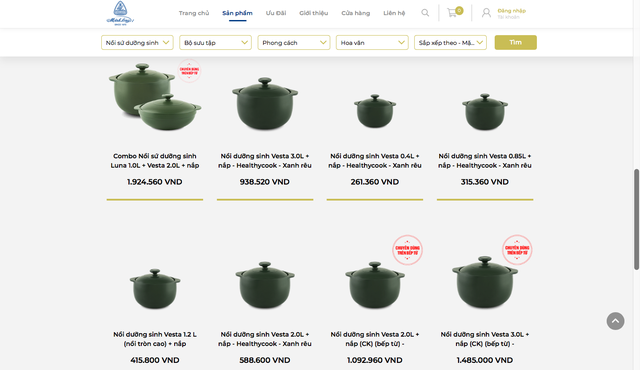 Minh Long's 20-year-old devotional porcelain pot has a rather high price.
"One of the other torments: if you create a product, no matter how good it is, but you can't sell it, it can't be called a success. Fortunately, Minh Long is always one step ahead of the market, so it is easy to become the focus and famous, so selling is not difficult.
However, Minh Long's 'trap' is still high prices and many consumers in Vietnam and the world have not been able to access it. And for me, it's a very interesting challenge, it helps me – Minh Long to continue to keep the passion and innovation, because 'mother-in-law is difficult, then the daughter-in-law should'.
In my opinion, once we are at the top of the mountain, we should climb down to find a way to conquer other peaks, although it is not easy but it is the right thing to do. 'High-quality products at affordable prices', is another mountain that Minh Long is forced to come to, contradiction is the driving force for development – creating new inventions in science and technology", this Chinese-born businessman concluded.
And Minh Long's next heights could be in the production of ceramic materials that people use to make components – watch components, smartphones, drones and spacecraft. Because, porcelain and plastic are being dubbed the world's two 'meta-materials'.
https://cafebiz.vn/chu-tich-gom-su-minh-long-i-dau-tu-qua-lon-khien-gia-thanh-san-pham-cao-la-thach-thuc-thu- en-mold-toi-vi-me-chong-kho-thi-condau-moi-nen-20220519192931526.chn
Following the Economic Lifestyle
You are reading the article
Too big investment and high product cost is an interesting challenge for us, because 'mother-in-law is difficult, only daughter-in-law should'

at
Blogtuan.info
– Source:
cafebiz.vn
– Read the original article
here