Thế Giới
WHO holds emergency meeting as monkeypox outbreak has never been seen in Europe
The World Health Organization (WHO) held an emergency meeting on May 20 to discuss the recent outbreak of monkey pox in Europe – viral disease is more common in West and Central Africa.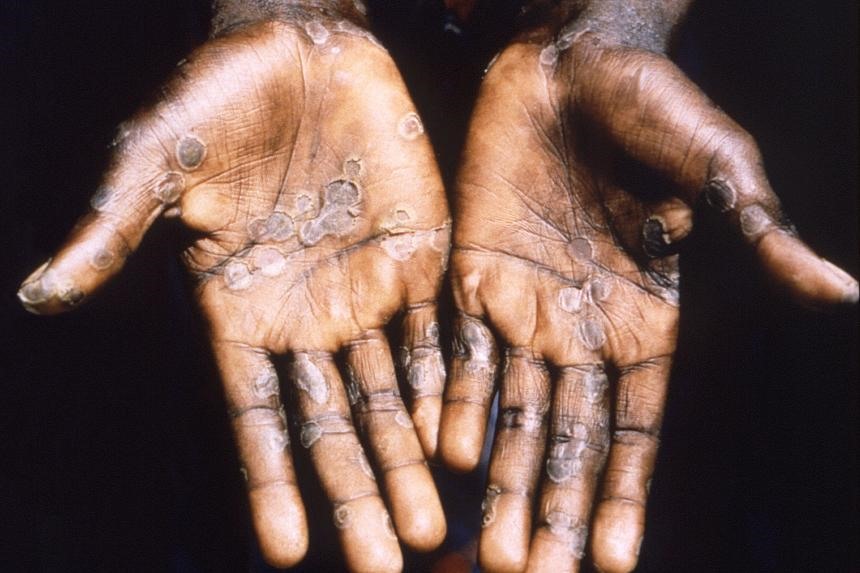 Europe's biggest outbreak
Germany describes this as the largest monkeypox outbreak in Europe ever. Cases have been reported in at least nine countries – Belgium, France, Germany, Italy, the Netherlands, Portugal, Spain, Sweden and the UK – as well as the US, Canada and Australia, according to Reuters. .
"This is the largest and most widespread outbreak of monkeypox ever seen in Europe," said the health service of the German armed forces, which detected the first case in the country on May 20, said. .
Spain reported 24 new cases of monkeypox on May 20, mainly in the Madrid region, where regional authorities closed a sauna that was linked to the majority of infections.
An Israeli hospital is treating a man in his 30s with symptoms consistent with monkeypox. This man had just traveled from Western Europe to Israel.
First identified in monkeys, monkeypox is usually spread by close contact and rarely outside of Africa. Consequently, the mass identification of monkeypox cases in many countries around the world became a concern.
However, scientists do not think the monkeypox outbreak will evolve into a pandemic like COVID-19 because the virus does not spread as easily as SARS-Cov-2. Monkeypox is usually a mild viral illness characterized by fever as well as a characteristic maculopapular rash.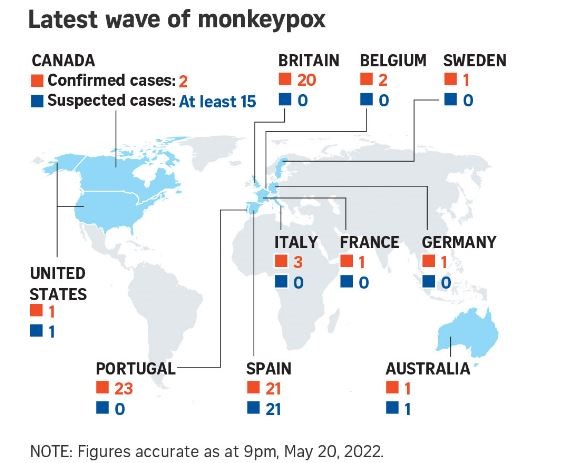 The World Health Organization (WHO) committee that met to discuss monkeypox is the Strategic and Technical Advisory Group on Potentially Pandemic and Pandemic Infectious Hazards (Stag-IH) ), which advises on infectious risks that could threaten global health.
The head of WHO Europe fears monkeypox could increase in the region as people gather for parties and festivals during the summer months.
According to WHO, there is no monkeypox vaccinebut data show that vaccines used to eradicate smallpox are up to 85% effective against monkeypox.
British authorities have provided a smallpox vaccine to a number of healthcare workers and others who may have been exposed to monkeypox.
Since 1970, cases of monkeypox have been reported in 11 African countries. Nigeria has had an ongoing major outbreak since 2017. Since the beginning of 2022, there have been 46 suspected cases of monkeypox, of which 15 have been confirmed, according to WHO.
The first case of monkeypox in Europe was confirmed on 7 May in an individual returning from Nigeria to the UK. Since then, more than 100 cases have been confirmed outside of Africa, according to an Oxford University scientist. Many cases have no history of travel to Africa. As a result, the cause of this monkeypox outbreak remains unclear, although health authorities suggest that the disease is likely to spread in the community to some extent.
Capable of person-to-person transmission
According to Bloomberg, senior health officials America Monkeypox can be spread from person to person through close, intimate contact or sexual contact with an infected person.
US officials say the first case of monkeypox in the US has no connection to Africa, where the disease is most common.
Although the risk of monkeypox infection to the general public is low, health care workers are being warned to monitor potential cases and use protective equipment when necessary, according to US officials.
Not like the virus that causes COVID-19 Spread by airborne and respiratory droplets, monkeypox is spread by much closer contact. Sharing bedding, clothing, or toothbrushes with an infected person carries a higher risk.
You are reading the article
WHO holds emergency meeting as monkeypox outbreak has never been seen in Europe
at Blogtuan.info – Source: laodong.vn – Read the original article here