Foodies in Hanoi are sure to know the reputation of u Tuoi's crabs on Cau Dong Street. When it comes to the freshest, most delicious crabs in Ha Thanh, just come here, you will never be disappointed.
Ms. Tuoi came to Hanoi from her hometown to sell seafood in 1994. In the past, she sold crabs along the Dong Xuan market, then because the market was on fire, she hawked around the streets. After the market was rebuilt, she sold at her current location from then until now.
Mrs. Tuoi's crabs are located right near Dong Xuan market
Tuoi's "shop" is very simple: there is only one very attractive crab, a charcoal stove, a pot of boiling water, and a few chairs for guests to sit on. The location is also a cramped sidewalk, many people pass by. But above all, the quality of the crabs is worth every penny, so customers still flock to them.
According to Ms. Tuoi, her crabs are carefully selected from the source, sent by her children from Nam Dinh. There are big children, small children, but the size does not matter. It is important that the crabs are firm, fresh, and not mushy. High-quality crabs when boiled will have au red apricots, firm, sweet meat, red or yellow bricks are all fatty.
If you choose crabs, don't be greedy for big ones, but pick them up and see which ones are sure, if you press hard on the legs, it's definitely delicious.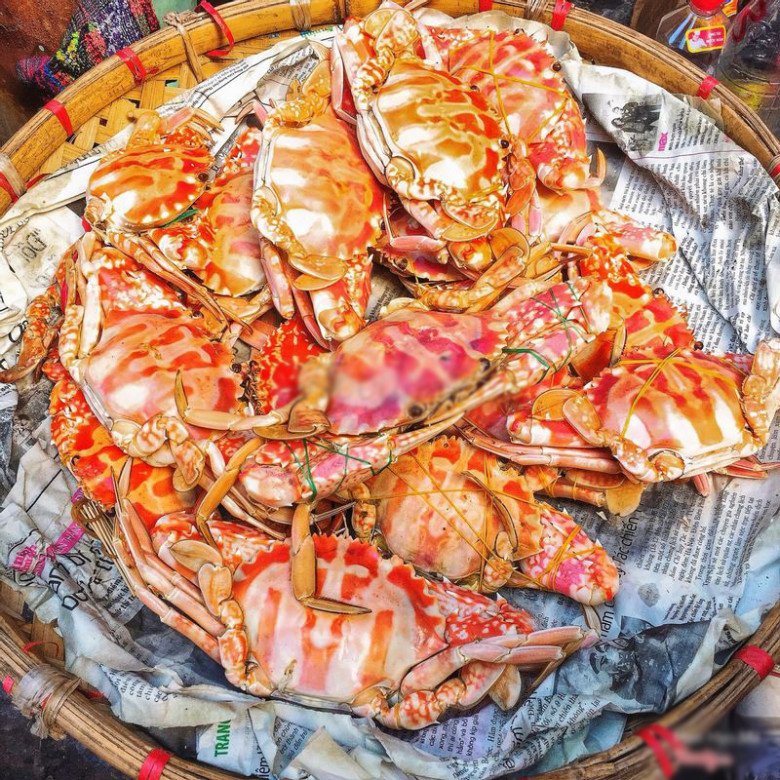 Fresh, delicious, red crabs are pre-boiled
Before boiling, Ms. Tuoi skewered the crabs and put them in a pot of boiling water. She did not add any spices or add lemongrass and ginger because the boiled crab itself was delicious enough. In addition, if you add lemongrass ginger and don't eat it right away, the crabs will turn black or go stale.
Each mother of crabs has about 30 crabs, when sold out, Ms. Tuoi will display more. Just like that from 9:30 am to dusk. Each day sells an average of 20kg, sometimes up to 30-40kg. The reason for the difference in sales is not because of the number of customers, but because the number of crabs that day is more or less. Every day the crabs are not delicious, Ms. Tuoi also stops selling.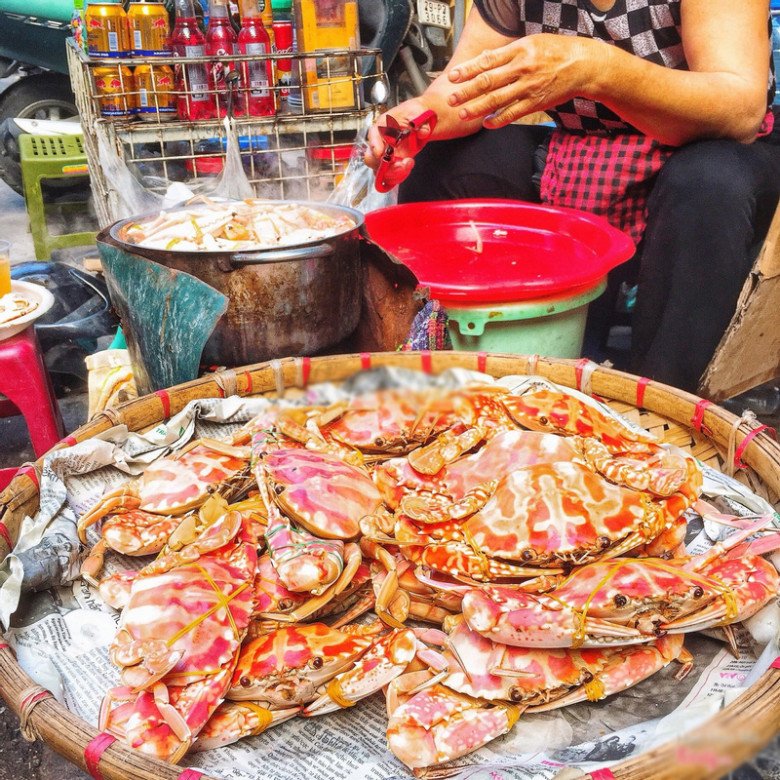 Customers who want to choose crabs, the owner will advise to match the price
Most of Mrs. Tuoi's crabs are "standard" products, eating any one is sure to be. Crab meat is fragrant, firm and sweet. In the early days of the month, sometimes guests are lucky enough to catch the crab nuggets (which are half-molting), the meat is full of goo, the firm skin covers the flexible brick inside, good value for money.
Delicious crab must be dipped with special dipping sauce. Ms. Tuoi also made her own exclusive dipping sauce for 30 years, unchanged. The dipping sauce here is made from boiled white sugar mixed with lemon, chili, garlic, vinegar, and noodles. Don't forget to cut blueberries for aroma.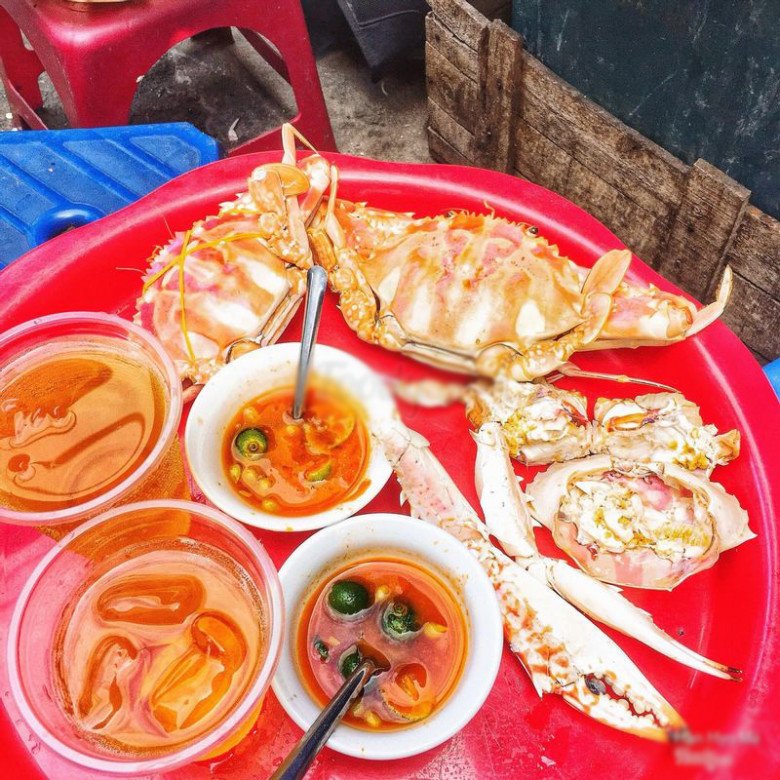 Make sure the meat is fresh, delicious and dipped with exclusive dipping sauce
It's just a simple meal with a few plastic chairs like that, but Mrs. Tuoi's crabs are the destination of many gourmets. The price of crabs is not cheap, but compared to the quality of each crab, it is really worth it. On the weekend afternoons, guests come here in large numbers, having to wait in line for their turn. Many people come to buy and take home, even some people ask for Ms. Tuoi's phone number to call to order.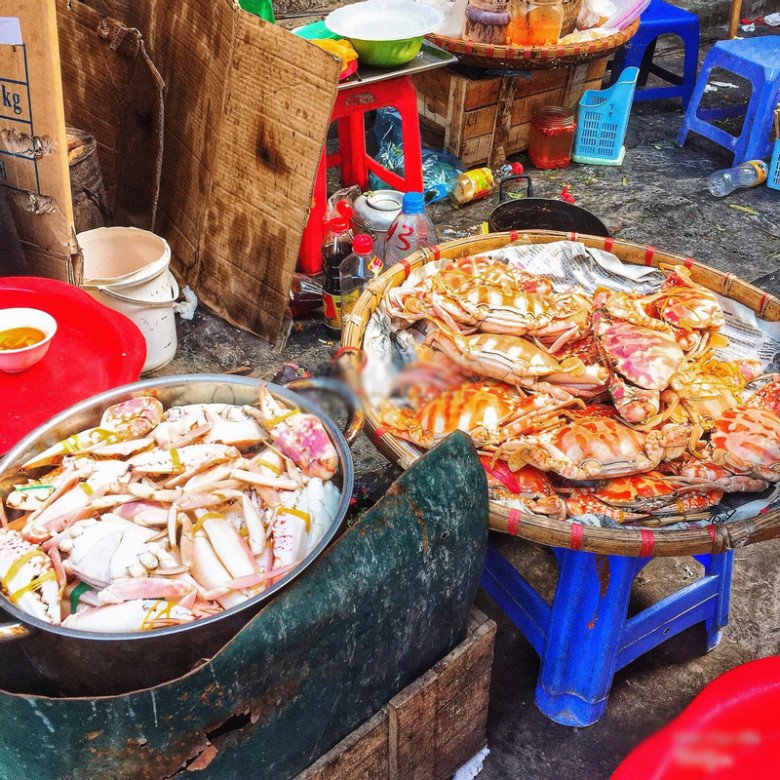 There are days when she can't buy good crabs, and Ms. Tuoi will stop selling but will definitely not sell crabs
Here, Mrs. Tuoi sells crabs by her child, the small ones are about 100-150 thousand, the big ones are about 250-350 thousand, not by the weight. The price depends on the time. According to Ms. Tuoi, from April 30 to May 1, about 2-3 months, crabs are the best and cheapest. Every day, she sold out 3 – 5 products, then took them out to display, and collected 20 – 30 million each day.
You are reading the article
30 years old crab in Hanoi every gourmet knows, sold out 40kg of crabs

at
Blogtuan.info
– Source:
Eva.vn
– Read the original article
here