Công nghệ
5G helps businesses digitally transform successfully
On May 17, in San Francisco, California – USA, with the witness of Prime Minister Pham Minh Chinh during his visit to the US, Vietnam Posts and Telecommunications Group (VNPT) and Cisco Company (USA) ) signed a Memorandum of Understanding on cooperation in designing and bringing to market a flexible and appropriate digital transformation solution package that meets the digital transformation needs of businesses in Vietnam.
Support effective remote treatment for patients
According to the cooperation content, VNPT and Cisco will also cooperate in researching and developing 5G core networks to manage and deploy applications of high-speed, low-latency, 5G connectivity, safety and security…, helping businesses Vietnamese enterprises are eligible to connect and achieve the goal of digital transformation.
According to experts, 5G technology is not a mere upgrade of 4G to increase connection speed, but is developed for new requirements in the era of comprehensive connectivity. With broadband, fast speed, ultra-low latency, high security…, 5G can connect multiple devices at the same time.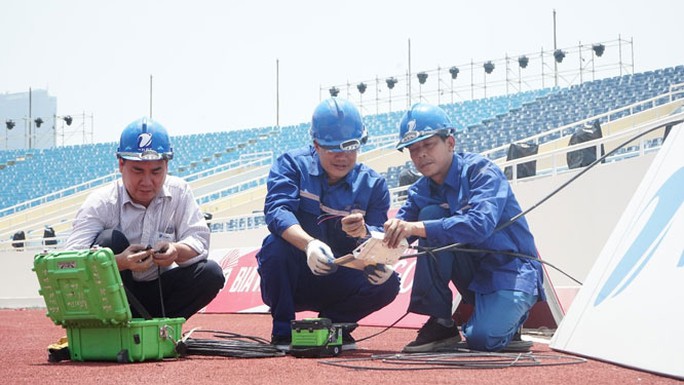 The 5G speed of Vinaphone at My Dinh National Stadium reaches 900 Mbps -1 Gbps. Photo: VNPT
At the opening of the 5G commercial network trial in Ho Chi Minh City and Hanoi two years ago, VNPT emphasized: "5G will bring breakthroughs in many other fields such as artificial intelligence (AI), robotics, and artificial intelligence (AI), robotics, etc. , smart city, connected things (IoT)… VNPT has opened showrooms for the people of these two cities to have the opportunity to experience 5G networks such as VR and AR virtual reality technologies; control robots; watch 8K videos; connect to home internet with 5G network".
5G network is an alternative to fiber optic network to provide high-speed internet connection to places where fiber optic cable cannot be pulled such as remote areas, islands, etc. With its advantages, especially with almost zero latency, 5G connectivity is useful for connected applications for remote management and control, such as robotics technology, autonomous vehicles, etc.
Even during the peak of the Covid-19 epidemic, many parts of the world applied 5G to operate and treat patients remotely. The first 5G Smart Hospital in Southeast Asia using Huawei Technologies' 5G technology was inaugurated at Siriraj Hospital (Thailand) in 2021. This hospital offers efficient and convenient medical examination and treatment experiences. Convenience for patients with 5G applications, cloud data, AI…
Huawei and Siriraj Hospital have also established an Innovation Lab to research and test 5G applications for patients. The two sides have begun testing 5G into mobile medical boxes, driverless cars, medical vehicles and smart hospital beds. It is expected that Huawei will put 30 5G medical applications into operation across Thailand by 2022.
Optimal platform for smooth connection
Thanks to 5G connectivity, container mobile laboratories are being deployed by MGI Tech (MGI) to contribute to the control and prevention of Covid-19 in Southeast Asia as the pandemic continues to pose a challenge. major challenge to public health systems in the region.
MGI has developed the LSEA Champa mobile laboratory, the first third-party testing center set up in Laos, to enhance its Covid-19 testing capacity on a large scale and gradually prepare for reopening. by 2022. MGI said that thanks to high-throughput sequencing technology, the container laboratory can assist in the prevention and control of other infectious diseases such as malaria, dengue fever, tuberculosis… or early detection of diseases. Birth defects, tumors and diseases related to bodily dysfunction.
4G facilitates the deployment of IoT technology, while 5G accelerates the widespread IoT coverage, meeting the high-end AIoT technology. Currently, many devices have used IoT to serve all areas of life, from devices in smart homes to components in smart factories and smart cities. Swedish telecom and network technology company Ericsson has ramped up its wide-area IoT offering, along with new broadband IoT solutions, designed to leverage new capabilities on 4G and 5G – connecting providers service providers to support industry digitization.
The requirements for smart cities, smart factories, smart hospitals, autonomous vehicles, robots… need a connection platform that is open, transparent, fast, stable, without delay, allowing Multiple devices connected at the same time, high security. The requirements are even higher when IoT is combined with AI, machine learning, big data… Those are the advantages of 5G over 4G. And that is also the real value to invest in the development of 5G technology.
5G speed at My Dinh yard reaches 1Gbps
VNPT has deployed 5G technology at My Dinh Stadium area to serve the 31st SEA Games men's football final between Vietnam U23 and Thailand on May 22 with a speed measured at the scene reaching 900 Mbps -1 Gbps. In addition, VNPT has also planned options in case the number of spectators and demand spike, meeting hundreds of thousands of mobile users at this event.
Previously, in the days of football matches at Thien Truong and Viet Tri stadiums, mobile subscriber traffic using data and voice (voice) increased by 30%-50%. At the opening ceremony at My Dinh Stadium, data and voice traffic also increased to 90%. It is expected that in the next final, mobile traffic (voice and data) will increase many times.
M.Natural
You are reading the article
5G helps businesses digitally transform successfully

at
Blogtuan.info
– Source:
nld.com.vn
– Read the original article
here