Life Style
Children "swing the trend", parents are anxious
"Because you're gangsters…", my son, then only in third grade, kept singing those lines in his mind. Thanks to my eldest daughter's translation, I found out that it was the lyrics of a popular song on the internet. My kid has a lisp, so he can't pronounce the word "jealousy", so he sings "gang". Of course, the boy could not understand, what "gang" means in the dictionary of his innocent life.
That was also the time when I vaguely felt that the invisible but terrible virtual world was enough to make a little boy babble "trend". Listening to the two of them talk, I understand that my younger brother idolizes singer ST, each of his new hits I have to listen to as soon as it's released.
ST is a popular singer whose MV has just been withdrawn, a character that children from elementary school to college students all know. I watched that clip, shocked to realize, it was extremely "current", the terrible "news" that parents always find insecurity mixed with fear: a child jumping from a building…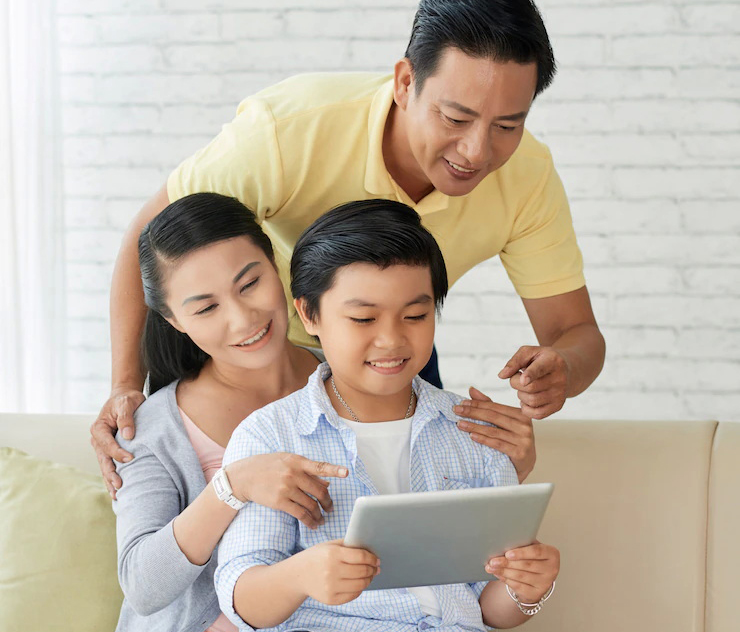 Remember a while ago, the press reported that a schoolboy had stabbed his mother to death and then committed suicide. I sent the link to my husband to see, carefully warning not to discuss this at home, in front of the children. When there is a tragic "three o'clock" clip on the internet, I also try to keep my children from seeing it curiously. On the evening of that haunting day, I asked my young son from far and near (now in middle school) if he's been online a lot now, is there anything strange about it. The kid casually: "Oh, mom asked me about the clip of the 10th grader jumping from the floor, right? My Facebook is full, I watch it all!".
My feeling was to freeze, then panic. I hurried to find a way to cover, explain, reassure. Fortunately, my child is still open to her mother and willing to share her thoughts and feelings. But the kids now know so much, so well-informed! Are they aware enough to distinguish, right from wrong, or bad? What should I do so that my child is not affected or damaged by social media?
The eldest daughter is in her final year of high school. I rarely interact outside, but chatting online is extremely enthusiastic. Over the years, it is not uncommon for me to receive notices from the homeroom teacher or the mother of a child's friend. That my children comment on personal pages, express their views on all kinds of things, swear and swear, don't mind. I think only a few people I know have seen or read it. Can you imagine, just one action to share or take a screenshot, is to spread, to leave a trace, to be undisputed, to be a bad rumor…
On a few occasions, I caught a few chats of my son with other people. The words she used seemed connoisseur, very foreign to her mother – a mother who still subjectively thought that her child was still very young and naive, even foolish. This is true, she is too naive before the pitfalls of that virtual but very real world. I must say, I was appalled by the boldness of the children's words and images, and the topics they talked about were so old, so old…
Buy your child a smart phone, give him a little money to top up the card every month is very easy. But protecting children from the silent attack of social networks, or at least teaching them how to "survive" in that pool of toxic information, it is unlikely that all parents will remember or considered. Me too, until I was scared to death with the thought: If I neglect it a little more, my children will often have to pay the price, paying extremely expensive tuition fees for online lessons.
What should I do? I had to practice playing online, making friends with my children, knowing what was hottest today to discuss with them. I try to direct the stories in the most positive way possible and at the same time show my children the techniques that people often use to deceive, seduce, deceive each other…
I created a family chat group to have something interesting and useful, and I sent the link there to help my child "detox". When I go online, whenever I see something that I can learn from, I immediately take advantage of it to teach my children, by showing them to them, and by self-criticism and discussion. Absolutely do not dare to touch and disparage the childish games from the "idols" of the children…
Protecting your child from social networks takes time, mind, and a lot of work, no joke!
You are reading the article
Children "swing the trend", parents are anxious

at
Blogtuan.info
– Source:
Afamily.vn
– Read the original article
here