A few days ago, the doctors of the Central Hospital of Dermatology received and treated a woman over 30 years old in Thanh Hoa with the following complications: filler injection (filler) rhinoplasty. The patient said that she was previously told by a feng shui "teacher" that she had a bad nose and dissipated fortune, so she had to correct it.
Trusting her teacher, she went to a spa to stretch her nose. After a month of intervention, she found that the tip of the nose was not as beautiful as expected, so she injected another 1ml of filler into the tip of the nose and the bridge of the nose.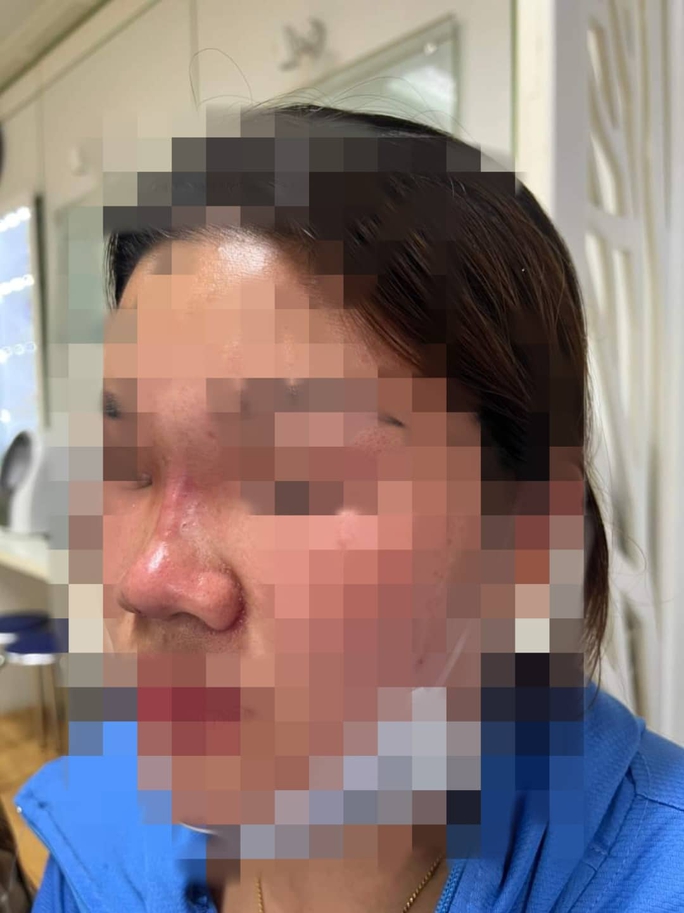 Female patient has complications after filler injection
A day later, the injection area appeared red, swollen. The spa staff injected the solution but it didn't work. The patient went to the Central Dermatology Hospital when the redness and swelling of the entire nose was still heavy.
At the hospital, doctors appoint patients to use anti-inflammatory active ingredients, antibiotics to reduce the risk of necrosis, continue to inject the solution.
According to Dr. Nguyen Quang Minh, Deputy Head of the Department of Stem Cell Technology Research and Application, Central Hospital of Dermatology, before that, the hospital also received many cases of severe complications after injecting beauty fillers as well. like "fix" generals.
Among these is a nearly 40-year-old female patient who was hospitalized after deciding to cosmetically become "Buddha's ears". The patient said that her earlobes are quite thin and small, and her ears are folded back, so she wants to edit it to have a happier appearance, and at the same time suitable for the nature of the business. After nearly 1 week, the earlobe is swollen, red and has a non-uniform color. At the beauty salon, this woman was injected with a solution by the staff but could not restore her ear to its original state.
Doctors said that injecting "Buddha's ears" is a service advertised by many cosmetic and spa facilities recently. With a cost of only a few million dong, the injected person will own a large earlob that resembles fortune, wealth, wealth and luck, so many people choose this service, especially men.
Ads for collagen injections but actually fillers
According to Dr. Minh, many patients come to the hospital for help after injecting fillers as well as injecting substances advertised as collagen because they want to change feng shui and destiny. The positions that many people often intervene to change "feng shui" such as nose, chin, ears, hollow cheeks, concave between the eyebrows, temples …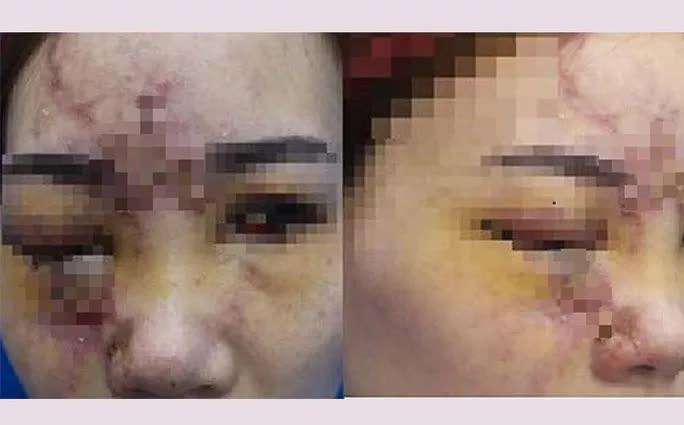 Many serious complications after filler injection
"Most people want to emphasize on the face to change their fate and fortune. But it is these positions that often leave complications after filler injection. The cause may be due to the wrong technique of the injector, Fillers are not of good quality. The forehead, eyes and ears have many small capillaries, so they are easy to bleed and bruise. Filler injection is a procedure that sounds simple but has many complications and risks. In areas such as the nose, if filler is injected by an untrained, knowledgeable person or "fake" filler, there is a risk of entering the central retinal artery, entering the inside of the eye, causing more serious complications such as gangrene, blindness. eyes can happen," explained Dr. Minh.
Doctors also said that after the Covid-19 epidemic, the beauty industry tends to increase. Because of the complications with many deaths after filler injection, many establishments "slipped" the concept of filler injection or filler by advertising the use of "collagen active ingredients", "collagen-promoting ingredients". ", injecting HA (Hyaluronic Acid) collagen… for customers' peace of mind.
Doctors also note that injecting fillers is a beauty method chosen by many people because of its immediate effect, no cutlery, no downtime…
However, although injecting filler is a small procedure, there are strict requirements, such as compliance with the principle of aseptic, correct injection site, not injecting too large amount causing tissue compression, ear necrosis, must be performed. performed by a qualified physician.
According to Dr. Minh, these establishments advertise this as an anti-aging agent, collagen substance, or multi-layer regeneration with the promise of filling this area without using filler to attract customers. However, the nature of using a large amount of collagen to fill the entire area is very difficult.
That's because collagen active ingredients when put into the body can cause allergies, the risk of creating an immune response of the body. Therefore, most of the active ingredients put into the body have the role of stimulating collagen growth, in essence, they are involved in the filling process. In fact, after injecting these substances that are advertised as collagen, patients have symptoms such as swelling, water retention (like injecting fillers). "When a patient comes to the hospital for examination, emergency and treatment of complications and is diagnosed, diagnosed, and used by a doctor, it can be seen that the substance injected by the beauty salon for the customer is a filler. , not collagen as advertised. Obviously the complications are after filler injection, not collagen injection," shared Dr. Minh.
Doctors recommend that customers need to choose quality fillers with clear origin. The procedure is performed by a skilled doctor who understands this technique at an authorized medical facility. It is best to go to large hospitals with plastic surgery specialties so that qualified and experienced doctors can advise and perform, avoiding complications that can cause injury, even death.
You are reading the article
Complications of filler injection "disguised" collagen

at
Blogtuan.info
– Source:
Kenh14.Vn
– Read the original article
here