Đời sống
Father and son sleep under the bridge, the rain team sells flags, and buys tickets to cheer on the Vietnamese team at the 31st SEA Games
Father and son come to Hanoi from Phu Tho to sell flags and buy tickets to cheer on the Vietnamese team at the 31st SEA Games
On the afternoon of May 22, there are only 4 hours left until the 31st SEA Games men's football final between U23 Vietnam and U23 Thailand. At this time, it is raining heavily in Hanoi. However, fans flock to the "fire pan" of My Dinh stadium every now and then.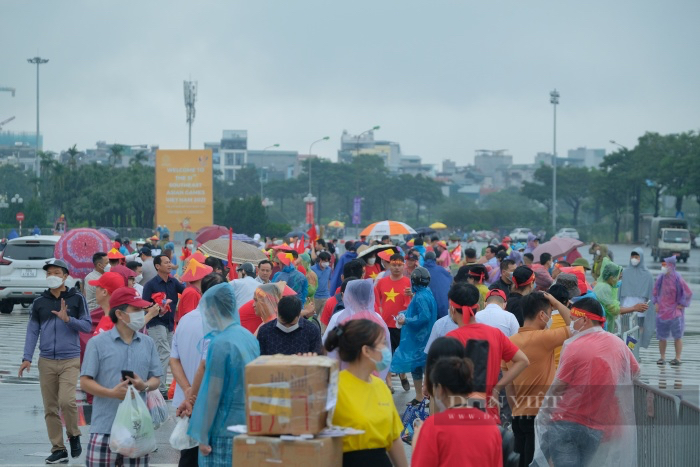 Along the route leading to My Dinh Stadium, red flags and shirts are printed with yellow stars, trumpets, and red banners. Many people wearing raincoats stood to greet. Mixed in this stream of people is Kieu Van Nam (SN 1982, hometown of Phu Tho) and his son Kieu Van Binh (16 years old) holding many small flags and banners to welcome them under the pouring rain at the foot of the overpass. .
Exchange with Reporter Dan Viet, Mr. Nam shared, father and son from Phu Tho down to My Dinh stadium a day ago. The father and son plan to go to Hanoi to buy tickets to watch the men's soccer final and cheer on the Vietnamese team. However, the amount of 1.6 million dong he brought with him was not enough for half the amount of a ticket to My Dinh yard, let alone for both father and son.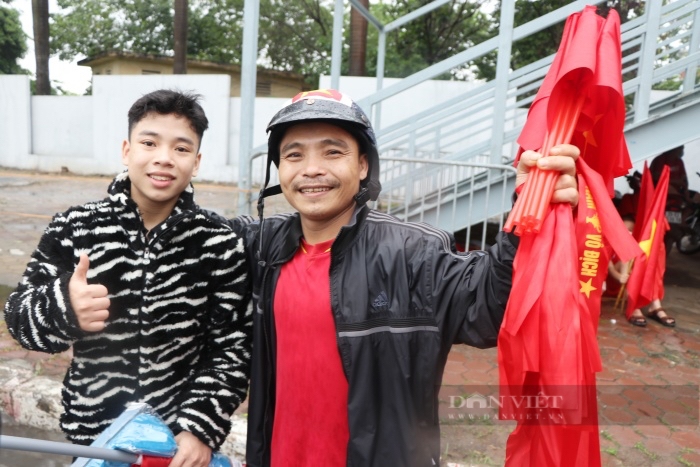 "I thought the ticket to My Dinh stadium was equivalent or a little higher than the ticket to Viet Tri and Phu Tho stadiums, so the father and son accumulated an amount of 1.6 million dong and wanted to come to Hanoi to cheer. However, when I came down here, I was dumbfounded because the cheapest entry was 4 million VND", Mr. Nam shared.
This man said, 4 matches took place at Viet Tri Stadium, Phu Tho before that both father and son did not miss any matches. The most expensive match he bought tickets for only 300,000 VND, the remaining matches cost 200,000 VND.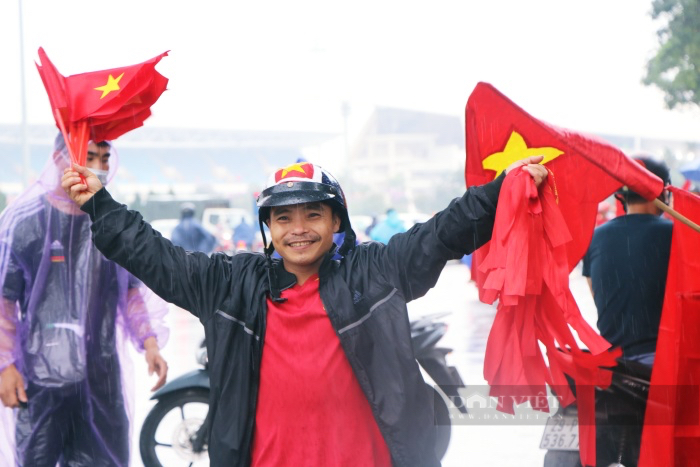 "Money is limited, but my love of football with my father and son is very great. My son especially loves football. That's why I always go to the match to wait for the ticket to be discounted before I buy it to watch," said Mr. Nam. optimistic smile.
"Just come in and watch the last 20 minutes."
Just greeting customers to buy flags, Mr. Nam honestly shared that the number of flags and banners he held in his hand was given to him by a local resident who knew his plight so that he could sell it in the hope of having more money to buy tickets.
"Yesterday, knowing my situation, the owner of the restaurant did not take any money, they also gave me some flags and banners to sell. However, when it rained, the father and son did not sell anything. All night the father and son lay at the foot of the bridge. overcome insomnia because of mosquito bites. The amount of 1,600,000 VND I still keep the same. Hope today at the last minute the ticket price will drop to more than 1,000,000 VND / ticket, father and son will decide to buy, come see 20 Even the last minute is precious," he said.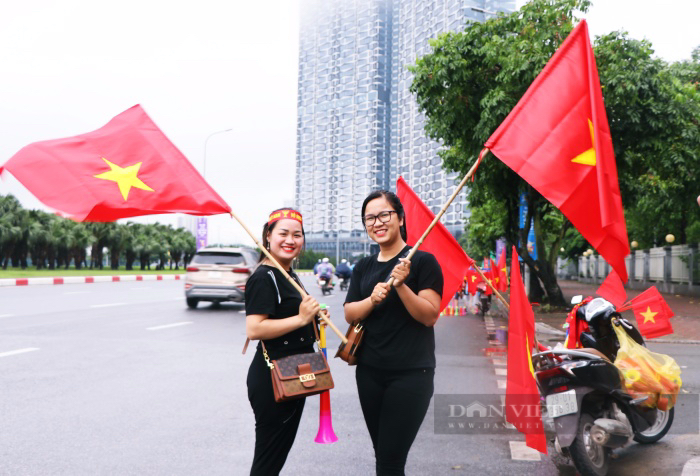 With the Vietnam U23 team, Mr. Nam said, the players playing with a spirit of solidarity will definitely win. He also boldly predicted Vietnam to lead 1-0 against the Thai team.
Present in the line of people selling flags and speakers before the match, sisters Nguyen Thi Xinh (29 years old) and Nguyen Thi Hien (26 years old) take advantage of their holidays to sell for extra income. Talk to PV Vietnamese peopleHien shared, both are real estate employees. On this occasion, both of them invest in buying flags, speakers, banners, etc., and sell them for extra income.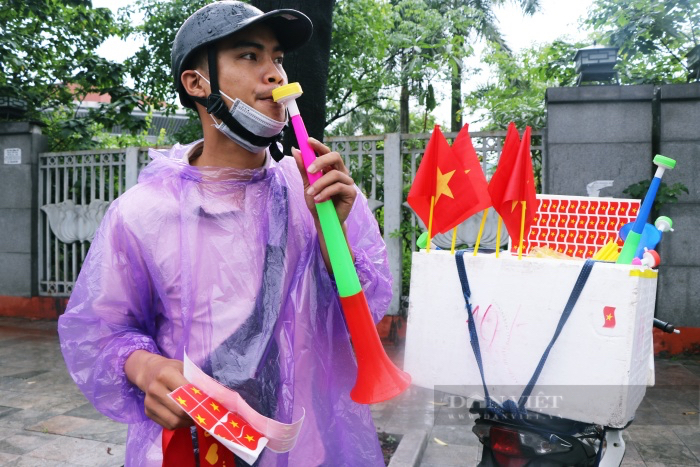 "I'm selling chess for 80,000 VND/piece, speakers for 50,000 VND… Selling to earn more income and more atmosphere before the match. Today I hope Vietnam will win and I believe so," said Ms. Hien.
And Mr. Hoang Van Lap took advantage of taking a break from driving a taxi to switch to selling shirts, trumpets and flags to fans at the beginning of Le Quang Dao Street, Hanoi. The rain made Mr. Hoang worried because the number of goods he invested in sold could not be sold out. However, what he most wants is that the Vietnamese team will win against the Thai team in the decisive battle tonight.
You are reading the article
Father and son sleep under the bridge, the rain team sells flags, and buys tickets to cheer on the Vietnamese team at the 31st SEA Games

at
Blogtuan.info
– Source:
danviet.vn
– Read the original article
here