The World Health Organization (WHO) on May 20 held an emergency meeting to discuss the monkeypox outbreak that is spreading in Europe.
The disease is found mainly in West and Central Africa, but there are now more than 100 confirmed or suspected cases in many countries. Specifically, according to Reuters, the US, Canada, Australia along with 9 countries in Europe (Belgium, France, Germany, Italy, Netherlands, Portugal, Spain, Sweden, UK) have recorded this case. . Additionally, a hospital in Israel is treating a man who recently returned from Western Europe with symptoms similar to monkeypox.
The German military medical force on May 20 called this the largest and most widespread outbreak of monkeypox in Europe after the first case was detected in the country. On the same day, Spain announced that it had recorded 24 new cases, bringing the total number of cases to 30. The country's health officials said they would make every effort to take necessary measures to prevent further infection. Portugal also detected 9 more cases on May 20, bringing the total number of cases to 23.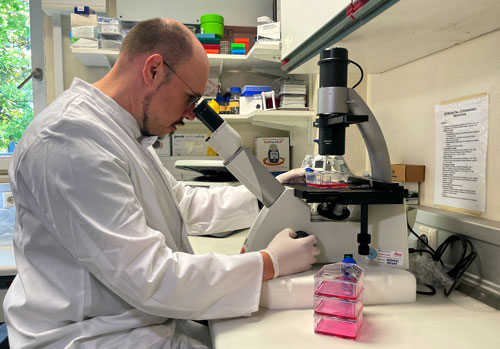 The Institute of Microbiology of the German Armed Forces in Munich is where the first case of monkeypox was detected in the country Photo: REUTERS
Since 1970, 11 African countries have reported cases of monkeypox. Of these, Nigeria has seen a large outbreak since 2017 until now. This year alone, according to the Nigeria Center for Disease Control and WHO, there were 15 new and 31 suspected cases in the country as of April 30. The first case in Europe was confirmed on May 7 and this person has just returned from Nigeria to the UK. However, many of the patients were later identified as having not been to Africa recently. As a result, the cause of the European monkeypox outbreak remains unclear, although health authorities say it is likely that the virus has spread in the community to some extent.
Monkeypox rarely spreads outside of Africa, so the outbreak is causing concern. However, according to Reuters, scientists say the current outbreak will not evolve into a pandemic like Covid-19 because the monkeypox virus is not as contagious as SARS-CoV-2. Fabian Leendertz, an expert at the Robert Koch Institute (Germany), said that this outbreak is unlikely to last long. Cases can be effectively isolated through contact tracing. In addition, there are effective medicines and vaccines that can be used if needed.
According to WHO, there is currently no vaccine specifically for monkeypox. However, data shows that vaccines used to prevent smallpox are up to 85% effective in preventing monkeypox.
Despite these reassurances, Hans Kluge, WHO's regional director for Europe, warned that the number of cases could increase in Europe this summer as more people gather to party and attend ceremonies. associations throughout the region.
In the immediate future, according to WHO, the number of cases may increase further in the coming days when surveillance activities are expanded. WHO believes that because monkeypox is transmitted by close contact, response measures should focus on sick people and their close contacts. Health care workers, family members and sexual partners of people infected with monkeypox virus are at high risk of infection.
Monkeypox is caused by a virus and was first discovered in monkeys. There are two strains of this virus: the Congo strain (which causes more severe disease with a mortality rate of up to 10%) and the West African strain (which causes mild disease with a mortality rate of less than 1%). The disease is characterized by fever, pain, lymphadenopathy, and chickenpox-like blisters, and most patients recover in 2-4 weeks.