When buying a used car, users often look at the odometer to determine how the car has been used; However, with electric vehicles, the number of kilometers traveled is probably not a legitimate issue of concern.
One of the most important parts of an electric car and very important to pay attention to when choosing to buy a used electric car is the battery pack on the vehicle. The number of kilometers traveled doesn't really show what the previous owner did to the battery pack, things like charging time, average battery charge level, battery wear (electric vehicle batteries often degrade on their own over time) … are the issues that need to be taken into account.
In fact, even when using an electric vehicle, car owners still need to pay attention to how to charge the car to keep the battery as durable as possible, because the cost of replacing the battery is an extremely "headache" fee.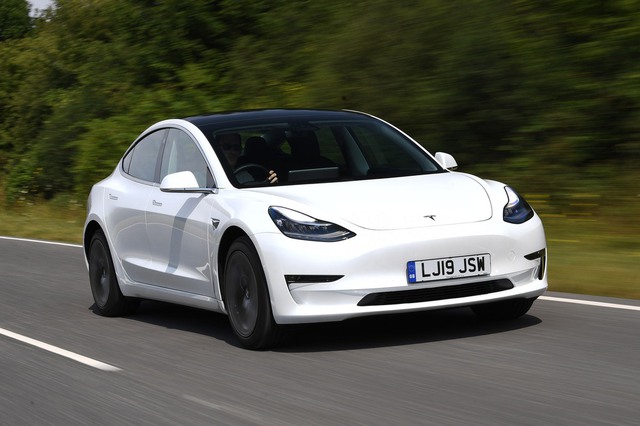 Recurrent estimates that the cost of replacing the battery pack on a Tesla Model 3 accounts for more than a third of the value of a new car.
Recently, a battery technology startup, called Recurrent, has an article reflecting the cost of replacing batteries on some popular car models around the world. According to Recurrent's estimates, the cost to replace the battery block on the Tesla Model 3 will cost about 180 USD/kWh, which is about 15,800 USD (more than 360 million VND) for the whole battery pack. Currently Tesla Model 3 has a starting price of about 45,000 USD; That is, the cost of replacing the battery pack accounts for more than a third of the value of a new car.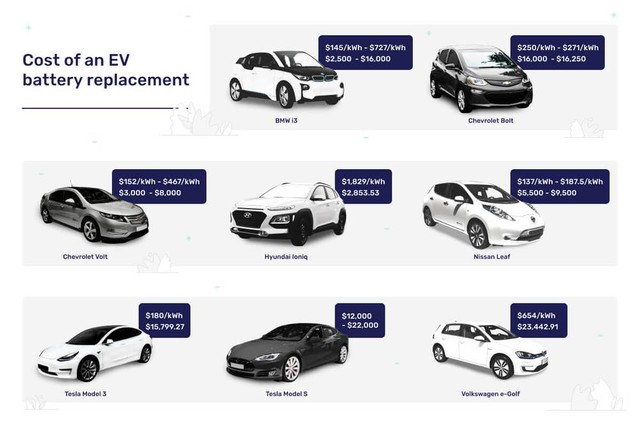 The cost of replacing the batteries of some popular electric vehicle models in the world. Synthesis: Recurrent
Meanwhile, other models such as the Volkswagen e-Golf have a battery replacement cost of up to $23,443 (the 2022 Volkswagen e-Golf is currently priced from about $32,000), the BMW i3 costs the most $16,000 to replace. (The 2019 BMW i3 starts at $45,000), the Chevrolet Bolt costs $16,250 to replace (Chevrolet Bolt starts at about $35,000), the Tesla Model S costs the most $22,000 (the 2022 Tesla Model S the Long Range version costs the most). about $140,000). The cost of replacing the battery of some other popular car models can be seen in the photo below.
Because it is in the early stages of electric vehicles, the price of batteries at such a high level is understandable. Users can set expectations that battery prices may drop, but that will be a story for a few more years. Currently, electric vehicle batteries are facing many input material problems, so manufacturers will prioritize electric vehicle batteries for new cars, rather than manufacturing to replace users.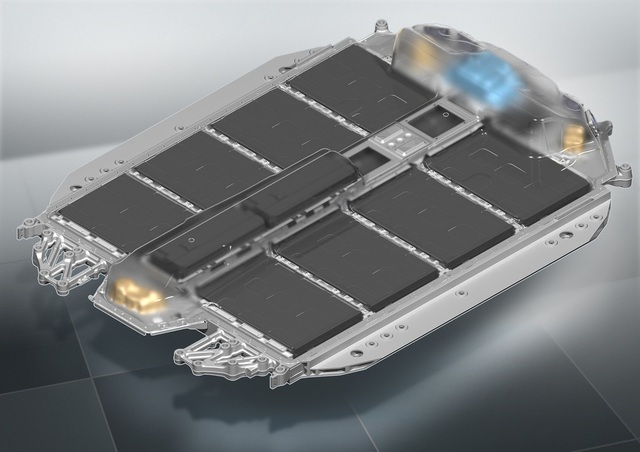 One battery technology that is considered the future of electric vehicle batteries is solid-state batteries, which are currently being researched and developed by many technology companies and car manufacturers. Solid-state batteries use electrodes made of solid materials, which are said to help electric vehicle batteries have higher energy density and more compact size. In addition, because no solution is used as an electrode, solid-state batteries also promise to be safe.
Solid-state battery technology is currently the development target of companies such as CATL, StoreDot, QuantumScape…; Car manufacturers that invest in solid-state batteries can mention VinFast, BMW, Toyota or Mercedes.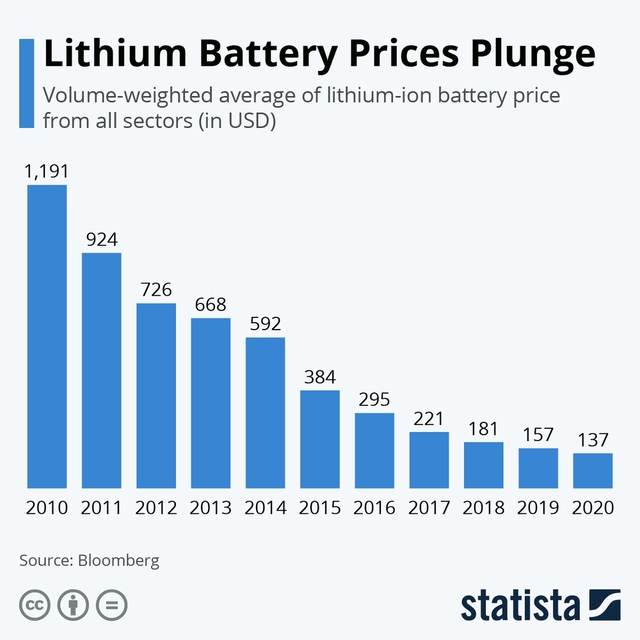 However, this technology will not be available on popular electric cars anytime soon. According to research, most of these solid-state battery development projects aim to be commercialized by 2025 or 2030. Although solid-state batteries are seen as the future of electric vehicles, Toyota plans to apply this technology to first hybrid electric vehicle models.
With current battery technology, the latest battery price forecast posted by Bloomberg, says that the price of lithium-ion batteries in 2020 is 137 USD/kWh, estimated to be about 100 USD/kWh by 2023; by 2030, only 62 USD/kWh, it can be deduced that the cost of replacing a 100kWh lithium-ion battery block will cost at least 6,200 USD.
You are reading the article
Nightmare with users

at
Blogtuan.info
– Source:
cafebiz.vn
– Read the original article
here