Life Style
Sức Khỏe
The disease is highly contagious, the signs are easy to mistake, and the complications are high
According to information from the Ministry of Health on May 21, from the beginning of 2022, our country has recorded 5,545 VND Hand, foot and mouth disease. Among them, there was 1 death. According to the Ministry of Health, hand, foot and mouth disease in Vietnam is a year-round circulating disease transmitted through the gastrointestinal tract and is found in most of 63 provinces and cities. Therefore, it is necessary to actively prevent and control hand, foot and mouth disease, minimize the number of cases and deaths, and prevent the epidemic from spreading, spreading and lasting.
To protect children from complications of hand, foot and mouth disease, every parent should raise their awareness of disease prevention. At the same time, it is necessary to have sufficient knowledge to detect and promptly treat children with diseases.
HFMD is what?
Hand, foot and mouth disease is a contagious disease caused by a group of enteric viruses that can develop into an epidemic.
Hand, foot and mouth disease in children often appears in the summer and end of the year, is very contagious in crowded environments, can cause convulsions, respiratory failure, pulmonary edema and many other dangerous complications if not taken care of. children to the hospital promptly.
Hand, foot and mouth disease is transmitted by which way?
Hand, foot and mouth disease is transmitted mainly through the respiratory and gastrointestinal tract.
Disease-causing viruses exist in saliva, sneeze, runny nose, feces, blister fluid on the skin, mucous membranes… Children sneezing, runny nose, sucking on toys together is a convenient way of transmission. profit.
When released, the virus can still survive for a long time in a room temperature environment, clinging to utensils, toys, floors, cups, towels, and clothes. If a healthy child is exposed to this environment, it is very easy to get infected.
Signs of children suffering from hand, foot and mouth disease
Children with hand, foot and mouth disease often show signs that are easily confused with other diseases. Therefore, parents need to pay close attention to the health status of their children.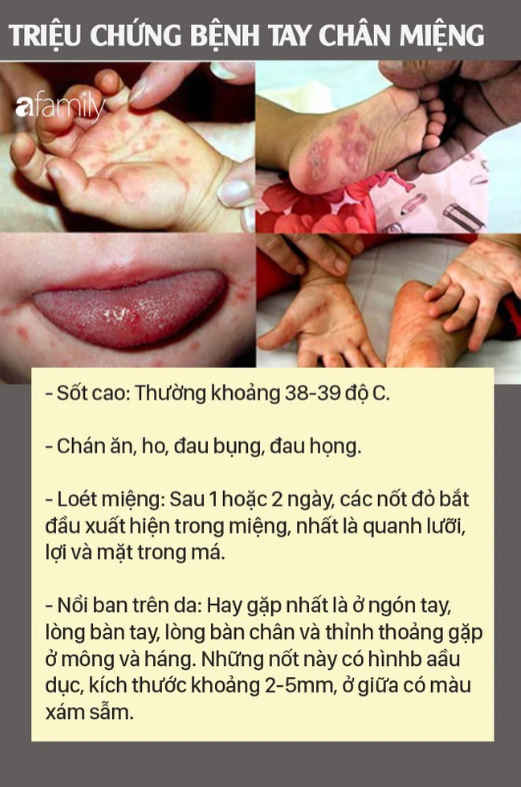 Signs of hand, foot and mouth disease in children include:
Fever: Mild fever or high fever that cannot be brought down.
– Rash on the skin, no itching for 1-2 days. Appears large red or raised spots, sometimes with blisters. Rash on the palms, soles, buttocks, genitals…
– Loss of appetite, vomiting, increased salivation, diarrhea, fatigue, fussiness…
– When the disease turns severe, the child may have symptoms such as persistent crying, even crying all night without sleep (waking up every 15-20 minutes, crying). High fever that doesn't go away – above 38.5 degrees Celsius lasts more than 48 hours and doesn't respond to antipyretics. Constantly startled.
When the above signs appear, parents need to immediately bring their children to a specialized hospital for timely treatment.
Is hand, foot and mouth disease dangerous?
Hand, foot and mouth causes children to have a high fever that is difficult to lower, vomiting a lot, diarrhea, hyperglycemia, difficulty breathing, laryngospasm. In some cases, the disease can progress seriously and cause dangerous complications such as encephalitis – meningoencephalitis, myocarditis, acute pulmonary edema leading to death, so it should be detected early and treated promptly.
How to take care of children hand foot mouth?
Parents should note that in the process of taking care of children, hands, feet, and mouth need to be skillful and persistent because children often do not want to eat and their bodies are tired.
Note:
– Let me eat my favorite food so that I can eat more.
– Try to supplement vitamin C through orange, lemon, kiwi juice.
– For young children and infants who are still nursing, the mother should pay attention to cleaning the nipples. Increase the number of feedings per day because the baby is not suckling much each day.
– After the child eats, should rinse the child's mouth thoroughly and fast completely for 3-4 hours before feeding again.
– Wash hands often, clean toys, wear masks, do not allow children to suck their thumbs, do not allow children to suck on pacifiers, trim nails neatly…
– Do not allow children to participate in collective activities, do not go swimming, do not go to kindergartens to avoid infecting other children.
How to prevent hand foot and mouth disease for children
The situation of children with hand, foot and mouth disease tends to increase, so to prevent the disease, parents should do a few things: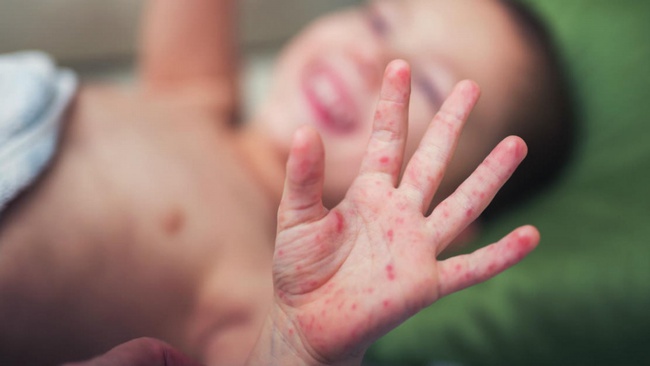 – Let children wash their hands with soap before and after eating; after going to the toilet need to change the baby's diaper;
– Regularly clean contaminated environments and dirty objects (including toys) with soap and water, then disinfect with common cleaning agents;
– Avoid close contact (hug, kiss, share utensils…) with sick children;
– Do not send sick infants and children to kindergarten, daycare, school or crowded places until they are well;
– Dispose of used tissues and diapers by placing them in the trash and properly disposing of them;
– Closely monitor the patient's condition and get prompt medical care if the child has a high fever, lethargy, or loss of consciousness.
https://afamily.vn/benh-tay-chan-mieng-can-benh-lay-manh-dau-hieu-de-bo-qua-bien-chung-cao-20220522115106524.chn
You are reading the article
The disease is highly contagious, the signs are easy to mistake, and the complications are high

at
Blogtuan.info
– Source:
Afamily.vn
– Read the original article
here