Business
The Xinh Mun couple who carried their son to Hanoi to treat eye cancer received nearly 1 billion VND
"Just put it down and I run into the wall"
Lanh Thi Thoi's family (27 years old) and her husband Vi Van Sang (28 years old) are from Co San village, Chieng Khoong commune, Song Ma district, Son La province. Two children (8-year-old daughter and 5-year-old son) have been blind since childhood.
Recently, the boy's eyes were swollen and showed signs of ulceration and retinoblastoma. Knowing the boy's plight, the Song Ma District Police Youth Union supported VND9 million to take him to Hanoi for medical examination.
Because Ms. Thoi's family has limited Kinh language, the Youth Union connected Ms. Nguyen Thi Giang Nhu (from the same hometown, now living in Hanoi) to support. On the morning of May 19, Thoi and her husband took the baby boy to the Central Eye Hospital, and Nhu then came to help him with the procedure.
"The boy was admitted to the hospital at noon on May 19 and is waiting for Monday morning (May 23) to have the results of magnetic resonance imaging to see if it is malignant, affecting his life. New to Hanoi, in the hospital. The hospital is crowded and noisy, so I'm afraid, when I put it down, I run into the wall. Now, besides crying because my eyes are sore, I eat and sleep very well," said Ms. Nhu.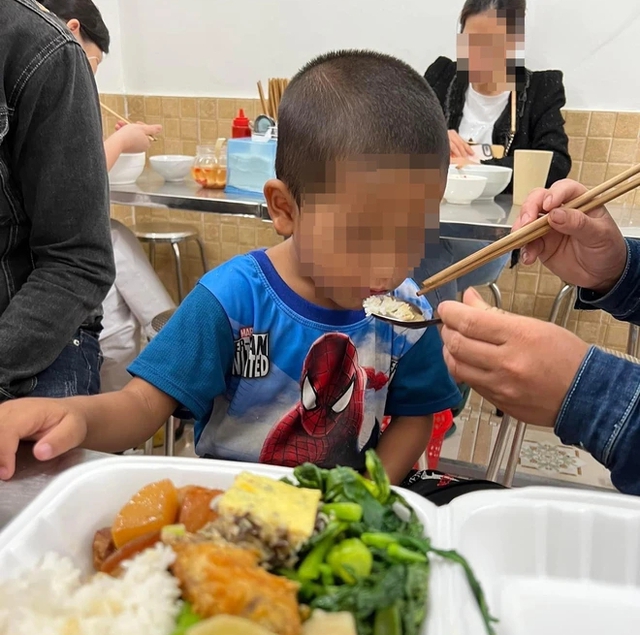 In addition to the times of fussiness, the boy eats and sleeps well and is praised for being cute.
After examining the boy, the doctor proposed to pick up the 8-year-old girl to see if she has a genetic condition for early intervention. So, yesterday, May 20, Nhu asked her grandfather to take her granddaughter to the hospital.
"The girl was diagnosed with scarring and corneal opacities, considered completely blind. Although the girl did not have any signs of cancer, her eyes also atrophied, could not see, fortunately still had a little reflex of limbs, knew how to touch pulses. around and navigate by voice," said Ms. Nhu.
"Even though they can't see anything, the children still seem innocent. The boy likes to see Hanoi, how beautiful the city is, whether there are many cars. And the sister also likes to go to Sword Lake and visit Uncle Ho's Mausoleum. "The children's innocent words even brought tears to the doctor," added Ms. Giang Nhu.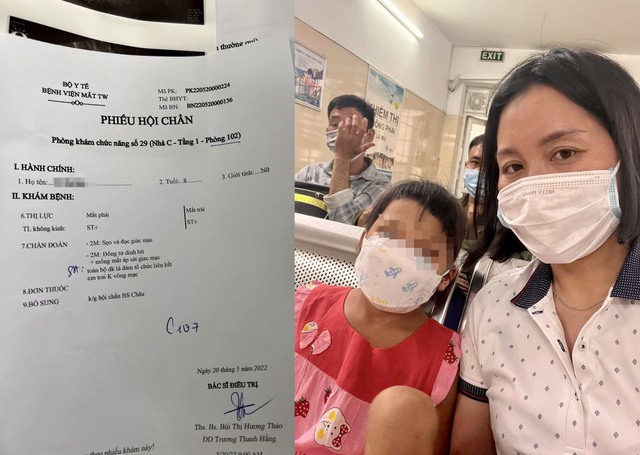 Ms. Giang Nhu helps her family with medical examination and treatment procedures.
Pressure from receiving too much support
Seeing the pitiful children, Nhu posted on social networks to share her family's situation, but unexpectedly received great attention from the online community.
"At first, I thought I would join my friends to help with food and hospital expenses, but I didn't expect the story to spread so strongly. After that, many people texted asking for an account number to support and help him, I also posted it publicly to receive and help the baby get treatment to the right place", touched Ms. Nhu.
After a day of publicizing her account number (from May 19 to nearly 12 p.m. on May 20), Ms. Nhu received nearly 1 billion VND. "That's the money everyone donated to treat the baby. I have made statements and told his parents but will not give them this money. I will ask the government for help to set up a savings account. My savings account is dedicated to treating my two grandchildren. I have now locked my account and made an appointment with the bank to make a statement for future donations."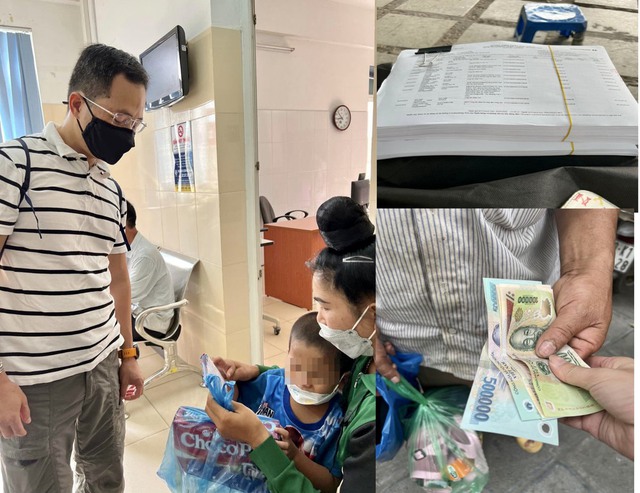 Nhu was both happy and under pressure because the amount of support was too large.
With the money that the sponsor directly gives to the child's parents when Nhu is not at the hospital, Thoi and her husband will keep. I don't know exactly how much this amount is, who are the supporters, so I can't make statistics. Only the donation to her personal account gave her a headache.
"A large amount of money flowing into my personal account in a short time makes me feel extremely pressured and worried. I can't sleep because it's a billion dong, not a few tens of millions. Related to money is one thing. It's extremely painful and sensitive, so I will try and be very careful, to fulfill my duties as a connector," Nhu said.
Currently, Ms. Giang Nhu continues to help the baby and Ms. Thoi's family, taking care of each place to eat, sleep and live. "I will support until the children return to the village. As for the donation, I also help them manage every penny. If chemotherapy is required, I hope this money will be enough for treatment. Otherwise, I will put it in a savings book and give it back when the children turn 18, I hope they use this money for career guidance," said Ms. Giang Nhu.
https://soha.vn/cap-vo-chong-nguoi-xinh-mun-diu-con-trai-xuong-ha-noi-chua-u-mat-duoc-ung-ho-gan-1-ty- dong-20220521125338436.htm
You are reading the article
The Xinh Mun couple who carried their son to Hanoi to treat eye cancer received nearly 1 billion VND

at
Blogtuan.info
– Source:
cafebiz.vn
– Read the original article
here