Business
There is 1 thing to hide, there are 2 types of people to avoid, it's not strange that the family is rich for 7 generations
Billionaire John Davison Rockefeller Sr. (July 8, 1839 – May 23, 1937) was an American business magnate and philanthropist. Nicknamed "Oil King", he was the founder of the illustrious oil empire – Standard Oil Corporation.
It is often said that referring to John Davison Rockefeller Sr. refers to extreme wealth. Accordingly, the fortune of Rockefeller Sr. in 1916 accounted for almost 2% of the national economy, and if adjusted for inflation, today his fortune would be worth about $418 billion. This number is much larger than the fortune of Jeff Bezos, the richest person today. Because of that, this billionaire is considered the richest American of all time and the richest person in modern history.
There is an old saying: "No one is rich in three families, no one is difficult for three generations." However, this saying is not true for the Rockefeller family.Over the past 100 years, this family has been rich and flourished for 6 generations. Entering the 7th generation with 174 heirs, they still retain a huge amount of wealth with a total net worth of approximately 11 billion USD in 2019.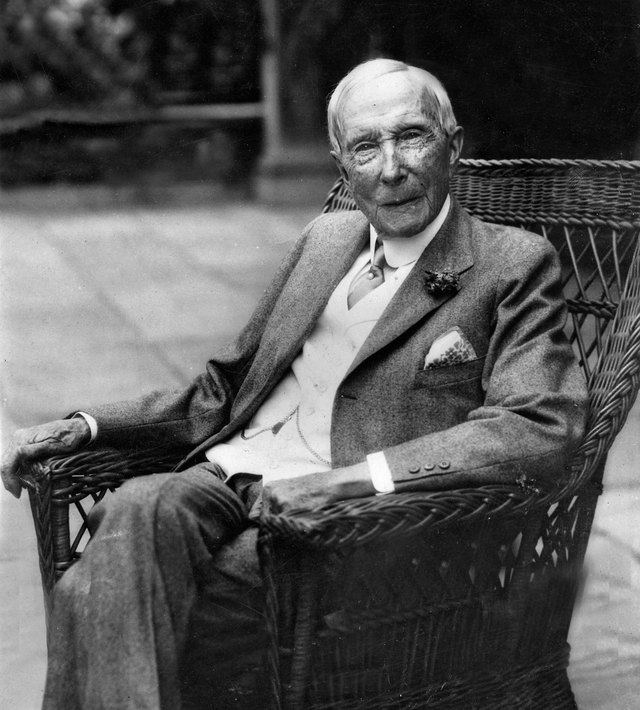 Billionaire John Davison Rockefeller Sr. Photo: Internet
Not only wealth, the Rockefeller family mark is also everywhere when looking back at the modern history of the United States. Much of the "glory" of America was created by this family. Explaining the reason why Rockefeller's descendants can still break the scary "curse" easily, many people think it is all thanks to the family upbringing background.
John Davison Rockefeller Sr. Not only a great businessman but also a great father. His advice to his children and grandchildren all showed a better vision than people. Thanks to that, his descendants continued to prosper, prolonging his success and wealth.
During his life, the "Oil King" wrote his son a total of 38 letters. The surprising thing is that the contents of these letters are all advice drawn from valuable life lessons that he himself has experienced and experienced himself.
One of the most "classic" advice is: "A person who claims to be intelligent is a fool. Only those who know how to pretend to be stupid are really smart.". Through this quote, the richest billionaire in history Rockefeller told his children to hide their wisdom, not to let people know because the more people show off their lives, the more turbulent they will encounter.
According to the king of oil: "Compared to showing intelligence, pretending to be stupid has a lot of benefits. Most importantly, it lets people let their guard down. Then you take the opportunity, quietly come out on top, and amaze everyone." .
He also explained to his children that human nature is the most unpredictable thing. Therefore, it is best not to flaunt your intelligence, only then will you avoid harsh, negative competition. However, it is necessary to understand that the stupid expression in intelligent people is a kind of calm state, they understand all the principles in life but do not show it, only then can great things be accomplished.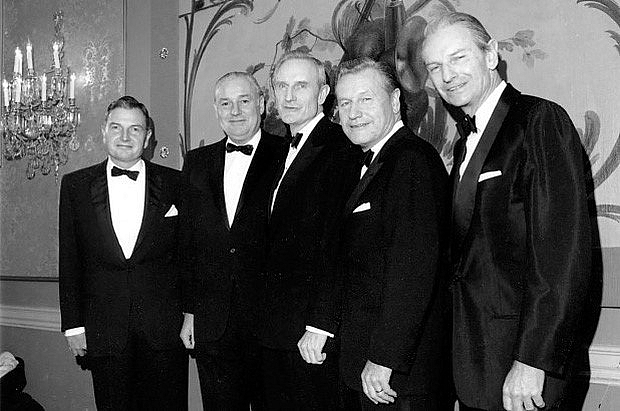 The Rockefeller brothers in 1967. Photo: Internet
In addition, in a letter written to his son, Rockefeller also made it clear and warned him not to associate with two types of people: The first type is the type of person who completely surrenders and is satisfied with his status. ; The second category is those who cannot achieve their goals to the end.
Mr. Rockefeller called these two types of people "thinking tumors" that are easy to spread negative thoughts to others when they come into contact. The bad thing is that these two types of people appear a lot in life. Therefore, Rockefeller advised his son to stay away from these two types of people as soon as possible because he always thought that a person's personality, ambitions and current status were related to the person they associate with.
He believes that if children often associate with negative people, they will become negative, even discourage progress. On the contrary, if children come into contact with people who have the ambition to succeed, they themselves will be more ambitious, their thoughts will be more liberal, and they will be more likely to succeed. Therefore, Rockefeller always advises and reminds his son to "choose a friend to play", to regularly interact with successful, forward-thinking people.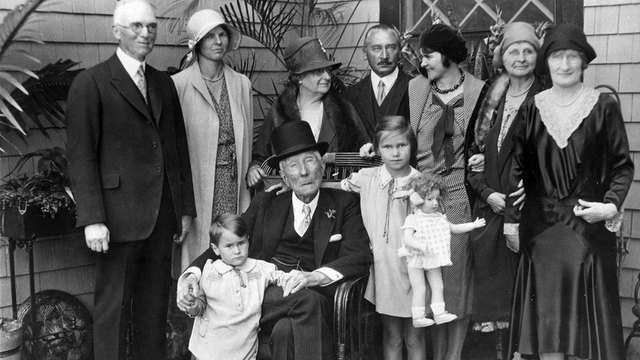 Billionaire John Davison Rockefeller Sr. with my family. Photo: Internet
The letters that Rockefeller sent to his children, though simple and straightforward, contained great and practical meanings. Each sentence is very precious and worth thinking about:
1. There is no right to be poor.
2. Wealth is just a by-product of diligence.
3. Income is just a by-product of work, do what needs to be done, do your job well, with such an ideal salary will definitely find you.
4. Love for work is a belief. With this faith, we can smash mountains of despair into stones of hope. If you consider work a pleasure, life will be heaven; If you see work as a duty, life will be hell.
5. Borrowing money is not a bad thing, it won't make you bankrupt, as long as you don't see it as a lifeline and only use it in times of crisis, but as a powerful tool, you can use it to create opportunities.
6. The excuses that keep most people from opening the door to success. 99% of failures are because people are used to making excuses.
7. Don't live by chance, but grow by planning. A good plan can affect luck, and in any case, it can affect so-called luck.
8. Friendship built on business is much better than friendship built on friendship. Be nice to others when you go up because you will bump into them when you go down.
9. There is nothing in the world that can replace perseverance. Unappreciated talent abounds, and unsuccessful geniuses are common. Education too, the world is full of useless people. Only perseverance and determination lead to success.
(Synthetic)
https://cafef.vn/ty-phu-giau-nhat-lich-su-nuoc-my-dan-con-co-1-thu-phai-giau-co-2-loai-nguoi-phai-tranh- xa-khong-la-khi-nha-giau-toi-7-doi-20220519015659203.chn
You are reading the article
There is 1 thing to hide, there are 2 types of people to avoid, it's not strange that the family is rich for 7 generations

at
Blogtuan.info
– Source:
cafebiz.vn
– Read the original article
here