Business
8 hidden truths about products in supermarkets that manufacturers never want customers to find out
Going to the convenience store or supermarket to buy groceries every day, none of us pay attention to reading the small printed ingredients on the packaging of the products. Research shows that only 15% of buyers actually pay attention to the nutritional information on products. It is this habit of customers that has enabled some manufacturers to use misleading marketing strategies to "mislead" customers about the quality of their products.
Here are some examples of truths in product labels that manufacturers never want customers to find out.
1. Baby food may contain more sugar than we think
In fact, when it comes to baby food, products are often marketed as a "healthy" option because they not only contain vegetables, but also high-sugar fruits such as strawberries, watermelon, etc. apple…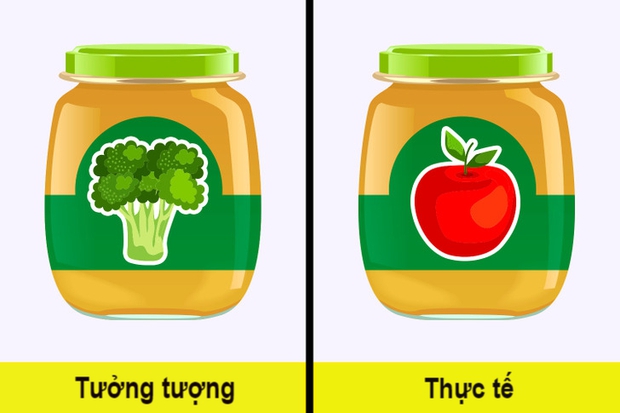 The label "green vegetables" is just a trick to fool the eye
However, buyers only see "green vegetables" printed on the packaging and believe that these products are good for children.Such products are mostly claimed to be "sugar-free", but the actually quite the opposite.
2. The "nitrate-free" label is not a guarantee of safety.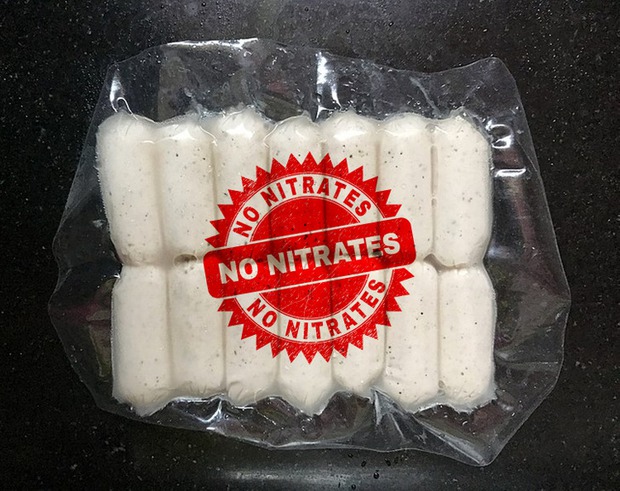 Products without nitrates do not guarantee the safety of meat
Products labeled "nitrate-free" are something you can easily find on meats. While nitrates are indeed harmful, the label does not guarantee that the meat you choose is 100% safe. In addition to nitrate, the food we use every day also contains sulfates, phosphates, BHT, BHA, etc. Therefore, avoid using canned food as much as possible!
3. "Fat-free" doesn't really mean fat-free.
Foods labeled "free" of certain ingredients do not mean they are completely free of them. Fat, sugar or cholesterol are a good example.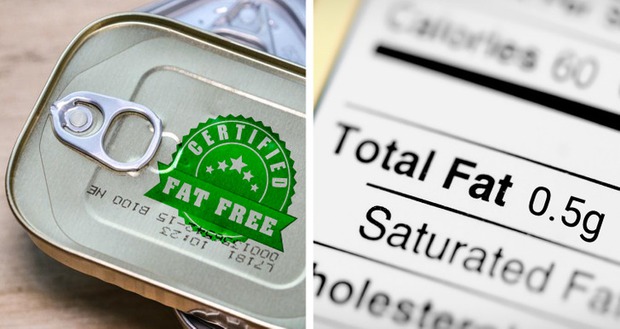 Remains fat in 'fat-free' products
Current regulations allow a manufacturer to declare a product "fat-free" if it contains only 0.5 grams of fat per serving, and the same goes for sugar. For "cholesterol-free" foods, one serving is allowed up to 2 milligrams.
4. Labels that say "natural" and "mild" can be misleading.
It is easy to see descriptive adjectives like "natural" or "light" on products in supermarkets. In fact, this is just a trick of the brands. According to experts, there is no legal regulation of using the words "natural" on product labels.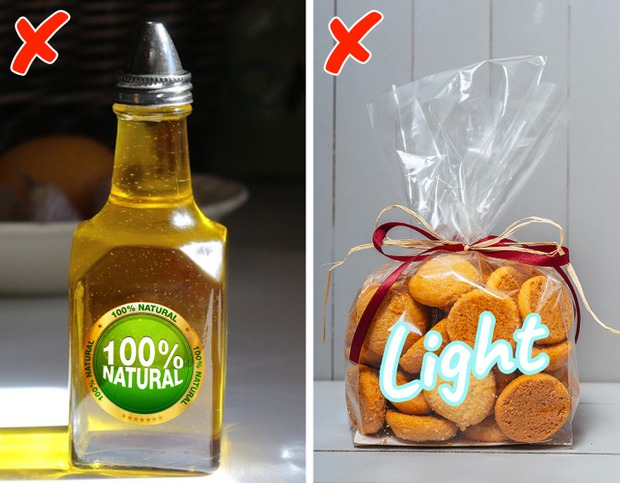 Products labeled "natural" are not really natural
On the other hand, the use of the word "light" is regulated but it is only in case it is related to fat. So legally, so-called "light" sweets sounds pretty healthy, but it's not.
5. The product may contain more or less nutrients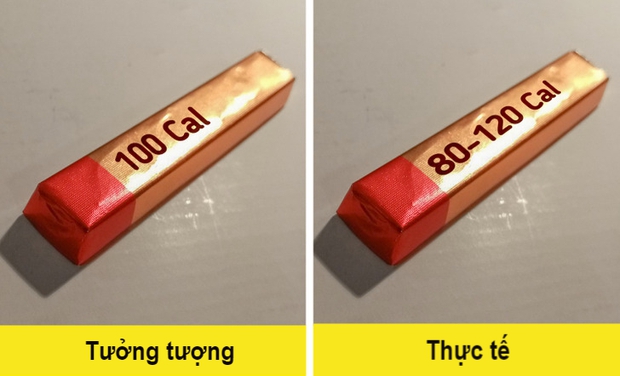 The ingredient information on the product is not the same as the actual dosage
In fact, there is a sizable margin of error when it comes to nutritional information on food labels. Usually the actual number is about 20% different from what is printed on the package. For example, if a product's calorie count is listed as 100 calories, that means the product's calorie count will be between 80 calories and 120 calories.
6. The label "free-range chickens" is not necessarily good
When we see products labeled "free-range" on egg cartons, we tend to think that the chickens on the farm live in comfortable conditions like in a "5-star hotel".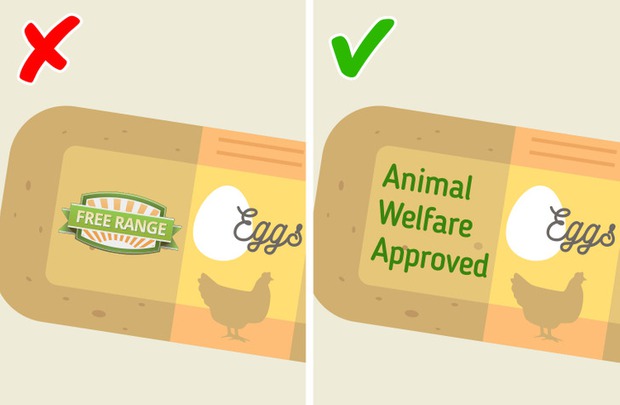 The label "free-range chickens" is just a trick of the manufacturer's concept
Unfortunately, this is just a shopper's misconception. The label "free-range chickens" doesn't really force a farmer to let his birds roam around at will (in fact, a farmer can only let his chickens out for about 5 minutes a day and this is still considered a "freeze the garden").
If you want to buy eggs from animal-friendly producers, you should look for facilities that participate in animal welfare certification programs (e.g. Animal Welfare Approved, Non-Reverse Certified. treat animals, etc.)
7. The actual amount of sugar is difficult to estimate.
In a product, sugar can be called under many different names. This information is sometimes used by manufacturers to hide how much sweetener is actually present in a product. If you look closely at the manufacturers' lists of sweeteners, you can see that there are countless varieties such as: butter sugar, caster sugar, coconut sugar, yellow sugar, etc.
Syrups: carob syrup, high fructose corn syrup, honey, maple syrup, oat syrup, rice bran syrup, etc. or other added sugars: honey sugar, lactose, corn sweetener, dextran, ethyl maltol, fructose, galactose, glucose, disaccharides, maltose,….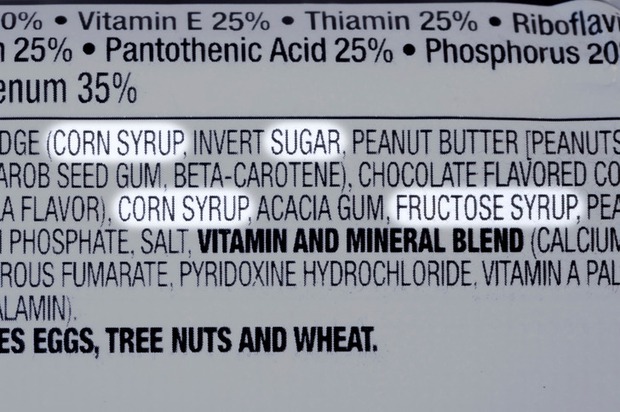 Roads are represented by many different names
8. Not all whole grain products are good
Whole grains are foods that we should eat more of because they can reduce the risk of heart disease, obesity, type 2 diabetes and many other benefits. But choosing foods containing whole grains is not easy.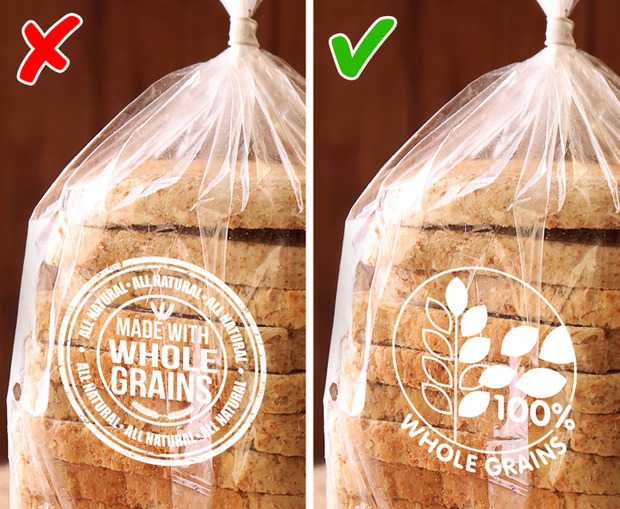 Whole grains have a fairly low percentage of grains
Although many products are now labeled "whole grains," their actual percentage is negligible. Instead, look for products labeled "100% whole grain" or that have a whole grain listed first on the ingredients list.
Source: Bright Side
https://kenh14.vn/8-su-that-bi-che-giau-ve-cac-san-pham-trong-sieu-thi-ma-nha-san-xuat-khong-bao-gio-muon- customer-hang-phat-hien-ra-20220519165204282.chn
You are reading the article
8 hidden truths about products in supermarkets that manufacturers never want customers to find out

at
Blogtuan.info
– Source:
cafebiz.vn
– Read the original article
here