1.Bees can use tools
Honeybee in Vietnam and other parts of Asia are threatened by a predators specializes in attacking swarms of bees, killing the adults guarding the nest and eating the young. That is giant hornet, especially Vespa soror wasps are very voracious. They are capable of destroying a honey bee hive within hours.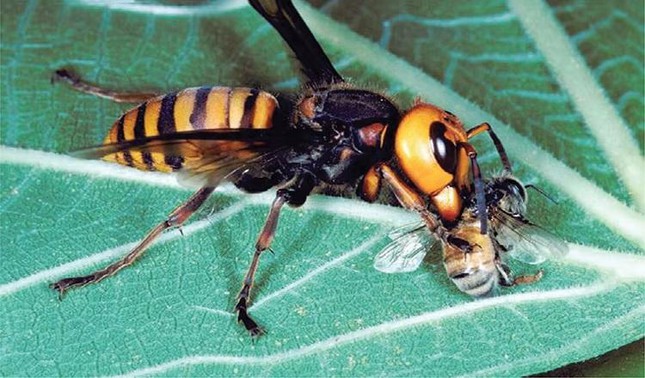 Giant hornet. Photo: Getty.
To avoid such killings, honey bees collect fresh animal feces and smear it around the entrance to their nest. Last year, researchers published their findings on honey bees' tool-using abilities.
Placing manure around the entrance to the hive reduces the time the wasps spend trying to attack the hive. This is the first scientific report of honey bees using non-vegetable, non-liquid materials. This is the first clear example of honey bees using tools in the wild.
Honey bees signal an impending attack by emitting a chilling warning noise.
2.Bees eat meat
Most bees feed on pollen and nectar, but some have evolved to be carnivorous. Scientists at the University of California-Riverside, Columbia University and Cornell University (USA) found that the vulture bees in Costa Rica have guts containing many of the same acid-loving bacteria found in hyenas and other animals. other scavengers.
Their study involved setting up 16 bait traps with 50 grams of raw chicken dangling from a branch about 1.5 meters above the ground. Although the vulture bees eat meat, their honey is still sweet and edible, the researchers say.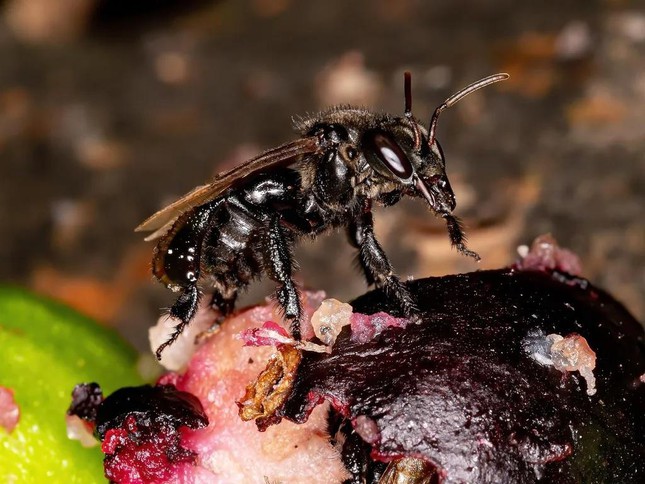 Vulture bees eat dead animals. Photo: Scitechdaily.
3. Bee droppings almost caused a Cold War confrontation
In the 1980s, "yellow rain" – small yellow spots found on forest foliage in Laos and Cambodia – were thought to be remnants of chemical weapons. Many refugees believe that the yellow rain causes illness and death.
The charges led the US to accuse the Soviet Union and its allies of engaging in chemical warfare. Bee experts later discovered that the yellow dots were secretions from colonies of wild honey bees.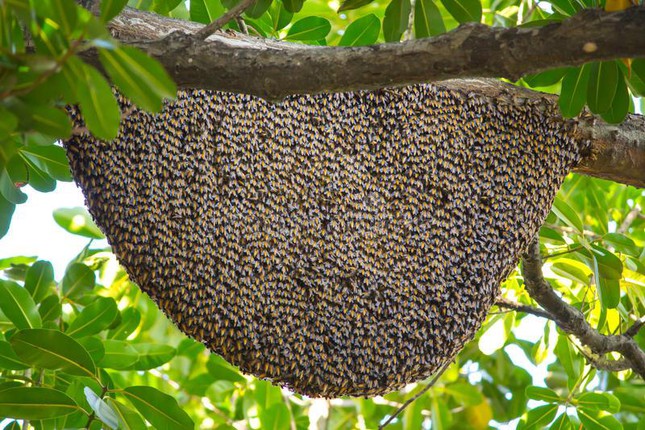 A beehive on a tree. Photo: Dreamtimes.
4. Bees love to dance
Bees can communicate and make decisions by dancing. When a honey bee scouts and inspects a new nest, it uses a swaying dance to announce it. The better the position, the longer and stronger the bee dances. If another bee encounters a dancing bee, it will check the address and, if it feels like it, will sway too.
Ultimately, the dynamics of the dance cause about 20 to 30 bees to agree on the best nesting location, and they communicate their decision to the rest of the colony by making high-pitched sounds and humming their wings among other bees.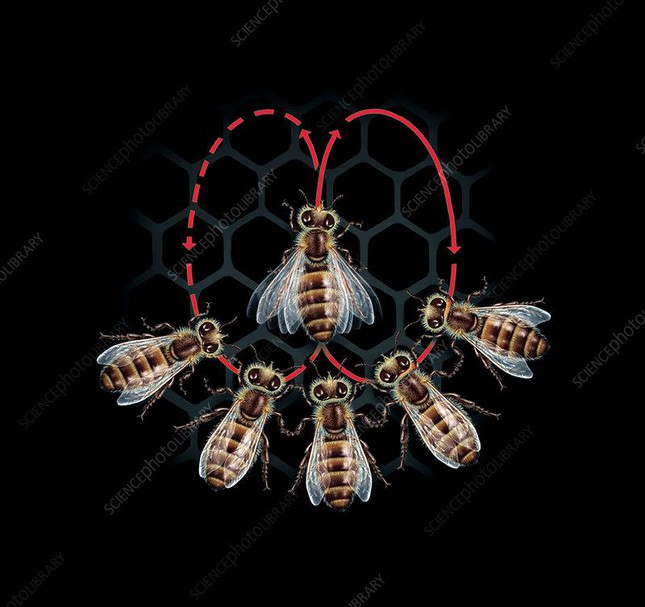 Bees dance to signal that they have found a good place to build a nest or where there are many flowers. Photo: Science Photo.
5.Bumblebees break leaves to bloom early
Plants produce vibrant flowers full of nectar to attract pollinators, but what does an impatient and hungry bumblebee do when those flowers are not yet in bloom?
Scientists in Switzerland and France found that when pollen is scarce, bumblebees infest the leaves of tomato and mustard plants in a unique way that causes the plants to flower 30 days earlier.
For bees, pollen is the source of the protein they need to raise their young. However, warmer temperatures due to the climate crisis mean bees are waking up earlier after hibernation to find the flowers they need for food, but the flowers have not yet bloomed. Flowering time depends on exposure to light, less affected by climate change. This creates a phase shift that can leave bees short of food in early spring.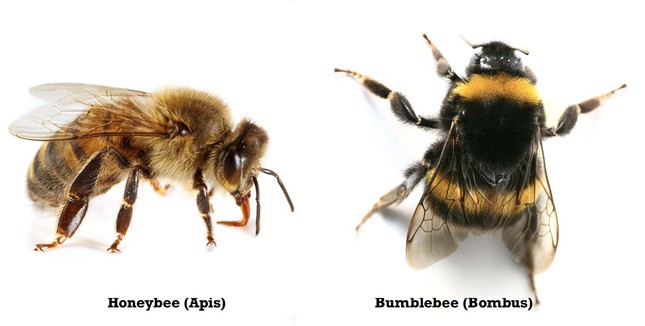 Bumblebee (right) and honey bee (left). Photo: Treehugger.
6. Humans have been exploiting honey bees for thousands of years
A cave painting in Spain (supposedly 8,000 years old) depicts a person standing on a ladder to collect honey. The traces of beeswax on the pottery also suggest that early farmers kept bees as early as 9,000 years ago.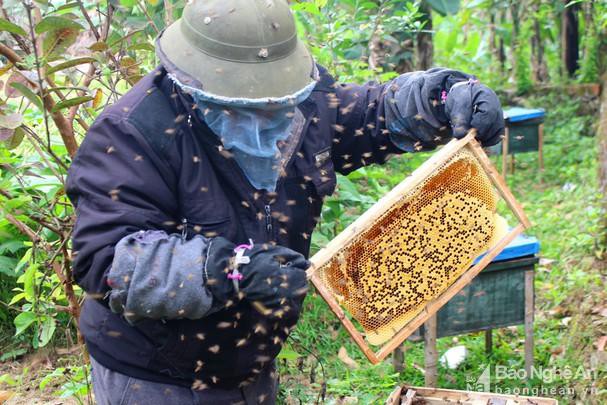 Beekeeping for honey. Photo: Nghe An Newspaper.
Honey is also found in ancient Egyptian tombs. Honey can be used as a treatment in a prehistoric diet low in sweet foods, and it may have medicinal uses. Beeswax can be used to make pots waterproof or as a glue.
Today, honey can offer new hope in the fight against antibiotic resistance. Honey contains natural antibiotics to help the body fight infections.
Scientists are studying how to easily apply honey to the wound. Honey can be used in surgery, war zones.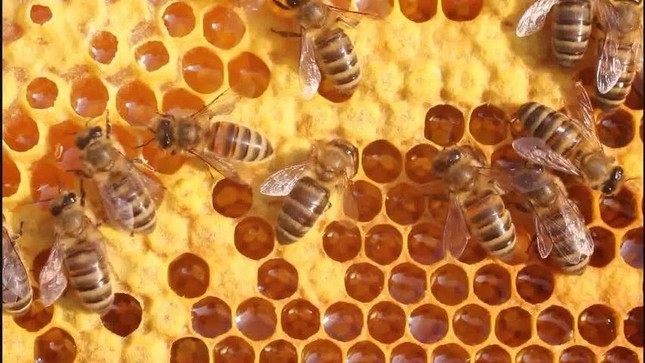 The hive is full of honey. Photo: Shutterstock.
You are reading the article
Bees eat meat, Vietnamese honey bees know how to use tools, and bee droppings almost cause a confrontation with the Cold War

at
Blogtuan.info
– Source:
Soha.vn
– Read the original article
here