Kinh tế
Go to the bank – go to the store, don't need to bring anything, still have a "cool" transaction
Recently, identification papers integrated with bank cards promise to continue to bring convenience and new experiences to people. But perhaps the "king" of speed and convenience is biometric payment, when you go out without carrying anything, just using your face and fingerprint is enough for transactions.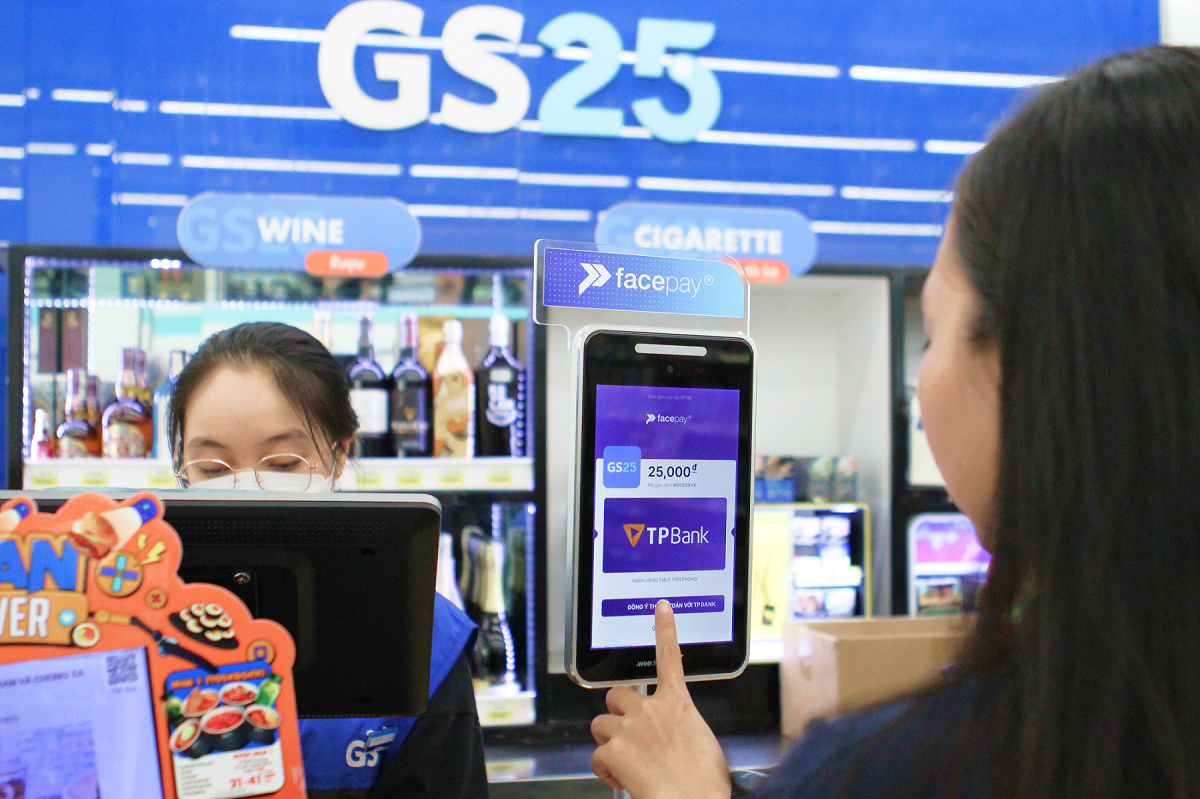 Face "Scan" to pay, a fun, tech-filled experience
According to a recent survey on Vietnamese people's transactional habits, 95% of survey respondents rated biometrics as the most secure method today to authenticate payments. Agreeing with this result, experts believe that having to memorize pin codes and passwords, which causes many obstacles in daily life, is the reason why customers prioritize looking for banking services that use life. biometrics such as fingerprints and faces on the market.
In fact, from the past two years, TPBank's customers have used their faces and fingerprints to authenticate transactions. Biometric technology applied at TPBank has helped replace all types of bank cards or identity documents in authentication and identification at LiveBank 24/7 across the country. With just a few minutes of quick registration of face and fingerprint recognition at LiveBank 24/7, all transactions from depositing or withdrawing cash, opening a savings book, etc. can be easily performed at any time. during the day.
Face recognition technology has also replaced passwords or OTP codes when you log in or authenticate transactions under VND 1 million on TPBank app, many times faster and more convenient while still ensuring excellent security. opposite to.
With the high responsiveness of facial recognition technology, TPBank continues to cooperate with the leading financial technology company in the region specializing in digital identification, building and owning face recognition algorithms. face class with the goal of continuing to elevate the experience for its customers to create a facial payment method – Facepay.
Facepay with facial recognition algorithm platform is capable of analyzing more than 50 million faces at the same time, with an accuracy of up to 99.97%, optimized system architecture can support simultaneous payment of millions of transactions translation, meeting international standards of information security. Right from the moment of its launch, Facepay has been very enthusiastically received when it comes to bringing a new payment experience that is extremely interesting, convenient, and trendy, especially for young customers.
Initially, Facepay will be deployed by TPBank at all points of sale of the GS25 system and is quickly being spread throughout convenience stores, commercial centers, supermarkets, etc., throughout the provinces and cities to attract more and more customers. can access and use this fast and convenient form of payment.
TPBank's comprehensive digital aspiration in enhancing customer experience
Talking about TPBank's technology roadmap, General Director Nguyen Hung shared: "Digital creation, demand-based digital innovation to bring better and better experiences to customers is TPBank's key goal. We do not "sorry" investing in technology from a very young age. new in the Vietnamese market, that is also the premise to reap the "sweet fruits" of achievements in the products that have been launched, and at the same time create momentum for digital services, bearing the unique nature of standard banks. to be released in the near future".
Technology together with a deep understanding of customers' needs helps TPBank to successfully research and in turn launch quality digital banking products and features with high technology content.
That is LiveBank 24/7 serving without "break", no holidays, Tet holidays, whenever customers need, there is always a bright LiveBank light to serve. For the first time, customers in Vietnam know the feeling of depositing money into their accounts in the middle of the night, or ignoring the anxiety of having to wait for office hours to go to the bank, or admiring their faces and so on. hand was able to trade smoothly. Up to now, only TPBank is the only bank that has built a wide network with more than 400 transaction points nationwide, serving tens of millions of customers monthly.
It is eKYC electronic identification technology since its implementation, which has helped millions of customers shorten the distance to the banking transaction office to open an account, eliminating the feeling of having to wait in line, leaving only a few minutes at the bank. anywhere on the TPBank app with simple steps to register personal information and face recognition.
It is a technology to identify customers by biometrics (Biometrics): using voice to quickly search the feature on TPBank app or call when calling the bank switchboard, customers will receive a call in a few seconds without having to answer. Personal questions like before, use your face to make transactions, make payments from LiveBank to the store.
If you are still hesitating to choose a unique, safe and secure transaction method? Facepay is the answer to the most popular payment service today. Compactness, speed and convenience are always the top criteria in product research.
Facepay is the next step in the process of perfecting the digital consumption ecosystem that this bank brings to its customers. Once again affirming the brand statement "Because we understand you": when all problems and inconveniences of customers are "solved" by TPBank instead, thanks to technology.
You are reading the article
Go to the bank – go to the store, don't need to bring anything, still have a "cool" transaction

at
Blogtuan.info
– Source:
danviet.vn
– Read the original article
here