Yêu
Hold the wedding before the wife loses her memory completely
Before his wife lost her memory, he planned a silver wedding. This was also the first time he saw his wife wearing a bridal gown.
Complications after cancer surgery quickly eroded Cathleen's memory (49 years old, China). She couldn't remember her promise to organize wedding silver with her husband after 25 years of marriage, according to iFeng site.
Before his wife lost her memory completely, Mr. Shui (52 years old), Mrs. Cathleen's husband, tried to fulfill his promise with a dreamlike wedding.
25 years ago, when the two returned to the same house, due to difficulties they could not hold a wedding, this was the first time she was able to wear a bridal dress.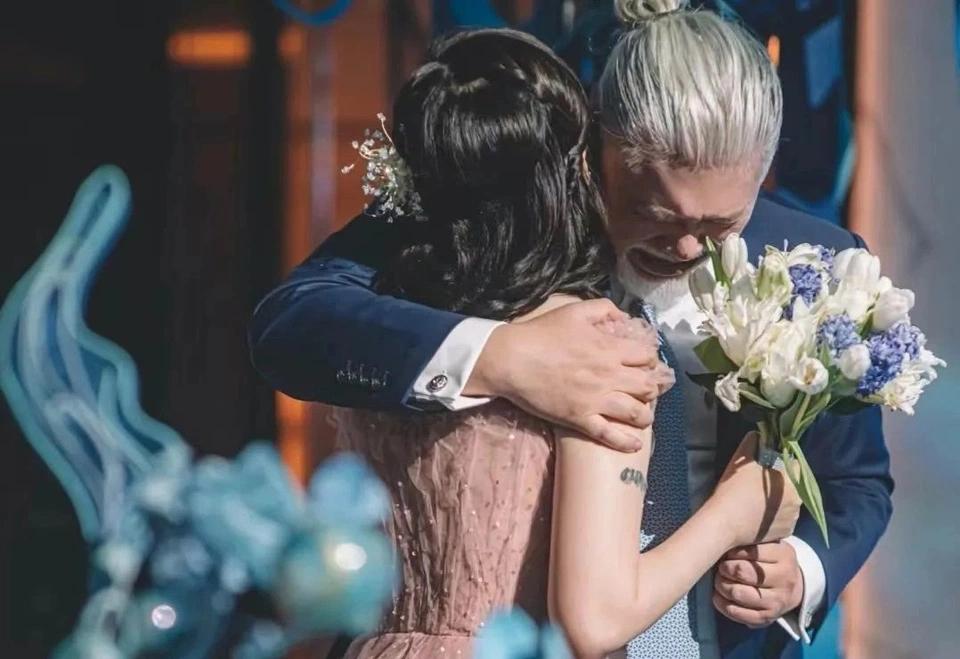 Mr. Shui held a silver wedding before his wife lost her memory completely.
25 years marriage
At 8 am, after cleaning the house, Mr. Shui went to the breakfast table and prepared medicine for his wife. On the sofa, Mrs. Cathleen sat holding her little teddy bear, stroking it and quietly watching the news on TV.
After taking the medicine for a while, she suddenly turned and asked: "What did we eat this morning, I forgot."
For three years now, when Cathleen began cancer treatment, her memory loss became a difficult problem in life that the two faced together. "Where is this?", "What day is it today?", "What are we going to do today?", "Where are we going", she repeated the question over and over.
Feeling sorry for her forgetfulness, the 49-year-old woman often adds an explanation at the end of her sentence "I forgot again". But even though she asked hundreds or thousands of times, Mr. Shui patiently answered.

When they met, Shui was a security guard at an amusement park, and his wife was an employee of a multinational company.
Shui first met his wife in 1994, when he was 24 years old and was a security guard at a game park in Tianjin. Cathleen was 21 years old that year, an employee of a multinational company.
When Cathleen arrived at the ice skating rink, Shui guided and helped her take her first steps. The two then see each other more and gradually develop feelings.
Shui mustered up the courage to pursue Cathleen. "There's actually a big gap between us. She is one of the first to work for a foreign company, highly educated", he said.
But in the end, overcoming all distances, Cathleen was conquered by the other's sincerity and agreed to love.
In 1996, the couple's wedding was held simply. Since there was no money, the bride only wore a white dress borrowed from a friend, and Shui rented a suit. The wedding only has about 5-6 trays, the guests are all close friends.
"Even the taxi driver mistook us for wedding guests. That's what I always feel guilty about, not being able to give her a decent wedding. This time will be my chance to make up for it."
A year after the wedding, Cathleen was transferred to Shanghai by the company. Shui quit his job at the game area, and with his wife, packed up his belongings and important items. They rented a car, and he drove all the way from Tianjin to Shanghai.
In 2002, the couple opened a construction material trading company. Cathleen is the one who actively arranges work and meets with customers, while Shui silently supports behind.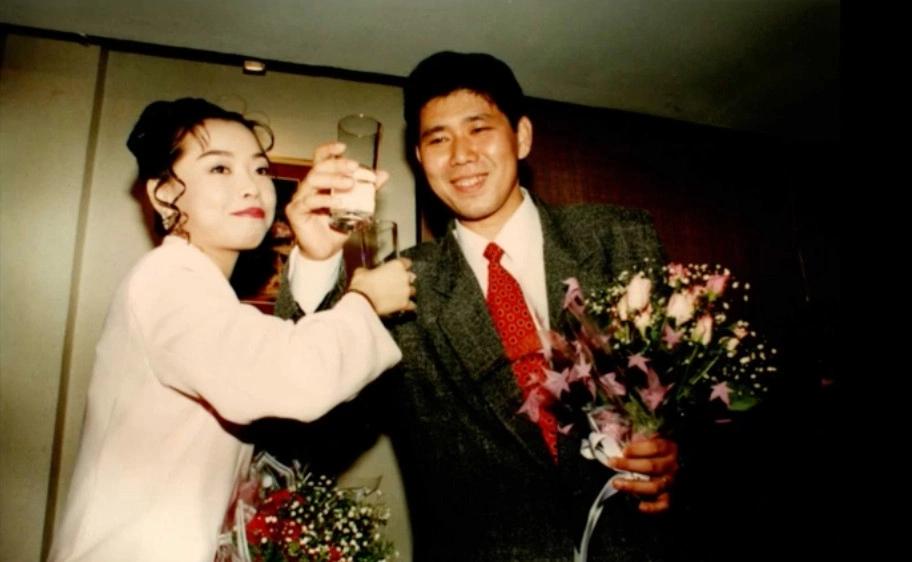 At the 1996 wedding, Mrs. Cathleen wore a white dress borrowed from a friend, and Mr. Shui rented a suit.
Fairy wedding
Cathleen discovered she had ovarian cancer in the spring of 2019 and gradually lost her memory due to complications during treatment.
At that time, sharp pains in her lower abdomen reminded her that something was wrong in her body, and when she went to the hospital, she was discovered that she had a cyst in her ovary. Cathleen thought just surgically removing it would be enough.
As a person who likes to dress up, compared to illness, the scars on her body worried Cathleen much more. She kept asking her husband: "If I leave scars, will I look ugly?"
On July 5, the couple went to the hospital to check again, the doctor determined it was a malignant tumor. The two stood in silence for a long time in the hospital corridor. Shui believed his wife would be fine, repeatedly reassuring her that the diagnosis might be wrong.
To treat cancer, Cathleen underwent surgery to remove both ovaries and uterus to prepare for 5 stages of chemotherapy. Cancer cells are still spreading in the body after the 4th stage. The last option is that both have to go to the US for treatment in 2020. That's when Cathleen started to lose her memory.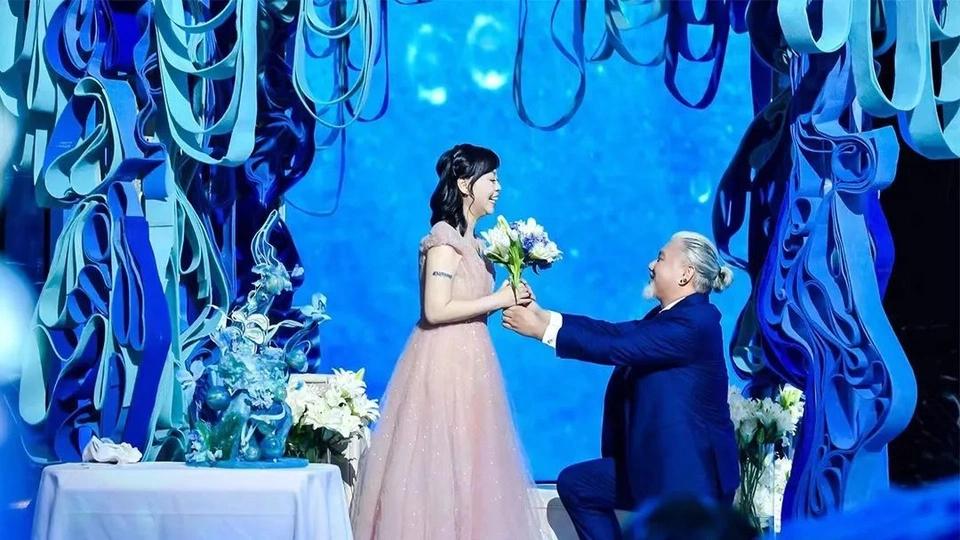 During the silver wedding, Mr. Shui was so moved that he was speechless.
His wife's amnesia scares Shui. He wasn't sure that one day she would forget him too. His only motivation at that time was the enduring love of both of them for more than 20 years.
During her days in the US in 2020, Cathleen wanted to celebrate her silver wedding with her husband (25 years) in 2021. But then she gradually forgot about it.
After returning to China, Mr. Shui had to take his wife to the hospital for treatment three times a month. Although she forgot about the wedding appointment, he insisted on organizing it, so that his wife could wear a proper wedding dress for once.
Shui had all the planning for this special wedding. He knew this was his wife's long-time dream. Before the wedding, he was at the venue until midnight to make sure everything was in order.
During the rehearsal, the person in charge told him that he could write down what he wanted to say to avoid forgetting. He refused, saying that there was no need to write, because all that needed to be said was clearly memorized in his mind.
However, on the day of the wedding, he was alone in the waiting room, so nervous that he couldn't remember anything. When he stood in front of his wife, he was speechless, just hugged her and cried.
The friends present were touched by the beautiful love story between Shui and Cathleen. When the call marriage entering their 25th year, facing the constant threat of illness, the couple have relied on each other and loved each other to this day.
According to Zing
You are reading the article
Hold the wedding before the wife loses her memory completely

at
Blogtuan.info
– Source:
2sao.vn
– Read the original article
here