Mixed fruit yoghurt
The North is still cool, but Saigon is already hot, and the cooling yogurt dishes help nourish the body and especially the skin. Recently, in addition to regular yogurt, fruit yogurt shakes are very attractive to many people. Delicious dishes can be made by yourself, can be bought and stored in the refrigerator for about 30 minutes, you will have a healthy and delicious yogurt shake right away.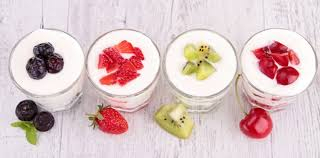 Yogurt is both delicious and nutritious, and there are many types to both drink and eat.
Yogurt shake has the main ingredient of yogurt – homemade is best – the difference is that the milk is neither too thick nor too liquid, a bit smooth to drink and when combined with fruits, it is very beautiful. .
When drinking, you have to shake it up so that the fruit (can be made into jam) melts evenly and then enjoy.
Ingredients for making yogurt shake (500 ml)
– 80g red grapes
– 80g black raspberries
– 80g of wild strawberries
– 80g blueberries
– 100g ice cubes
– 10g sugar
– 50g of fresh milk
– 1 mint leaves
Preliminary processing of fruits – especially grapes, need to separate the fruit from the stem, wash the fruit, and soak it in salt water.
Put ice cubes and clean prepared fruits in the blender.
Add in the sugar and milk, turn on the blender for 1-2 minutes – enough for the ingredients to mix well, and puree.
Pour the fruit shake yogurt mixture into the glass. Decorate a few mint leaves on the rim of the glass to create fragrance and beauty.
Should use a glass of yogurt shake fruit as soon as it is cold, can eat 1-2 vanilla ice cream to make it more delicious.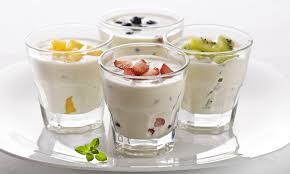 Mango yoghurt shake
Material
– 500ml of fresh milk
– 500ml boiling water at 100 degrees Celsius.
– 180g fragrant condensed milk
– 1-2 boxes of yogurt as female yeast.
– 10ml fresh cream
Homemade yogurt
Bring the water to a boil, turn off the heat, pour in condensed milk and stir.
Add fresh milk and stir. When the mixture of water – condensed milk – fresh milk is about 40 degrees Celsius, pour the female yogurt into it to ferment (so the female yeast does not die but spoil the batch of yogurt). Note that 2 boxes of yogurt need to stay at room temperature for at least 2 hours before pouring into the mixture of water – condensed milk – fresh milk and stir well.
Scoop out the jars/glasses and bring them to incubate in a foam box, a thermos container… for about 10 hours. If you have an oven, turn on the oven at 40 degrees Celsius and steam for 6 hours, if you want to be sour, increase the time.
How to make mango yogurt shake
100g ripe mango
10ml condensed milk
10ml fresh cream
Making
Put the mango, condensed milk and fresh cream in a blender. If the mixture is thick, add 10ml of fresh milk and blend together.
Add ice cubes, 150g of brewed yogurt, 15-20ml of sugar syrup (sugar syrup has instructions at the end of the post), and shake well.
The glasses are ready with pearls/jelly, then pour 40-60g of mango on top, then close the lid and enjoy.
Yogurt shake dragon fruit and other fruits as you like, but the method is similar to the instructions above.
Yogurt shake is very delicious, with many flavors, colors, nutrients, so it is more delicious and attractive.
If you want a recipe for yogurt shake with a cool, non-boring flavor, follow the instructions above. In addition to mango yogurt shake, depending on your taste, choose your favorite fruit to make. But mango yogurt shake taste quite delicious than other fruits.
Delicious yogurt shake apart from ingredients, the incubation time should add 10ml of fat cream / 1 liter of yogurt, it will be more delicious.
How to make standard sugar syrup
Boil 600ml of water
Add 1kg of white sugar, wait for it to boil again, stir quickly 20 times in one direction and then stop. According to the bartenders, this is done so that the syrup does not "return" sugar and clear.
Continue to heat the pot of sugar water on low heat until the sugar is completely dissolved.
Turn off the heat and put 2 drops of lemon, a few grains of salt into the pot of sugar water you have prepared. If there are jasmine flowers, drop some dried jasmine flowers in. This way of making sugar syrup is standard and delicious like a restaurant.
You are reading the article
How to make a simple and delicious mango yogurt shake

at
Blogtuan.info
– Source:
Afamily.vn
– Read the original article
here