Giới trẻ
How to solve the Literature exam in the 10th grade with the highest score from a Hanoi teacher
According to Literature teacher Luong Thu Thuy, in order to get a high score in the Literature test in grade 10, candidates need to pay attention to some points.
To help students be more confident in the upcoming 10th grade entrance exam, avoid unnecessary mistakes as well as how to get high scores on the exam, PV Infonet had a discussion with Ms. Luong Thu Thuy – Deputy Head of Department, in charge of Literature at Trung Vuong Secondary School (Hanoi) about the most important points to pay attention to when taking the Literature exam.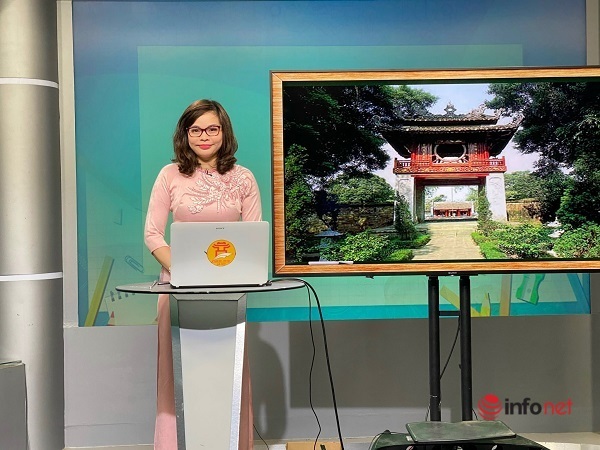 Ms. Luong Thu Thuy – Deputy Head of Department, in charge of Literature at Trung Vuong Secondary School
Ma'am, just over 1 month left until the 10th grade entrance exam in Hanoi officially begins. In your opinion, how effective should candidates be during this time?
With Literature at this stage, students should combine both practice test questions of previous years or questions in practice books, and review texts and should review in the form of mind maps. Because, reviewing the mind map will make them not lose their mind, in accordance with the criterion of mass exam marking is "counting ideas and eating points".
They need to combine attention with both eating and drinking, daily rest, proper nutrition, more recreational activities, and especially not staying up late because when their health is not guaranteed, they should not stay up late. learning is also very limited.
It is also not advisable to study too much during this time, nor should parents pressure their children to encourage them. Students need to learn a lot on their own, turn the knowledge that the teachers equip, absorb and absorb, turning them into their own.
How should the Literature test be presented to be appreciated?
With Literature, candidates should pay attention to skills when taking the test. Before a topic, the first thing you need to do is read the question carefully, analyze the question, by underlining the keywords in the question to orient your answer so that the question is right.
After that, candidates should allot a reasonable time and if they can do it right away, they should do it, and if they haven't done it, they should circle the question to avoid being missed.
With Literature, many students think that there is no need to draft but that is wrong; Especially with two passages: the literary and social argument paragraphs need to be drafted even more because these two parts account for 55% of the total score of the test.
For example, with a literary argumentative sentence, if an essay asks for a stanza, write that stanza out and outline the artistic cues and accompanying content.
To write a good social argumentative paragraph: you should pay attention to current news, life stories, what's going on around you… to be able to give evidence, for example, to demonstrate your point of view. points and opinions.
With small questions (such as asking about composing circumstances, emotional circuits, story situations…), I advise you to give clear and meaningful answers in bullet points.
Besides, with Literature, it is very important that the presentation form is clean, the handwriting is neat to create sympathy for the graders. In the process of doing the test, if you cross out, then make a light stroke and present the test in one color of ink. If it is necessary to cross out a long paragraph, students should note that it is "removed", but absolutely not crossed.
Can you tell me more about the presentation of the literary and social discourses?
The part of writing a literary essay as well as a social argument will determine the classification of candidates, their skills to make a difference.
Literary essay section accounted for 3.5 points: You should pay attention to determine what type of paragraph is written in, (deductive, inductive or synthetic) so that you can do the right thing. The length is about 12 sentences, don't write too much, you won't get many points every time.
In the passage will require the integration of 2 more knowledge of Vietnamese, in this part, students should note that the simpler they are, the less points they will lose. just got points.
Pay special attention when the exam questions ask about poetic works, remember not to forget to analyze from artistic signals to infer the content. Because if you only mention the content, you will fall into the prose performance; so you will only get no more than 50% of the total score on the content of the passage.
When analyzing poetry, you should pay attention to where you write it, then quote the poem there, pay attention to the emotional circuit of the poem; As for the story, one must grasp the story's evolution as well as the typical artistic elements: story situation, narrative point of view, narrator, character language…
When analyzing a character, it is recommended to give an overview of the character's living situation, then delve into the beauty and at the end of the paragraph, do not forget to comment a little on the artistic features of the story.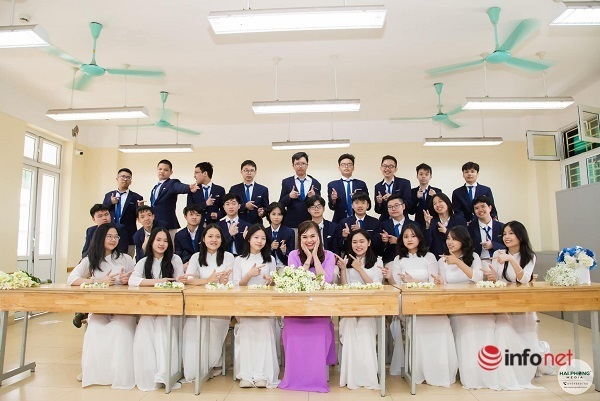 Ms. Thuy with her students.
With a social commentary then the topic is open, the answers are also open and of course the judge will respect your personal opinions. When writing this form, it should follow the template, there are essays on moral ideas, social phenomena such as sharing hearts, warm humanity during the pandemic, real life stories like Mr. Nguyen Ngoc Manh. save a baby falling from a high floor of an apartment building or a little girl Nguyen Hai An donates her cornea, when she loses light, she still has life left… These are tests of understanding as well as perception How are your children's lives?
Note that this type of article does not take any evidence from literary works but must take evidence from real life, from stories that happen around the children's lives, and up-to-date news stories. the more appreciated.
When writing a social commentary, you should state a concept (for example, if you ask me what it is, I will write compassion…) then state the expression, example as well as the story of real people and related real things. to the question… to assess the children's living capital as well as their perception.
Please state the meaning, role and importance of the problem (for example, what is the meaning of sharing in life…) if you ask about negative phenomena, you must state them. cause and effect of the problem.
Then there is an extension of the problem: not everyone is rightly aware, there are still people who think differently and have to provide actionable solutions such as how to promote positive things and minimize negative things; then contact yourself.
You should use the conclusion for the social argument paragraph with a message or a slogan to make the essay not rigid but also impress the examiner. Be as sincere and practical as possible.
I have formed pairs of progressive friends in the class I am in charge of and found that those who do well in literature will support those who do not, and this is very effective, so you should actively study together. Friends, don't hesitate.
I predict that this year, students will be affected by the epidemic, study online for a long time, so the exam questions will be very basic, suitable for students and not confusing, so they can rest assured to review. Please keep a comfortable mind; review in a scientific and effective manner; Don't put too much pressure on yourself. Let's turn pressure into motivation to be determined to achieve the highest results.
Thank you for the chat!
Hoang Thanh
You are reading the article
How to solve the Literature exam in the 10th grade with the highest score from a Hanoi teacher

at
Blogtuan.info
– Source:
infonet.vietnamnet.vn
– Read the original article
here