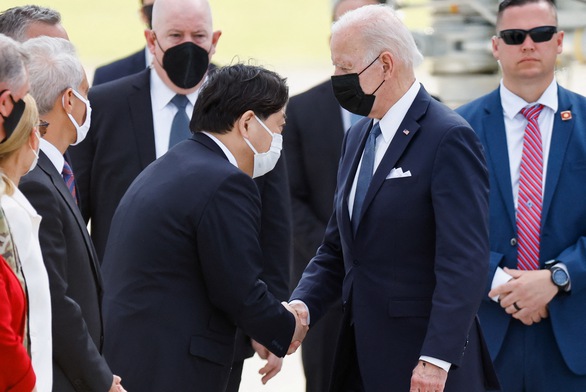 President Joe Biden (right) shakes hands with Japanese Foreign Minister Yoshimasa Hayashi upon arrival at the US air base in Fussa, outside Tokyo on May 22 – Photo: Reuters
Tomorrow (May 24), following the schedule of visits to Japan and South Korea, US President Joe Biden will attend a meeting with Japanese Prime Minister Kishida Fumio, Indian Prime Minister Narendra Modi and Prime Minister-elect of Japan. Australia – Mr. Anthony Albanese.
Leaders of the "Diamond Quartet" (QUAD) including the US, Japan, India and Australia continue to seek to reconcile different priorities at this time.
There is hardly any breakthrough
The upcoming Tokyo meeting is considered one of the most important summit events on the region's foreign policy this year.
The main content of the meeting revolved around the security situation in the Indo-Pacific and topical challenges such as the Ukraine conflict, the Korean issue, COVID-19, cyber security, and climate change.
For President Biden, this is an opportunity for him to promote multilateral coordination on security issues of interest to the United States. In addition, one of the most awaited outcomes of this meeting was the announcement of the Indo-Pacific Economic Cooperation Framework (IPEF) initiative.
This is an economic commitment between the US and its partners and is seen as an alternative to the US withdrawal from the Trans-Pacific Partnership (TPP), now CPTPP).
However, in the current context, observers hardly expect breakthrough changes in this year's QUAD meeting.
With the participation of the leaders of the US, Japan, India and Australia, this was the occasion of the meeting of an informal group called the "Four-Party Security Dialogue" – more commonly known as "QUAD" or "The Four Metals". diamond", "Diamond Quadrilateral" or "Security Quadrilateral".
For a long time, QUAD has also encountered a number of criticisms related to its operating structure and specificity targets.
The diversity of priorities among QUAD members also prevents this group from finding common ground. The fact that India maintains a cautious stance in its relationship with China even raises the question of whether there is a possibility of Korea being selected to add to QUAD or to replace India.
Talking to Tuoi Tre, security experts in the region underestimated this possibility. Sascha-Dominik Dov Bachmann (Canberra Law School, Australia) said: "No, South Korea wants to maintain its foreign policy autonomy. There are rumors that South Korea may want to join, but none have indicated the possibility of a change. policy change".
QUAD has had a very high level of cooperation and coordination among the four countries, so it is not easy to suddenly change members.
Dr. Peter K. Lee
Find new cooperation momentum
The next big obstacle is continuity in QUAD. This is the first major international event of Korean President Yoon Suk Yeol since taking power (May 10).
For Mr. Albanese, even his flight to Tokyo is a more urgent and dramatic story because just a few dozen hours ago he still did not know if he would be elected prime minister of Australia or not.
The Australian Financial Review reported that no one knew who the next Australian prime minister would be until after May 21.
This creates a "nightmare" for logistics in Tokyo. Hundreds of staff from Japan and Australia have had to prepare contingency plans, which depend on whether Mr Albanese or Mr. Scott Morrison wins the election.
According to Dr Bachmann, with Mr Biden's new Indo-Pacific strategy and focus on multilateral approaches to the threat from China in the region, not much is expected of Australia. will change the Indo-Pacific strategy and differentiate it from Mr. Morrison's previous policy.
"We will see less assertive discussions, quieter diplomacy, focused on regaining regional partners through diplomacy, foreign investment and consensus to resolve the issue," he said. address environmental and climate issues through bilateral projects and grants," said Bachmann.
Similarly, in the Korean story, Dr. Peter K. Lee, a researcher on US policy and Indo-Pacific security at the Center for American Studies (Sydney) and the Korea Foundation (University of Melbourne). , said President Yoon Suk Yeol prioritized re-strengthening the deterrence capability of the US – Korea.
"With North Korea having launched 16 missiles this year, the Yoon administration sees a need to resume previously halted allied activities, such as coordinated military exercises and dialogues." related to the ability to deter," Dr. Lee told Tuoi Tre.
In general, the QUAD meeting will be an opportunity for member leaders to review the activities of the "quad" and find new cooperation momentum in the context of changes. government.
Answering about South Korea's participation in QUAD, a senior US official said at a long-distance press conference on May 20 that the South Korean president had only been in power for 11 days and "needs time for an administration to catch up".
Announcement of economic initiative IPEF
It is expected that at the QUAD meeting on May 24, President Biden will announce the initiative of the Indo-Pacific Economic Cooperation Framework (IPEF).
According to the Australian Financial Review, the initiative will initially involve Australia and outline regulations on the e-economy, reduce carbon emissions, boost supply chains and coordinate in other areas such as issues taxes and corruption.
Seen as a replacement for the commitment that the US has abandoned in the CPTPP, IPEF is one of the focus of the QUAD meeting, but specifics are still to be seen. Japan actually wants the US to rejoin the CPTPP, but the signals from Washington so far show that Mr. Biden will never do that.