Since the conflict Russia-Ukraine, all eyes are on China. They are waiting to see if the world's second-largest economy has any support for its northern neighbor and "strategic partner" diplomatically or economically.
Nearly three months have passed, and the Chinese side has not provided any diplomatic support, but also did not condemn Russia's military campaign as many Western politicians had predicted.
On the other hand, despite the pressure and efforts of the West to cut off the economic lifeline with Russia, the latest trade figures between the two countries seem to show that Beijing and Moscow have a fairly good cooperation. In April, China's monthly imports from Russia hit a record high of $8.89 billion, up 56.6% from a year earlier and 13.3% higher than in March.
"Snails can't carry their own snails"
However, this outlook could become murky. According to experts, instead of increasing purchases of Russian products, China will feel hesitant, especially when the strict blockades caused by the epidemic have "dealt a blow" to the wealthiest areas in the country. China in the past two months, strangling the economy and stifling demand.
Chinese officials claim that normal trade with Russia will continue despite Western sanctions. But for Chinese importers, they need to calculate whether the discount Russian products shunned by many countries are cheap enough to offset the risks and uncertainties surrounding payment, shipping. and the possibility of secondary sanctions.
Currently, about 80% of Chinese imports from Russia are minerals, and crude oil accounts for more than 70% of those imports, according to SCMP calculations based on Chinese customs data.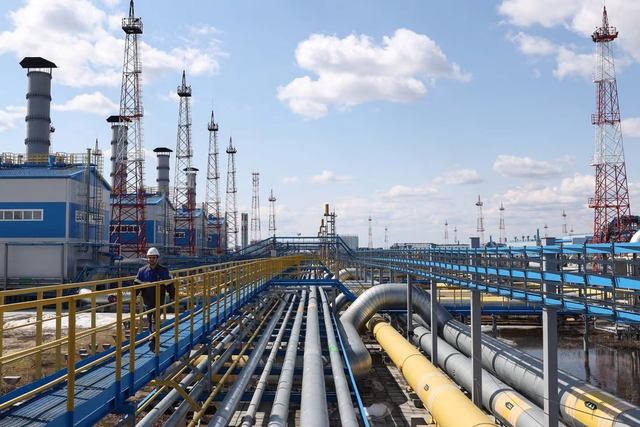 This means that any fluctuations in crude oil prices on the global market will lead to significant changes in China's total imports from Russia.
Post calculations also show that the average import price of crude oil in April was 70.3% higher than in the same period in 2021. And the price of Russian crude also increased by 50.9% year-on-year. last.
In March, China's imports from Russia increased 26.39% year-on-year in US dollar terms, of which crude oil imports increased 29.93% year-on-year. And in April, the numbers were 56.6 and 59.01%, respectively.
Even as oil and gas from Russia declines, when sold at higher prices, Russian revenues are still high and likely even higher than in the past.
China is expected to import more Russian crude oil since the conflict began in late February, especially as Western sanctions escalate. The United States and Britain announced bans on Russian oil imports, and the European Union announced this week a plan to end their reliance on Russian fossil fuels over a five-year period.
But the trade figures by volume tell a different story. In March, despite the increase in import value, Russia's crude oil imports fell 14.12% year-on-year – equivalent to a 14% decrease in China's total crude oil imports in March. same month.
"Sanctions aimed at reducing Russian revenue also mean a reduction in the supply of Russian oil and gas on the global market," said Michal Meidan, director of the China Energy Program at the Oxford Institute. That suffocates global markets and drives up prices."
"But there are contracts and things that cannot be changed. That means that not all buyers can stop buying Russian oil and gas. Even if export volumes from Russia decrease, with At higher prices, Russia's sales are still high and likely even higher than in the past."
In April, Russian crude oil shipments to China increased 2.6% month-on-month, compared with a 6.6% increase from all fuel sources.
According to Zha Daojiong, a professor at the School of International Studies in Beijing, China's demand is decreasing. The cause stems from the prolonged strict blockade in Shanghai and many other places across the country.
"Shanghai was blocked, the demand for gasoline in the Chinese market became weaker than usual," Zha said.
Before the conflict began, China increased its purchases of crude oil from Russia. The country is a popular source of sourcing for small independent refineries, as its proximity helps reduce transportation costs.
In 2021, 72% of China's crude oil is purchased from abroad, and about 79.6 million tons (equivalent to 15.5% of total crude oil imports) will be from Russia – the second largest supplier after Saudi Arabia. youngest. Most of the Russian crude that goes to China includes ESPO Blend from the far eastern port of Kozmino. Last year, about 80% of ESPO Blend shipments by sea were shipped in Shandong, indicating most went to independent refineries, said Song at S&P.
"In recent months we've seen this number drop to 70% or slightly below, and this is partly because independent refiners reduce the number of times their refinery runs in order to meet reduced demand as well as other related issues with Covid-19 prevention measures," she said.
Bigger companies will be more cautious
Although Western sanctions against Russia have so far not been extended to the country's energy exports to other countries, most buyers in China are acting in the right direction. be more cautious about energy trade or investment with Russia. They choose to stop or reduce purchases or transactions through third parties, according to a researcher and adviser to the Chinese government in the field of energy security, who spoke on condition of anonymity.
"Large companies with global operations will be more cautious for fear that their business in the US or globally will be affected by the sanctions," the person said.
However, Bloomberg reports that Beijing is in talks with Moscow to buy more oil, in order to increase China's strategic crude oil reserves.
Unlike state-owned refineries, which are supposed to be more cautious as representatives of the state, independent traders are more likely to take advantage of the opportunity to buy barrels of oil. cheaper Russian oil, Meidan said.
"However, for independent refiners, access to financing is more difficult," she said.
Concerned about the possible effects of Western sanctions, overseas branches of several major Chinese banks are reported to have stopped financing transactions involving Chinese goods. Russia soon after the conflict began.
"To solve this problem, there may be prepayment requirements for un-arrived goods. But with oil prices as high as they are today, this will greatly hinder the use of capital for conventional refineries. smaller scale and prevent them from buying Russian goods," Song said.
With Beijing having doubled down on its Zero-Covid policy and restricted cross-regional shipments since March, it remains unclear when China's crude oil demand will recover, Meidan said. return back.
For natural gas, Russia is China's third-largest supplier, after Australia and Turkmenistan. But since Russia's military campaign in Ukraine began, the value of natural gas imports from Russia has dropped, despite soaring global prices.
According to experts, Russia cannot redirect gas pipelines from Europe to China due to infrastructure limitations. However, Elizabeth Wishnick, a senior research scientist at CNA, a non-profit research and analysis organization based in the US, said Russia will have an opportunity to sell more liquefied natural gas (LNG) ) for China.
After falling 19.4% in March of the same year, the volume of LNG imports from Russia rebounded in April, up 79.63% year-on-year.
However, transporting LNG could be another obstacle, as ships flying international flags will have a hard time doing so, while Russia lacks ice-resistant tankers, Wishnick said.
She said: "Russia has commissioned Korean oil tankers, but South Korea is complying with sanctions and placing export controls on marine and marine equipment. The Chinese company has partnered with Japan and Finland to build ice-resistant LNG carriers for use in the Russian Arctic, but both Japan and Finland are complying with sanctions, so It's not yet clear what kind of impact that might have."
Compared to oil, a sharp price drop from Russian coal miners recently has attracted growing interest among Chinese buyers, according to customs and freight data.
Coal is the second most important Russian product that China does not import, with its trade value about one-eighth that of crude oil, according to Post calculations.
China's Russian coal imports have been on the rise, especially after Beijing unofficially banned Australian coal imports at the end of 2020 due to political tensions with Canberra. In 2021, the country becomes China's second-largest coal supplier after Indonesia, supplying 52 million tonnes – including 37.3 million tonnes of thermal coal and 10.7 million tonnes of coking coal – and accounting for 14.4% China's total imports.
Similar to the oil trade situation, Russia's coal imports in March fell 29.7 percent year-on-year, according to customs data. According to Pranay Shukla, deputy director of S&P Global Market Intelligence, the main reason is that Chinese traders refrain from buying when banks suspend the issuance of letters of credit (LCs) for cargo carrying Russian coal.
However, the Chinese government's removal of import taxes on all imported coal (previously only Indonesian coal was exempt from tax) from May 1 will further support Russian coal goods, according to experts. family.
"By May 2022, ocean freight shipments are expected to hit an all-time high of 7.5 million to 8.5 million tonnes," said Shukla.
https://cafef.vn/nang-luong-nga-dang-thanh-hang-eo-trung-quoc-20220523174352644.chn
You are reading the article
Russian energy is becoming a "stale commodity" in China?

at
Blogtuan.info
– Source:
Soha.vn
– Read the original article
here