Life Style
Sour soup, braised fish is enough but the space is like being at home
Although not as luxurious as many dishes today, boiled vegetables, boiled meat, braised fish, sour soup, etc. are all dishes that hold a special place in the hearts of Vietnamese people and can be eaten over and over again, day after month. without knowing boredom.
For children who live far away from home, perhaps the most peaceful time is when they return home, eat together with their family, and talk to each other about stories. Now, if you are in the city and crave for home-cooked meals, there are a number of restaurants that can satisfy this. Not only serving you the same dishes as your mother's cooking, but the space of these shops also invests a lot in "this and that". Whenever you want to eat, try to visit the following 4 restaurants!
Brick
This is one of the pioneer restaurants for the Vietnamese family rice movement in Ho Chi Minh City. Stop by the Brick Department, you will be immersed in an old space, bold village, extremely peaceful. Each item in the restaurant is selected according to the "one thousand nine hundred of that time" standard, from the dark brown wooden tables and chairs, aluminum chopsticks to the rustic dishes presented in chipped plates. The cozy feeling is like eating at home.
Photo: @khuonqdanq, @yysonononna, @aiaizm
A feature of Cuc Gach is that the dishes here are all cooked from 100% pure Vietnamese ingredients, which not only pleases Vietnamese guests, but even Western guests are curious to enjoy a "standard" family meal. adjustment" of Vietnam. The restaurant's dishes such as fried Thien Ly cotton, braised tofu or sour soup are praised for being well seasoned and very "roll".
However, the price at Brick Department is quite high. But in return, the quality of the food reaches 10 points, the arrangement of the rice tray is also very elaborate, the investment space is also "worth the money".
Photo: @doug_himself, @eat.like.sm
Department of Brick Shop
Address: 10 Dang Tat, Tan Dinh Ward, District 1
Open: 9am – 23h30
Price: 70k – 350k
RICE FIELD
Located on the busy Ho Tung Mau street, Rice Field offers a cozy and quiet dining space for you to relax in. The shop is designed in a rural style when reconstructing the whole scene such as rice trees, wooden cabinets, crockery dishes, silver rice tray, dining here will make you feel homesick a lot.
Photo: @ancungminhne._, @12dragons
The menu at the restaurant includes familiar flavors such as sour soup, braised fish, braised meat, fried eggs, crazy cotton soup,… The food at the restaurant is also considered to be delicious, 1 serving is enough for a person. If you go with your family or a large group of friends, you can order a tray of rice and still feel full as usual. Although located in District 1, the price here is still quite "lightweight", ranging from 40k – 150k but the quality is from flavor, processing to decoration.
Photo: @qqniki, @ancungminhne._, @ricefieldrestaurant
Rice Field
Address: 75 – 77 Ho Tung Mau, Ben Nghe Ward, District 1
Open: 10am – 0pm
Price: 40k – 150k
DUST STORE
At first when hearing the name of the restaurant, everyone thinks this is a super popular rice restaurant, maybe even sitting on the sidewalk. But when you come here, you will be stunned by the space that is too invested, because Dust operates in a bistro style specializing in familiar Vietnamese dishes. It's been a long time since I've come home but I'm craving for my mom's cooking, so try going to Dust, I promise you it will always be with an idyllic space, from wall pictures, childhood items to a menu full of dishes that your mother often makes. It will make you less homesick.
When you come to Dust, you must definitely try the fried rice with brown rice with chicken, fragrant crab spring rolls or crispy salted egg fried tofu. If you want to eat something more refreshing, you can order a plate of boiled vegetables dipped in braised vegetables or crocodile ribs soup as the "right post". Vietnamese dishes here do not use MSG at all, when brought to guests are meticulously processed and meticulously decorated to every detail, it feels like a family meal has been raised to a new level. there.
Dust Shop
Address:
Sun 1: 19 Ngo Van Nam, Ben Nghe Ward, District 1
Sun 2: 55 Ngo Quang Huy, Thao Dien Ward, District 2
Sun 3: 2nd floor – 88 Song Hanh, An Phu Ward, District 2
Open: 7am – 11pm
Price: 79k – 350k
SECRET GARDEN
Unexpectedly, in the bustling city center, there is a restaurant with familiar dishes with hometown flavors like this. The shop is located on the 4th floor of an old apartment on Pasteur street, the decor is bold with antiquity with old patterned brick background, worn-out tables and chairs, green stone cups, etc. This rustic countryside scene will bring a very "ok lah" experience for those who love home-cooked food!
The menu here is quite diverse with a full range of familiar dishes in the rice tray such as boiled vegetables with braised vegetables, boiled meat with tomato sauce and shrimp paste, fried bitter gourd with eggs, gourd soup with shrimp,… In addition, there are additional dishes. Desserts such as tonic ginseng, rice cake, corn tea, green tea, soy milk, centella asiatica so that people linger for a long time while eating and chatting.
Photo: @matchamichi, @aaronmiao, @yang10290, @thienhuong333
Secret Garden
Address: 158Bis Pasteur, Ben Nghe Ward, District 1
Open: 10am – 10pm
Price: 10k – 400k
Well, now you know which restaurant to go to when you miss your family meal?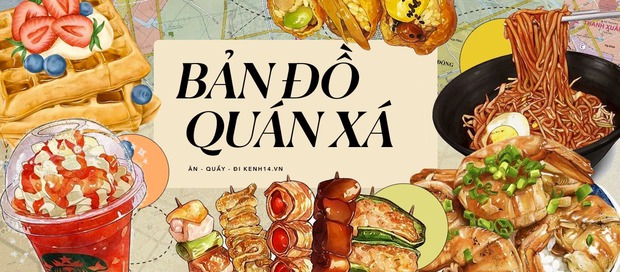 https://kenh14.vn/o-tphcm-ma-them-com-chuan-me-nau-thi-chay-xe-qua-4-quan-nay-lien-canh-chua-ca-kho-co- du-ma-khong-thi-het-nhu-dang-o-que-nha-20220523144508113.chn
You are reading the article
Sour soup, braised fish is enough but the space is like being at home

at
Blogtuan.info
– Source:
Kenh14.Vn
– Read the original article
here