Business
The director of polio, all 24 employees are disabled and autistic, but decided that "products cannot be disabled"
Vuon Art is a gathering space for about 24 people with disabilities, including people with the following conditions: Polio, autism, motor disabilities, disabilities…. Together, they make high-quality products from Van Phuc silk scraps. "A discarded piece of cloth, if used properly, creates a work of art. A person with a disability too, if put in the right place will create value for this life", Mr. Le Viet Cuong – Director of Vuon Art shared in the program "Dare to live" broadcast on VTV in October 2020.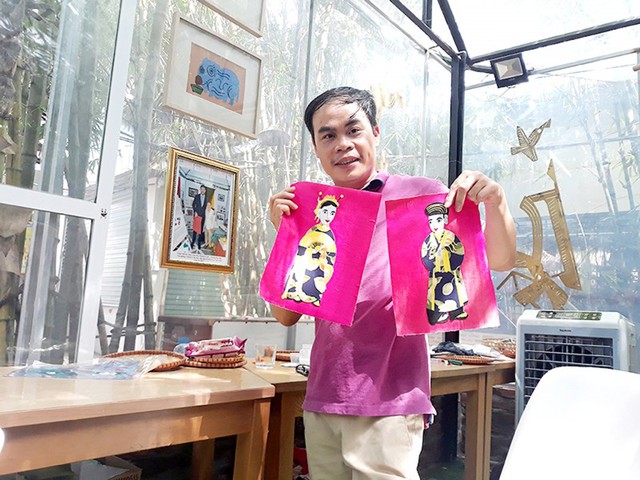 Mr. Le Viet Cuong next to products inspired by Vietnamese folk paintings.
This business model of creating social impact of Mr. Le Viet Cuong is increasingly recognized by organizations, associations and customers not only for its social significance but also for the quality of the products they create.
The will to dare to be a good person
Mr. Le Viet Cuong (born in 1976), native of Phu Tho, is a disabled person who has been paralyzed on the left side of his body due to polio fever since childhood. After 10 surgeries in 8 years to make his feet equal, he could walk in shoes.
Later, he studied at the Hanoi University of Science and Technology, then worked for 14 years at the Central Acupuncture Hospital. And then fate led him to establish the "Van Art" Cooperative in 2018, with the philosophy "We are disabled, but the product is not allowed to be disabled".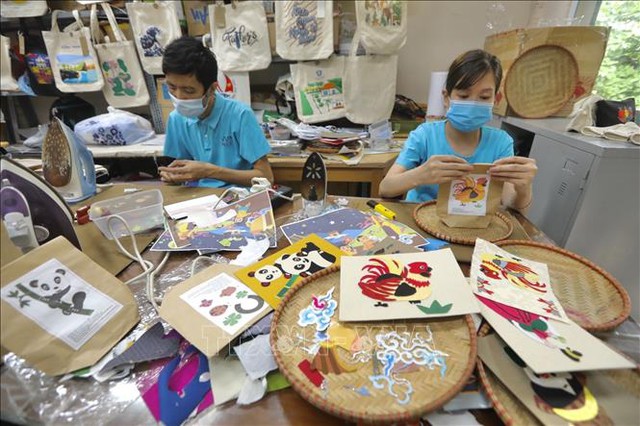 Every day, disabled employees are engrossed in art products. Photo: VNA.
He said, the name Crumb comes from the wish that each person with disabilities will be a small piece of debris with the help of the community and society as a "glue" that binds them into a large piece of cloth, which on there, they can draw their own dreams.
Before opening the workshop, he invested a year to learn, research and develop ideas, invited some painters such as Nguyen Van Truong, Dang Thi Khue, and Mr. Hoang to come and train disabled people in grafting techniques. paintings, colors, layout.
Another special thing that also creates the special name of this business is that all products are made from scraps of Van Phuc silk. Thanks to that, the pieces of cloth that seemed to be no longer worth using are now represented for this long-standing traditional craft village that goes all over the country and abroad.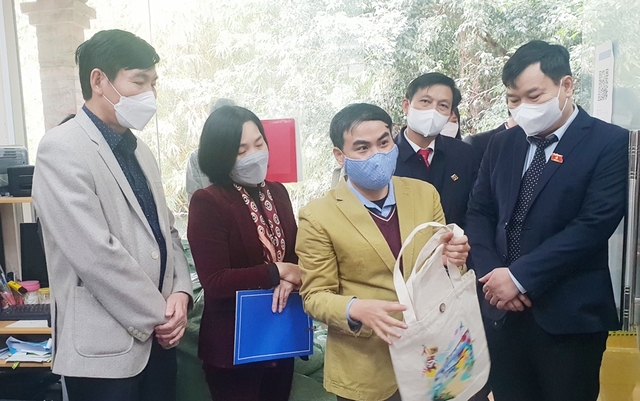 Director of Van Art Cooperative Le Viet Cuong (yellow shirt) introduces fashion canvas bags to visitors. Photo: New Hanoi.
Currently, Vun Art's products are very popular with customers such as paintings inspired by folk paintings, T-shirts, tote bags, wallets and puzzle kits for children. Experiential education is also passionately implemented by Von Art for tourists and students to practice learning, making products, as well as understanding more about people with disabilities as well as the silk village culture that is gradually being forgotten by young people. .
With a monthly revenue of about 200 million VND/month before the epidemic, Mr. Cuong has also helped 24 people with disabilities here get stable job opportunities with a salary of 1.5-7 million VND/month.
Covid19 spares no one

In a report, Mr. Cuong once shared "I hope society will be strict and strict with products of people with disabilities, so that we have the motivation to create more quality products.".

Mr. Cuong always tries to build a working environment in which employees with disabilities will be respected and appreciated, but not because they are disabled, but because they overcome difficulties to create value. labor value for society.
In 2019, Crumb was evaluated by Unesco as a sustainable creative model, both creative in culture and product development of Van Phuc craft village, and sustainable in terms of employment for disadvantaged groups. Crumb also passed rigorous tests to achieve a 4-star OCOP certificate (the national program, one product per commune), the product is highly appreciated for its quality and ideas, only lacking in packaging. to get 5 stars.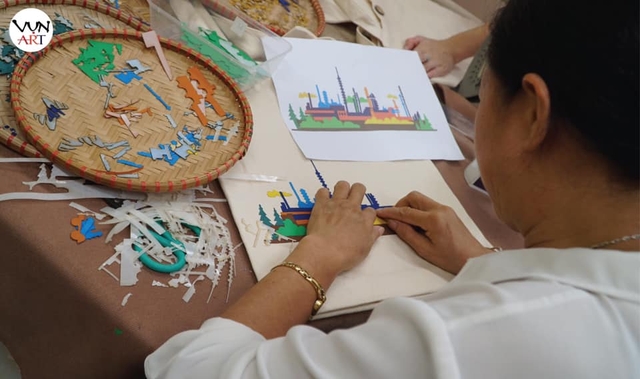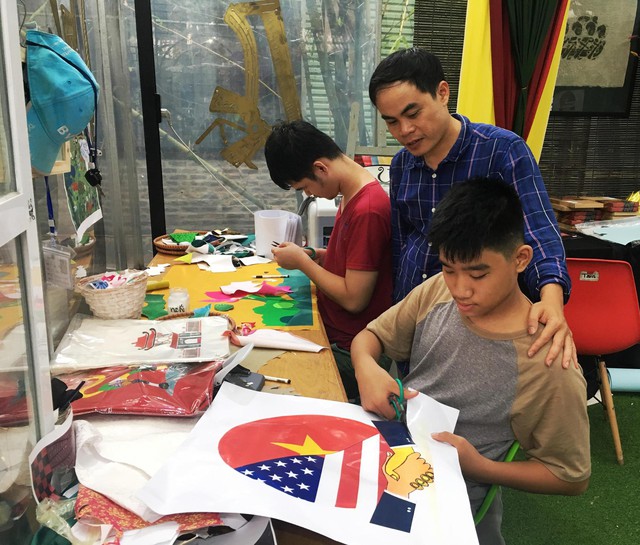 However, difficulties come mercilessly, causing a business that cherishes much will and hope to become exhausted. Due to Covid19, businesses moved to work online and no longer needed to buy goods, Von Art struggled to survive in 2020, but by last year, the cash flow was dry even though the monthly fixed costs were still up to 150 million VND/month.
According to Mr. Cuong shared on Law and Readers: "Revenue is zero, while monthly fixed expenses are still 150 million dong. Since May, we owe insurance. By August, I managed to borrow everywhere from my brothers and friends to maintain the company. Their debt is now about 600-700 million VND. Although it's not big and my friends don't charge interest, but honestly, I have to tell them directly that I don't know when it will be paid off. If the epidemic persists and the economy has not recovered as it is now, perhaps very soon, my company will have to close down.."
Another difficulty for this problem is that if the company goes bankrupt, dozens of people with disabilities after 1-5 years of apprenticeship may permanently lose their jobs and do not know where to turn. It also took a long time, about 1-5 years, to train people with disabilities to work, and still need to take care of accommodation costs. Meanwhile, it is not possible to wait for the epidemic to end and then return to production because the peculiarity of disabled and autistic people is that they only know how to work out of habit. Therefore, once they do not work as usual, they will forget everything and the company has to retrain from the beginning. Therefore, every month, despite the difficulties, the inventory is a lot, but Mr. Cuong still has to "bite his teeth" to pay the employees' salaries and import raw materials for his friends to work.
Until now, when the epidemic situation has gradually stabilized, in addition to being determined to research to restructure his business model and recalculate revenue and expenditure, Mr. Cuong also expressed his desire to have better policies to To revive micro-companies like Vun Art can continue to operate, employees have the opportunity to improve their skills and continue to contribute to society.
When the atmosphere of the 31st SEA Games is rising in all parts of the country, Von Art is also filled with excitement, focusing all of our efforts to contribute unique products including collage of scraps of silk from the craft village. Van Phuc silk becomes the Saola mascot of the 31st SEA Games printed on fabric.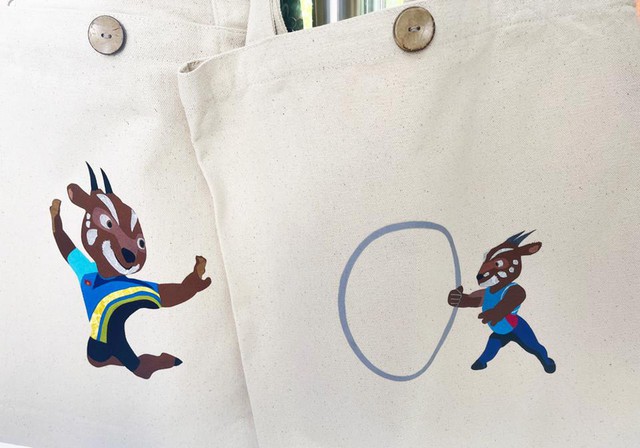 Souvenir products to celebrate this year's SEA Games of Vun Art.
Sharing with Urban Economy, Mr. Cuong said: "Due to the strong increase in demand for gifts and gifts during the 31st SEA Games, in recent days I have to go to many places to deliver product samples to customers. At the same time, agree to order and sign a contract to commit to production. Up to now, VAN ART Cooperative has put up product samples with Saola images of 40 sports competitions in the 31st SEA Games, on products such as shirts, bags, wallets, water bottle bags…"
We hope that the efforts to overcome difficulties to create valuable products for the community of people with disabilities will always be encouraged, supported and respected by the society.
Source: Synthesis
https://cafebiz.vn/chuyen-nguoi-khuyet-tat-lam-giau-tu-manh-vai-vun-ha-dong-giam-doc-bai-liet-ca-24-nhan-vien-deu- design
You are reading the article
The director of polio, all 24 employees are disabled and autistic, but decided that "products cannot be disabled"

at
Blogtuan.info
– Source:
cafebiz.vn
– Read the original article
here