Business
The flow of people fleeing from Luna, TerraUSD blew 60 billion USD, regretting the 'hasty decisions'
Bloomberg has just published an article analyzing the recent crisis of Luna and TerraUSD. The crash wiped out $60 billion in market capitalization. And this is likened by Bloomberg to a "Bank Run" incident of the cryptocurrency sector.
Bank Run is a phenomenon that occurs when many people simultaneously withdraw their deposits from banks or other financial institutions due to fears that they will become illiquid or about to go bankrupt.
Below is the translation of the article.
Last fall, on the advice of a friend, Odosa Lyamuosa invested all of her $4,000 savings in a digital currency called Luna. The 28-year-old man living in Abuja, Nigeria did some research on this coin himself and what he found seemed very promising.
The price of Luna has skyrocketed thanks to the success of another coin in the system, TerraUSD. A few big names in the crypto industry have also invested here including Galaxy Holdings, Jump Trading and Coinbase and then Binance.
For Lyamuosa, that seems to be his best hope of getting out of Abuja, where he says many jobs pay $2 a day or less. He collected all the money he needed to sell fake Nike and Adidas shoes to local buyers. He wants to increase his savings to $16,000 and sign up for a data analysis program at a university in Toronto with the hope of later getting a job at a major American company like Netflix or Google. And for a few months, it seemed that his plan was going perfectly. The value of the Luna coin is doubled. "I sent money to my mother and siblings. I can eat a little better."
Then this month, Luna and TerraUSD collapsed. TerraUSD is known as a stablecoin – an algorithmically stable coin that always holds the same value as 1 USD. However, its price fell below $1 and continued to fall further. The Luna token, once worth more than $100, has dropped to less than 1 cent, blowing away a $60 billion market cap.
Lyamuosa says that his cryptocurrency is currently worth only 3 cents. "I don't know what to do – I feel like I'm dead." Lyamuosa said he decided not to kill himself because it would make his mother extremely miserable.
During the past 2 years, the price of Bitcoin, Dogecoin and other cryptocurrencies has skyrocketed thanks to the crowd's fear of missing out on opportunities, many people have built a huge fortune overnight. Advocates of DeFi – a decentralized form of finance where users can deposit, borrow and lend cryptocurrencies that always promise high interest rates with low risk without the need to comply with regulatory requirements. conventional finance.
One reason TerraUSD is popular is because holders are offered interest rates up to 20%. The cryptocurrency industry has also been further encouraged by the FOMO mood of many people stimulated by advertisements that invest in crypto as a way to control the future.
"I felt like I was watching my own house burn down."
Currently, social media is flooded with stories from investors like Lyamuosa who say they lost all their savings because of Luna. A list of suicide hotline numbers has been anchored to the top of the Reddit forum.
The collapse of these two coins led to a digital asset flight, wiping $300 billion from the entire crypto market in the week ending May 13. Bitcoin – the digital currency that used to trade at $60,000 around October is now only half worth. Right now, the entire cryptocurrency market is becoming more volatile.
Not long ago, the backers of Luna and TerraUSD were talking about whether they could reset the financial markets. The creator of these coins is Do Kwon, 30 years old from South Korea, who studied programming at Stanford. He said that not only creates a new form of digital currency, but also a new financial system, beyond the control of the government with the advantages of being cheaper, faster to use and with a lower cost. higher interest rates for participants. "Creating a decentralized form of coin where you can build a whole new form of financial ecosystem is the 'holy grail' of cryptocurrencies and that's exactly what Terra does," Kwon said in a promotional video.
TerraUSD launched in 2020 but it gained little attention until March 2021 when Kwon launched the third part of the network: Anchor – a cryptocurrency bank where users can deposit Terra and receive 20% interest rate.
Perhaps this makes many people skeptical? Some in the crypto world have even argued that it will not be sustainable. After all, the 20% is more than the return Bernie Madoff made from his investment fund. However, Kwon has argued that it is a safe alternative to banks like Wells Fargo, even saying that one day other fintech companies like Venmo could also deposit money here.
In 2021, the price of Luna has increased 100 times. On Twitter, Kwon says no one can stop Terra and laughs at those who question his project.
Galaxy Digital founder Mike Novogratz tweeted in January, "I'm officially Lunatics" after getting a tattoo on his left arm that reads Luna next to a wolf howling towards the moon. "My tattoo will always remind me that venture capitalism requires humility," as the billionaire said in a letter dated May 18. (The filing shows that the sale of Luna generated a profit of $1 billion for Mike's company last year.)
However, TerraUSD has a loophole as it shares with money market funds or banks before creating deposit insurance. If users lose faith in the system, they may rush to sell or buy back their coins and others will follow, fearing not being able to get $1 per token if they wait too long. In theory, the network could always issue more Luna tokens. However, this also has risks. The more tokens are issued, the lower the future price of Luna. On Wall Street, this is known as a "death spiral".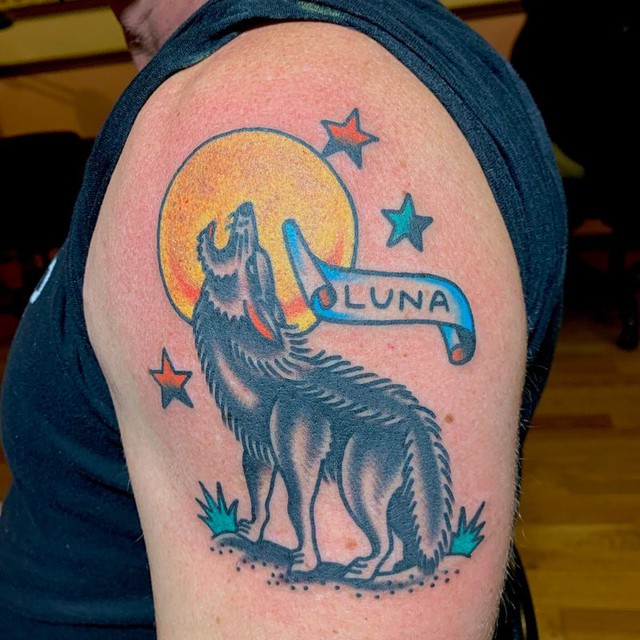 Galaxy Digital founder Mike Novogratz has Luna's name tattooed on his arm.
The crisis started on May 7. Luna fell in line with the overall market trend. After a "whale" trader made a large trade of TerraUSD, the price of the coin dropped to 99 cents, putting the coin at risk. Kwon sold a large amount of Bitcoin to fund an emergency recovery of TerraUSD, and on Twitter he envisions everything will be fine soon. However, the next day, Terra continued to decline, causing Luna to break down as well.
Luna more than halved, to less than $30, then lost another two-thirds of its value the next day. Kwon urged his followers not to sell. "Let's squeeze…strong the lunatics". However, nothing can stop the "death spiral". On the morning of May 13, there were 6.5 million Lunas in circulation and the price dropped to $0.00001834. The price of TerraUSD fell below 20 cents.
Yuamuosa, a Nigerian investor, says it's been days since he witnessed Luna's demise. He is still on Twitter and the chat app Discord to find a crypto project that will help him make money back. His dream of moving to Canada seemed out of reach. "There's nothing left for me, literally. I don't know. Honestly, I don't have a job, nothing."
Other investors also said they were prepared for the market's ups and downs, but never imagined a fall so quickly.
"I feel like I'm watching my own house burn down or something like that. You're not an idiot. Please don't make hasty decisions."
For his part, Kwon tweeted, "My heart breaks with the pain my initiative has caused all of you," he said on May 13. He said he had a plan to restore his system.
Currently, the cryptocurrency market has shown signs of stabilizing again. Tether, the most popular stablecoin, fell below $1 but has since recovered. However, Terra's demise has set off alarm bells for stablecoin regulation in the US, UK, and South Korea. South Korean authorities have organized a financial fraud investigation after Terra's demise. They say such a collapse could pose a risk to the broader financial system if the cryptocurrency and complex DeFi ecosystem continues to grow larger.
"A lot of people think stablecoins are going to be as good as the dollar," said Rohit Chopra, director of US Consumer Financial Protection. "But now they know, it's not like that."
Information about cryptocurrencies (cryptocurrency), commonly known as "virtual money" has not been recognized by law in Vietnam. The information in the article is for reference only and has no investment recommendation value.
Source: Bloomberg BusinessWeek
https://cafebiz.vn/cu-bank-run-chan-dong-thi-truong-tien-so-dong-nguoi-thao-chay-khoi-luna-terrausd-thoi-bay-60-ty-usd- tien-nuoi-en-veh
You are reading the article
The flow of people fleeing from Luna, TerraUSD blew 60 billion USD, regretting the 'hasty decisions'

at
Blogtuan.info
– Source:
cafebiz.vn
– Read the original article
here