Giáo dục
Life Style
The "weird" mother in Bac Giang collects garbage to teach her children, and is criticized as "ruined mother"
Nowadays, it's easy for parents to choose a toy with a variety of prices and genres. However, for Ms. Hoang Ngan (Bac Giang), an office worker, and the mother of the baby Anh Tuan (Soo), for a long time, buying an available item for her child has become a luxury thing. It's not a matter of cost, it's simpler, according to her, it's because I realize that educating children doesn't need expensive and standard toys.
"When you understand the stages of your baby, grasp the sensitive period of your child, then looking around there are a lot of 0-dong learning materials that also bring multi-purpose and it will become invaluable learning material. Important learning materials but the way to exploit multi-purpose learning materials is even more important. Actually, we turn garbage into golden learning materials, not regret that we collect them, all for that reason. crushed"became my name"Ms. Ngan said.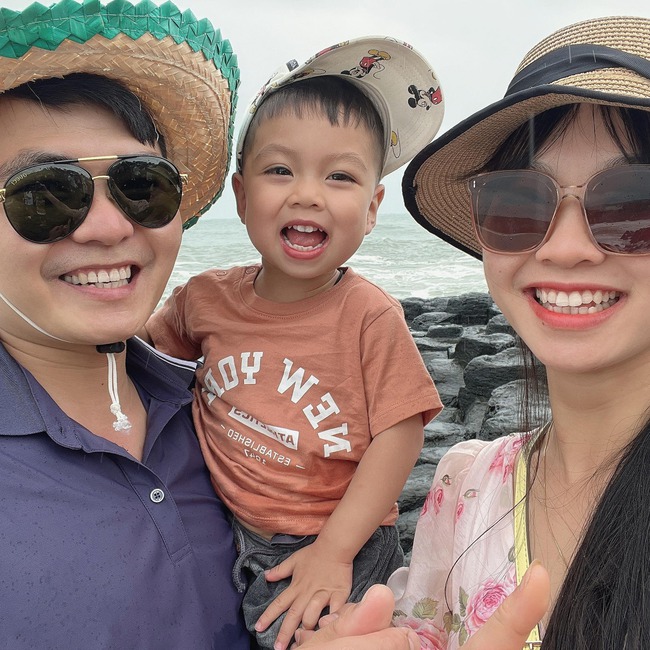 The kind of "garbage" that Ms. Ngan hoards and uses gradually can be carton boxes; eggshell; Styrofoam explosion packages; stone; toilet paper core; yogurt cartons; Plastic bottles, bottle caps, dried branches, fallen flowers, etc. Ngan said that "recycling" garbage into toys for children is not only about saving money, helping children to fine motor, be creative, learn practical skills, but also contribute to reducing environmental pollution.
However, Ngan's journey to bring garbage to teach her children is not always "cool".
"At first, my mother also said that there were so many things, so the whole house was tight, and if we had a lot, we would display a lot. But after me and my son made learning materials and the children played happily and cooperated, grandparents also wanted to play with their grandchildren. My husband lives far away, so every time he comes back, he tells him to do difficult things. If he needs a man's strength, his hand will be ok.Once when I said that he wanted to eat clam soup, he went to buy it and came home from work. After cooking it, I was about to ask my husband if he had left the clam shell, but he smiled, so I understand when I saw that it was already washed and dried in the basket."
Ms. Ngan said that whatever you do, you need to be patient, it rains for a long time, so if you are opposed, don't be discouraged, just go slowly and the whole family will see results and sometimes even more enthusiastic support.
A toy – children learn a hundred useful things
With each learning material, Ngan creates different activities for her children to play depending on the sensitive period, interests, and goals, which bring many different goals such as: create art; help children learn shapes; help your child learn colors; help children learn Math numbers and quantities; help your child learn letters/letters; creative thinking games, jigsaw puzzles; play games that activate the right brain….
"For example, with my genealogy, Soo will use it to have many different ways to play. The first purpose is for me to remember that the family members from my grandfather down are 4 generations, and then who are there in the family, no matter who they are. those who are married still talk to their children to develop their perception, connect with the games of memory, clairvoyance, learn letters, etc. Younger children can learn colors, …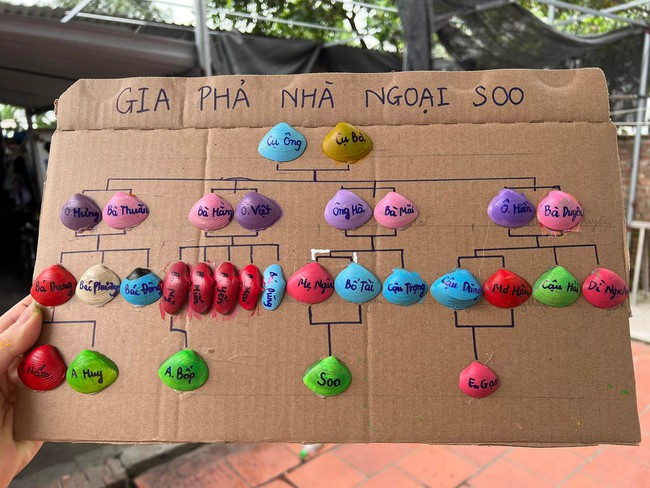 Or the colorful clam shells, there are many ways to play, mother and daughter color them to make them eye-catching. Children are in the right brain development stage, having beautiful colors stimulates their brains, small children learn about colors, older children like ours integrate numbers/quantities, letters/letters, … so that children can remember more, learn while playing – play and learn. Children learn through the unintentional arrangement of adults to avoid being dry but still multi-purpose."
There are wonderful learning materials that take a long time, but mostly, Ngan makes it quite simple for her children to participate in helping her mother. When it comes to coloring, peeling, gluing, gluing, cutting, she often asks Soo to do it, although it's not complete, but she always invites her children to do it together. Coloring may be smudged, but let me paint it and then I fix it later to make it beautiful, while helping the mother but the baby also has fine motor skills, more skills and knows how to help her mother.
With each homemade toy, in addition to waiting eagerly to discover new toys, your child also learns to be patient, not impatient. I also worked on it myself, so I'll want to see the finished product. I have a good imagination, association and creativity, from the discarded pebbles I imagine the shape of objects such as cars, gourds, eggs, feet, raindrops, etc.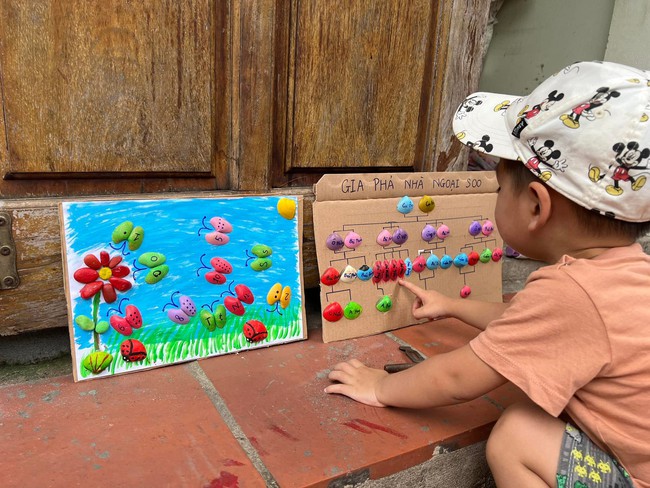 And moreover, baby Soo also loves nature and the environment: "Sometimes when my mother is too lazy to throw things away, I tell them to wash them to make toys for Soo, one day when I eat cashews, I peel them and I plan to throw them away, and I ask to keep them so that Soo can make flowers, or wash eggshells. help mom tell to write the number for Soo to beat"Ms. Ngan shared.
Not a good toy, what I need is your parents' time
Due to the busy work, one day, Ngan can't spend too much time with her children. But she always works hard and persistently works with her children every day. Not having much time to play with her children is both a disadvantage and a motivation to remind her to always study hard to "upgrade" herself every day, to become wise to spend even a little time but still have to be quality. quantity with children.
"A mother told me: "I haven't been as creative as my mother, haven't come up with such things," but it's okay, moms, everything needs a process. When moms accumulate things and leave, Turn them into multi-purpose items that can be played many times, many ways you will save time making learning materials that your children also know to cherish so as not to spoil.
I want to send a message to mothers that they should spend time with their children. I don't need too many good toys, I don't need anything, what I need is your time, the key to unlocking the potentials of the right brain, activating the capabilities of the right brain in terms of frequency bands. language, high speed right brain math and right brain English too", added Ngan.
https://afamily.vn/ba-me-ky-quac-o-bac-giang-gom-rac-ve-day-con-bi-che-me-dong-nat-nhung-thanh-qua-sau- do-khien-ai-nay-nguong-mo-20220521222128834.chn
You are reading the article
The "weird" mother in Bac Giang collects garbage to teach her children, and is criticized as "ruined mother"

at
Blogtuan.info
– Source:
Afamily.vn
– Read the original article
here