Gia đình
Trot gave her 20-day-old daughter, mother ran out of tears looking for 25 years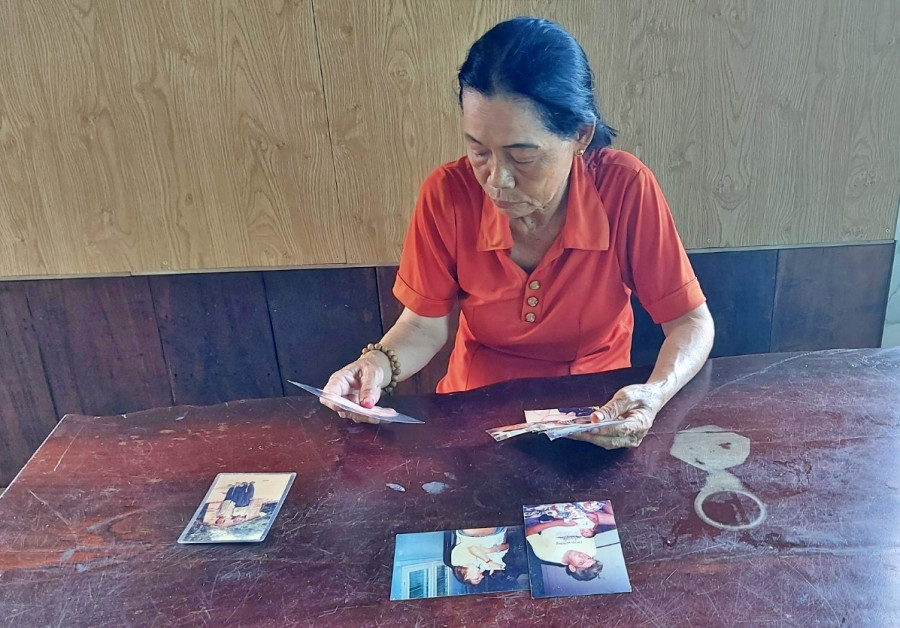 "Just because I want you to have a better life"
The phone rang with a strange number, Mr. Tran Phi Cuong (36 years old, Ham Tan district, Binh Thuan province) picked up the phone in a nervous mood. He hopes the calls will bring some news about his sister who has been lost for 25 years.
It was the sister he had never met, who was adopted by his parents when he was only 20 days old.
"I have never met you," he said. The process of my mother giving birth to him and then signing the papers for him to be adopted, I do not know. Later, I was told by my mother."
Cuong's mother, Ms. Tran Thi Bay (62 years old, Ham Tan district) was originally from Quang Tri. In the 80s, because life was too difficult, she took her three children to Binh Thuan province and then to Ba Ria-Vung Tau to live.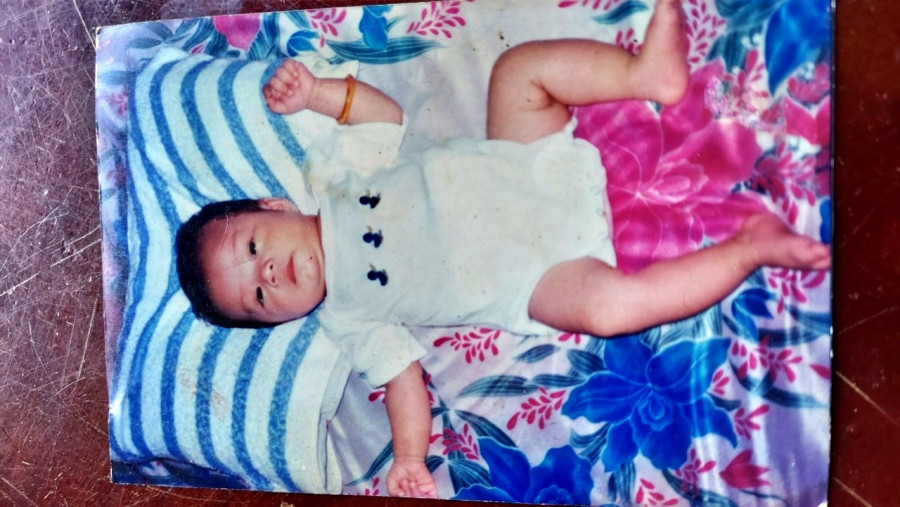 Here, she goes one step further with a man. No job, both hired to make a living. Despite being busy with enough hard work, the two still could not take care of their family of 5.
In addition, Ms. Bay is still sick, chronically ill, and needs some money for her monthly medical bills. With no choice, she and her husband let their two grown children live and rent cows.
In 1996, Ms. Bay was pregnant with her fourth child. A year later, she became pregnant again and gave birth to a fifth daughter. She said: "I gave birth on March 19, 1997 at the Xuyen district health center. Moc (Ba Ria-Vung Tau province). We named her Phan Thi Giang Ha".
The family was already in difficulty, having given birth to two more children, Bay and her husband were even more strict. Her illness and health were also eroded by successive births.
A few days after giving birth to Giang Ha, Ms. Bay's health deteriorated seriously and had to be hospitalized for treatment. At this moment, her husband decided to give birth to a newborn daughter.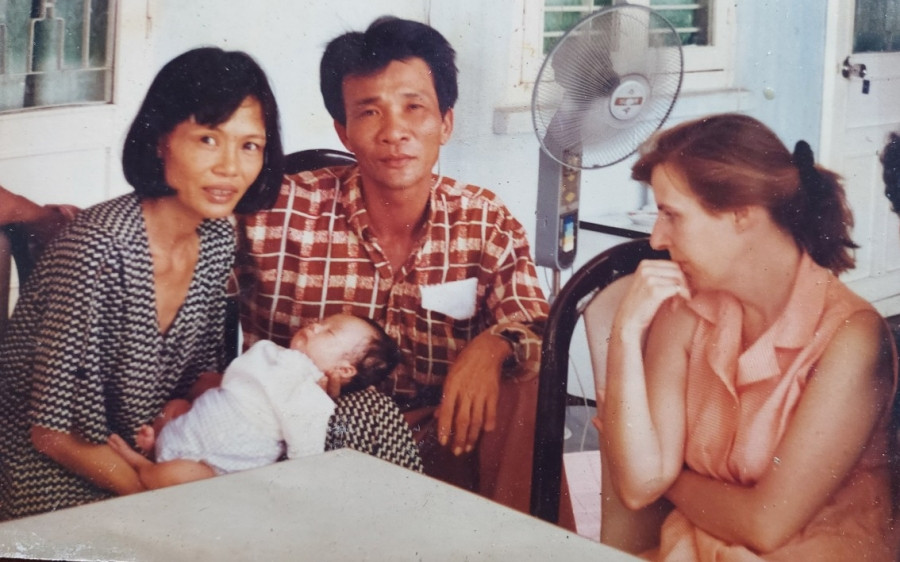 He did not discuss with his wife first, quietly followed the instructions of a neighbor, brought the child to the French couple who are temporarily staying in Ho Chi Minh City. He hopes that decision will help his youngest child have a better life.
Returning from the hospital, Mrs. Bay did not see her little daughter anywhere. She inquired and was told by her husband that he had brought it to a foreign couple in Ho Chi Minh City. Hearing the story, she was startled, hugged her face and cried.
She recalls: "Seeing my heartache and crying, he advised me to let him go so he could have a better future. I'm too poor, I can't take care of them, my children will suffer."
"Thinking that the family was so miserable at that time, I was chronically ill, so I gritted my teeth and agreed with my husband's decision. A few days later, when I came home from the hospital, I followed my neighbor to Ho Chi Minh City to sign the papers for my son," she added.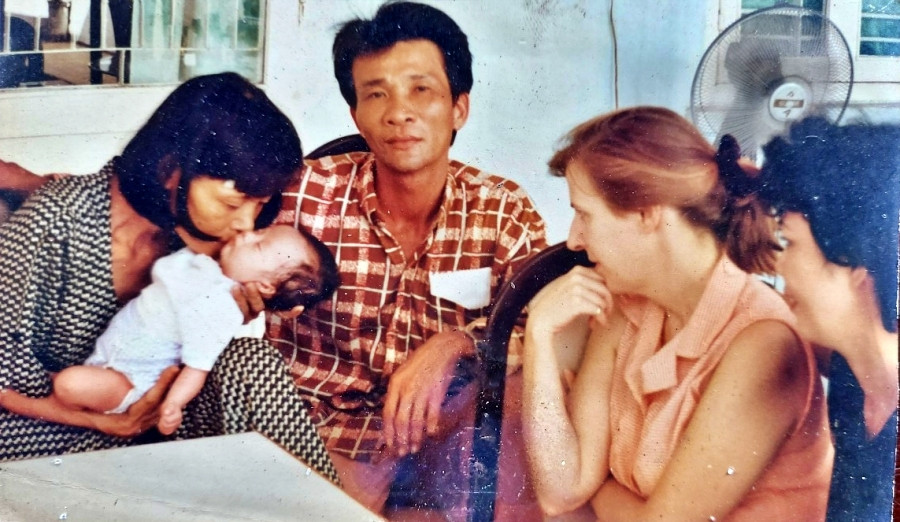 Running out of tears to find you
Ms. Bay remembers it was a hotel in Phu Nhuan district, HCMC. Here, she met a French couple and her less than 1 month old daughter.
After meeting her son for a few minutes, she was asked to sign the adoption procedures. Before signing, she set the condition that after giving the child, she would know information about the child, keep the documents related to the incident for the child.
The female lawyer in charge of connecting her with the French couple agreed to those requests. Then, remembering her husband's words and her belief that her children would have a better life in the future, she swallowed her tears and put pen to sign the prepared papers on the table.
Before saying goodbye, she hugged and kissed her baby in tears. Going home with the belief that "when the French couple settles down, they will let me know the address and life situation of their children", Mrs. Bay temporarily calms down for treatment.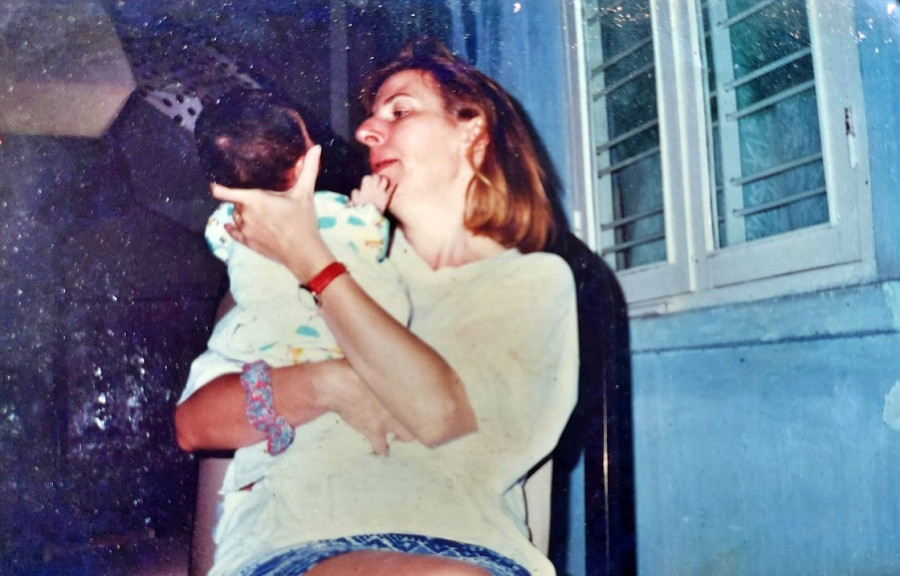 But week after week, she received no word from her son. Impatient and nostalgic for her child, she looked to the people who had connected and guided her in giving her children to learn.
All to no avail. Apart from the information that the French couple lived in Paris, she knew absolutely nothing more. A few months later, the female lawyer brought her 500,000 VND with some clothes, a picture of Giang Ha and a handwritten letter from the French couple.
In the letter, the couple only said that Giang Ha was healthy and thanked her for helping her have a beautiful adopted daughter. What she wished the most was to know the specific address of her child, but she did not get an answer. That was also the last information about Giang Ha that Ms. Bay knew.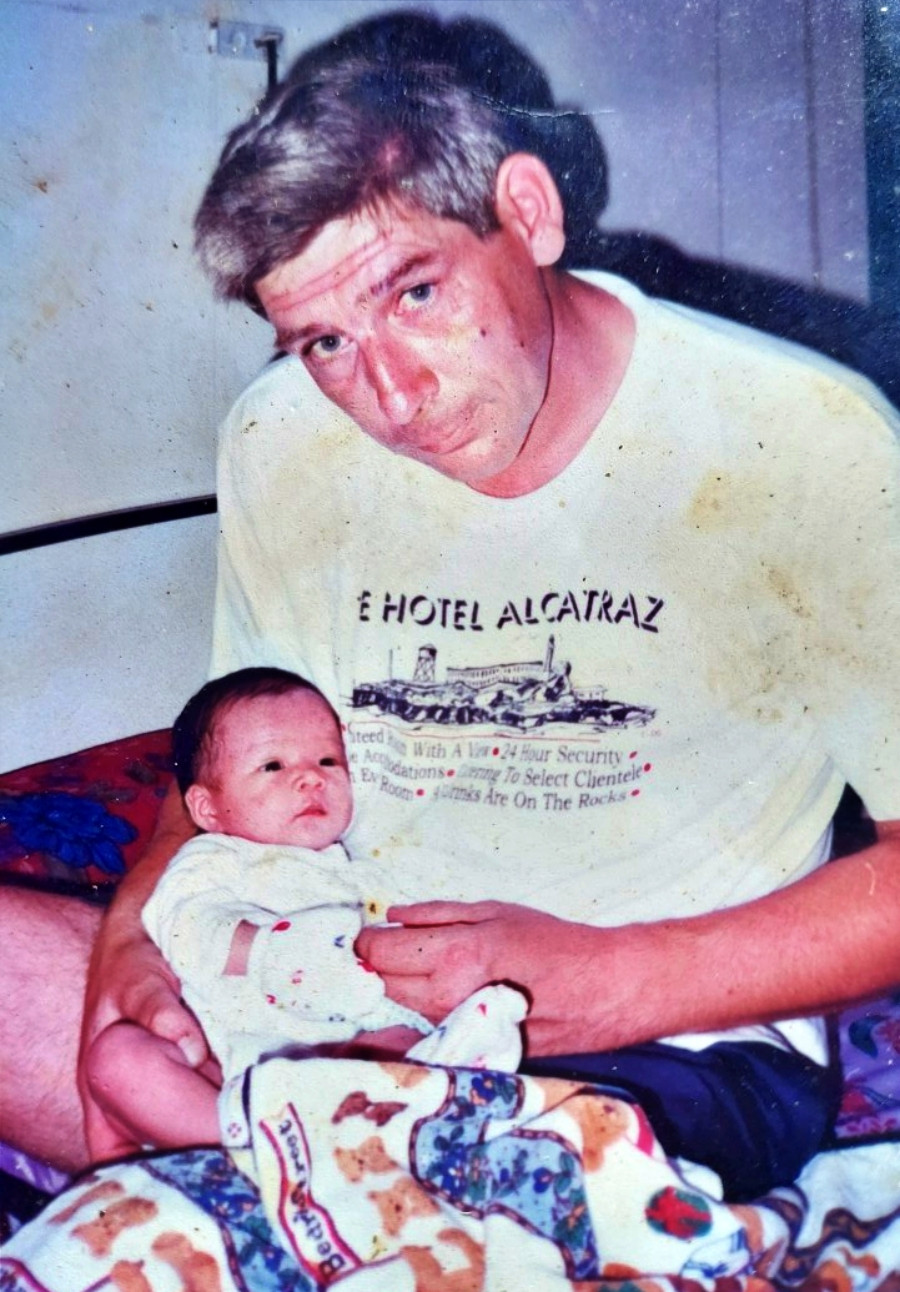 Mr. Cuong shared: "After giving Giang Ha to my sister, my mother always misses her. She deeply regretted it and devoted all her last efforts to finding information about me."
"Especially when people who were adopted by their parents at the same time as my brother returned to visit their biological parents, my mother suffered even more. She almost lived only to find information about my brother," he added.
Feeling his mother's pain, Mr. Cuong tried to take her or go alone to the places where she knew that Mrs. Bay had given her children to ask for news. He tries to find the old lawyer to take care of the paperwork in his mother giving her son…
But all were hopeless. He and his mother did not get any hopeful information. He said: "After being given, my brother lived with his French adoptive parents for 6 months at a hotel in Ho Chi Minh City".
"When we arrived, this place was cleared, the hotel owner also left to another place. People around also don't know anything about the French couple and my sister," he added.
After unsuccessful attempts to find her child, Mrs. Bay was in extreme despair. Illness and extreme regret after giving away her daughter made Mrs. Bay more and more tired and weak. Now, living the last months of her life, she still longs to receive news of her son once.
Loving his mother, loving his sister who has never been met, Cuong continued to accompany his mother to search for Giang Ha. He went to the people in the neighborhood who had been adopted by his parents from France at the same time as Giang Ha to inquire and ask them to find out information about his sister.
He sent a letter to the newspaper, the radio posted information to find his sister. He joined many Vietnamese groups abroad, posting articles to find you on social networks in the hope that someone would know Giang Ha… However, so far, his family has not received any positive information. .
Mr. Cuong confided: "No parent wants to give their children. Because the family situation at that time was too difficult, my mother had to do that. Now, if we meet again, Giang Ha hates her parents, brothers, we all accept it."
"But we still want to know if you are still alive or not, if life is good or not. My mother was weak, but there was never a time when she didn't miss and long for you. Now, her only wish is to see you once," he added.
Item: Ha Nguyen
Photo: Character provided
You are reading the article
Trot gave her 20-day-old daughter, mother ran out of tears looking for 25 years

at
Blogtuan.info
– Source:
vietnamnet.vn
– Read the original article
here