Chuyên đề
Vietnam closely monitors monkeypox after it appeared in 12 countries
Information from WHO said that as of May 21, there were 92 confirmed and 28 suspected cases of monkeypox in 12 countries. Vietnam is closely monitoring to prevent the disease from entering.
Before information related to monkeypox is appearing in some countries around the world, the Department of Preventive Medicine (Ministry of Health) said that units are closely monitoring and monitoring this disease to prevent it. prevent disease invasion.
At the same time, the Department also coordinated with the World Health Organization (WHO) to promptly update information on the disease and response measures.
According to the US CDC, monkeypox was first detected in 1958. The first human case was reported in 1970 in Congo. Since then, cases of monkeypox have been reported in humans in Central and West African countries.
As of May 21, there have been 92 confirmed cases of monkeypox and 28 suspected cases reported in 12 countries, including the UK, Portugal, Sweden, Canada, Belgium, Germany, Australia, The US… These are not endemic areas for monkeypox virus.
According to WHO, epidemiological investigations are still underway. Cases reported to date have not had travel links to endemic areas.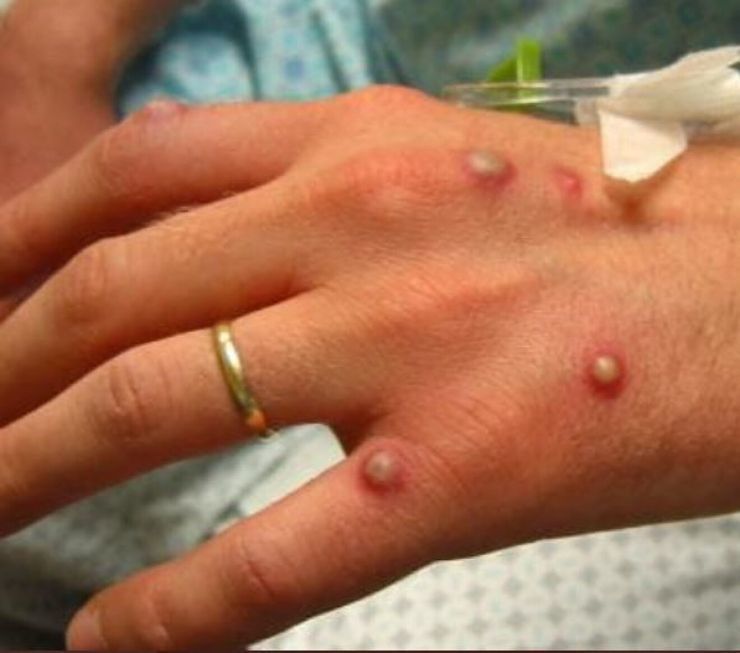 Illustrations
The organization predicts more cases of monkeypox will be identified as a result of expanded surveillance in countries without the disease. Available evidence suggests that the people most at risk are those who have had close physical contact with a person with monkeypox while they are symptomatic.
According to the US CDC, monkeypox is a viral disease that is transmitted from animals to humans. Symptoms of the disease are similar but milder than those of smallpox. The disease begins with symptoms of fever, headache, muscle aches and exhaustion. The main difference between the symptoms of the 2 diseases is that monkeypox causes the lymph nodes to swell while smallpox does not.
The incubation period (time from infection to onset of symptoms) for monkeypox is usually 7-14 days but can be 5-21 days.
Monkeypox is rare outside of Africa, so the current outbreak in Europe is cause for concern. However, scientists do not think the outbreak could evolve into a pandemic like Covid-19. There is currently no specific vaccine for monkeypox. Available data show that the smallpox vaccine is up to 85% effective against the disease.
Monkeypox is similar to human smallpox (the disease was eradicated from the world in 1980), and is easily mistaken for chickenpox. Initial symptoms include fever, headache, muscle aches, back pain, blisters, chills, and exhaustion. Acne usually appears on the face before spreading to other parts of the body.
There is currently no cure for monkeypox, although most patients experience mild symptoms and usually recover in 2-4 weeks. The mortality rate of monkeypox is about 1%.
The virus that causes monkeypox is not as contagious as SARS-CoV-2. Health experts believe that the current outbreak occurs through close and intimate contact with people who are sick.
As a precaution, health officials recommend that people avoid close contact with people who show signs of monkeypox or are sick. People suspected of having this disease should isolate and seek support from health authorities.
N. Huyen
You are reading the article
Vietnam closely monitors monkeypox after it appeared in 12 countries

at
Blogtuan.info
– Source:
infonet.vietnamnet.vn
– Read the original article
here