After two years of public dating, Bui Tien Dung and model Dianka Zakhidova returned to the same house with a wedding ceremony that took place on the morning of May 22 in Vung Tau.
Dianka Zakhidova became a name searched by football fans after only one night of dating goalkeeper Bui Tien Dung in 2020. Initially, the model born in 2000 denied it and said that both were only merely friends.
But not long after, the goalkeeper born in 1997 confirmed that the Ukrainian model was his girlfriend through a series of photos taken together on Zakhidova's 20th birthday. During their time together, goalkeeper Bui Tien Dung often expressed his love for his model girlfriend. Zakhidova also appeared many times in the stands to support her lover.
Their love story passed peacefully and had a happy ending with a wedding ceremony that took place on the beach on the morning of May 22. More specifically, the wedding of both was held on the same day that U23 Vietnam met U23 Thailand in the final of the 31st SEA Games taking place on the evening of May 22 at My Dinh Stadium.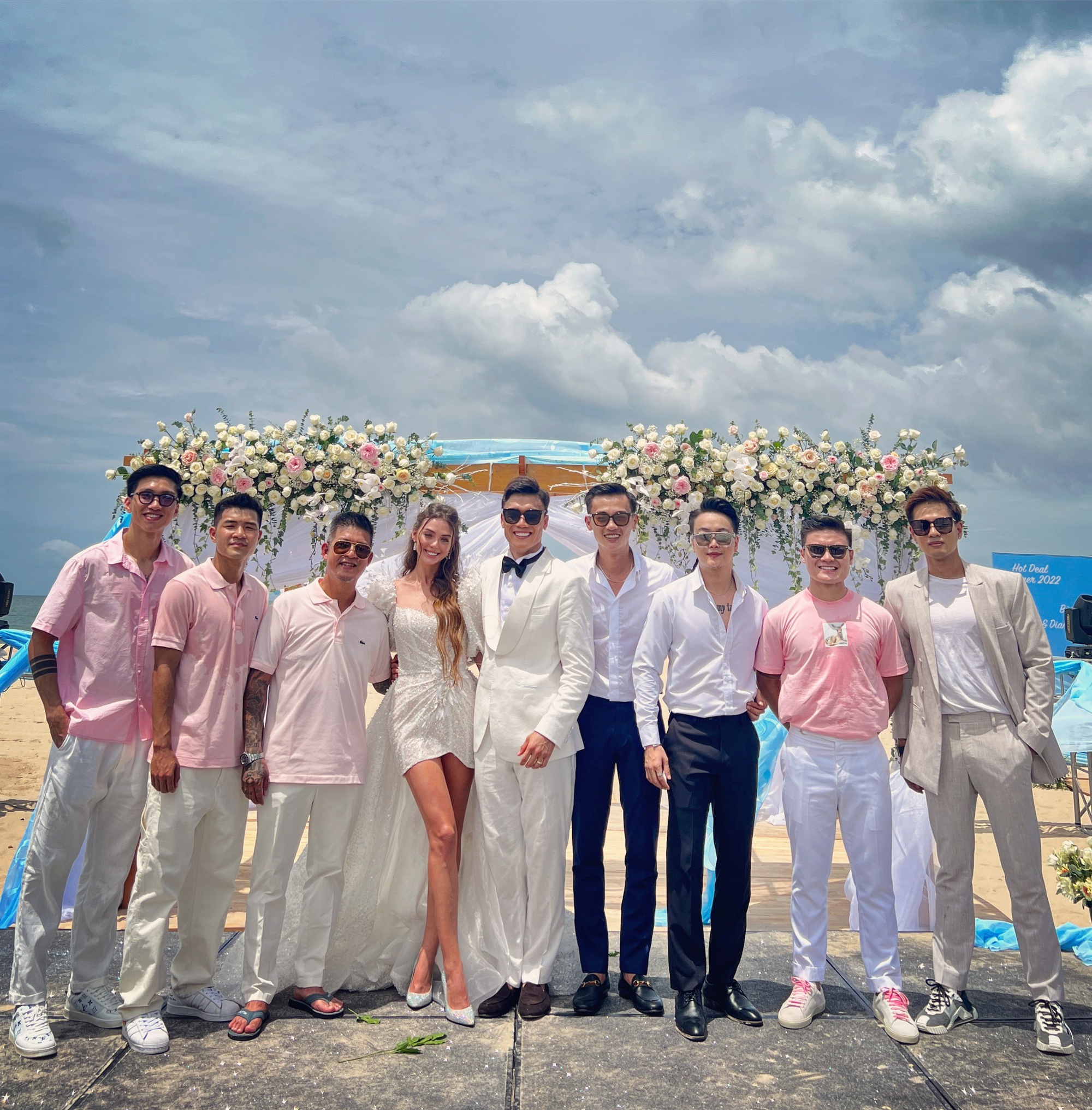 Faint career before meeting Bui Tien Dung
Information about the wedding ceremony of Bui Tien Dung and model Dianka Zakhidova was kept secret until the last minute. According to sources of ZingThe 25-year-old goalkeeper invited only a few colleagues such as Doan Van Hau, Nguyen Quang Hai, Ha Duc Chinh and three close artists, including singer Linh Phuong (HKT), DJ Mie, Khai Dang.
The wedding ceremony took place discreetly off the beach in Vung Tau, security was tightened. Around 10 o'clock, the bride entered the ceremony to the applause of the guests. Groom Bui Tien Dung was emotional as he held his partner's hand and stepped onto the stage. He could not hide his tears and gave a sweet kiss to Dianka Zakhidova.
The two exchanged vows in the presence of relatives and colleagues. Zakhidova's mother also gave a message to her daughter on a special day. "I am happy to see my beautiful, healthy, lovely children. Today is the big day for two children. As a mother, I only wish the best and brightest things to them. Both of you should love and take care of each other, share joys and sorrows for the rest of your life", model mother Zakhidova shared.
When the first pictures of the wedding ceremony of Bui Tien Dung and the Ukrainian model were shared by friends on the personal page, information about Zakhidova was once again of public interest.
The girl born in 2000 from Ukraine, currently lives and works in Ho Chi Minh City. Dianka Zakhidova graduated from Kyiv National University, majoring in Culture and Arts. She also has been active in the basketball team for more than 7 years and has intended to stick with sports for a long time.
With the advantage of 1.73 m height, three round measurements of 85-63-92 cm, Zakhidova tried her hand at modeling after graduating from school. She works at the modeling agency Mix Models.
As a model, she has collaborated with a number of brands, on the cover of fashion magazines. However, in Ukraine, Zakhidova's name is little known.
The life of the beauty born in 2000 turned to another direction, especially since she fell in love with Bui Tien Dung. Information about Zakhidova is sought after by football fans and fans of male goalkeepers.
The personal page of the 22-year-old model received a sudden following. Currently, she attracts more than 54,000 followers.
In addition to the football-loving audience, Zakhidova's name is also noticed by many fashion brands and designers. Models from Ukraine appear on the catwalks. Designers Chung Thanh Phong, Le Thanh Hoa, and Ly Quy Khanh once invited Zakhidova to perform models in the latest collection.
After being known by many people, she worked hard to perfect her appearance. She became KOLs, participated in advertisements for many fashion and cosmetic brands.
In an interview, Zakhidova shared that coming to Vietnam and establishing a career in this land was a blessing.
And from that chance, she met her destiny – goalkeeper Bui Tien Dung.
Wife of Bui Tien Dung: 'I love your smile and happy sparkling eyes'
Zakhidova is the first girl goalkeeper born in 1997 to go public as a lover. For the past two years, the young couple has often shared photos taken together.
The model also showed her closeness to Bui Tien Dung's family, appearing in the family meals together. In a photo while dining with her boyfriend's family, she wrote: "Feel like at home". On the occasion of the Lunar New Year 2021, she returned to her boyfriend's hometown in Thanh Hoa to visit his parents.
On special occasions like birthdays, the two express their affection and sweet moments together. The goalkeeper from Thanh Hoa province himself made a clip to record the journey together on the occasion of his girlfriend's 21st birthday.
He said to his lover: "I hope you have a good time, enjoy your birthday with family and friends. I wish you always healthy, have a lot of fun, new opportunities. You are always a smart, brave girl. and strong".
As for Zakhidova, the model was present many times in the stands to cheer her lover on to compete. She also regularly posts pictures of the two of them on their outings and photo shoots.
"Always cherish every moment, enjoy life to the fullest, and smile through difficulties. Be a happy boy forever. I love your smile and sparkling eyes. I hope that with each passing year, you will be more successful and happy. May all your wishes come true," the 22-year-old model wrote to her boyfriend on his birthday.
Since sticking with Bui Tien Dung, Zakhidova is considered the sexiest WAGs of the Vietnamese team. She is also loved by her bright smile and has never been entangled in her private life.